Five steps in handling customer complaints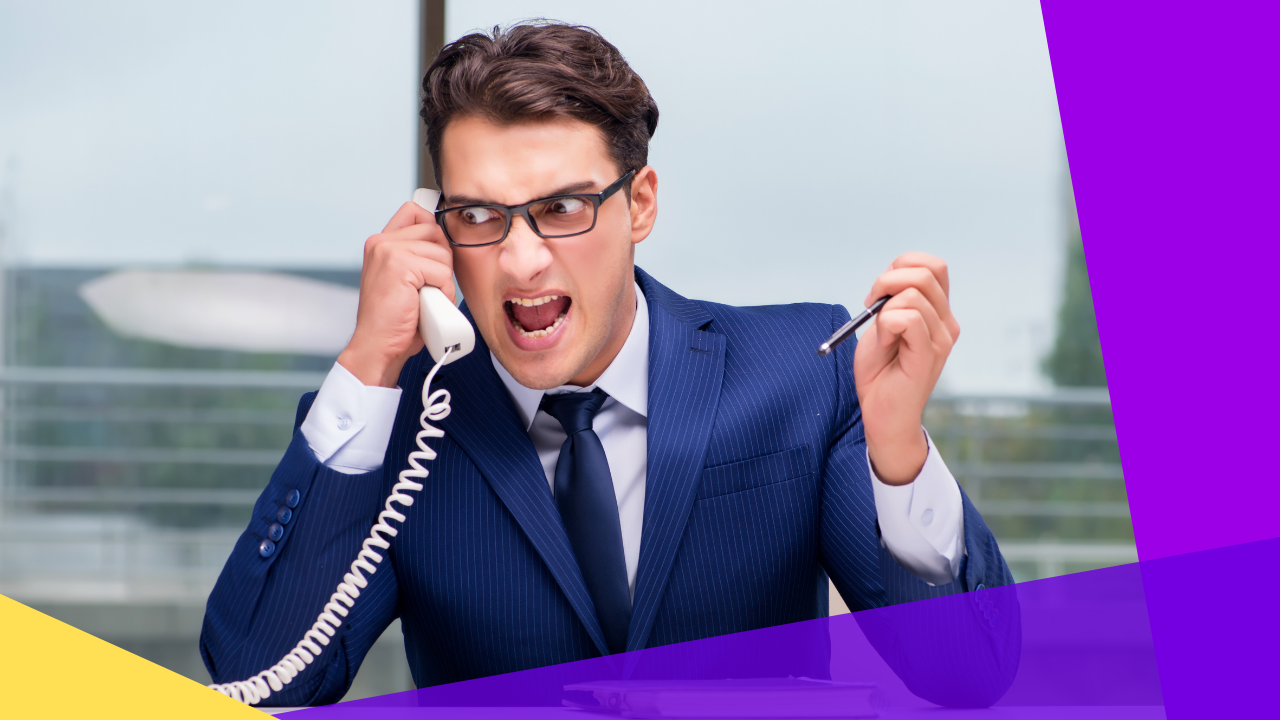 Every business receives customer complaints at some point. It is a simple part of doing business. After all, humans run businesses, and they make mistakes. Even if the complaint is not due to an error, it still deserves to be recognized. 
Receiving a complaint from a customer won't break your business. However, the way that you handle it might. That is why it is vital to know how to handle customer complaints so that the issue gets resolved and everyone benefits. 
Here are the five steps to consider in handling a customer complaint. 
1. Acknowledge the problem
Customers want to know that you are listening and validating their concerns. You must acknowledge the problem and the issues that it caused them. 
You might consider the complaint frivolous or recognize that it was not due to a mistake on your company's part. At this point, that does not matter. It is more important to acknowledge that the experience caused an inconvenience. 
Part of this is admitting that your company was to blame, at least in the customer's mind. There are different ways to approach this, but it ultimately boils down to admitting that some actions on your part made the customer unhappy, whether you made a mistake or not.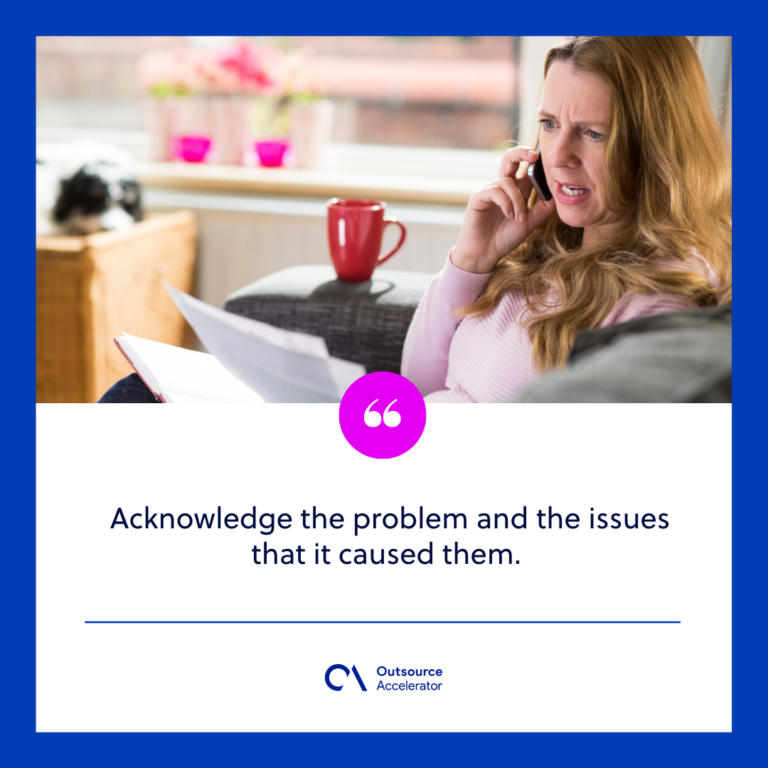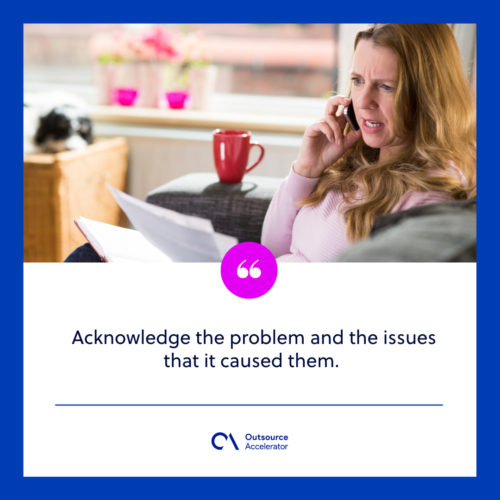 2. Apologize 
Apologize for the customer's inconvenience. You might think that apologizing for a problem puts you at risk for legal issues. But it is the best way to help soothe ruffled feathers and get the customer feeling like you take them seriously. 
Better yet, make sure you do this as quickly as possible. The temptation is to wait to apologize until you have all the facts, even until you are sure that your business is at fault. But it is better to apologize promptly. 
If you prefer, you can phrase it as, "I am sorry you had a poor experience" or "I'm sorry that this wasn't up to your standards." 
3. Offer solutions 
Once you have acknowledged that the customer is upset, it is time to offer solutions to the problem. Customers usually complain because they want a problem to be solved. If the answer is straightforward — such as refunding their purchase — you can do that right away. 
Other solutions take time. Maybe a customer has complained about some aspect of how you run your business or the way that an employee treated them. In this case, if you can't offer them immediate solutions, you can assure them that you will look into the situation. 
That might mean that you take down the employee's name to speak to them about the incident in question. Maybe it means reviewing some of your business's policies or procedures. Regardless, give the customer assurance that you will address their concerns.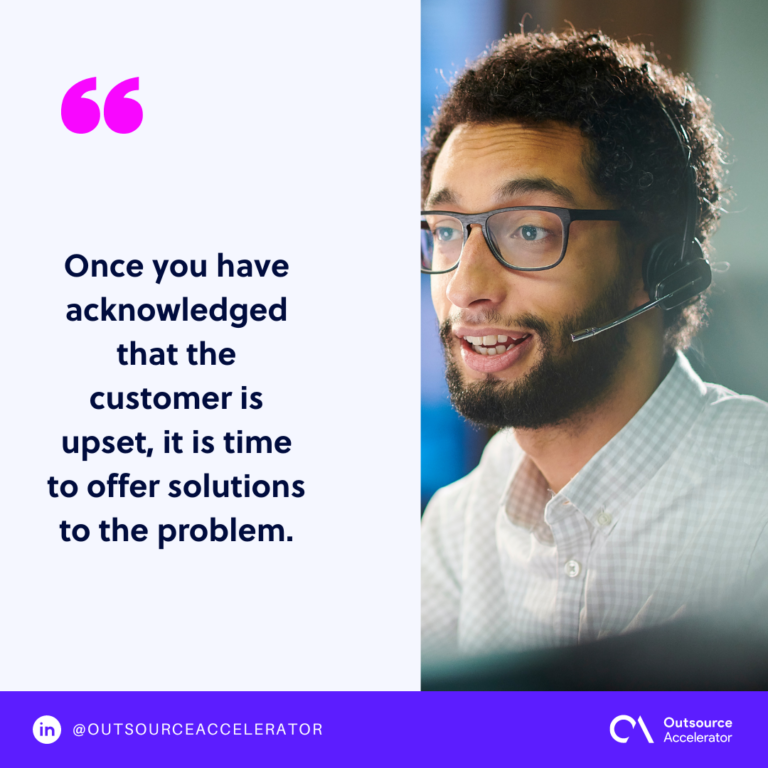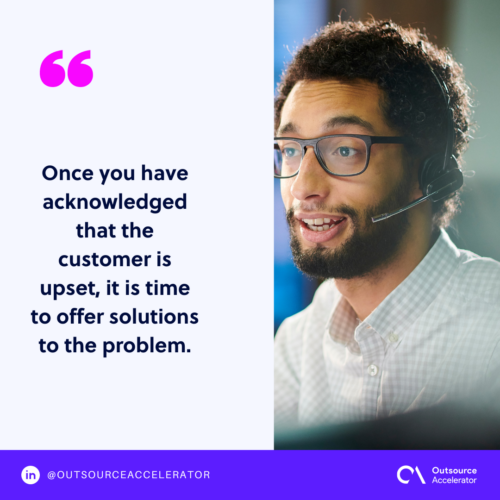 4. Stay positive 
Be sure not to act defensively. Instead, stay positive and focus on what you can do to make up for the bad experience. Try to spin negative experiences into positive solutions. 
Some customer service representatives even make an effort to smile while they are on the phone to sound like they are feeling upbeat and happy. Believe it or not, people can hear when you are smiling, even over the phone. 
You don't need to smile if you don't want to. But strive to keep things positive and look for solutions instead of dwelling on the complaint or becoming combative. 
5. Go above and beyond
After you have found a solution for the customer's problem, you want to make it up to them. In other words, you want to find a way to go above and beyond as compensation for the bad experience they had. 
That might mean offering them store credit or a special coupon for their next purchase. It could also mean a discount on an item or a complimentary gift. 
What's the point of this? It's to leave the impression that you value the customer and want them to come back. The minimum expectation is that you address their complaint and promise to make it right. But no business should want to do the bare minimum. Going above and beyond is a way to leave the customer with a positive final experience.
Customer complaints are part of business
Every business, no matter how successful, fields customer complaints at some point or another. It is just a part of providing a product or service. But it is also an opportunity to leave a positive impression on your customers, letting them know that you take their experiences seriously. 
The best way to do this is to acknowledge their experience, offer solutions, and find an additional way to make up for it. Businesses that do this well have a higher chance of customers returning in the future. With these tips, addressing a customer complaint does not have to be a negative experience. If you need help, consider seeking contact center services from reputable organizations.