Definition
What is back office?
Back office is a term used to classify business activities that are not directly attributable to frontline customer support, sales, and services.
Its functions relate to administrative functions which do not directly generate income or are accessed by customers, but such is necessary to streamline the other processes involved in a business.
Back-office functions include but are not limited to the following: data entry, account processing, website content management, data verification, mediation, graphic design, writing and editing services, accounting, and financial services, and quality assurance.
These functions are necessary to a business yet attribute additional cost. Some companies find back-office jobs costly since you need to allow a substantial amount of capital for recruitment, salaries, and employee benefits.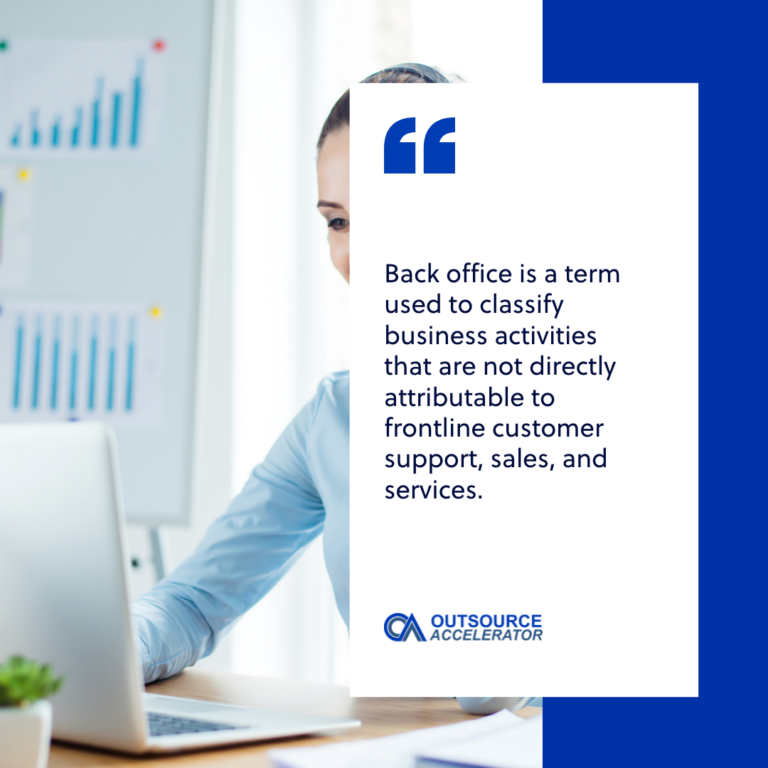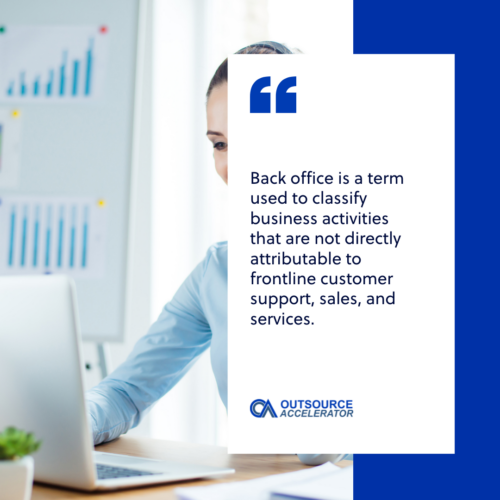 Back-office functions
The back office is the cornerstone of any company's financial and operational success. As a result, it often generates less revenue than the front office.
The traditional back-office tasks are divided into two categories. These are the administrative operations that keep the firm functioning, and the customer support functions that directly fulfill customer services and demands.
These functions frequently carry out significant, multi-step processes in which more than one individual or functional group contributes to the business' process fulfillment.
What are back-office jobs?
A company's back-office operations are formed of several functions, and below are some examples of back-office jobs and their key responsibilities:
Financial assistant
A financial assistant is in charge of assisting a company's finance department. They are responsible for various tasks in the office such as data entry, balance sheet generation, accounting, and keeping financial records up to date.
Because they mostly work on the company's accounts, financial assistants must be detail-oriented, well-organized, and have excellent analytical abilities.
HR assistant
Human resource assistants are in charge of organizing appointments, keeping records, and onboarding new employees.
Among several other tasks, they handle payroll and keep attendance records, and usually help the human resources manager. Employees in this field must be trustworthy, organized, and have effective communication skills.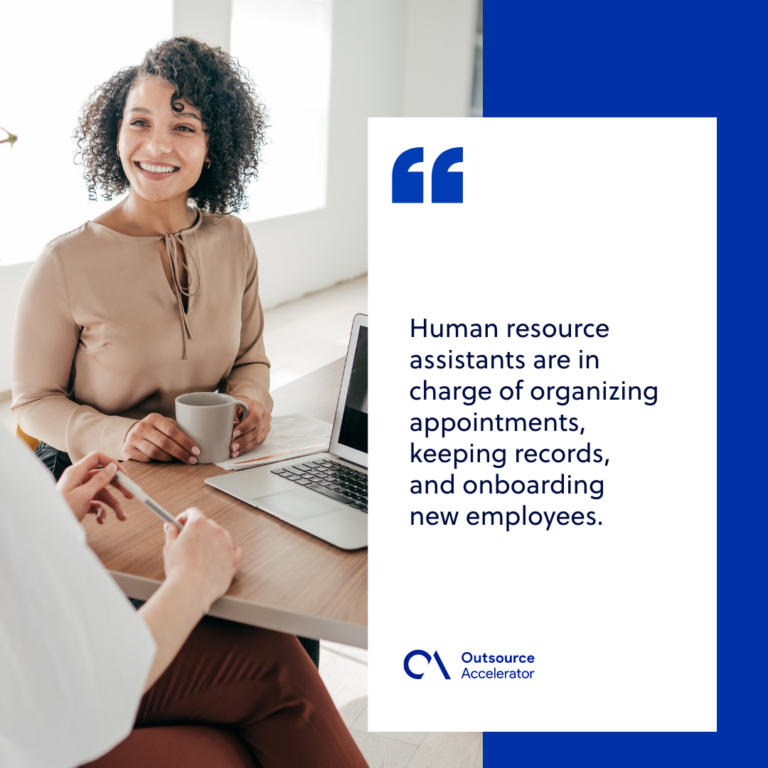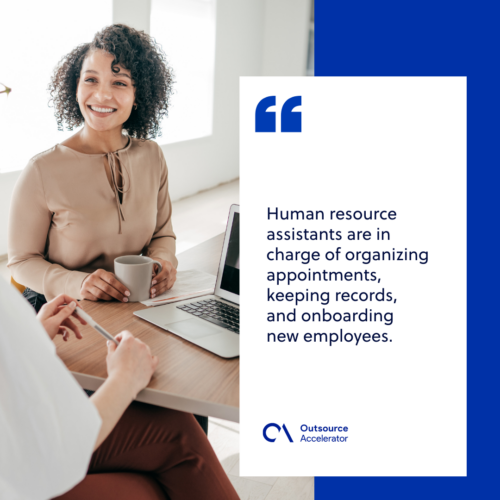 Data analyst
Data analysts are in charge of interpreting data, analyzing data, and putting data gathering systems in place. They also create reports and provide assistance for the data warehouse.
Data analysts must be competent mathematicians with good problem-solving abilities and the capacity to manage information efficiently.
Financial analyst
Financial analysts are in charge of various financial activities on behalf of external or internal clients. Their responsibilities include estimating operating expenses, producing reports, and maintaining a database.
In order to stay excellent in this job, applicants must be skilled mathematicians with great analytical abilities. It is also important to be kept updated on the latest developments in the field to determine how they could affect the firm's financial records.
Risk analyst
Risk analysts are back-office employees who are in charge of supervising investments and identifying potential risks in a company's investment portfolio.
Based on their review of these investments, they support the company by providing suggestions to corporations to assist reduce future risks. Risk analysts must be skilled in analytical, strategic, and interpersonal abilities.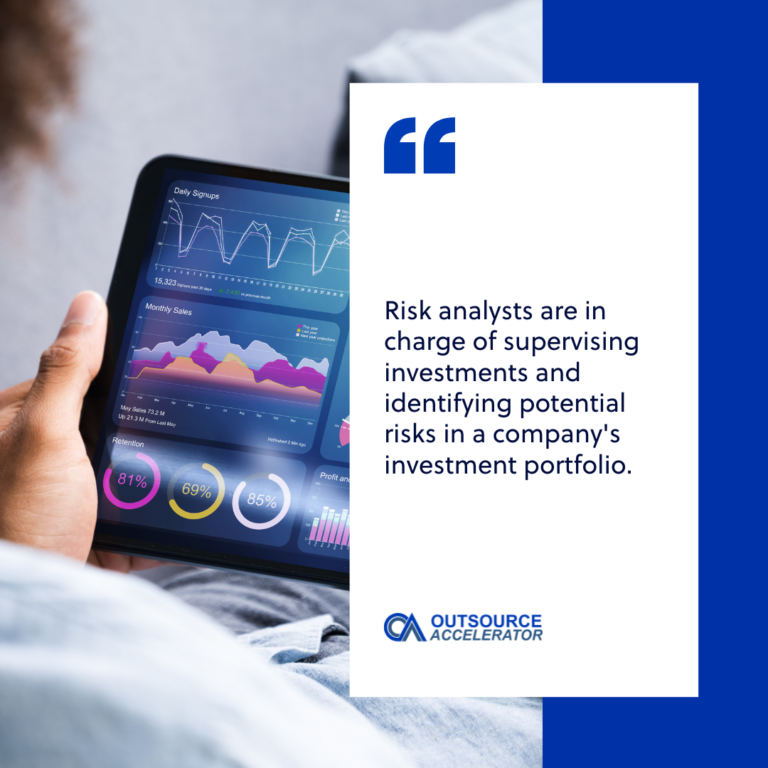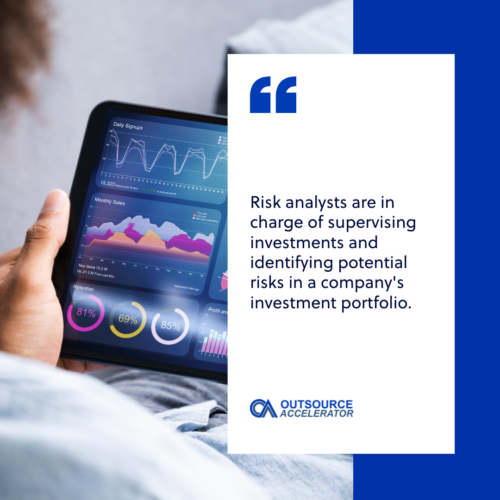 Back office support definition
Back-office support is responsible for organizing and improving the customer experience in the company. Accurate data, clear and interesting content, and well-designed websites all contribute to a better customer experience.
Back-office support jobs are frequently concealed behind the scenes. However, they should never be underestimated.
Back-office positions help expand company demands and minimize friction from the customer experience for roles dealing with data input, content moderation, office services, and financial services.
A good back-office support program can help you prevent unfavorable encounters at every point of interaction. Employees in back-office roles are equally as important to excellent CX as those in front office positions, from multichannel services to order fulfillment.
Back office outsourcing
With the advent of the internet age, companies can now take advantage of what we call business process outsourcing (BPO). This business approach can lessen the operational costs of running back offices while maximizing its full benefits.
This also translates to more time for you and your core office team to focus on income-generating functions.
Outsourcing back-office roles guarantees that you are working with skilled professionals minus the hassle and cost of recruitment, as well as other operational and employee benefit expenses.
Where to find a back office outsourcing partner?
Thanks to the growing BPO industry, finding a back office outsourcing partner is easier these days. There are thousands of companies that have entered the business process outsourcing industry to accommodate clients who need specific skill sets in their business.
The good thing is they can be found in any country across the world — whether nearshore or offshore.
The Philippines is among the fast emerging outsourcing destinations in the world ever since its emergence in the 1980s. Their expertise in back-office services, as well as numerous other roles, attracts global firms to their shores.
The country's wide pool of BPO firms makes sure that their representatives are competent enough to handle the client's needs. Outsource Accelerator lists over 3,000 business process outsourcing companies in the Philippines that specializes in back-office administration.