Definition
What is customer experience?
Customer experience (CX) is often defined as the overall interaction of the customer and organization for a certain period of time. This interaction constitutes the following: customer involvement, customer journey, and the environment. 
Having a positive review on each point of contact means that the customer experience is pleasant.
Customers' involvement may range from emotions, whether rational or irrational, to physical needs, or psychological needs. Moreover, it can extend from the simple act of talking with customers up to the product packaging, features, reliability, and affordability. 
Overall, a positive customer experience is an excellent competitive edge that your company should provide in order to stay competent and successful in the market.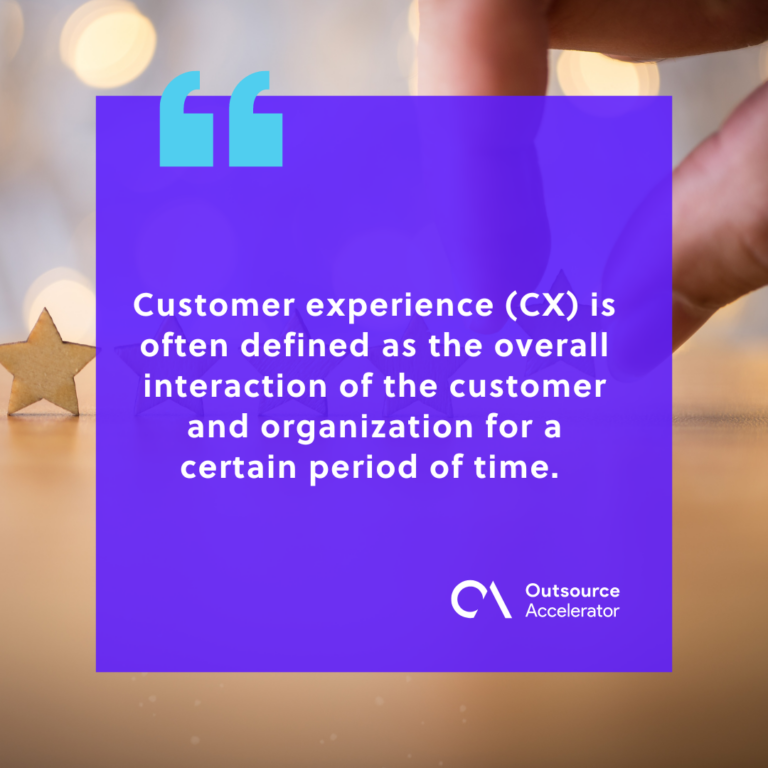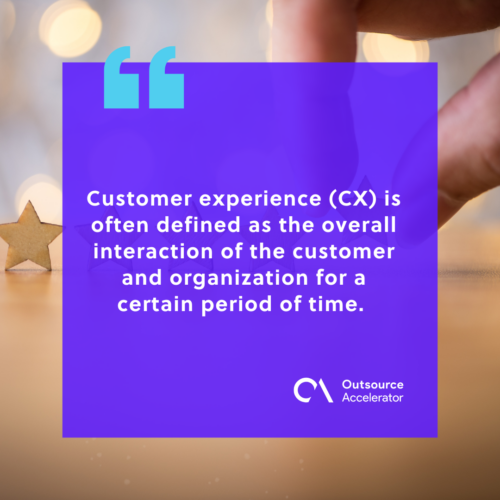 Why is customer experience important?
Providing an excellent customer experience is important for any business. The better CX you deliver, the more customers you will gain and retain. 
Additionally, service representatives would have to deal with lesser customer complaints and product returns.
A company with a great CX is projected to earn:
More loyal customers

Increased customer satisfaction

Positive reviews

and recommendations
Customer experience outsourcing
Outsource Accelerator provides you with information about what to look for in outsourcing companies that can help you create a platform that encourages a positive customer experience. 
It is important to work with someone who can help your customers have a memorable journey with you, which is essential in achieving customer loyalty. After all, customer loyalty is the foundation of brand recognition and credibility in the market. 
Outsourcing helps you work with professionals who are well-versed with the right skills and experience to implement customer service strategies that work.