Customer Service Representative
Definition
What is a customer service representative?
A customer service representative is an individual who interacts with customers on behalf of the company, usually to address their concerns. 
They are the front lines of service providers in customer support. They know first-hand how satisfied and dissatisfied customers are with the services they availed. 
A BPO customer service representative possesses a lot of skills they need to effectively deliver customer service. This includes good communication and problem-solving skills, quick wit, and interpersonal skills. 
Other terms may include customer service associates, and customer service advisors or consultants.
Duties of a customer service representative
Their duties depend on what type of customer service they handle, whether inbound or outbound. Inbound CSRs are the ones who handle incoming calls, chats, or emails from customers, attend to their concerns, do basic troubleshooting, and help them navigate a website or app.
Outbound CSRs, meanwhile, deal mostly with lead generation, billing reminders, appointment confirmation, and market surveys. Unlike inbound CSRs, they are the ones who reach out to customers for these concerns either through cold calling or emails.
BPO customer service
BPO customer service means hiring a third-party service provider to handle inbound and outbound calls and other non-verbal communication with customers. In most cases, customer service outsourcing teams are part of a call center service.
For businesses, partnering with an outsourcing company is an ideal option to offer the best possible level of service to clients. After all, the more positive the experience is, the more it drives loyalty and brand recognition.
To find the best partner for your customer service tasks, you have to be open to assessing new and innovative service providers — either nearshore, onshore, or offshore. 
Be diligent in searching for the right fit for your company.
Remember that it is critical to choose a partner that understands the latest market demand to help you grow your business, maintain clients and gain new patrons.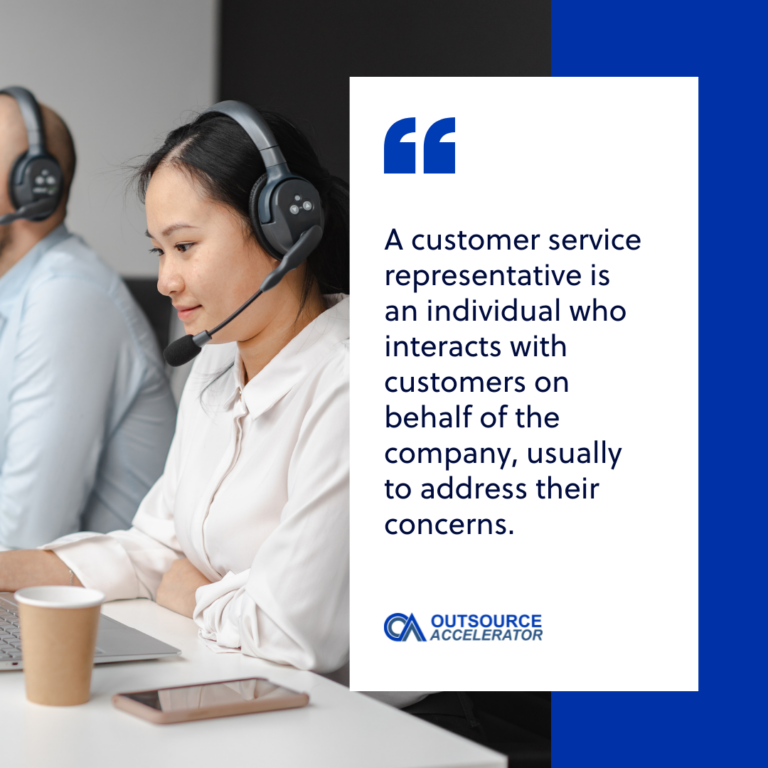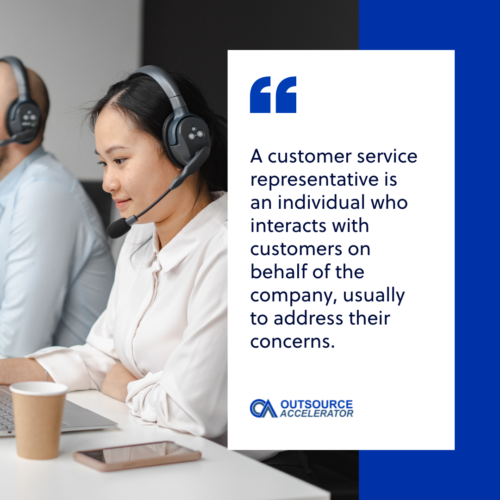 Customer service representative in the Philippines
Outsource Accelerator provides you access to great customer service representatives that you can outsource from the Philippines starting from $6 per hour, where you can save up to 70% on staffing costs. 
We have over 5,000 articles, 350+ podcast episodes, and a comprehensive directory with 2500 BPOs… all designed to make it easier for clients to learn about, and engage with customer service outsourcing.
To get started with customer service outsourcing, take a look at our list of the Top 40 BPO Companies in the Philippines.