Customer Service Representative
Definition
What is a customer service representative?
A customer service representative (CSR) is an individual who interacts with customers on behalf of the company, usually to address their concerns.
Customer service representatives are the front lines of service providers in customer support. They know first-hand how satisfied and dissatisfied customers are with the services they receive. Most importantly, customer service representatives prevent delivering poor customer service as much as possible.
A good customer service representative possesses a lot of skills they need to effectively deliver customer service. This includes good communication and problem-solving skills, quick wit, and interpersonal skills.
Customer service representatives are also called customer service associates and customer service advisors or consultants.
All industries employ customer service representatives. Some hire in-house, but a growing number outsource them from BPOs or call centers.  
Duties of a customer service representative
Customer service representatives typically aim to maintain customer satisfaction and answer questions regarding a company or product. Their duties depend on what type of customer service they handle, whether inbound or outbound.
Inbound customer service representatives are the ones who handle incoming customer inquiries and concerns. More so, they are responsible for the following tasks.
Do basic troubleshooting

Process orders

Pull up customer accounts

Handle and resolve customer complaints

Help determine solutions for each problem
Outbound customer service representatives, meanwhile, are the ones who reach out to customers either through cold calling or emails. They deal mostly with the following aspects.
Lead generation

Billing reminders

Appointment confirmation

Market surveys
Key skills of customer service representatives
Most customer service representatives enter the industry with a high school diploma. However, a good customer service representative should have the following key skills and traits needed to be competitive at work.
Good communication. Customer service representatives must have good

communication

skills, especially since they will talk to customers all day. They have to listen carefully to their clients and be able to speak with them at the same time.

Problem-solving. A good customer service representative should be able to analyze customer inquiries correctly and provide the best solutions for their concerns.

Time management. Customer service representatives work in a fast-paced environment, handling volumes of calls and workload each day. This is why they need to manage their time properly so they can accommodate their target calls in a given period.

Empathy. Most importantly, they must be able to handle their customers in a professional manner and with empathy. Customer service representatives should be able to place themselves in their client's shoes and understand their situations at hand.
How to become a customer service representative
Anyone can ace a customer service representative job by doing the following steps.
Complete at least a secondary education. Many customer service representatives enter the industry with a high school diploma. This is since they have developed basic communication and interpersonal skills needed at work.

Develop necessary skills. As much as possible, customer service reps should work on developing other necessary skills, including those mentioned above.

Consider getting certifications. Lastly, a certification or license from institutions can be used as strong proof of their proficiency and skills. This is why getting certifications is most recommended, especially for

customer service representatives

looking to advance their employment.
Customer service in BPO
Customer service in the BPO setting means hiring a third-party service provider to handle inbound and outbound calls and other non-verbal communication with customers. In most cases, customer service outsourcing teams are part of a call center service.
For businesses, partnering with an outsourcing company is an ideal option to offer the best possible level of service to clients. After all, the more positive the experience is, the more it drives loyalty and brand recognition.
To find the best partner for your customer service representative tasks, you have to be open to assessing new and innovative service providers — either nearshore, onshore, or offshore. 
Be diligent in searching for the right fit for your company.
Remember that when seeking customer service representatives, it is critical to choose a partner that understands the latest market demand to help you grow your business, maintain clients and gain new patrons.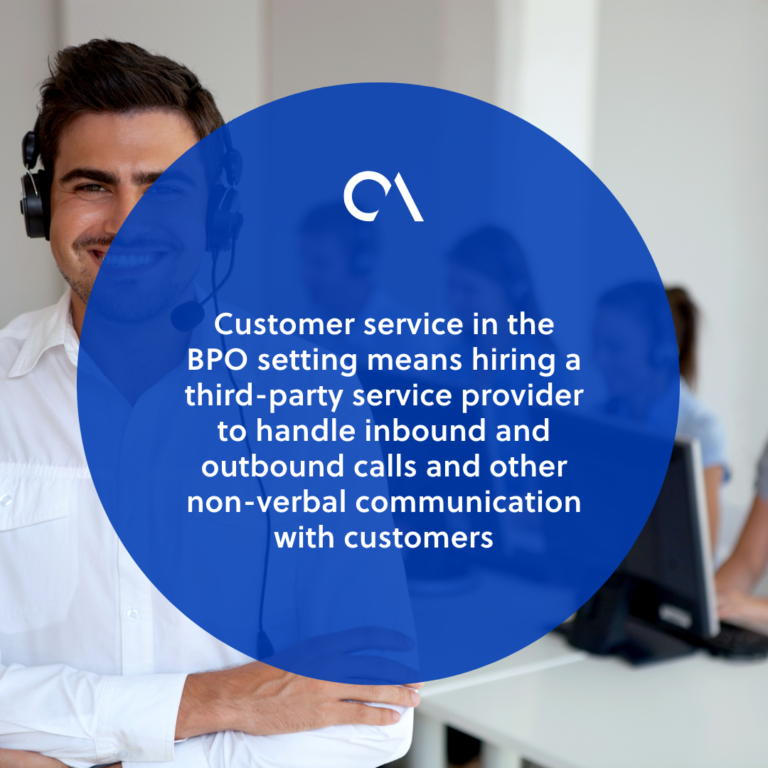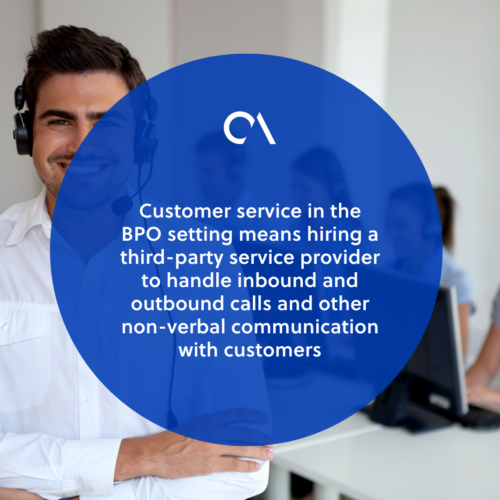 Customer service representative in the Philippines
Outsource Accelerator provides you access to great customer service representatives that you can outsource from the Philippines starting from $6 per hour. By doing this, you can save up to 70% on staffing costs.
We have over 5,000 articles, 350+ podcast episodes, and a comprehensive directory with 2,500 BPOs… all designed to make it easier for clients to learn about and engage with customer service outsourcing.
To get started with customer service outsourcing, take a look at our list of the Top 40 BPO Companies in the Philippines.