How outsourcing customer service can help you scale your business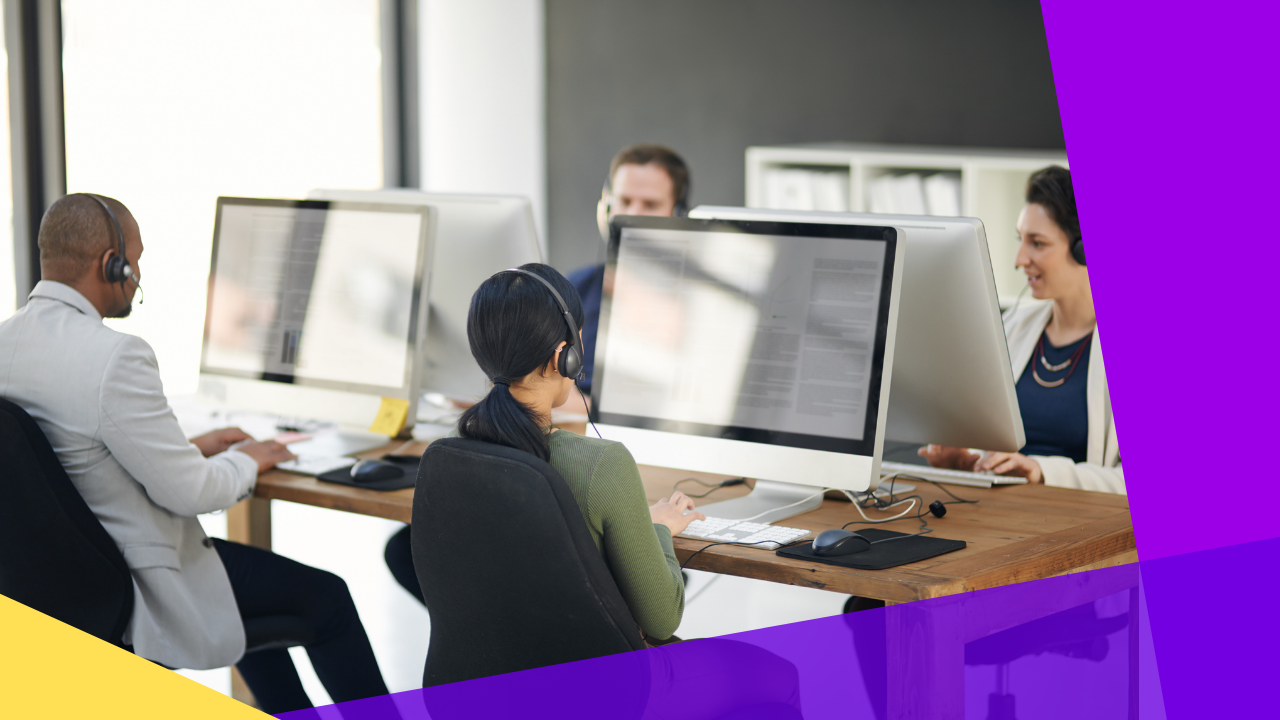 Customer service is a crucial element to a business's success. Developing a relationship of trust and transparency with your clients can help your retention rates and your brand as a whole.
Unfortunately, many companies are struggling to deliver proper support to their buyers. An outsourced customer service team can resolve this problem and provide superb assistance to your clients.
What is customer service?
Customer service refers to the method of supporting your clients efficiently — both before and after they buy and use your products or services — to provide the best customer experience.
123Employee's excellent customer service representative knows how to deal with customers and understand their needs and wants even before they speak. This ensures customer satisfaction and creates a relationship that involves trust and builds loyalty.
Giving excellent service to clients is essential if you want to retain your customers and further develop your business. That is why many companies choose to outsource their customer support team to an excellent business process outsourcing company.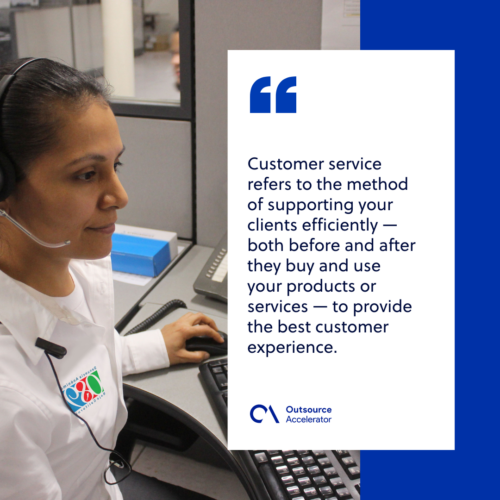 Why outsource your customer service tasks?
Outsourcing your customer service tasks means partnering with a third-party provider who will hire, train, and manage your support representatives for the everyday operations of your message channels.
Customer service outsourcing enhances your business management. Most business leaders tend to outsource when it's becoming too hard to solely rely on their resources for managing customer service.
The main goal of customer support outsourcing is to give high-quality service to a struggling company. Outsourcing agencies help businesses handle their support tasks so that the in-house team can focus on their main tasks.
How do outsourced customer services help in your business development?
Outsourcing is a better option than stretching your in-house employees to perform all operations in the business. It transforms a company into a well-rounded organization that provides high-quality service to customers anywhere in the world.
But that is not all there is to outsourcing your customer service team. Here are other advantages of customer service outsourcing and how it can improve your business:
Save on resources
Running an in-house customer service team can be expensive. You must shoulder building additional infrastructure, labor costs, training expenses, and overhead costs. These can be reduced by outsourcing.
Outsourcing makes it possible for any business to afford a high-quality customer service team for a fraction of the price.
Customer service outsourcing companies provide an already trained staff with ready-to-use equipment and a guarantee of success.
Personalized service 
A premier customer service outsourcing company has highly trained teams that adapt easily to various business climates and industries. It studies the client's businesses thoroughly to know the needs, demands, and expectations of the services.
Because of its time and effort, it can give personalized service to its partner companies and launch an excellent customer service strategy.
Increased productivity
Customer service outsourcing company helps you save time and money and leads you to get more resources in the process. You can then invest these funds into product development or expansions that could aid your business' growth.
In addition, an outsourced team allows your in-house departments to focus on their core operations.
With their help, your internal employees can finish their workloads while maintaining high-quality service to your customers.
Round-the-clock support
Outsourced customer support allows your company to provide round-the-clock service to your clients. With this option, your prospective buyers can get answers to their inquiries at any time of day or night.
Offering 24/7 customer service helps elevate your brand's customer experience and allows you to outperform competitors in your industry.
A remote team located in a different timezone can take care of your customers' needs and develop your business while you sleep.
Generating leads
Your outsourced customer service team represents your company to your clients. They utilize all strategies to help your business succeed — including generating high-quality leads for your company.
With the right strategy and communication approach, an outsourced support team generates more leads and nurtures stronger ties with prospective clients.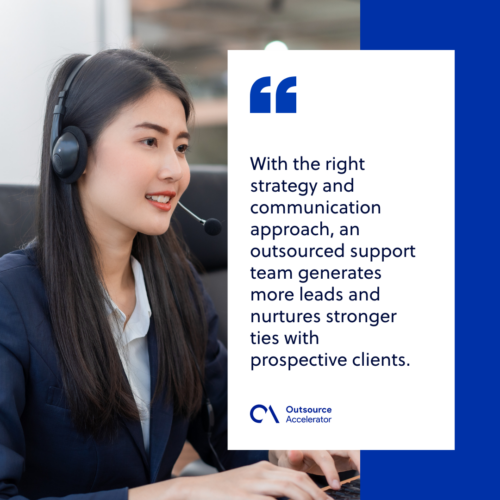 Booth and Partners' managed customer service team
Customer service is a powerful tool for businesses when properly done.
Its success can impact every level of your organization, which is why companies should always provide seamless customer service, especially if your goal is to make your clients stay loyal to your brand.
The key is to find the right customer service outsourcing partner who can provide your business with an outsourced team that fits your brand and delivers quality assurance.
If you are looking for a reliable outsourced customer service staff provider in the Philippines, Booth & Partners can set up the floor for you. They can provide you with a top-notch offshore customer service agent and will assist you throughout the whole process.
Founded in 2013, Booth & Partners is among the best customer service outsourcing companies and has served global clients with a high-performance remote customer service team in the Philippines.
Aside from customer service operations, Booth & Partners is a customer service provider that offers a vast array of roles and business functions that outsource customer service operation to businesses of all sizes around the world.
Contact us to know more about our tailored outsourcing services. Visit Booth & Partners' website now and see their offered services.