Significance of an outsourced email support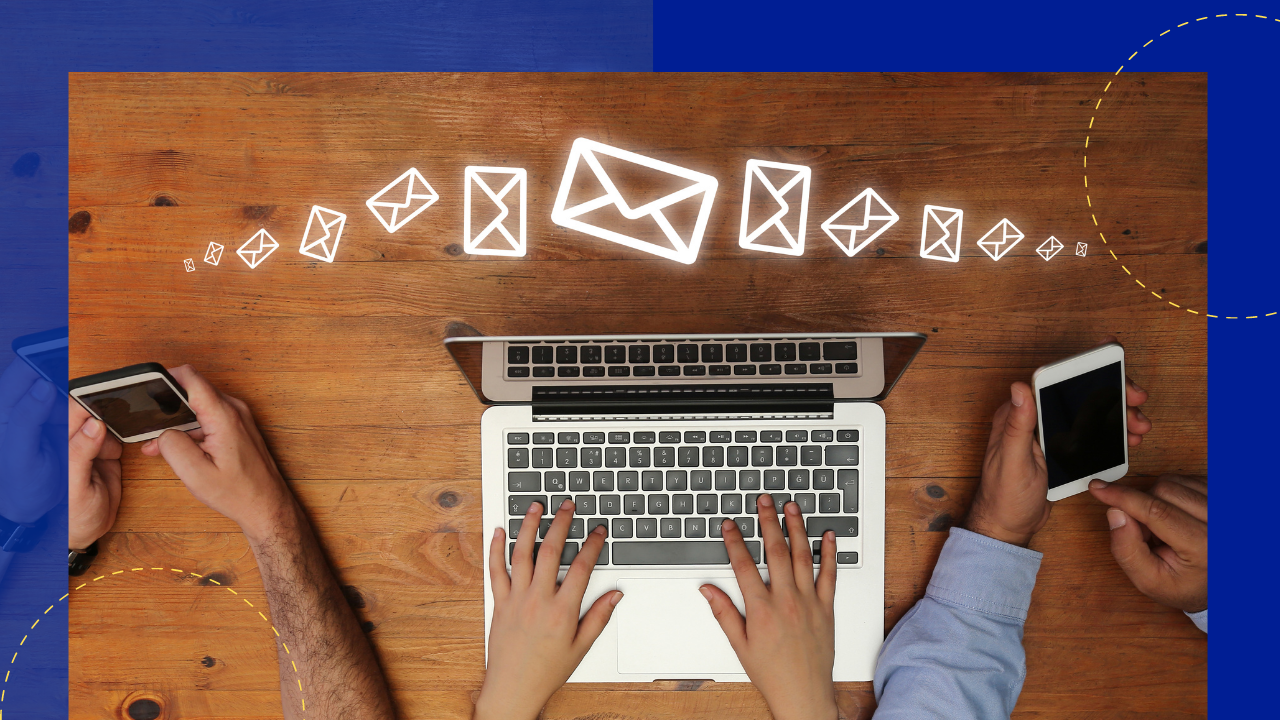 Email support is the most dependable channel to communicate with customers. However, despite its importance, many businesses still offer inefficient customer service on this platform.
The good news is that you now have the option to recruit an outsourced email support team for your organization. With their assistance, you can answer queries promptly and maintain valuable clients in your company.
Defining email support
Email support is a communication channel that uses emails to resolve customer concerns relating to a company's products or services.
It is one of the most frequently utilized communication platforms as it is an easy way for customers to ask questions to a service agent without calling. 
Providing email support saves customers from the frustration associated with making phone calls and the long wait time needed to speak with a representative.
Through email, any employee can follow the thread of communication within the message. This optimizes efficiency in the team as other employees can easily continue the exchange without starting from scratch.
Further, due to its asynchronous nature, there is no need for both parties to be online to initiate or maintain the conversation.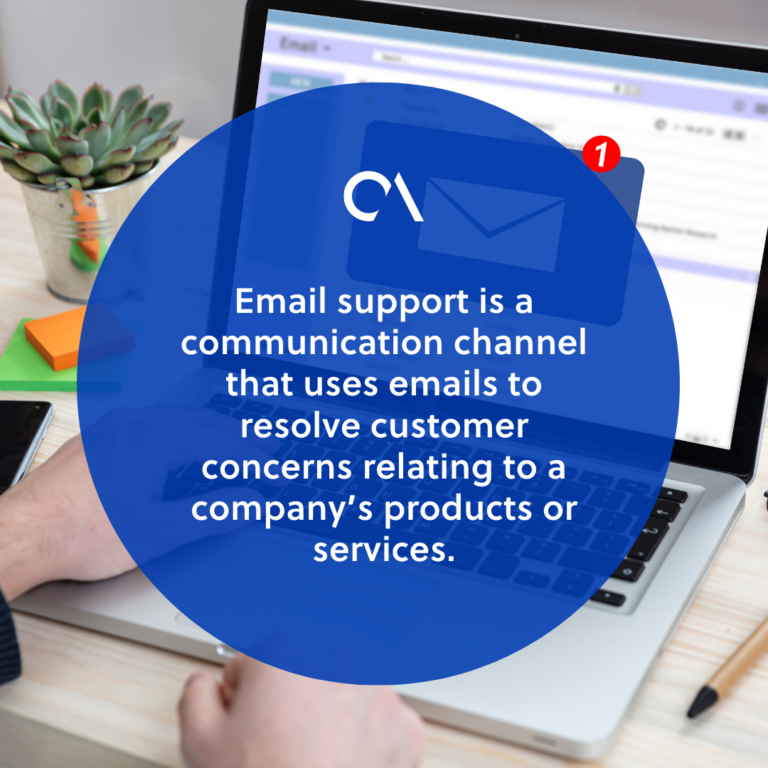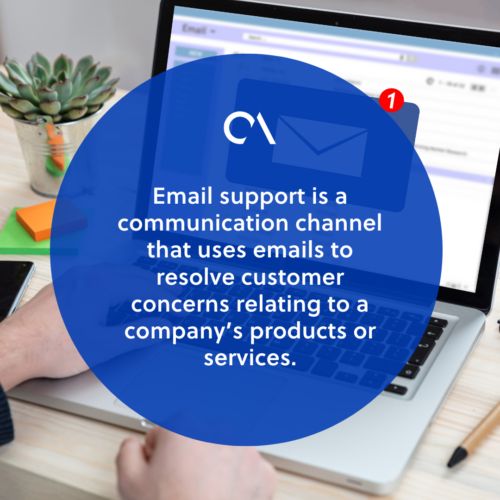 Why is it ideal to outsource your email support services?
An outsourced email support team helps your company reply to your customer's email during busy times or outside operational hours. 
Numerous businesses now rely on outsourced email support for the following reasons:
Cost-efficiency
Compared to other outsourced business functions, email support is the most cost-effective. Often, they are integrated with other channels — such as live chat or voice chat — and offer omnichannel support at only one price.
Outsourcing this task does not cost much. However, it shows tangible results in your customer service and increases your ROI in the long run. 
In addition, because service providers already have the essential equipment for the job, you can spend less on the necessary hardware, software, applications, storage assets, and infrastructure.
Easy and fast deployment
Launching an in-house email service needs a lot of money and time before it can function properly. By using an outsourced email support team, your business can quickly deploy this channel to customers. 
A key benefit of partnering with an outsourcing company is that they already have skilled employees that can take care of the job. 
So instead of testing the system and training recruits, you now have quick access to talents who can tend to the messages sent by your clients. 
Availability
Constantly unavailable customer support could lead to delayed responses. This can further result in your clients becoming displeased with your business.
An outsourced email support team could help you provide 24/7 email services to customers who have questions about your brand. 
Other outsourcing companies offer a secure platform or network to ensure protection in your email support services.
Focus on core competencies
While email services are important, they are mostly not the main focus of the business. The local staff may likely be working on core tasks that are essential to the development of the company.
Recruiting an outsourced email support team can help have a staff on hand who can handle the heavy volume of client emails. With their help, your in-house employees can have more time to prioritize the main aspects of the company.
Access to the latest tech
To stand out from the competition, the majority of outsourced email support providers offer their clients the best and latest technologies and software in the market. 
They can combine other collaboration tools — such as shared calendars, address books, and archiving — with email support to help their partner companies reach their service goals.
Outsourcing agencies can also add useful capabilities like synchronizing access options in mobile devices to ensure better support to customers.
Auto-generated responses vs. email support team
Fast reply is something that customers expect from brands irrespective of the communication channel that they are using. 
They don't just send emails for no reason. They want complete information and details about the products or services that they are interested in buying. 
Since customers are expecting a personalized response for their query, sending an auto-generated response will just not be enough. You will eventually lose the customer with this approach.
Hence, outsourcing this function can provide your customers with personalized and accurate responses while solving their issues in time. 
This may potentially be the only option that can improve customer satisfaction and maintain business relationships in the industry.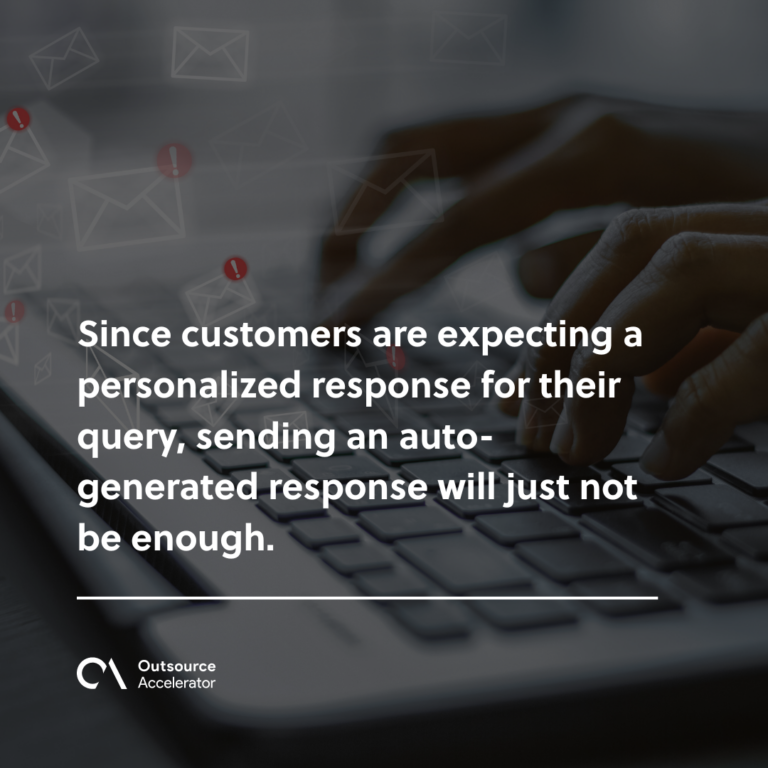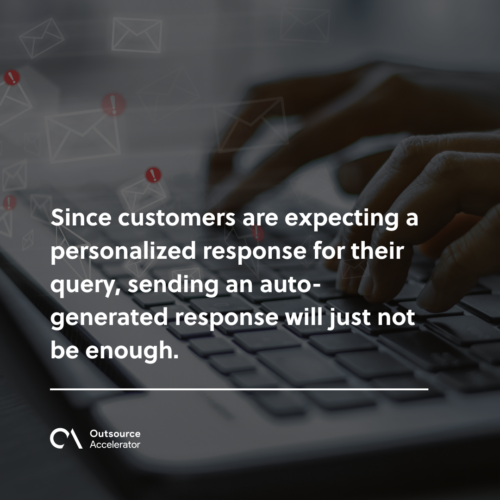 Outsource your email support to SixEleven
Now that you have read the importance of outsourced email support in your business, it is now time to think of an outsourcing agency to partner with. SixEleven can help you address this matter.
Davao-based SixEleven is a solution-oriented contact center that is designed to provide quality services for a wide array of business verticals across the world. 
They provide an efficient email support team that can take care of your customers' needs and concerns immediately. With more than a decade in the industry, they have acquired various knowledge in the field and ensure only top-notch service.
They also offer support in other functions such as lead generation, telemarketing, bookkeeping, technical, data entry, research, and more.
Visit SixEleven's website now to start signing up for their services.