Best business VoIP providers in 2024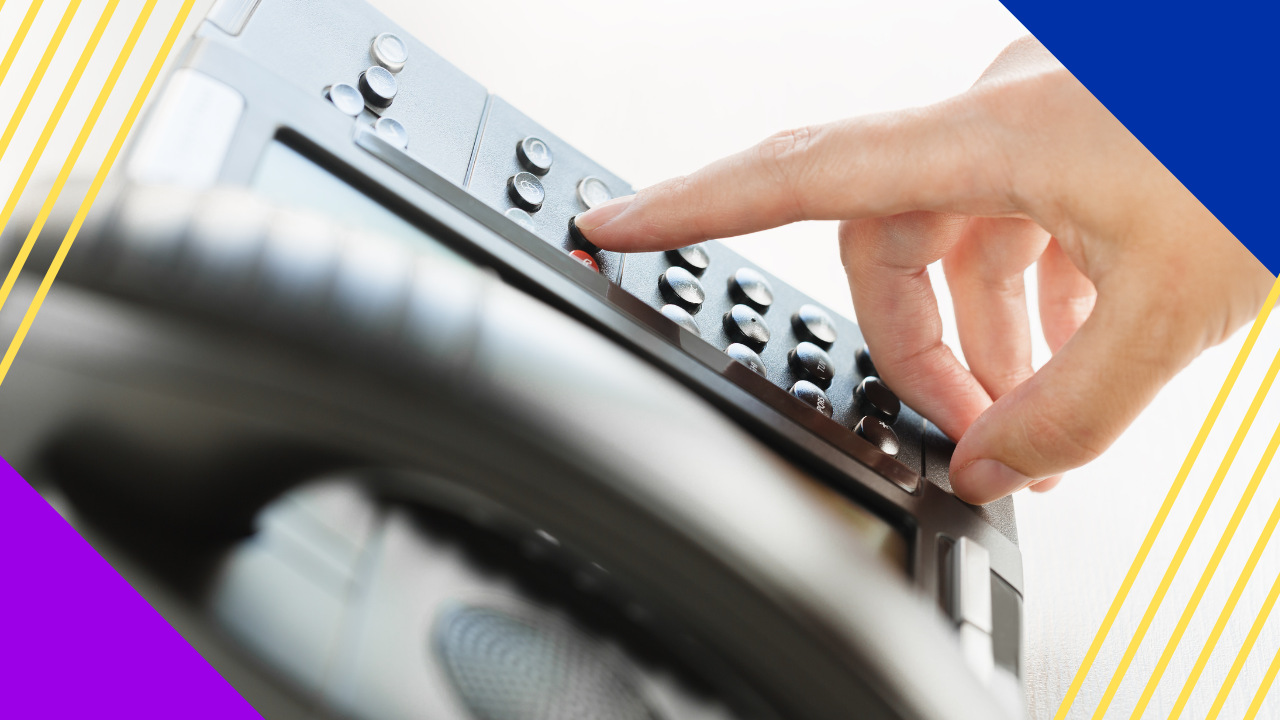 Old phone lines are becoming a thing of the past for businesses that want to upgrade to the cloud. There are hundreds of this new VoIP technology available, but we compiled 20 of the best VoIP providers for you to check out. 
What is a VoIP provider? 
VoIP stands for Voice Over Internet Protocol. Instead of making calls over the old-fashioned analog phone line, VoIP phones do it over an internet connection. 
Many VoIP packages also come with integrated tools, such as online fax, email marketing, and video conferencing. 
VoIP systems work by converting your voice into network data packets and then transmitting them over a digital signal to other IP-based networks. With this method, voice calling is brought into the digital age. 
Don't worry about that sounding too complicated, as VoIPs are easy to use. All you really need is a device and an internet connection. Your chosen VoIP provider will handle everything else.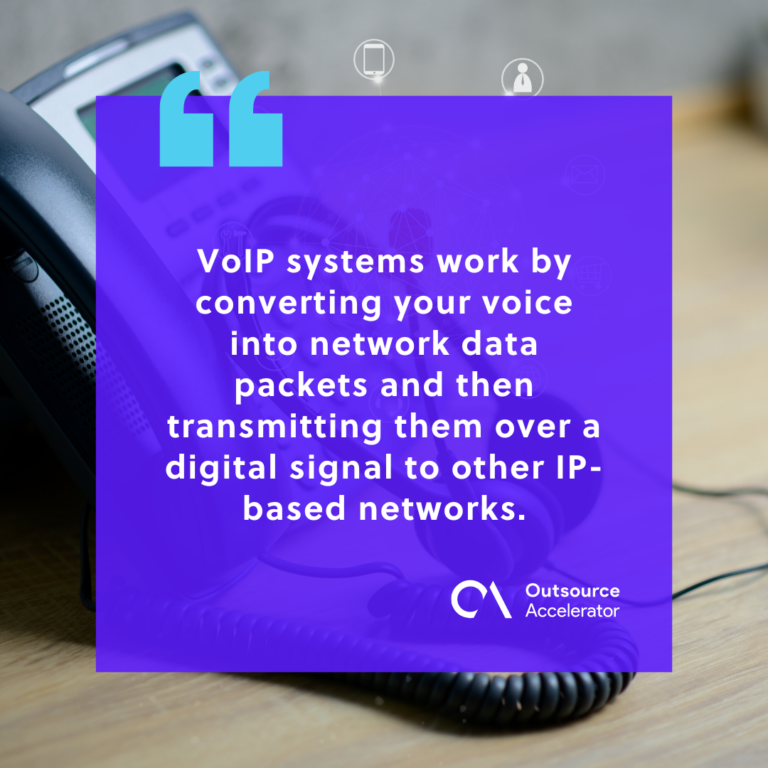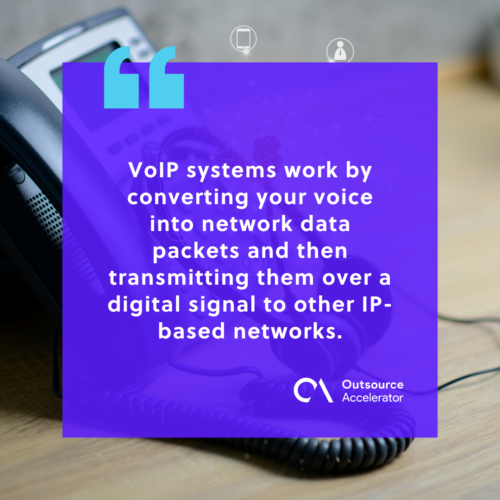 Why look for the best VoIP providers? 
You wouldn't think of sending your sales report as a handwritten letter, would you? Although we wouldn't completely discourage the old romantics from doing so for their personal lives, there are more efficient ways like instant messaging and email. 
You have the same principle with your calls. As our technology advances, so does the way we communicate, and VoIPs offer improvements from the traditional phone call system.
VoIPs are more affordable than analog calls, yet more scalable and versatile. Many of the best VoIP providers are also shifting into cloud-based services. This allows more added features like conferencing, recording, team collaboration, and even social media aspects. 
As the dynamics of the workplace change and hybrid work becomes more of a stable option, VoIP providers are more important than ever. 
Granting faster customer service and more efficient internal communication, VoIPs overall improve communication for your work. 
The 20 best VoIP providers for 2024
Here are the 20 best VoIP providers that can upgrade your calls today.
Pricing plan:
Essentials: $19.99/user/mo

Standard: $27.99/user/mo

Premium: $34.99/user/mo

Ultimate:  $49.99/user/mo
For the best combination of robust features and price, RingCentral MVP is the top choice. It is the most comprehensive VoIP out there and the best for medium and large businesses, regardless of industry. 
The interface is accessible for anyone with a computer, and it even offers a call center software to unify communications and databases.  Don't worry about security either, as it is HIPAA-compliant. 
If you're looking for the most well-rounded VoIP that can handle large scale calling and comes with a range of programs, RingCentral MVP should be one to look out for. 
Pricing plan: 
Essential: $18.95/user/mo

Professional: $22.95/user/mo

Enterprises: $32.95/user/mo
Learning curves with new technology are intimidating, but Nextiva is known as among the best VoIP providers for ease-of-use. Its user-friendly interface divides tools based on communication, sales, and services. 
It also integrates well with Outlook and Google Contacts, and in higher plans with Salesforce, Hubspot, and Zendesk. With its plug-and-play system, it's easy to set up the entire office. 
Pricing plan:
Essentials: $19.95/user/mo

Pro: $24.95/user/mo

Pro Plus: $29.95/user/mo 
Ooma Office is a good VoIP for small businesses and those with remote teams. 
A handy feature is Ring Groups, which allows grouping of extensions to make call receiving faster. 
Ooma Office works well by simply adding to your existing equipment, such as your SMB phone system. By assigning a unique dial number to each user, you also bring a level of professionalism. 
Pricing plan: 
Solo: $29/mo

Partner: $49/mo

Small Business: $89/mo
Grasshopper works the best for smaller businesses and solopreneurs who just need a basic VoIP solution with call forwarding and extensions. It's also the best flat-rate VoIP provider.
What's good about Grasshopper is that you only pay according to number, meaning you get the whole suite of applications no matter which plan you choose. 
Its strength also lies in its ability to add extensions to phone lines, even allowing you to add a business number to your personal phone. 
Pricing plan: 
Standard: $15/user/mo

Pro: $25/user/mo

Enterprise:

available upon request
Dialpad is excellent for businesses that are looking to use AI for their VoIP. Their cloud calling features maximize artificial intelligence through auto-attendant and transcription applications.  
Dialpad is also particularly suited to businesses that favor softphones. 
Pricing plan: 
Enterprise: $15/user/mo

X2: $24/user/mo

X4: $44/user/mo

X6: $85/user/mo

X7: $110/user/mo

X8: $140/user/mo
This is one of the cheapest VoIP providers around. For those small businesses on a tight budget, 8×8 eXperience communications platform is a good fit. 
There is no hardware required, so the software integrates well. Additionally, it offers unlimited video conferencing across the US and Canada. The capabilities of this feature grow as you level up your plan. 
Pricing plan: 
Mobile: $19.99/mo/line

Premium: $29.99/mo/line

Advanced: $39.99/mo/line
Customization is all the rage with software nowadays, and Vonage is not one to stay out of the game. Its system allows add-ons of toll-free numbers, advanced IT support, call recording, and visual voicemail. 
Vonage even comes with an AI-based virtual assistant that understands voice to upgrade your call service. 
Pricing Plan: 
Basic: $11.99/user/mo

Plus: $15.99/user/mo

Pro: $23.99/user/mo
This is the most affordable professional-grade VoIP. With Phone.com, plans can be mixed and matched to give sales teams unlimited combinations of features. 
Costs can be kept down by giving users only the features they need. And one other thing that keeps them unique is they come with their own human service. 
Live Receptionists will answer calls for you and then transfer to an extension for you to handle. 
Pricing plan: 
Basic: $27/user/mo

Standard: $32/user/mo 

Premium: $43/user/mo
If a wide range of telephony features is what you're after, GoTo Connect is your plan. It offers a sheer number of features available, offering businesses more than a hundred tools for calling, collaboration, and conferencing. 
All general features are also included, like custom call routing, call distribution, and geolocation. The best part is that they don't charge for the additional features you purchase. 
Pricing plan: 
Spam callers are just the worst. 1-VoIP is unique in that it offers a way to actually avoid them. 
By partnering with the third-party anti-spam service Nomorobo, 1-VoIP has been valued by organizations for blocking over two billion automated spam calls. 
The feature is monitored so that calls from essential services still make it through, and it even comes with a residential option.  
Pricing plan: 
Essentials: $20.99/user/mo

Premier: $26.00/user/mo

Elite: $38.00/user/mo
If you're looking for an old-school traditional PBX provider, then consider Mitel, which successfully made the pivot to VoIP service. It provides small and medium solutions but stands out in its enterprise solutions. 
Its integration with Salesforce will be helpful for small businesses starting out, and it further links up to Microsoft Outlook and Google's applications for seamless information sharing.  
Pricing plan: 
Monthly: $15.99/mo 

Annual: $13.75/mo
Line2 works as a VoIP provider by adding a second line to your mobile phone, and then just expanding from there. Mainly a cloud-based operation, the dedicated PBX handset moves directly into your team's smartphones for easy access. 
For general VoIP features, Line2 comes with call distribution and auto-attendant. 
Pricing plan: 
Office@Hand: $25.40/user/mo for Standard, $36.25/user/mo for Premium

Business: $89/mo 

Business-Advanced:

available upon request
As one of the oldest players in the communication space, AT&T Business will not be left behind in adapting to the most up-to-date developments in the VoIP market. What really makes it unique is how it integrates with legacy systems. 
In particular, Office@Hand is a solution that delivers voice, fax, and text options, along with audio and video conferencing. And once set-up, AT&T Business is simplicity personified.  
Pricing plan:
Standard: $8/user/mo 

W/ Calling Plan: $15/user/mo

365 E5: $57/user/mo
Microsoft is already in use in offices around the world, and now they have Microsoft Teams Phone, a cloud-based VoIP to add to their portfolio. Its strongest feature is its ability to integrate with Microsoft Teams applications, and is very affordable to those already using Microsoft 365.
This VoIP provider lets groups make calls from any device to anywhere in the world, making use of the cloud to ensure high reliability. 
Pricing plan: 
Unite Pro: $27.99

Unite Enterprise: $32.99
Get the in-office feel at home with Intermedia Unite. The company has an Anyphone BYOP (bring your own phone) program that allows other devices to connect to the Intermedia VoIP environment. 
The service also has strong ties with Office 365 and Workspace, as well as Slack and Salesforce, to assist you in remote work. 
Pricing plan: 
Standard: $124/user/mo

Professional: $149/user/mo

Premium: $166/user/mo
PhoneBurner describes itself more as a sales engagement platform, not one to replace your existing phone line. Still, it gives outbound reps an excellent tool for prospecting, selling, and closing deals, rapidly increasing team productivity.
Sales engagement platforms are also used by most in the industry of business-to-business SaaS. For sales teams, this makes PhoneBurner a great off-the-shelf VoIP. 
Pricing plan: 
Standard: $10/user/mo

Premium: $20/user/mo

Enterprise:

available upon request
OpenPhone gives you the best way to run your business from a mobile phone. While many cloud-based PBX systems claim to be able to replace a business phone system, OpenPhone instead "upgrades" your phone to better suit it for business. 
You get a business number for your mobile, and a shared inbox feature allows teams to call from the same number, even at the same time. 
Pricing plan: 
For those looking for a more affordable VoIP solution with basic features, especially small businesses and solopreneurs, magicJack gives you that. 
In fact, its reputation is built on the fact that it is one of the most affordable VoIP providers out there. It comes with an app called MagicApp that also allows free calls over wi-fi. 
Pricing plan: 
Growth: $15/agent/mo

Pro: $39/agent/mo

Enterprise: $69/agent/mo 
Freshdesk Contact Center ranks well for businesses that make use of a call center. With its VoIP service, you can deploy a flexible and smart contact center in a few smart steps with zero phone hardware. 
They also offer extensive reporting and data analytics on day-to-day operations for scaling decisions. 
Pricing plan: 
Bronze: $16/user/mo

Silver: $24/user/mo

Platinum: $40/user/mo

Enterprise: $48/user/mo
CallHippo is used by over 5000 brands, including Amazon and Shopify, for its user-friendly virtual business phone system. 
A notable feature is it lets you know the best time of day to call based on countries of origin. The service comes with call center options like real-time analytics, call monitoring, and call distribution.