Definition
What is a contact center?
A contact center is a form of customer service where a team uses different channels aside from calls for customer interaction. They match customer demands with the latest technology to provide the best service as quickly as possible. 
It has an omnichannel or multichannel approach depending on client needs. Some centers handle 11 channels while others have the most common ones: VoIP calls, email, live chat, and website support. All interactions from different channels are tracked using a customer relations management (CRM) software for easier management and coordination.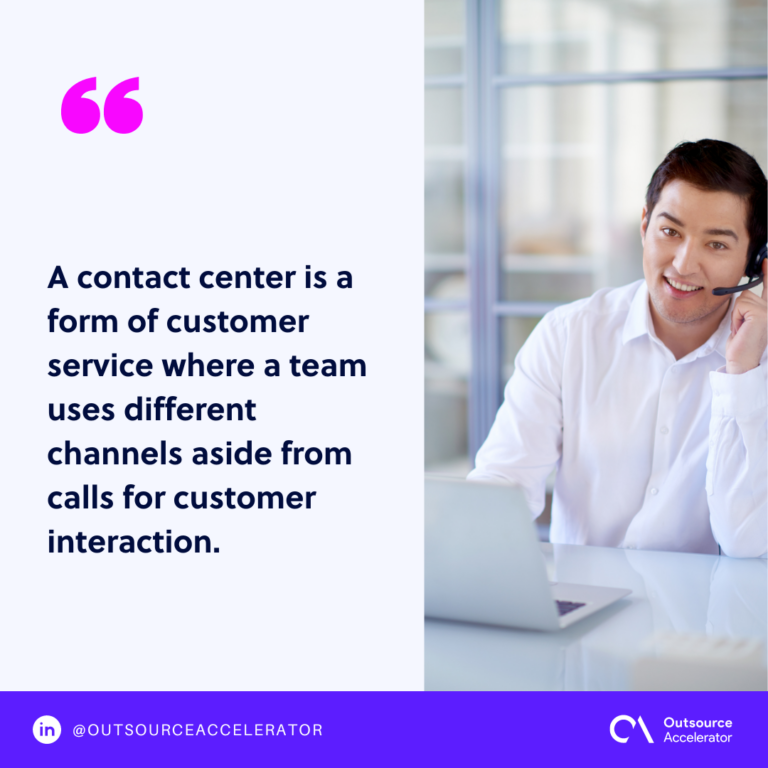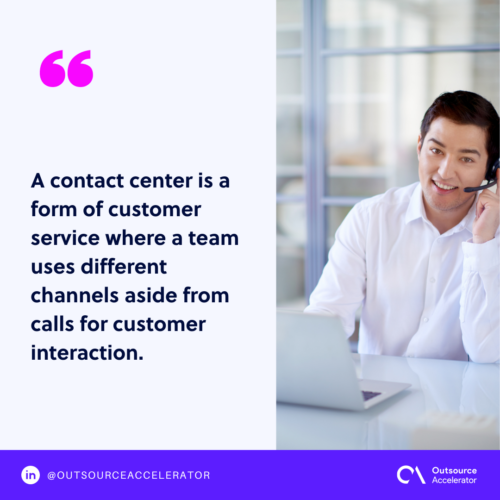 Contact center vs call center
When it comes to customer service, there are two basic types: Call centers and contact centers. Both call centers and contact centers are customer service centers but they are not the same. However, many people interchange the two terms.
Here are the call centers and contact centers main differences:
A call center handles all incoming and outgoing phone calls, while a contact center handles all customer support channels other than phone calls.

Call centers utilize telephone-based communication. Contact centers can use a variety of communication methods, such as email and social media.

Using advanced analytics, contact centers can build more detailed client profiles. Unlike the traditional call center who gets the client's profiles directly to their clients.
Benefits of outsourcing contact centers
Many successful companies are considering contact centers as their business expands. The advantages of leveraging contact center to your company include the following:
Offers a self-service option
Contact centers use a multi-channel approach which makes them excellent in providing self-service. As a result, customers can deal with their own minor issues before calling an agent. 
Self-service features use Artificial Intelligence (AI) to help customers solve their problems without reaching out to an agent. This method also avoids bottlenecks to your call department.
Better customer experience
Customers may prefer to contact you by phone, but more and more people are contacting you via live chat, email, or social media instead. 
Fortunately, omnichannel experiences are supported by several cloud-based contact center technologies. It means that your agents can communicate with consumers in a way that is convenient for them, whether it's via phone, email, video chat, text, or Facebook message.
Empower business growth
Customers expect their contact centers to have the channels they need. Many businesses invest in software that makes it possible for their contact centers to offer better service to their consumers.
Integrating contact centers to companies reduces the risk of falling under customer expectations and being overtaken by better-equipped rivals.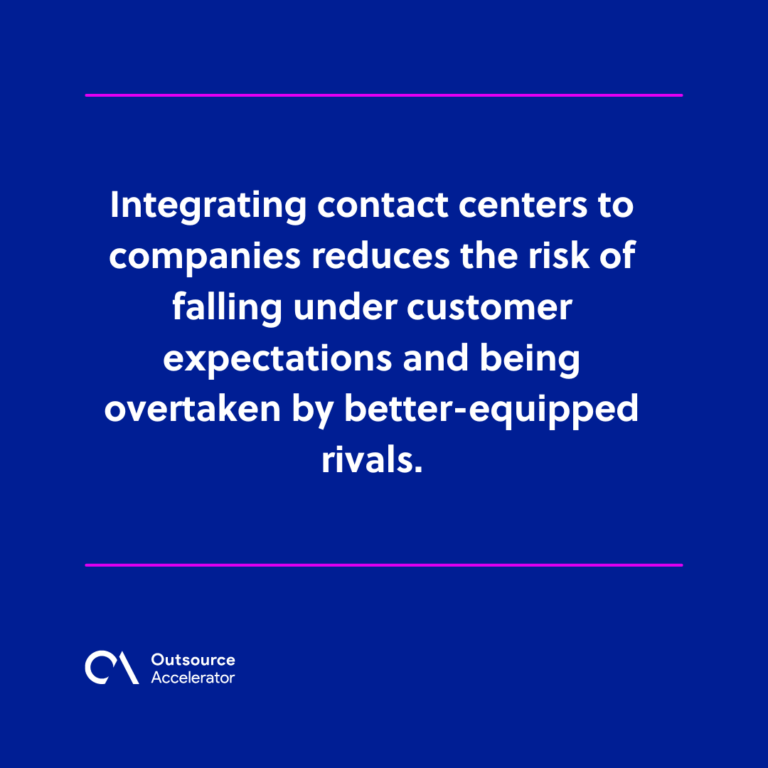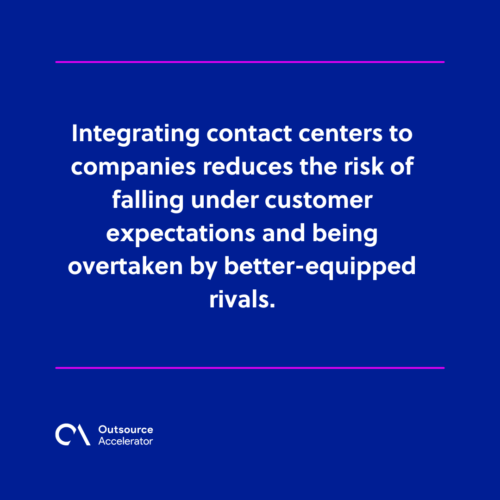 Contact center services
Customers mostly expect a business to be open on several working channels. This is what contact centers aim to do, such as in a call center, where they offer inbound, outbound, and mixed services.
Live chat, email, and inbound calls can be used to handle customer concerns like in a traditional call center. The same channels can also be used for billing reminders, delivery updates, and promotions for lead generation and sales conversion.
Outsource Accelerator provides you with the best contact center companies in the Philippines, where you can save up to 70% on staffing costs. We have over 5,000 articles, 350+ podcast episodes, and a comprehensive directory with 900+ BPOs… all designed to make it easier for clients to learn about, and engage with, contact center outsourcing.