Encouraging efficiency in the remote workplace by utilizing productivity apps
Encouraging efficiency in the remote workplace by utilizing productivity apps
The COVID-19 pandemic forced almost every company in every industry to migrate to working remotely in just a span of a few weeks. Board rooms and workstations have been exchanged for remote collaboration apps and makeshift home offices.
Daily clock-ins became a string of "good mornings" in a group chat, and sometimes, working at home doesn't feel like work anymore.
Even though everything is going remote, it's still essential to create a collaborative virtual work environment. Ryan Fyfe, COO and founder of Workpuls, talked about the importance of collaboration and instilling the workplace culture when working remotely on the Outsource Accelerator podcast.
He said, "I think the tools have made up largely for our ability to collaborate now, as effectively if not more remotely than we do in person. But from a culture and the human element. I think that's absolutely necessary."
Around the world, managers and team leaders are working hard to keep employee morale up despite the recent world events. They've also been working towards tracking everyone's progress, making sure that each employee is still clocking in at the right time, and putting effort into finishing their respective tasks for the day.
Encouraging productivity is more than just setting up a reward system for those who rigidly stick by the rules of working remotely—it's about looking into reasons your team is developing productivity dips well into the day.
Additionally, it is about progress. Be it a big step or an inch forward, it's better to recognize that progress – no matter how small – is still a nudge closer to reaching your goal.
Are productivity apps important when working remotely?
Short answer: Yes.
Longer answer: Yes, productivity apps allow you and your team to track progress and how much time they allotted in working on a certain project. Workpuls, a productivity and employee-tracking app, lets supervisors and team leaders take a peek behind the team's clock-ins and outs, and whether they are staying focused on work-related tasks.
A lot of enterprise-wide remote productivity apps provide real-time data that remote team leaders can use to detect patterns and trends that may influence productivity and, to an extent, the company's revenue.
When working from home (or anywhere that isn't a traditional office) it's important to still have a sense of urgency to push remote employees to still put on the same amount of work when they're working alongside their colleagues on the production floor.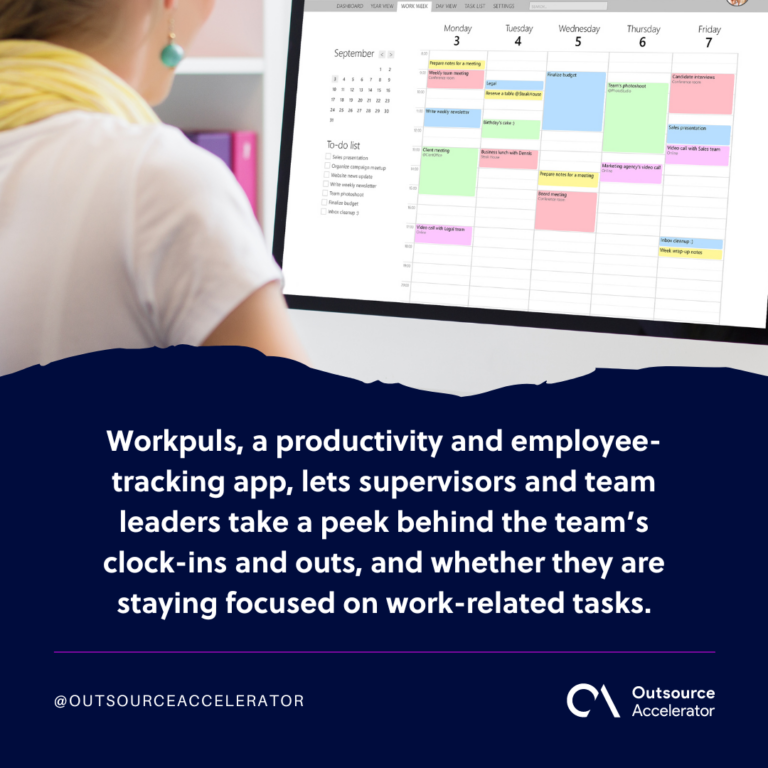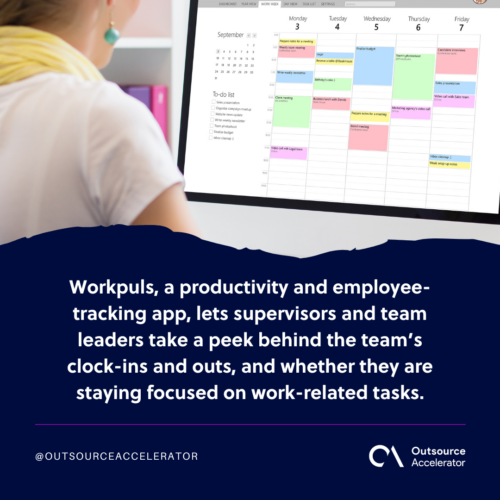 Discover Workpuls
Workpuls is a productivity and project management application that allows teams to track their own work hours. In Ryan's words, Workpuls "is a software as a service (Saas) that tracks activities that are happening on a computer."
The app can do real-time reporting of clock-ins and sign-offs to avoid human errors when it comes to putting in their time. Most of the data shown on the manager's home screen are reflective of each team member's productivity within the day.
That being said, Workpuls is an innovative piece of software that can help elevate workplaces, allowing them to be more productive than ever.
Before establishing Workpuls, Ryan spent ten years as the founder, former CEO, and Chairman of Humanity.com. He had many key takeaways from this decade of experience, and he gladly shared a couple of them on the podcast.
The Workpuls founder revealed that employee monitoring, scheduling, and time-tracking processes are more complex than they look. He said a lot of "learning and working" needs to be done for the software, and that they have to follow certain compliances, which can "provide much much better benefits for the staff."
With his decade of experience with Humanity.com, Ryan further realized the significance of "directly including your workforce in the decision making." 
Establishing boundaries between personal life and work 
It can be hard to put down boundaries between work and personal life—especially if the 'chores' are just within an arm's reach and can be done while technically still on the clock.
Another thing that's great about using productivity apps is that you have the freedom to schedule your work-related tasks around the time where you're less inclined to slip off the work wagon.
This is especially useful if you're a part of a company that values your output instead of how many hours you work that week. 
When you're working remotely, it's incredibly easy to overwork yourself as well as tapping open Netflix. A balance between the two is where efficiency flourishes, making you a better team player and employee. A remote workplace thrives when there is transparency, trust, and encouragement coming from both parties involved.