Definition
What is work from home?
Work-From-Home (WFH) is a set-up where employees work from their homes. Usually, working from home requires a laptop, a stable internet connection, VoIP, and other tools at home to do an employee's work properly. 
Most roles for WFH do not require physical interaction, such as in graphic design, accounting, and bookkeeping. Tech companies, meanwhile, use this to save on resources such as office space, equipment, and infrastructure.
When a calamity occurs such as a hurricane or a pandemic, a WFH arrangement is also ideal for business continuity.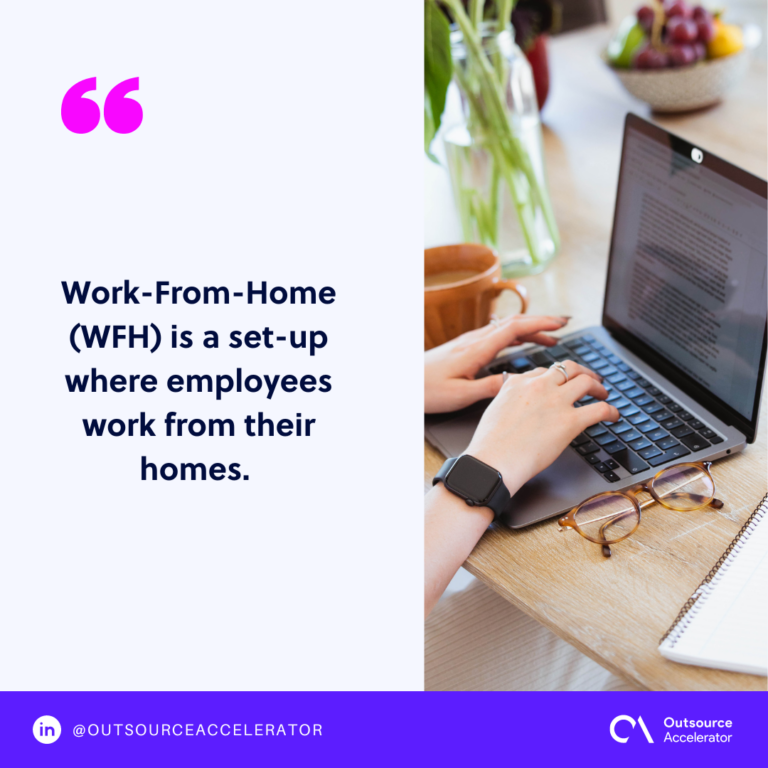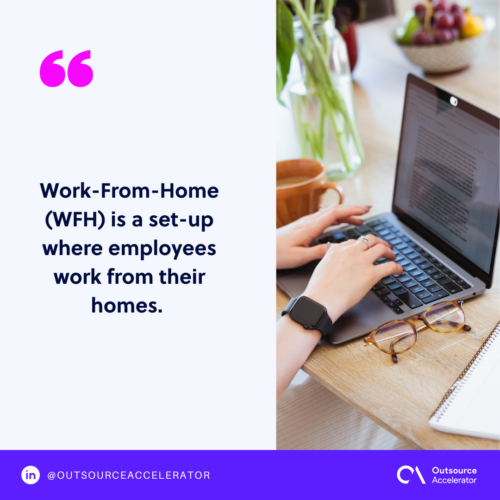 Work from home arrangement
As part of a flexible work arrangement, a WFH setup is agreed upon by the employer and the employee. Depending on the agreement, they can render WFH full-time or only on certain days. 
In addition, the employer may also provide equipment such as a laptop, high-speed connection, phone, and headset for those who don't have these at home. 
WFH employees collaborate with their teammates through different tools for task management, scheduling, and video conferencing.
Benefits of working from home
Here are some benefits of working from home:
Better work-life balance
Businesses with flexible hours allow their employees to start and end their days whenever they choose, as long as their work is completed and produces positive results.
In catering to the demands of your personal life, having control over your work schedule can be very beneficial.
Dropping kids off at school, doing errands, taking an online fitness class in the morning, or working from home as a freelancer are all tasks that are easier to manage when you work from home.
Less commute stress
Commuting wastes time, which is only one of the disadvantages of getting to and from work. Daily commuting of over 30 minutes is associated with higher levels of stress and anxiety, and studies show that commuting to work each day is associated with health problems.
By working from home and eliminating your commuting routine, you can better improve your emotional and physical wellness. 
Further, the time saved from commuting can be used for things other than work, such as getting more sleep in the morning, spending more time with family, or working out.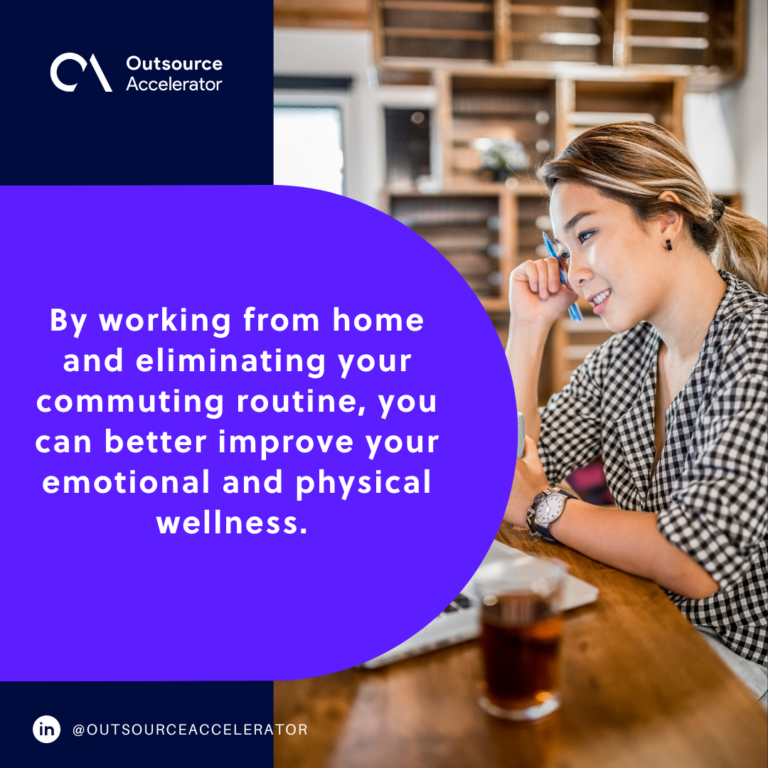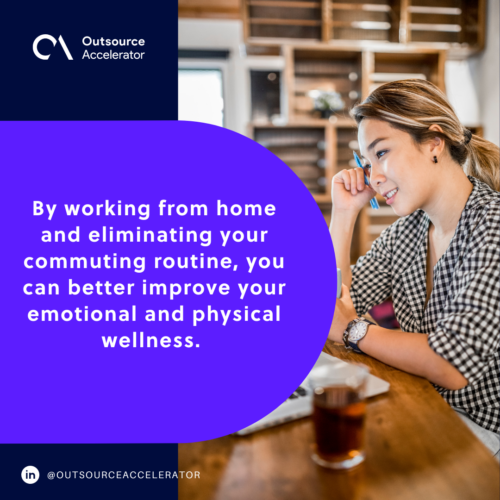 Improved inclusivity
Companies can embrace diversity and inclusion by employing individuals from various socio-economic, regional, and cultural backgrounds and viewpoints, which can be difficult to do when recruiting is limited.
Companies choose to encourage diversity, community, and family by recruiting workers who can work from home in the places where they feel most comfortable and supported.
People with disabilities or individuals who require a flexible schedule may find it difficult to get regular employment at an onsite position. However, remote work allows them to pursue their professional objectives without having to worry about traveling back and forth to an office.
Money savings
Gas, car maintenance, transportation, parking fees, professional attire, and other expenses may all be cut back or eliminated. These can save more money and use it in necessities in the employee's life.
In addition, businesses gain benefits from working from home. Companies that allow employees to work from home after a pandemic can experience greater long-term cost reductions.
Common types of work from home jobs
If you want to work from home, many opportunities require various talents and experience and many companies pay incomes that are equivalent to full-time and on-site positions.
Here are some roles to consider for work from home jobs:
Virtual assistants
A virtual assistant is like an off-site secretary. A traditional secretary imposes several costs for a business. If the business is small, it may not require a full-time employee. 
VAs work from home and communicate with their supervisor through online platforms. 
In addition, they can perform most of what an administrative assistant does, but at lesser rates to emails, preparing business papers, contacting clients, arranging appointments, and managing social media.
Excellent communication skills and some office experience are essential for this type of employment.
Customer service representatives
Corporations and SMEs gain home-based customer service representatives. Most of these jobs involve inbound calls, such as assisting customers with orders or account information, while some also require outbound calls.
Most companies come with a fixed work schedule. However, you'll be paid by the hour or occasionally by the minute when you work from home.
Good communication and people skills are common requirements for this form of work, with most companies requiring a background check. The chat agent, who answers client queries live through the company's website or social media, is an extension of the traditional customer service position.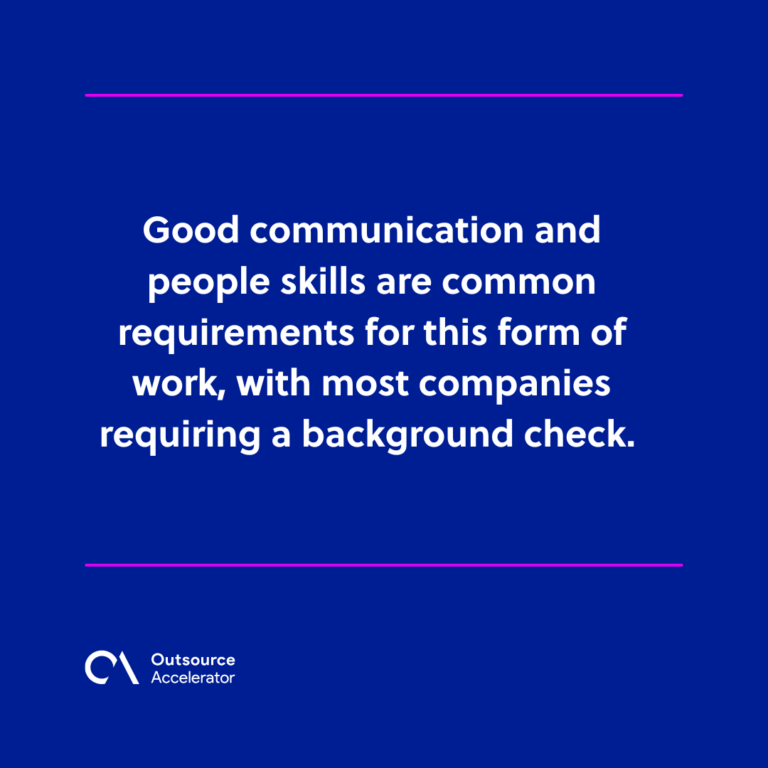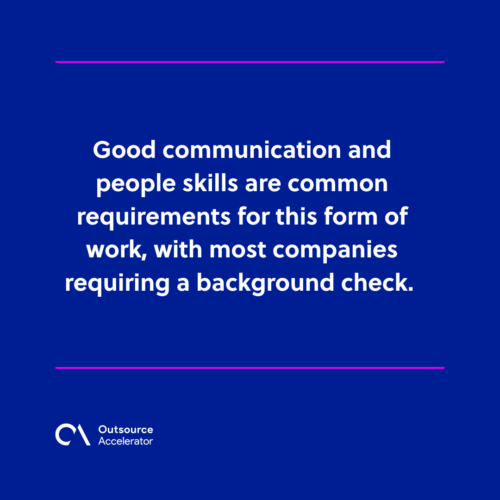 Data encoder and transcriptionist
Data entry is the process of entering data into a computer program or spreadsheet. Working with a customer relationship management system, for example, might involve recording payroll data, inventory items, or working with a customer relationship management system.
On the other hand, working as a transcriptionist involves producing documents from audio recordings. This is often done for enterprises that require meetings, workshops, conference calls, or podcast documentation.
Employers are looking for employees who are detail-oriented and have strong typing abilities for these roles. 
Although data entry and transcription are two different professions, they typically require the same abilities and qualifications.
SEO Specialist
An SEO (search engine optimization) professional examines, evaluates, and executes modifications to websites to increase the number of visitors and to enhance the site's search engine ranking.
This role demand at least one year of experience and knowledge of industry SEO tools and strategies like Google Analytics and website development platforms.