Definition
What is payroll?
Payroll can refer to three things: 1) the calculation and distribution of paychecks; 2) the record of wages, taxes, contributions, and withholdings of employees; and 3) the total amount paid to employees by the company.
Payroll is important in different ways. For employees, the payroll is important for living expenses, and a timely or late paycheck can spell the difference between good and bad morale.
For businesses, payroll is important to see the actual net profit for the fiscal period. For business owners, a properly done payroll is important for compliance with the law. For this reason, many businesses entrust their payroll to dedicated professionals who can process them with speed and accuracy.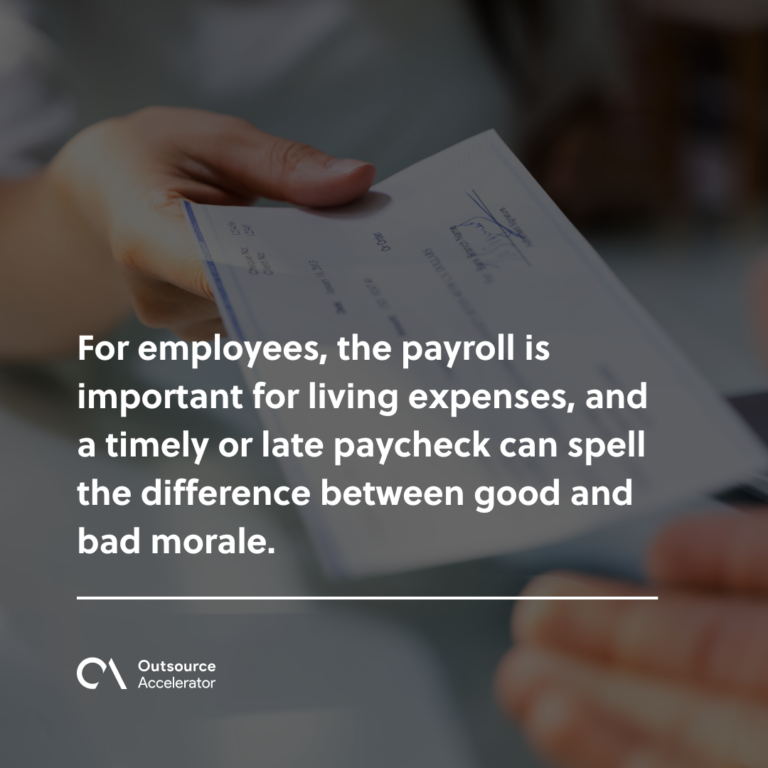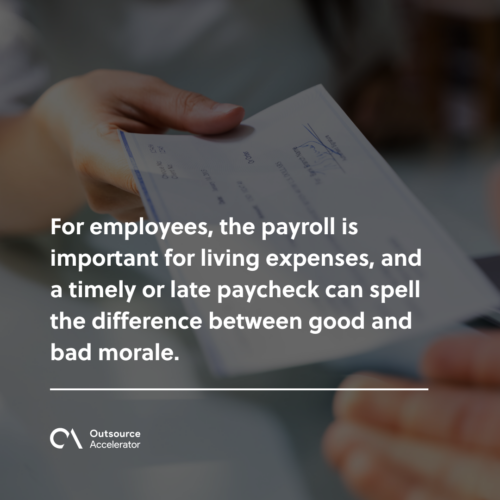 Outsourcing payroll services
One of the more popular outsourced functions is the payroll process. Because of the importance of having an efficient payroll, companies that can afford to do so tend to outsource it to dedicated professionals.
Outsourcing companies in the Philippines are experienced with the Generally Accepted Accounting Principles (GAAP) that are being followed in the country they are servicing.
Outsource Accelerator connects you with payroll firms that have extensive experience with the regulatory framework in the US and have a proven track record in accuracy and timeliness in payroll delivery. We make it easier for clients to learn about, and engage with payroll outsourcing.
How payroll is processed
The payroll process nowadays usually involves utilizing payroll software for more efficient and accurate handling. Yet, most small business owners still handle their payroll functions manually, especially when they are starting.
Before the payroll processing begins, employers should prepare the requirements given by their employees such as their tax and financial information. They would also need to secure their employer identification number (EIN) to ensure that deductions such as payroll taxes and employee benefits are accounted for.
The following are the steps for payroll processing.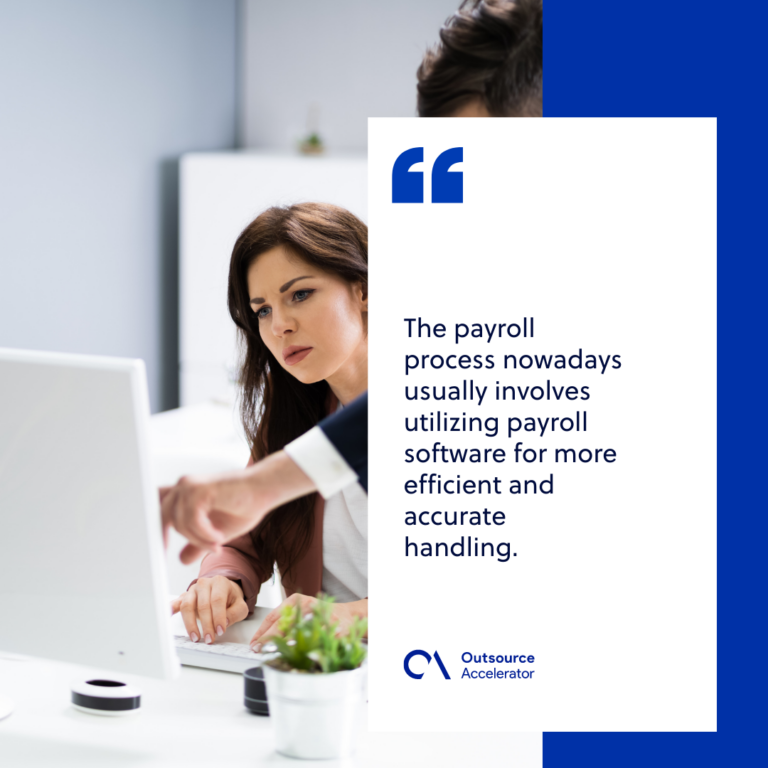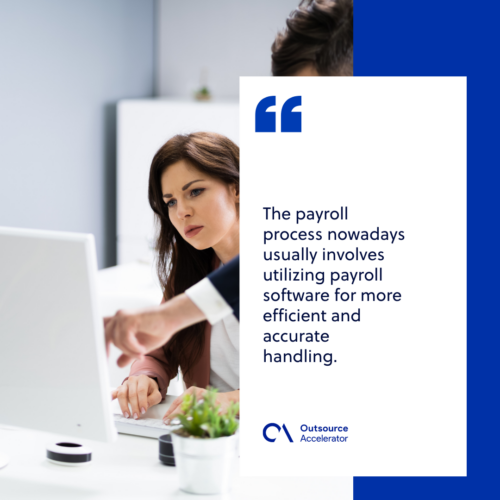 Choose an effective payroll schedule
First, choose a payroll schedule that can work best for a business. Some of the most popular pay schedules include the following.
Weekly. Businesses can pay their workers on a specific day of the week, regardless of the date. For instance, payroll can be given every Thursday or Friday.
Bi-weekly. In another variation of the weekly pay, businesses can provide payroll on a specific day every two weeks.
Semi-monthly. Semi-monthly pay is the most common payroll schedule used in most countries. Employers pay their workers twice a month on two specific dates.
Monthly. Lastly, employers can provide employee wages every month on a specific date.
Pay schedules are usually affected by an organization's practice and the legal compliances for pay frequencies in a certain location.
Calculate employee's gross pay
Depending on an organization's practice, an employee's gross pay can either be fixed or based on their daily or hourly wages.
For the daily and hourly workers, employers should calculate the total number of hours or days an employee has worked in a pay period. A time tracking software can best benefit them for this.
Firms should at the same time consider overtime hours, late logins, leaves, and absences when calculating. Overtime calculations and other additional charges may depend on the country their employees are in.
Identify deductions
Gather knowledge of the different deductions that employees are subject to. In the United States, the different deductions applicable for employees include the following.
Federal taxes/tax withholdings
State taxes
Social Security
401(k) contributions
Workers compensation
Different states and countries collect different taxes and deductions. With this, employers should be mindful of the policies of each country where their workers sit. This would be easier with a reliable payroll provider on their side.
Calculate net pay and process payments
Subtract gross pay to the applicable deductions for each employee. The amount left after deductions will be the employees' take-home salary for the specific pay period.
The most common ways to pay employees include direct deposit, prepaid cards loaded with salaries, and paychecks to be distributed to each worker.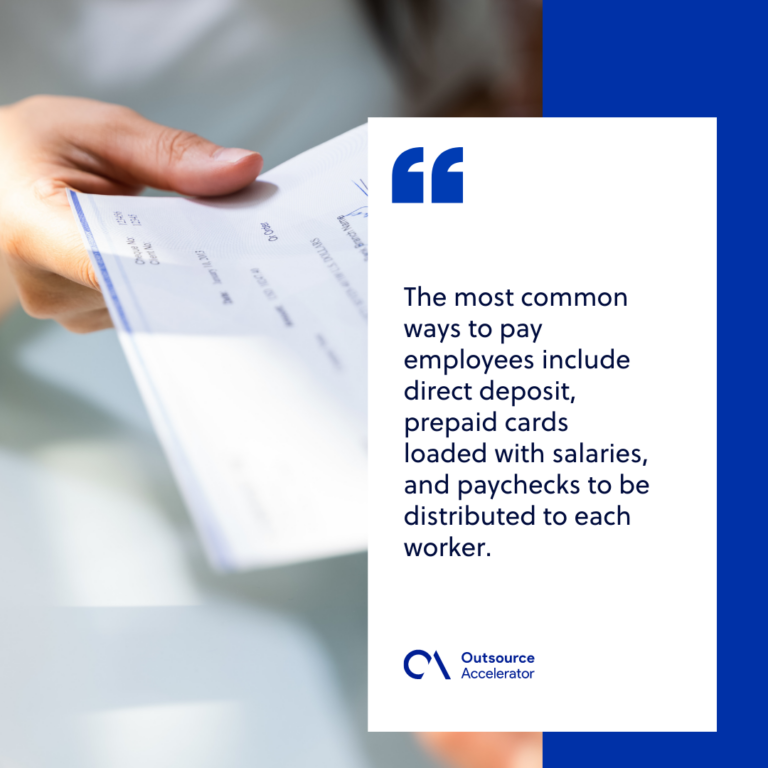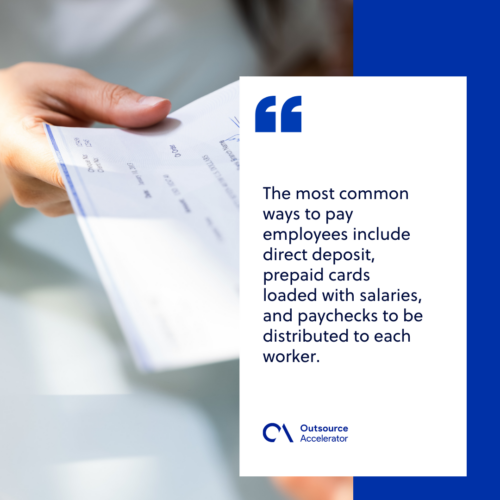 Make necessary connections and keep records
Be sure to keep records for salaries in different pay periods through copies of payslips and payroll records. Make any changes and corrections to employee salaries in case of discrepancies and inaccuracies in their pay.
Remit deductions
Lastly, companies should make sure to remit the deductions from each employee as a part of their compliance. It's best to consult an accountant for the appropriate tax deductions and always report new hires to the Internal Revenue Service.