Benefits of outsourcing your payroll services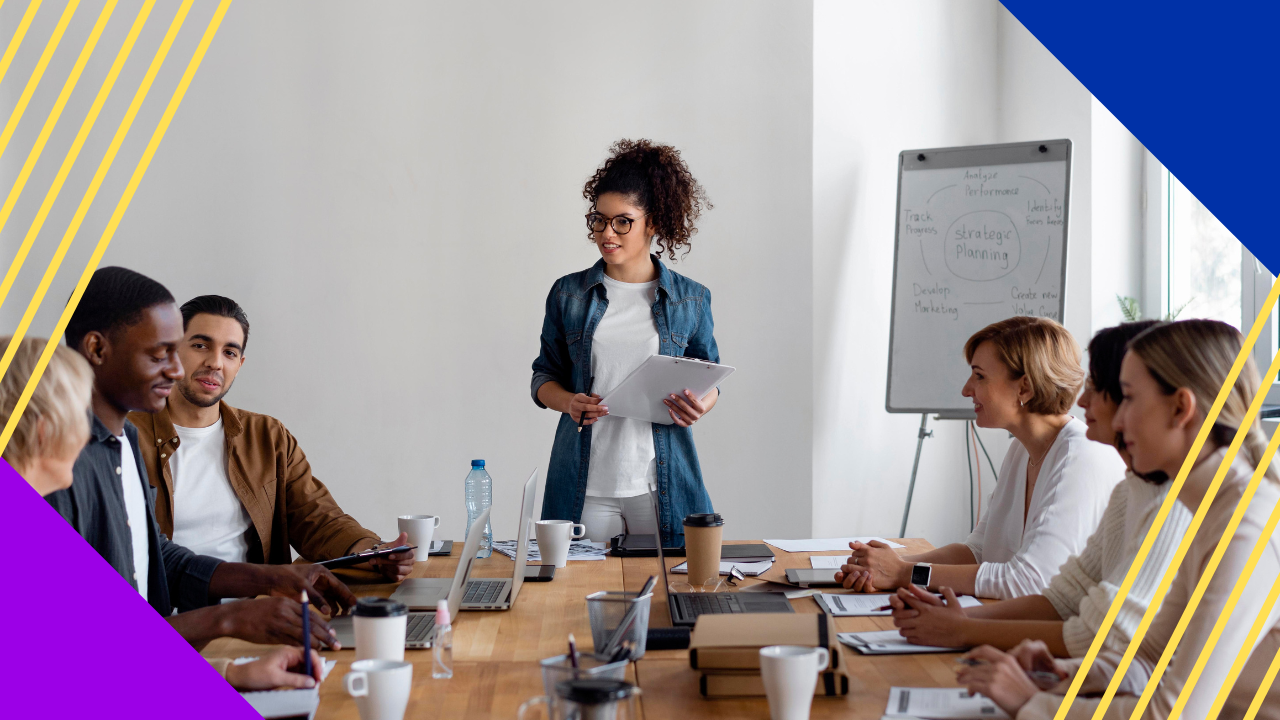 Large companies that can afford to have a finance/accounting department probably don't have any payroll headaches. They have a full-sized payroll department that handles everything the function encompasses, including withholding employee taxes, filing quarterly taxes, calculating wages and distributing funds to applicable government agencies, among other tasks.
Small businesses typically outsource their accounting and payroll. Seldom do they have a finance team, and their HR personnel are focused on key responsibilities such as recruitment, record-keeping, ensuring compliance with labor laws, and remediating performance issues. Burdening them with payroll – which, besides requiring familiarity with accounting functions and tax laws, also involves repetitive, non-core activities – is unnecessary when better alternatives exist.
Here is a discussion of the key reasons how BPO services specializing in payroll can be a source of strategic value for companies
1. Focus on core business
It does not make business sense to devote significant manpower hours to non-core functions that do not generate sales. Payroll is a critical function, one that must be entrusted to appropriate professionals, but they don't necessarily have to be someone from the already-busy HR team. Ideally, the undivided focus of the team should be on core activities that help the business maintain and retain top talent.
The highest benefits are derived when staff is able to utilize most of their time on their strengths. This is why businesses are advised to outsource functions that don't fall in the realm of their core competencies. Some outsourcing examples include web development, business accounting, information technology, and taxes and payroll.
Businesses must resist the temptation to take on tasks that are outside of their skill-sets. It is quite risky for a start-up owner to attempt handling payroll even for 5-10 employees. When inexperienced personnel are faced with the same challenge, they will need to move up a very steep learning curve, which can be overwhelming, and not guarantee that the said function will be performed as it should be, once again exposing the business to risk. Outsourcing employees with the qualifications to do a thorough, professional job can give businesses peace of mind knowing that their payroll function is in competent hands.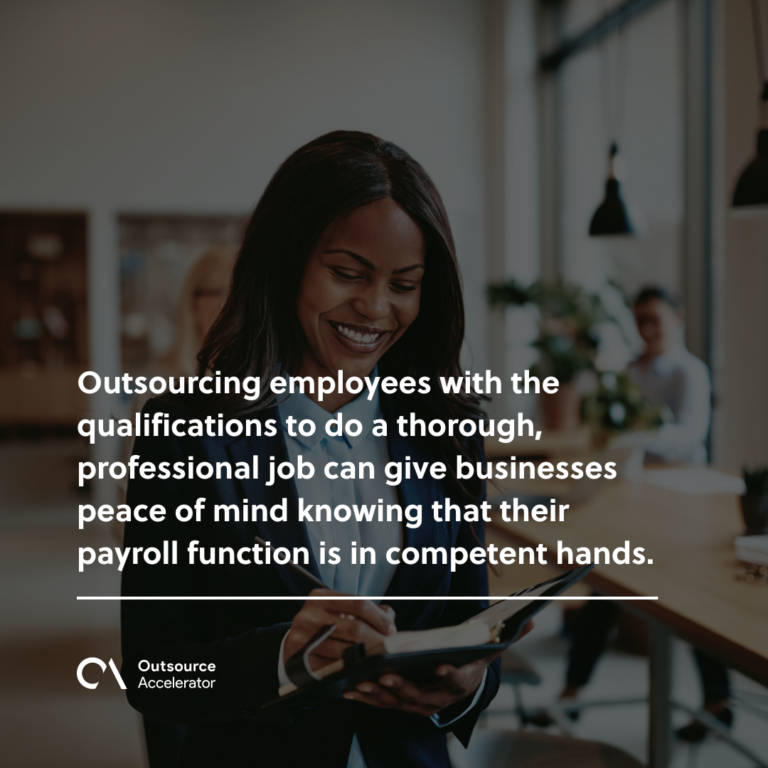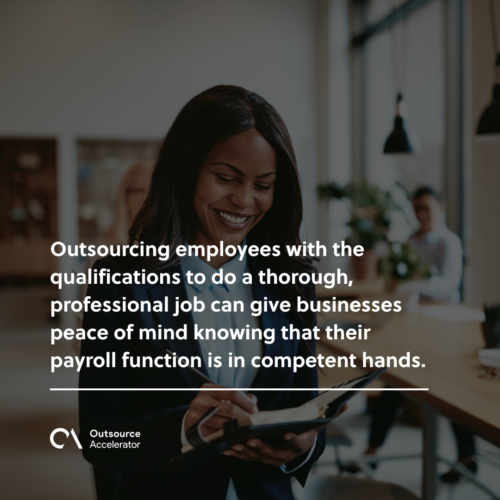 2. Payroll errors can be eliminated or minimized
According to the American Payroll Association, errors in calculating payroll and hours worked to result in over-payment of 1%-8% in annual wages to employees. Of course, errors can also result in underpayment, and evidence suggests that underpaid employees are not quick to identify and resolve underpayment resulting from accident or wilfulness.
Payroll management requires a significant investment of time and effort. Rules concerning wage and hours can be complex, and HR staff will need to wrap their head around new reporting or state requirements and make time for unexpected notices from the IRS. Any bolt out of the blue will be disruptive and time-consuming for small businesses.
Some mistakes also pose liability issues and attract a penalty. For instance, the IRS keeps a close watch on payroll practices concerning the following : classification of employees as independent contractors, not subjecting vendor payment to mandatory backup withholding, failure to issue Form 1099s, not depositing withheld taxes in a timely manner, wrongly excluding reimbursements from reportable wages, and not including the appropriate value of taxable fringe benefits in employees' income, to name some. An example would be the CP276B Notice on depositing the correct amount of tax deposits; a Federal Tax Deposit penalty is charged for this error.
A BPO outsourcing solution can counter the risks of processing payroll late or incorrectly, helping preserve the cash as well as the reputation of the business.
3. The increasing complexities of payroll processes can be addressed efficiently
Companies that maintain offices in more than one country have to deal with the payroll complexities of such a set-up. PwC has identified the following global payroll challenges:
A greater prevalence of tax audits and notices at both employee and the corporate level
An increasing co-operation between tax and immigration authorities
Overpayment to tax authorities, which cannot be recovered
Effectively dealing with multi-currency arrangements
Performing targeted audits for certain categories of employed individuals, such as frequent business travelers
The growing acceptance and popularity of flexible working arrangements also pose their own share of challenges. Businesses need professional solutions to manage payroll and work-hour issues associated with zero-hours contracts, job-sharing arrangements, part-time workers, and contractors. When complex calculations are required and payrolls must be coordinated efficiently across various worker categories and global offices, the expertise of BPO services specializing in payroll is most welcome.
Also, to ensure that the payroll process runs in a streamlined manner and compliance requirements are met, businesses need to implement appropriate governance and controls, backed by the right technology. All this can be too much to take on for a small business employing foreign freelancers, or mid-sized firm with a multi-country presence. Global outsourcing of the payroll function will serve the companies better.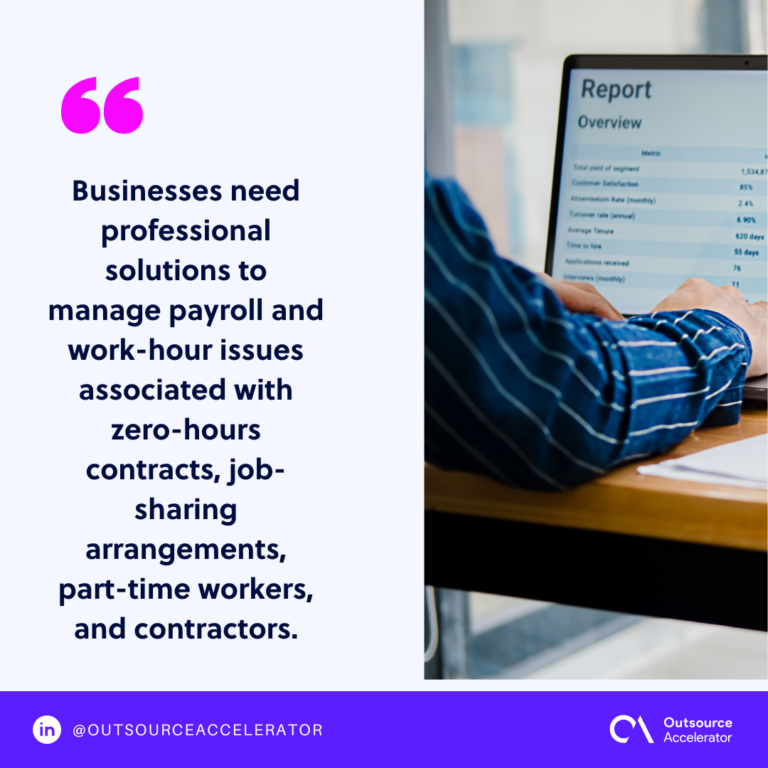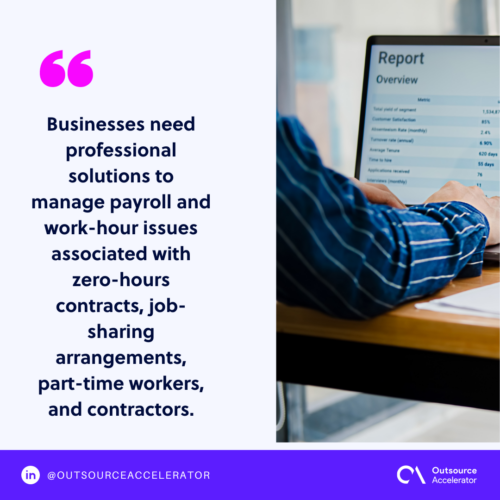 4. Leveraging the provider's technology and expertise
One of the main reasons why companies entrust payroll to third-party providers is to access expertise and technology economically. As mentioned previously, payroll related regulations can be extensive. In the United States, employers have to factor in several thousand federal, state and local taxing jurisdictions. On top of that, new rules are introduced consistently, requiring employers to stay abreast and incorporate changes expected of them. Some Acts may call for substantial compliance and reporting requirements, which will naturally be burdensome for businesses that cannot afford to set-up an in-house team of qualified and experienced payroll professionals.
In this scenario, outsourcing labor to a payroll services company with an expert staff well-versed in the applicable rules and regulations, will no doubt be invaluable. The dedicated team or professional overseeing the client company's payroll account can be relied upon to stay current with new laws and adapt to changing requirements more easily than what is possible if the company were to try and manage the same in-house.
Payroll technology has also advanced in recent years, with mobile computing, cloud computing and API (application programming interfaces) offering convenience, flexibility, and transparency. Businesses looking to make the most of the advantages offered by digital trends will first need to plan their IT strategy and budget. Admittedly, they may not always be able to build a compelling business case to invest in, say, mobile payroll, owing to cost constraints. Or they may be hesitant to move to the cloud as they're not sure about the data issues it could pose and how they could possibly address them.
Outsourcing services have all this figured out, from deploying advanced technology and staying on top of digital trends to making informed decisions on investments and offerings. Businesses that outsource to a payroll BPO in the Philippines don't have to struggle with such decisions or extend their budgets, yet benefit from new payroll technologies and trends.
Employees also expect their employers to offer direct deposits, electronic payments, and payment cards. The ability to access payslips on mobile devices and real-time compensation reporting are some of the latest payroll trends that businesses can leverage for differentiation and competitive advantage. Businesses are also increasingly looking to hone analytics capabilities to glean useful insights from large data volumes. In its simplest form, it could involve creating summaries on earning statements, expenses, time sheets, and cost summaries to improve decision-making. Offshore outsourcing companies may offer such capabilities, allowing businesses added advantages without high costs.
Companies looking to engage the services of a global payroll vendor should consider costs, global or geographic capability, and technology platforms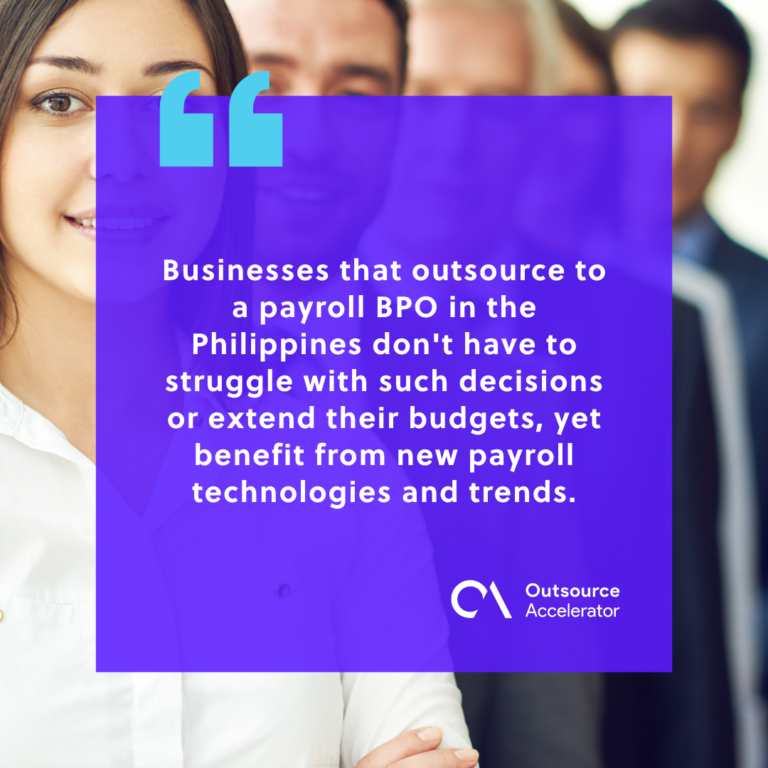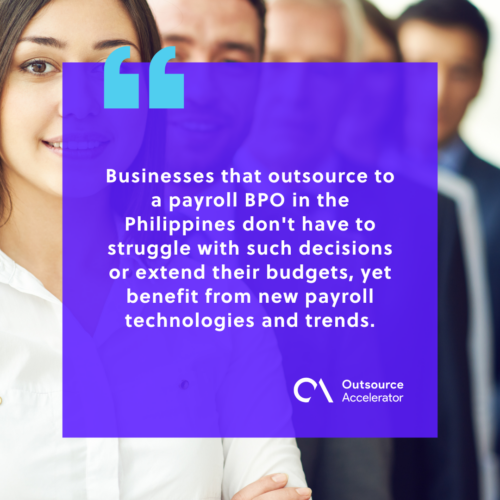 to make a judicious choice.
 5. Cutting down on overhead costs
Time is money. All the hours in a week or month you move away from core activities and towards payroll can be potentially saved and devoted to profit-generating opportunities. A comparison of the  'overhead costs' of implementing a payroll process, staffing it, and managing it, versus the costs of hiring a payroll provider will show the latter to be a more cost-effective strategy. As businesses scale up, so can their payroll service plans; the leap in costs is never as big as that associated with investing in more manpower and technology resources in-house.
Finally, outsourcing and offshoring offer businesses a lot of conveniences. Even in a simple arrangement, the business can call up or email the provider the necessary details – hours, salary amounts, and deductions for processing and checking off. Providers may even offer the option to enter payroll information on their website. Regardless of the mechanism, a quality provider with a solid reputation , such as StaffWiz, can do all the heavy lifting for businesses, allowing them to be more productive, cost-competitive, and ultimately more profitable.