---
---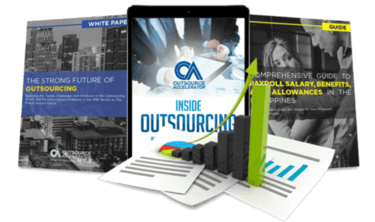 Outsource the right way, the first time
Get up to speed in outsourcing with this all-in-one tool kit
GET YOUR FREE TOOLKIT

PARTNER

PRO
About Outsourced
Outsourced is a leading Business Process Outsourcing (BPO) Philippines company that provides dedicated remote staff and offshore staffing services. We specialize in providing staff of the highest quality who will continue to exceed your expectations ongoing.
We have spared no expense to ensure your remote staff are comfortable and able to perform their work effectively and efficiently. Our spacious open plan offices are supported by advanced network infrastructure, fast internet, follow best IT
What Outsourced offers its clients
We specialise in providing dedicated staff to organisations looking for a mid (minimum 3 month) to long term remote staffing solution. Our goal is to find and place exceptional staff – specialising in outsourcing it services; that will stay with you for years to come and who will constantly exceed your expectations.
How Outsourced outshines the competition
Our offices have a 100% back up power system, 24/7 utility provisions & redundant power capacities. We utilise premium and dedicated internet service via Fibre Optic Facilities and a fully-redundant Gigabit Ethernet Network. We also have a secondary failover network to ensure the greatest uptime and performance of your staff. quality assurance Outsourced is ISO Certified and dedicated to delivering quality assurance and are committed to providing staff of the highest standard.
Outsourced company structure
Outsourced is Philippines Incorporated with Australian and Philippine Directors and Shareholders. providing specialist Digital Qualified staffing, back office, and both inbound and Outbound business development staff.
Sample highlight service offering of Outsourced
Try our on-demand services with no major commitment to feel comfortable and secure in your knowledge that you have chosen the correct Outsourcing Partner.
Outsource Accelerator's site tour and expert interview of Outsourced
A few metrics about Outsourced
Services offered by Outsourced
This BPO doesn't have any services yet.
This BPO doesn't have any services yet.
Outsourced news, podcast and articles
The Source
Providing good customer service is a great way to ensure your customers' continued patronage. After…
The Source
One of the cornerstones of digital marketing, content marketing refers to planning, creating, and disseminating…
The Source
Virtual assistants are a godsend for busy individuals who are in dire need of extra…
The Source
Providing good customer service is a great way to ensure your customers' continued patronage. After…
Outsourced videos & images