Top 30 BPO companies in the USA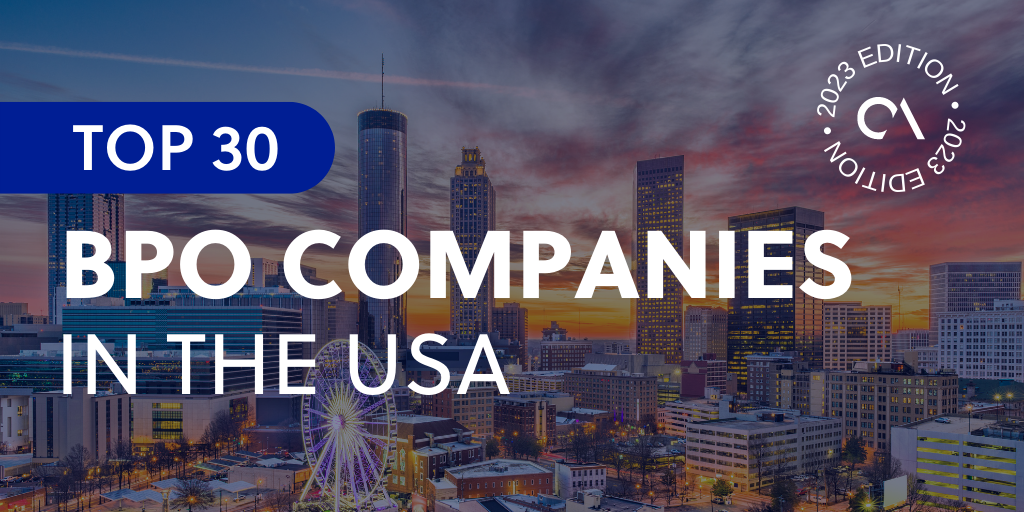 The BPO (business process outsourcing) sector does more than just provide businesses with the ability to reduce costs. It also connects individuals and companies geographically separated by using powerful technologies that facilitate human and data interactions. 
BPOs help the company quickly free up more hours in the day. When routine tasks are outsourced, the previously expended hours on such duties can now be used for other purposes. 
Businesses also outsource and simplify critical business processes using business process outsourcing, allowing them to focus on their core competencies. 
For years, businesses from all over the world have been sourcing out parts of their daily processes to developing countries in Asia. Among the popular offshoring destinations are the Philippines and India. 
But a lot of businesses today don't really have to transfer their business processes to countries thousands of miles away.
The United States per se has a flourishing local outsourcing industry. According to the latest statistics, BPO services in the US have seen a 3.5% growth in 2022, and the country has over 260,000 BPO service companies as of the same year.
This goes to show that businesses in the US don't really have to look far as they have the option to outsource work to their own country. 
Let's have a look at how BPO companies in USA have been blossoming over the past few years. Below, get to know the top 30 BPO companies in the USA that organizations can outsource to. 
Top 30 BPO outsourcing companies in the USA
Top global outsourcing lists
Outsource Accelerator is the world's leading outsourcing marketplace and advisory. We list over 3,000 BPO firms located across the globe in our global directory, and we provide detailed information, price guides, and reviews.
Whether you're a solopreneur, SME owner, or corporate executive, we can help you find the most suitable outsourcing provider for your business.
Explore our outsourcing directory now. You may also check out our Top BPO Outsourcing lists per country here:
BPO outsourcing industry in the USA
The BPO sector has grown dramatically since the 1980s, as businesses recognize the benefits of outsourcing their business operations. Through remote staffing, they discovered that they can reduce prices, enhance productivity and provide better customer service – operating with limited capital.
Over the past decade, the country's BPO Services industry has grown significantly. The improved U.S. economy and the increasing revenues from all main customer markets have contributed to outsourcing business processes.
Today, businesses in every sector are more set to externalize processes without key functionality when implementing more services. With the further development of the BPO market, we should expect more exciting developments to emerge this year.
By 2021, the United States, with $112.900 million, will produce more revenues globally.
The top 30 outsourcing BPO companies – the USA
The US BPO industry provides contracting services to third parties on a contract basis. Customers can outsource primary company and business processes to companies in this sector, including back and front office activities.
Here are the top 30 prominent BPO companies in the U.S. as of 2021:
OP360 is a global business process outsourcing firm that offers 24/7/365 professional services. Its services include inbound and outbound call center, data center, and accounting. OP360 also offers technology support, back office,  application and web development.
Founded in 2006, the all-around organization has grown its business, with locations in the United States, El Salvador, Guatemala, San Marcos, India, and the Philippines. Read a full review of OP360, here.
Remote Employee is a Western-owned & operated business with over 50 years of combined business and outsourcing experience. The company helps businesses of all sizes reduce operating costs and improve productivity just by rethinking the way you find great talent.
Remote Employee's mission is to give every size business the ability to easily connect to the global workforce — giving clients the means to grow and scale faster than traditional methods.
Based in Cambridge, Massachusetts, Peak Support is a fast-growing service company committed to offering outstanding support to rising businesses. They provide a wide range of services, such as customer care, sales processes, and project management outsourcing.
MCI is a privately held, tech-enabled business process outsourcing (BPO) company that provides Global Customer Experience Outsourcing, Technology & Contact Center Services. Driving modernization through digitalization, MCI ensures clients do more for less. MCI operates globally offering a wide array of pricing configurations.
Read a full review of MCI, here.
Invensis Technologies is a leading IT-BPO service provider that has helped customers worldwide obtain business change and development by improving work methods and effectiveness.
They provide a wide range of services to provide a final back office solution, allowing customers to devote their energy and assets entirely to their primary business advantages.
"Become a unicorn" is SupportYourApp's invitation to prospective clients. The company provides omnichannel customer support to its client base. SupportYourApp has its bases covered, from day to night.
Acquire BPO is an ambitious company, created in 2005, with extensive experience collaborating with investors to solve actual challenges rapidly. What they do is focused on a real collaboration strategy.
They have a robust Work from Home (WFH) ecosystem throughout various countries where they work, with their Class A physical distribution areas.
Remote CoWorkers enables you to authorize activities that consume a significant amount of your time, allowing you to concentrate on critical to your company's success.
Their organization will ensure that all of your protocols are implemented and that your Remote CoWorker can still provide what is required of them. They have assembled an outstanding group whose sole purpose is to help you achieve your business objectives at exceptionally reasonable prices.
Exela (formerly SourceHOV) is a universal leader in Transaction Processing Services and Enterprise Information Management. They offer solutions and assistance to large project businesses looking to improve their company operations' performance.
Exela's services and applications cover micro company product sets for financial management, human resource management, and legal, strategic planning, along with industry-specific solutions for banking, healthcare, security, and government.
Fusion BPO provides a wide variety of services, such as attracting new clients, efficiently handling information, and solving technological and administrative problems.
The slew of ancillary activities was designed to propel the company forward by combining workforce, technologies, science, and insights.
Perfect Data Entry was founded in 2011. At present, it has the experience, specialists, and technologies to provide comprehensive data entry supply, online analysis, and other information management assistance.
Working with Perfect Data Entry lets you obtain complete back-office workers to assist your company. All these perks are at a fraction of the expense of recruiting full employment workers.
With more than a decade of outsourcing expertise, Noon Dalton offers remote teams to hundreds of businesses worldwide, like major corporations, rapid scale-ups, venture capital, and financial institutions.
Aside from having excellent employees, they also organize your processes effectively.
For over 19 years, XACT has provided customer care services. Their expertise enables them to have a smooth, expense unified solution for your company or establishment.
They also specialize in personalizing designed solutions for businesses that do not fall perfectly into a conventional mold. They trust in a collaborative communication style.
Abacus Cambridge Partners is an organization that has been energized by the worldwide financial transition brought on by the industrial revolution 4.0.
They help their clients achieve business development by translating innovations to creative, stable, and accessible business strategies by utilizing skills across various markets and all business operations.
Callbox, founded in 2004, is the most significant supplier of outsourced B2B advertising and marketing assistance programs to companies and institutions.
Callbox has been assisting B2B businesses in meeting their maximum business targets. They accomplish this by offering a comprehensive suite of generating leads, meeting setting, and information strategies.
Westpark Communications, L.P., is a registered MWBE, established in 1968. It has been a trustworthy partner in providing a wide range of businesses with a goal of exceptional support. 
Westpark Communication has a reputation centered on deep customer connections. They will help you grow your company, improve your profile, streamline interactions, and ensure that your clients are happy.
Ameridial is listed with the nation's Top 50 teleservices companies that reliably reach and meet the highest transition and succeeding efficiency targets, such as display rates, implementation rates, and retention levels.
Their representatives have been educated on the value of empathy and treatment. They strive diligently with every client and every new program implementation to provide a good return on your company's capital.
ARDEM Incorporated is a deliberate outsourcing partner that details available business processes to assist their customers in increasing productivity. They collaborate with several of the world's most well-known businesses, as well as many state and government firms.
ARDEM wants to help companies and the men who control them build possibilities so that many people's lives will profit from the limitless perspectives that emerge.
I.Q. BackOffice is a significant finance, accounting, and regulated payroll management and solutions firm, providing 99.97% precision and up to 68% savings to businesses worldwide.
They provide tailored applications (advanced technologies combined with services) for operational processes like payroll, accounts payable, and receivable and standard operational and financial statement construction to build comprehensive accounting and finance services.
MMCY Tech is a globally recognized talent company that helps businesses grow and augment their teams. Their team of over 500-strong works with brands around the world to provide efficiency and expertise in business processes. 
Founded in 1997, MMCY Tech has particularly grown in the industries of event technology and IT services. Their partnership with Cvent, a platform for event software, has given them a wide footprint in providing resources for virtual event support. They also cover post-launch support for events. 
DialAmerica's customer support outsourcing offers cutting-edge advertising and business technologies for full benefit. They develop experienced salespeople to achieve high-performance levels, allowing for optimum generating revenue and a positive impact. To have a consistent customer experience, they creatively combine customer care technologies with other internet advertising.
Prialto provides controlled service with continuous good and constructive support for power success. They provide executive, sales, logistics, and other administrative assistance to entities, teams, and organizations.
Each Prialto assistant is onboarded and provides backup support to highly qualified individuals who easily fit into every clients' process and workflow.
Maestro creates tailored programs for businesses in nearly every industry, providing a wide range of products and services.
Maestro is an industry-focused division with numerous awards and earned a strong reputation for assisting big corporations in every sector. They also provide a degree of outstanding personal services.
Based in the Silicon Slopes of the Rocky Mountains, Squeeze Media is a leading provider of integrated business process outsourcing (BPO) services. Squeeze Media, headquartered in Utah, has been providing Call Center Services and Marketing Solutions to clients in a range of industries since 2009.
Unity Communications is a US-based BPO based in Gilbert, Arizona. They provide SMBs and businesses worldwide business models, customer support, telecommunication facilities, technical support, and administrative services outsourcing solutions.
WOW24-7 is a customer service outsourcing company that has been in business for more than five years. Wow24-7 assists companies in managing customer service across various networks. The service provides everything you'll need to set up a sound customer service system.
Solix is a best-in-class enterprise process outsourcing company that serves customers across the United States with program administration, technical solutions, consultancy, and customer service.
Solix and its affiliate, Sivic Solutions Group, provide specialist advice for government financing services such as Federal Medicaid, TANF, E-rate, and Rural Health Care. Solix also provides resources and trained professionals to help relief efforts after natural disasters like hurricanes or global health crises like the COVID-19 pandemic.
Headcount Management provides Employer of Record (EOR) and Agent of Record (AOR) support and streamlined onboarding, payroll funding, payroll administration, G.L. insurance, invoicing and collections H.R. assistance, and risk management.
They have been assisting businesses since 2007, and their experts will assess the company and provide you with the insights you need to boost progress.
ERC is a full-service, end-to-end network with all aspects of the consumer lifecycle and a multinational BPO. Relationships are established. They assemble the necessary tools to complete the task.
Thrive PEO is your one-stop market for professionally outsourced human capital, accounting, and employee compensation, both expertly tailored to save you time, money and change your company's culture.
The Thrive PEO model allows the consumers to leverage beneficial services and otherwise out of control from "blue-chip" service providers. Human resources and compliance, risk control, employee compensation, payroll administration, and information technology are also areas where their team of qualified specialists excels.