Top 20 BPO Companies in Australia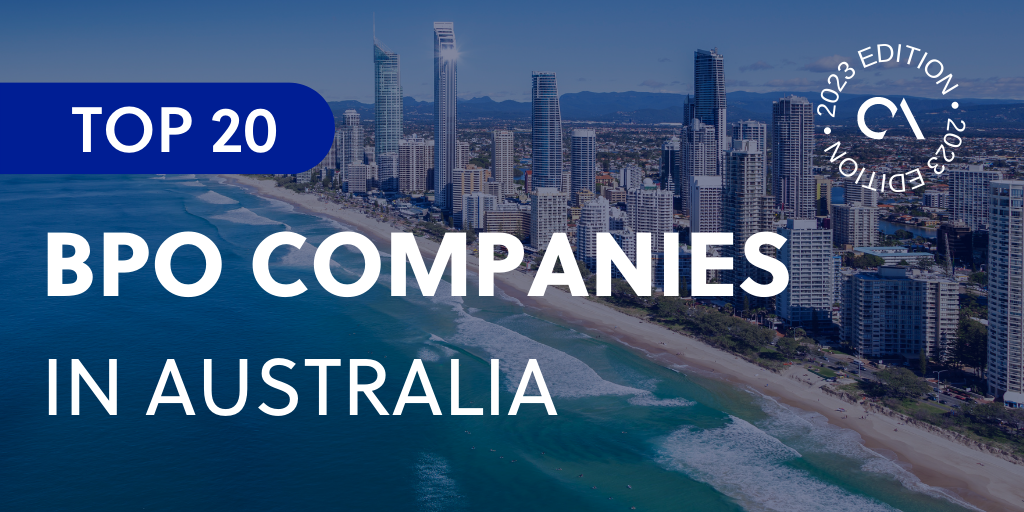 The combination of urban development and residential neighborhoods in Australia means one thing in the business industry–growth. 
Outsourcing talents from Business Processing Outsourcing (BPO) companies have been a lifesaver for businesses of all sizes in the country. It does not matter if the person is a thousand miles or half the world away.
That is the wonder of technology and split-second communication today. Many companies explore the offshore labor hire option to solve problems with the help of professionals that these businesses would typically be unable to afford.
How BPO has shaped the future
Many BPO companies in Australia provide business solutions to organizations and other entities through outsourcing services.
Start-ups and large businesses, insurance companies, legal entities, government bodies, banks, and other establishments have used these services to lessen their back-office expenses and remove the need to invest in computers or software.
Time is the most significant commodity today. This is why some businesses outsource activities to focus on more important business matters. Outsourcing has been shaping the future, and the future is here.
Top 20 BPO Companies in Australia
Top Global Outsourcing List
Outsource Accelerator is the world's leading outsourcing marketplace and advisory. We list over 3,000 BPO firms located across the globe in our global directory, and we provide detailed information, price guides, and reviews.

Whether you're a solopreneur, SME owner, or corporate executive, we can help you find the most suitable outsourcing provider for your business.

Explore our outsourcing directory now. You may also check out our Top BPO Outsourcing lists per country here:
Top 20 BPO Companies in Australia
BPO companies add more dimensions and opportunities to businesses. With their value-added services, operational expense, and pool of skilled professionals, there is no doubt why business houses are increasingly outsourcing talents.
Check out these top BPO companies in Australia and learn how they help businesses reduce costs and achieve efficiency while focusing on core competencies:
Started in 2020, BruntWork has thousands of specialists working across different operation functions, including digital marketing, multi-channel support, virtual assistants, and telesales. They started with a mission to become the largest outsourcing company in the world. 
Many news outlets have featured BruntWork, like Yahoo Finance, Forbes, Business Insider, Entrepreneur, Bloomberg, and Digital Journal, emphasizing its growth and how outsourcing can save a business in more ways than one.  
BruntWork connects businesses to a hand-picked Filipino workforce that can do their job. These businesses can scale up at a low cost without worrying about output quality. 
TSA Group goes back to 1997, with its first office in Western Australia and a small team of sales representatives. Fast forward to 2014, they opened their first international office in the Philippines and continue to expand today.
With TSA Group extending its business, so do the services they provide to give the different brands a voice that resonates with them. 
As Australia's leading customer consultancy and services specialist, TSA Group has embraced sustainability and incorporated it into its operation by being carbon neutral.
Combine the personalized customer experience with technological solutions and a team of experts; this is the TSA Way.  
For businesses looking for more sales, Illicium can help convert more prospects into paying customers through a cost-effective solution and tactical execution. It has been a secret force of companies in generating sales since 2018.
Illicium's optimized team serves as an extension of the brands, ensuring that the customer experience is still the same. They solve business problems, provide solutions and tactics, and ultimately thrive. 
The company also uses the Sales-as-a-Service business model. This can help businesses reduce the overhead cost and avoid a long-term commitment while getting the same positive outcomes from the team. 
Cloudstaff opened its doors in 2005 as a software development company. However, the founder discovered that the Philippines is a "hot spot" for outsourcing services. Years later, Cloudstaff expanded and extended its services in several regions. They made it a mission to ensure their partners have the right resources to add value and grow. 
The scalable offshore talents from Cloudstaff understand that companies need to focus on the core matters rather than spend time on menial tasks. So when things get out of control, Cloudstaff's professional recruiters can source top-level talents with the same values and vision as the company. 
LeadCallers is a go-to service provider for businesses that want to convert leads and boost sales through call campaigns.
For companies unable to keep up with the high volume of inquiries, that could lead to expensive problems. This is what LeadCallers is trying to solve through their services. 
They serve as the extension of these companies with their approach. The expertly-trained virtual staff from LeadCallers provide solutions and scalability to address the high volume of inquiries. Just provide the leads and LeadCallers will take care of the rest.
OutsourcingAngel has been in the industry for ten years with a mission to make the world a better place. The company has helped hundreds of Australian businesses and international clients outsource work to virtual assistants.
From digital marketing to bookkeeping, OutsourcingAngel has experienced virtual assistants that can help businesses scale up. 
Aside from the clear commitment to employing and providing opportunities to Filipino virtual assistants, OutsourcingAngel continues to make a difference by contributing ten percent of its profit to charities and partnering with non-profit organizations. 
Founded in 1987, Startek Australia is located in Melbourne. It is driven by its mission to help businesses thrive in their respective industries through customer experience (CX) management solutions.
The company is also focused on helping customers build and sustain emotional connections with the brand, regardless of location. 
Startek Australia offers sales support, inbound call support, customer care, order management, up-sell and cross-sell opportunities, customer insights and analytics, and other industry-specific processes. 
Founded in 1948, Robert Half is a staffing agency focused on finance, accounting, technology, and business support industries. As FORTUNE'S "Most Admired Company® for 25 consecutive years, 
Robert Half wants to go above and beyond the expectations of all its clients' business outsourcing needs.  
The company has more than 300 offices worldwide. It is part of their mission to source contractual or permanent top-level talents for businesses in Australia and help job hunters bloom in their respective careers. 
Sharesource AU has been in the industry since 2013. Initially, the company's goal was to hire intelligent individuals and connect them to a broader audience. But a conversation between the founder and one of his people changed the dynamics of the business model.
From recruiting problem-solvers and visionaries only, Sharesource AU looked at motivated STEM professionals and unlocked their full potential. The founder connected these people to innovative businesses. 
Some STEM teams at Sharesource AU include software developers, data scientists, mathematicians, data engineers, and statisticians. 
CIENCE was founded in June 2015, with its headquarters in Denver, Colorado, and offices globally. At a glance, the company focuses on B2B lead generation sales.
It has over 1,200 employees who helped hundreds of clients in different industries grow through multi-channel outbound and inbound sales development, sales research, and sales operations work. Along with this, the company has strategic thinkers and a mission–to cultivate an inclusive and productive workplace.
CIENCE offers six SaaS and PaaS packages that can boost a business's revenue. 
Probe Group has one goal–to make businesses "do it better."
Being in the industry for 40 years, the company has discovered that passion runs a business. To deliver a better customer experience, it is at the heart of the company to extend its core values to its solutions, processes, and strategies. 
Probe Group is a trusted partner across several industries, including automotive, government, banking and finance, healthcare and insurance, e-commerce, superannuation, logistics, travel, utilities, and telecommunications. 
Established in 2013, Aidey has a mission to create opportunities for the skilled global workforce while providing outstanding services to its clients and exceeding industry standards.
The company has global support leaders for different industries, including SaaS, start-ups, outbound services, e-commerce, hospitality, back office services, and IT support.
Aidey also offers a 21-day free trial to businesses who want to try tailor-made services without commitment. 
Hammerjack has more than ten years of experience in the offshore outsourcing industry. It has operations in Sydney and Manila.
Hammerjack does not only hire individuals; the company also trains and develops the talents to unleash their potential in the fields of IT, bookkeeping, virtual assistance, finance, and accounting. 
Aside from that, they help grow businesses to achieve measurable goals through the latest technology, streamlined processes, expert recruitment, comprehensive training programs, and a comfortable working environment. This is the Hammerjack difference. 
Forrest Marketing Group (FMG)'s clear commitment to helping businesses generate qualified sales leads and close deals is at the heart of its mission, vision, and core values.
Sustainability is also part of the company, allowing its partners to connect and convert their previous and existing customers. 
FMG offers support services, such as lead generation, customer care, telemarketing, and customer engagement. The team of experts from FMG supports their partners' sales and marketing teams and provides key metrics with measurable results.
Cox Purtell started in 1994 as an already-established staffing company. This means the company has connected the right people with the right role for over 20 years. Their approach and treatment of clients and candidates have made them flourish in this industry for years.
They do not only match the talents' CV to the job position; they go deeper and make sure to know the parties involved on both personal and professional levels. 
Cox Purtell specializes in marketing, sales recruitment, legal business support recruitment, government and affiliates recruitment, accounting and finance recruitment, and communications and sales recruitment. 
From the business name itself, Web Design Sun is a website and development company that is fully remote. It has been running since 2012 and has helped start-ups and enterprises.
Web Design Sun ensures they are efficient throughout the process. They plan and use their daily workhorses and technology stack to carry a personalized conversation in every customer interaction. 
The company's areas of expertise include Python Development, IT Consulting, Graphics Design, Mobile App Development, CMS and E-commerce, and PHP Framework Development. 
TransPerfect is a translation company, but they are more than that. They have a mission to become the communications leader and enabler globally.
Being in the business for more than 25 years, TransPerfect has solved the problems of its partners and helped them find their brand voice. 
With over 100 offices worldwide, the company offers translation and language services, content creation and management, digital content, global brand management, customer support, and media solutions.
They also ensure streamlining their workflow and cutting costs through intelligent technology solutions.
Salesdeck provides integrated outsourced sales solutions and data-driven insights that quickly generate sales leads, convert, and deliver ROI.
The leadership team of Salesdeck came together to generate sales by investing in people and their potential. They can solve business challenges and achieve specific metrics and goals.
The Salesdeck team is an expert in outbound sales. They contact prospects and engage with them using their methodical and persistent outreach.
Fonebox is another Australian company with a mission to give businesses their voice and be an extension of their company. While possibilities are endless, it is a reality for Fonebox. It is in the company's DNA to think outside the box. 
As an innovative company and the leading supplier of inbound services, Fonebox has industry experts who design intelligent call flow systems to meet the business's needs.
Whether it is a start-up, medium-scale business, or bigwig enterprise, Fonebox offers call routing features that fit all business sizes. 
Hoban is celebrating more than 50 years of helping Australian businesses and jobhunters with temporary and permanent positions in various operations. The company understands that relationships and real solutions matter for more growth.
Hoban offers staffing and workforce solutions in customer service, manufacturing, accounting and financing, call and contact center, labor-hire, government, and administration for business employers.  
Meanwhile, for job hunters looking for a career change or a temporary or full-time placement, Hoban gives access to training programs and connects them with Australia's big companies.