Top 20 VA companies in South Africa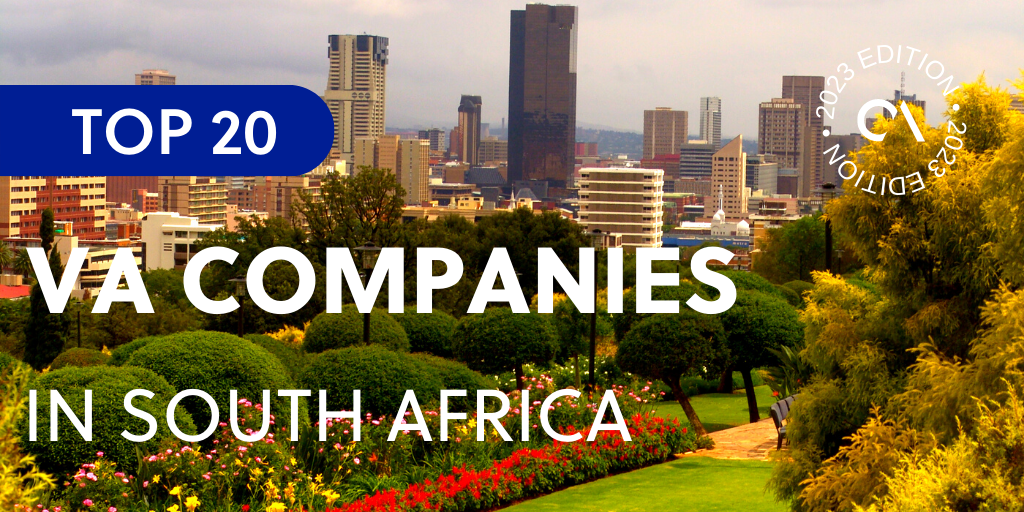 Top 20 VA companies in South Africa
Being a business owner involves wearing many hats. This is one of the reasons why many start-ups and small business owners need help to grow their businesses. They need to spend their energy on revenue. However, administrative functions and other tasks take most of their time in a day. 
Though you can do anything, you cannot do everything. Professional support can help you achieve freedom if you are a busy entrepreneur. 
Hiring virtual assistants is an ingredient to growing a business from the ground up. 

Top global outsourcing lists
Outsource Accelerator is the world's leading outsourcing marketplace and advisory. We list over 3,000 BPO firms located across the globe in our global directory, and we provide detailed information, price guides, and reviews.
Whether you're a solopreneur, SME owner, or a corporate executive, we can help you find the most suitable outsourcing provider for your business.
Explore our outsourcing directory now. You may also check out our Top VA companies lists per country here:
Growth of the outsourcing industry in South Africa
South Africa is one of the most attractive business process outsourcing (BPO) destinations. Businesses consider South Africa in outsourcing talent due to low labor costs, large talent pool, wide English-speaking population, and expertise. The continued government support and incentives to companies outsourcing to South Africa also contributed to the growth.
Based on the 2020 South Africa BPO Market Report highlights, the BPO industry is expected to reach USD 3.6 billion by 2027. This only means South Africa will be home to different BPO companies and outsourced services in the coming years.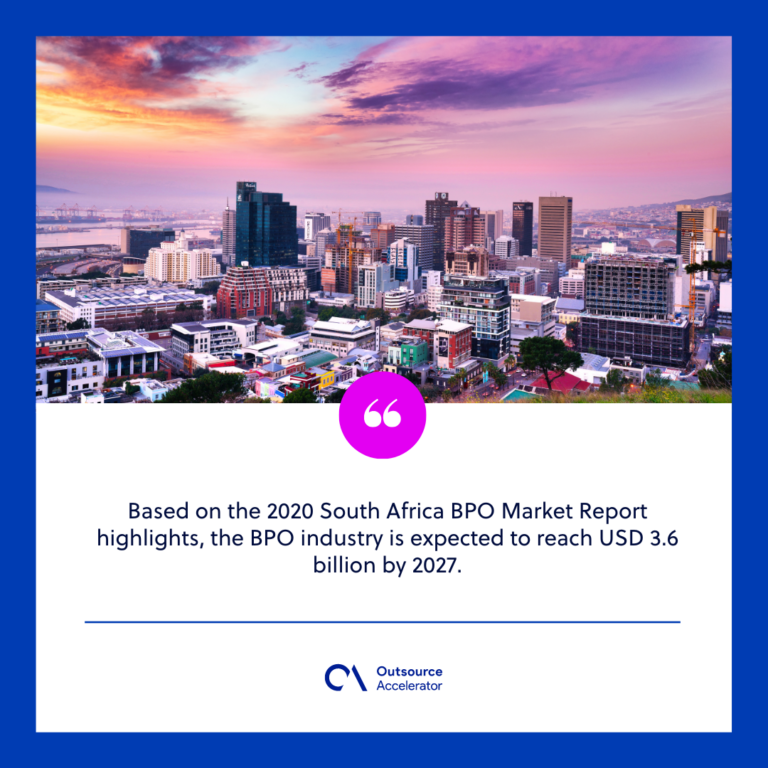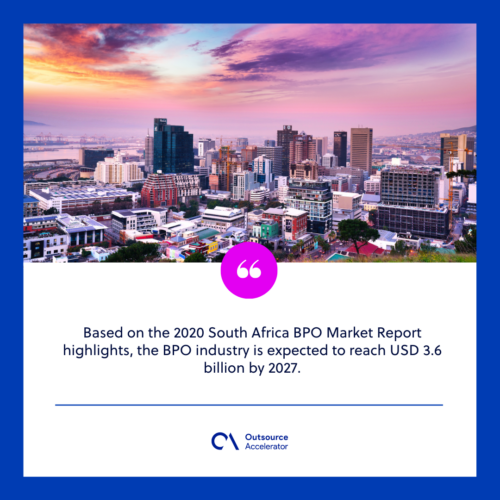 Top 20 VA companies in South Africa
Businesses of all sizes and sectors need staff to help them with administrative tasks. Virtual assistants have diverse skills and knowledge in handling various types of roles. 
For firms looking to hire seasoned specialists in the country, here we have 20 of the top VA companies in South Africa: 
VA Connect goes back to 2008. Lime Tree Consulting was its former name. It rebranded in 2014 and has become a global powerhouse in virtual assistance. VA Connect's mission is to turbocharge the growth and success of entrepreneurs and business owners. 
The company has remote marketing assistants, sales assistants, executive assistants, software engineers, and project managers. They can help you be more productive and less stressed. 
VA Connect also offers its employees four supporting services. They have an online training school (VAVarsity) and a personal development program (Atomic Energy). 
Moreover, VA Connect provides programs for two-way happiness (VAPI) and talent discovery (Discover Greatness). These programs support the wellness and needs of each professional in the company. 
The idea of Outsourcery started in 2015 when the owner experienced the hardships of managing his busy life. He needed someone who could make his life more manageable. 
Today, Outsourcery has been helping hundreds of busy business owners in South Africa, Europe, and the U.S. to achieve a more balanced life. It has virtual assistants who can help with different tasks. For personal tasks, they can assist you with calendar management, loyalty card management, and travel research. 
Outsourcery also offers document formatting, PowerPoint presentation preparation, and email correspondence as part of business administrative tasks. 
Cloudstaff offers several virtual assistance services. This includes design, bookkeeping, writing and editing, multilingual services, customer care, project management, marketing, and social media. 
By contacting CloudStaff, you are one action away from mastering the art of delegation to premium virtual assistants. The company also offers different plans and packages. You can choose your preferred plan that meets your requirements and needs. 
AdminAssist houses professional virtual assistants who work hourly. They help offer their services in Accounting and Bookkeeping, Customer Relations, and General Business Administration. 
The company also offers specialized services, including translation, transcription, NPO (non-profit organization) registration, and project management.
Founded in 1983, EVA is the epitome of evolution. The company filled the gaps in traditional virtual assistance services. They are always ready to handle the unexpected work influx without compromising work quality. 
EVA's virtual assistants excel in different industries through various skill sets and software. So if you need extra hands to make travel arrangements, recruit, or manage social media, EVA is one call away. 
They offer several services in writing, film and video, sales and marketing, human resources, customer service, IT, and executive administration. 
The humble beginnings of 121 BPO started in 1994. They provided Audiotext (IVR) services to improve consumers' lives. After two decades, 121 BPO has widened its reach. Many recognizable brands view 121 BPO and the people behind it as a valuable part of their company. 
The specialists from 121 BPO provide services in consumer care, crisis management, technical support, social media management, concierge service, contact center consulting, and business intelligence.
For bookkeeping, accounting, and payroll administration needs, Skytrax understands what you need. Its 20 years of combined experience speak for the client-focused solutions they offer. 
Aside from the specialized services, Skytrax provides one-on-one accounting system training. They are on top of new technological advancements and innovation. By automating processes, they help increase efficiency and drive business growth.
Founded in 2003, 3iSolutions is one of the oldest international BPOs in South Africa. They focus on delivering intelligent solutions that bridge the communication challenge between their clients and customers. 
This helps them establish customer relationships, leading to business growth. 3iSolutions offers consumer support, business support, lead generation, and tailored solutions. 
Omron wants to keep your machines running. Its virtual assistance services use augmented reality technology, which helps design machines and solve problems. 
At a glance, Omron's mission is to help businesses operate efficiently and effectively through automation. You can stay connected with Omron's experts remotely and lower travel costs while increasing productivity. 
DSG has a track record of more than 20 years. This company helps businesses embrace digital transformation. They have experienced and carefully screened virtual assistants who can integrate solutions and deliver SMART results. 
DSG's business solutions include mobile virtual services, customer experience, multi-channel fulfillment, cybersecurity, cloud-based portal and payment, and e-commerce technology.

Thetha Connect has fully trained call center agents. They provide businesses with exceptional virtual receptionist service. This service is ideal for businesses without receptionists. It reduces costs and handles messages professionally at a low cost per month. 
Theta Connect's answering service works 24/7. Its virtual receptionists filter spam calls to ensure you only get relevant calls. No matter the industry, Theta Connect's agents understand the workaround of the business. 
VA Centre works remotely from South Africa but helps most clients from the UK. The virtual assistants from VA Centre have more than 20 years of experience in their respective industries. This experience proves they can proactively help busy entrepreneurs achieve that work-life balance. 
Some services they deliver include event management, bookkeeping, database management, filing management, and proofreading. Moreover, VA Centre has different plans and fees to cater to various client needs. 
OmniPA has a team of multi-skilled virtual assistants who learns the ins and outs of their client's businesses. Their passion is helping their clients find that work-life balance and drive business growth. 
OmniPA provides various services. This includes project management, website development, graphic design, online research, social media strategy, copywriting, appointment handling, and bookkeeping. 
Globital's mission is to assist digital agencies and businesses in the country. From its humble beginnings, the company operates and drives global business value today. 
The virtual assistance services offered include transcription, blog management, email management, data mining, bookkeeping, process documentation, social media management, and data entry. With its vetted virtual assistants, you have the resources you need to deal with the tasks on your plate.  
Expert VA Services can handle your day-to-day to-dos. Whether it is business, lifestyle, or consultancy, their experienced virtual assistants can cover for you. 
Some of their favorite tasks for business support are administrative support, customer services, bookkeeping, data and research, recruitment, and social media management. 
For lifestyle management, you can rely on them to find the best flights, source new utility providers, and plan events. Lastly, Expert VA Services has a coaching program. They have the tools and roadmap so coaches and clients can work harmoniously. 
Better, smarter, and faster – this is how Beyond Admin describes itself. The business was founded in 2020. Its mission is to support business owners who do not have enough money or hours to hire full-time staff. 
Beyond Admin offers IT support, accounting, web design, payroll, administration, and skills development services. 
PMV Virtual Assistants refers to themselves as the "game-changers in the legal industry." The team behind the company are graduates and have been in the industry for several years. 
Its target market is law firms. This virtual assistant provider offers legal secretarial and administrative assistance to lawyers. The services include debt collection, formatting, typing, social media management, knowledge management, and project management. 
Liberate has assisted business owners and individuals for over eight years. Increased productivity and reduced workload are the vital aspects that Liberate can bring to the table. 
They have virtual assistants that deliver quick and efficient services. Liberate offers project and event management, administrative tasks execution, and client relationship management.
VA Virtual Assistant has been running since 2014. The company's primary goal is to help business owners and entrepreneurs save their sanity and resources.VA Virtual Assistant's experts can manage marketing automation, events, Facebook Ads, Google Ads, website development, e-commerce, and SEO. 
The monthly assistant package is also available. Packages are also available without a contract to tie you in. Aside from virtual business services,  VA Virtual Assistant offers executives private virtual services. This includes personal virtual assistants, staff managers, personal shoppers, and property maintenance managers. 
The Virtual Studio has over 15 years of extensive experience helping business owners achieve efficiency. They offer business and social media support, available in monthly retainer packages. 
For business support, some services include email marketing, website maintenance, data entry, administrative tasks, and calendar management. 
The Virtual Studio's dedicated virtual assistants also help entrepreneurs who lack time to create a monthly social media calendar. Depending on the business owner's needs, they offer community management, graphics creation, Facebook ads, and more.