Top 10 VA companies in Mexico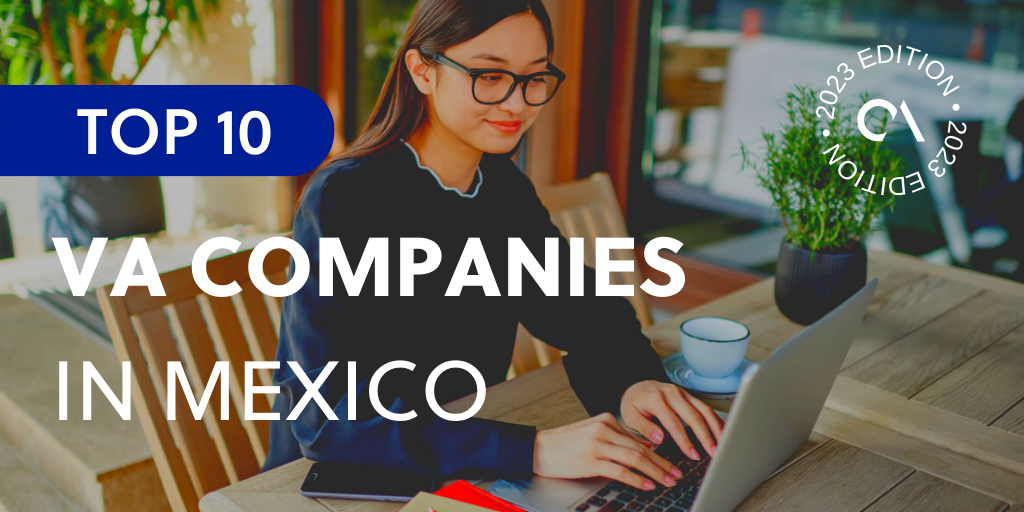 List of VA companies in Mexico
With its rapidly growing outsourcing industry, Mexico has become a go-to destination for businesses looking to streamline operations, cut costs, and maintain high-quality services.
As per Statista, Mexico's BPO sector is projected to grow with a CAGR of 4.83%. This would result in a market volume worth $4.90 billion by 2028.
One of the pivotal players in this sector is the virtual assistant (VA) industry.
In this guide, we list ten of the top VA companies in Mexico. We'll discuss the significance of VA services, the benefits of outsourcing them, and how to choose the right VA partner for your business needs.

What are VA companies?
VA companies, or virtual assistant companies, are organizations that provide remote professional services to businesses.
These virtual assistance services can cover a wide range of functions, like:
Administrative support

Customer service

IT support

Digital marketing

Content creation
By utilizing technology and skilled professionals, VA companies allow organizations to outsource tasks and concentrate on their core competencies.
Importance of VA companies in Mexico
Mexico has become an increasingly sought-after outsourcing destination. VA services are not exempted from its many great offerings, and for good reason.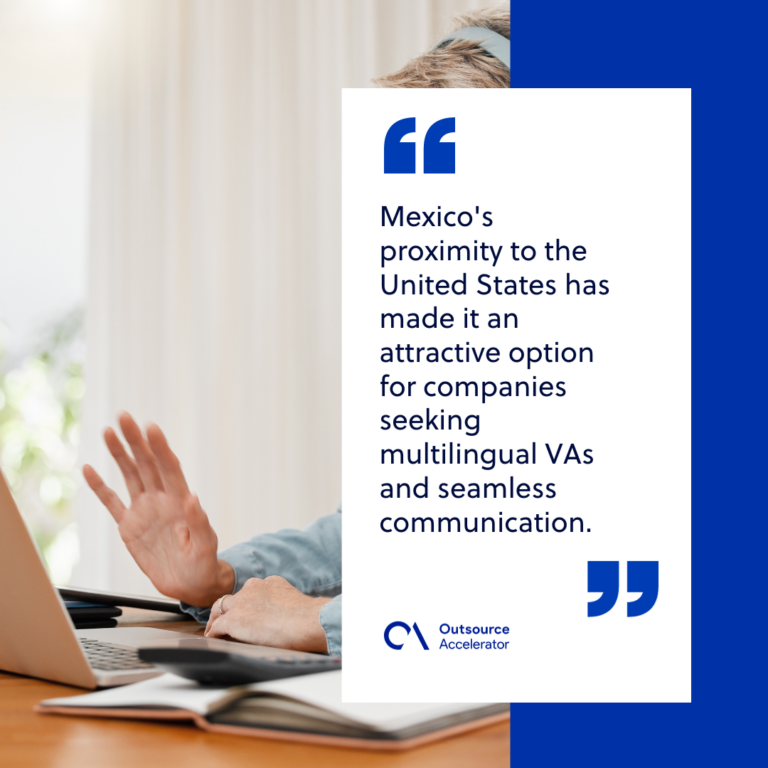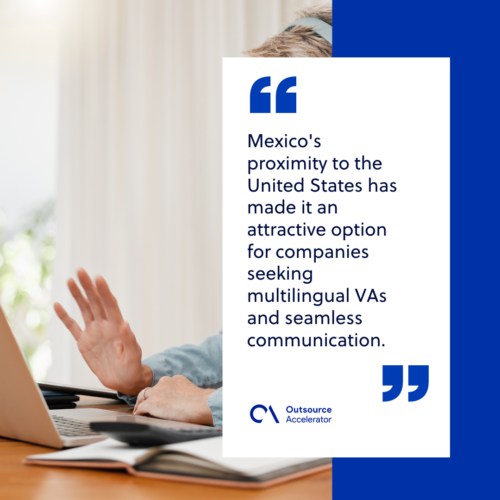 In particular, the country's proximity to the United States has made it an attractive option for companies seeking multilingual VAs and seamless communication.
The Latin American country's cultural affinity with North America ensures that its professionals understand the needs and preferences of businesses in the region.
Moreover, like any other country, the VA industry in Mexico plays a vital role in the global outsourcing landscape.
Benefits of partnering with the top VA companies in Mexico
When you work with the top VA companies in Mexico, you gain access to a range of advantages that can transform how your business operates:
Cost efficiency
By partnering with top VA companies in Mexico, businesses can achieve significant cost savings compared to hiring in-house staff.
The country's lower labor and operational costs allow firms to obtain high-quality services at a fraction of the cost.
Access to skilled professionals
Mexico boasts a well-educated workforce with a strong knowledge of soft skills.
The top VA companies in Mexico invest in training programs to enhance their professionals' capabilities. This ensures clients can tap into a pool of highly skilled and certified VAs.

Scalability and flexibility
VA agencies in Mexico offer flexible staffing models, allowing businesses to scale their operations up or down based on evolving needs.
This flexibility is particularly beneficial for SMEs that require agility in adapting to market changes.
Multilingual support
Mexico's multicultural environment is a boon for businesses requiring VAs fluent in languages beyond English.
The top VA companies in Mexico can meet the demand for linguistic diversity, allowing enterprises to cater to global clients more effectively.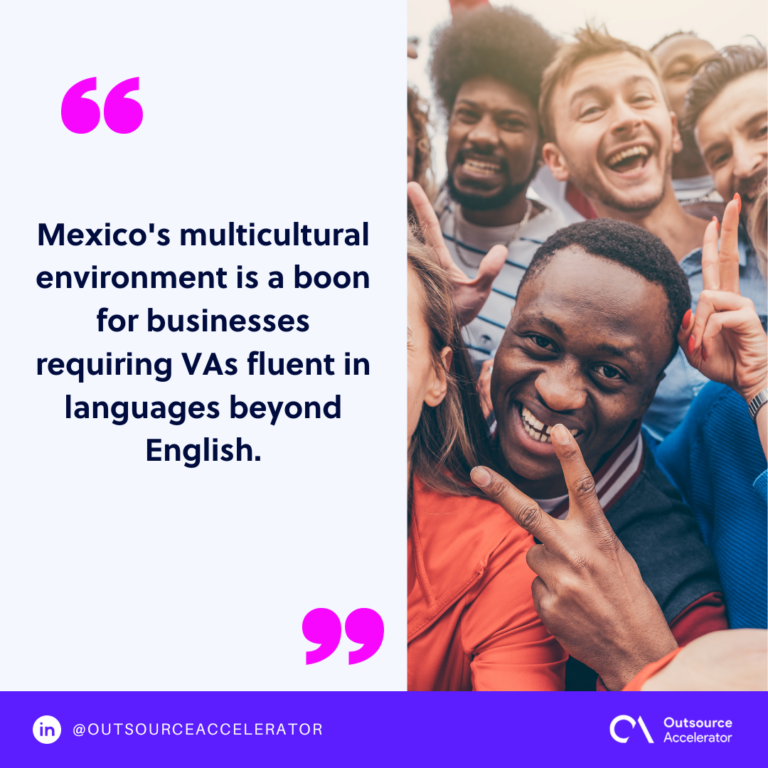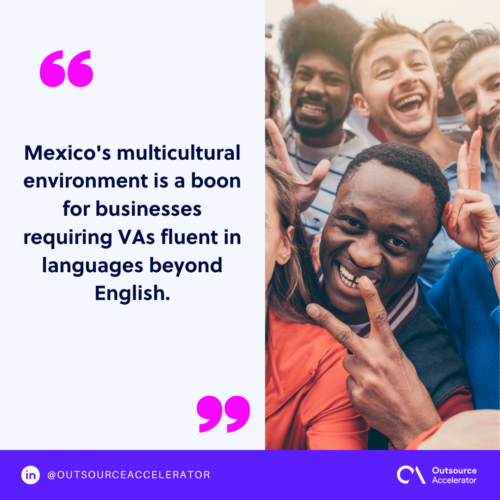 Time zone advantage
Mexico shares similar time zones with major cities in North America. This time zone advantage ensures real-time communication, streamlined workflows, and enhanced customer support capabilities.
Top global outsourcing list
Outsource Accelerator is the world's leading outsourcing marketplace and advisory. We list over 3,000 BPO firms located across the globe in our global directory, and we provide detailed information, price guides, and reviews.
Whether you're a solopreneur, SME owner, or a corporate executive, we can help you find the most suitable outsourcing provider for your business.
Explore our outsourcing directory now. You may also check out our Top VA companies lists per country here:
Top 10 VA companies in Mexico
Get to know the leading VA companies in Mexico and the unique services they offer:
Heaquarters: Tijuana and Rosarito
APEX Call Centers is renowned for providing outstanding BPO solutions in English and Spanish.
Leveraging cutting-edge technology and professional talent, APEX delivers exceptional VA and support services through multiple communication channels.
Check out our review of Apex Call Centers here.
Headquarters: La Laguna
Remote Team Solutions focuses on delivering highly skilled VAs across various domains. It offers offshore assistance for tasks such as administration, data entry, and research.
Businesses can access a dedicated team of experts remotely by partnering with Remote Team Solutions.
Learn more about our review of Remote Team Solutions here.
Headquarters: Tijuana
CallTree BPO specializes in inbound, outbound, and non-voice contact center services. It offers assistance for multilingual customer support, telemarketing, and lead generation.
Compared to the other top VA companies in Mexico, CallTree BPO enhances customer interactions and drives growth through a customer-centric approach.
Headquarters: Tijuana
1Click Contact Center is known for its expert customer service solutions. Its VA solutions also offer high-level administrative support to companies or entrepreneurs.
1Click Contact Center ensures enterprises improve their customer engagement by offering more services designed to boost client satisfaction and drive retention rates.
Read more about 1Click Contact Center here.
Headquarters: Tijuana
Baja Call Center caters to businesses of all sizes, delivering a wide range of BPO services, such as order processing, customer support, and back-office support.
Baja Call Center is a bilingual customer support expert, enabling companies to serve English and Spanish-speaking markets effectively.
Headquarters: Tijuana, Monterrey, Mexico City, and Guadalajara
Cápita Works provides nearshore virtual assistance and sourcing for high-performance executive assistants.
The VA company fills in assistant roles for industries including marketing, finance, law, consulting, IT, real estate, and healthcare.
Headquarters: Hermosillo and Guadalajara
Intugo specializes in tailored outsourcing solutions, providing VAs across various industries, including IT, finance, and marketing.
Its personalized approach ensures that clients receive comprehensive support that directly addresses their specific needs.
Headquarters: Monterrey
Unity Communications is an expert in providing onshore and offshore BPO services, including virtual assistance.
This VA company is backed by trained professionals and cutting-edge technology. Unity Communications delivers customized solutions to enhance client satisfaction and business growth for its US-based and Fortune 500 clients.
Discover more about Unity Communications here.
Headquarters: Mexico City
Miraglobal offers comprehensive BPM and BPO solutions, including virtual office services, legal compliance, and human capital.
Miraglobal is a valuable partner for enhancing business operations using its extensive industry knowledge and experienced professionals.
Headquarters: Colorado in the US and Querétaro in Mexico
Launch Legal Solutions is a VA services provider that aims to provide integrated staffing solutions specifically for law firms and lawyers.
The company's virtual assistants can help clients delegate administrative tasks, optimize websites, design marketing campaigns, and handle time-consuming tasks.

Choosing the right partner among the top VA companies in Mexico
To select the right partner among the top VA companies in Mexico, consider the following factors:
Needs assessment –

Assess your specific requirements and identify the areas where you need VA support. This could be customer service, administration, digital marketing, or any other specialized service.

Company reputation –

Research and evaluate the reputation of each VA company, including client reviews and testimonials. Look for those who already have experience in your line of business.

Language skills –

Determine the level of proficiency required in languages beyond English. This ensures the VA agency can meet your multilingual support needs.

Scalability and flexibility –

Consider the scalability and flexibility options offered by the VA firm. This can help verify if they can accommodate your future growth.

Industry expertise –

Look for the top VA companies in Mexico with experience in your specific industry. Industry-specific knowledge and understanding can greatly enhance the quality of support provided.

Trial period –

Some VA agencies offer trial periods, providing an opportunity to assess compatibility before committing.

Security –

Prioritize security by ensuring the VA firm has robust measures in place to protect your data.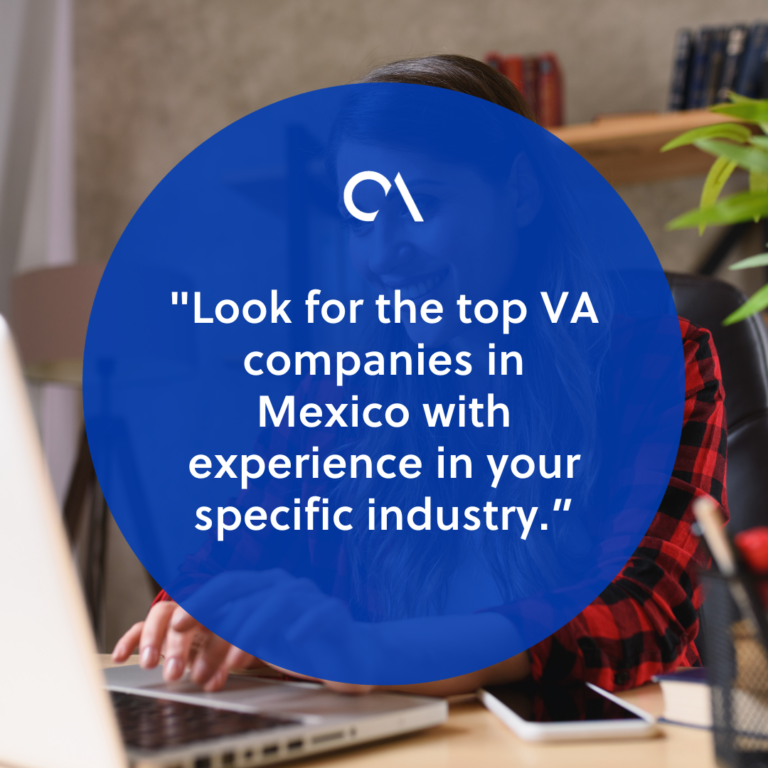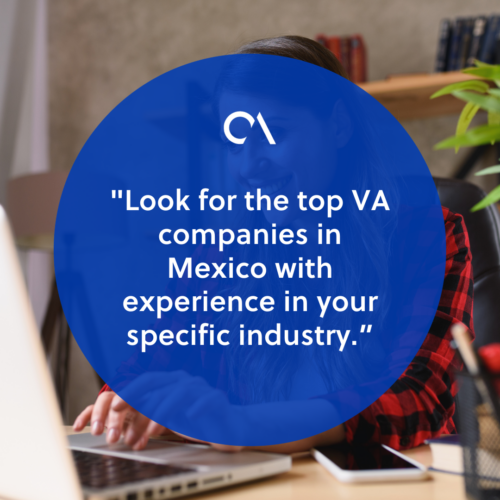 The top VA companies in Mexico offer plenty of benefits for businesses looking for offshore assistance.
By selecting the right VA partner and leveraging their expertise, your company can gain a competitive edge and thrive in today's growing, global business environment.