Top 10 VA companies in Kenya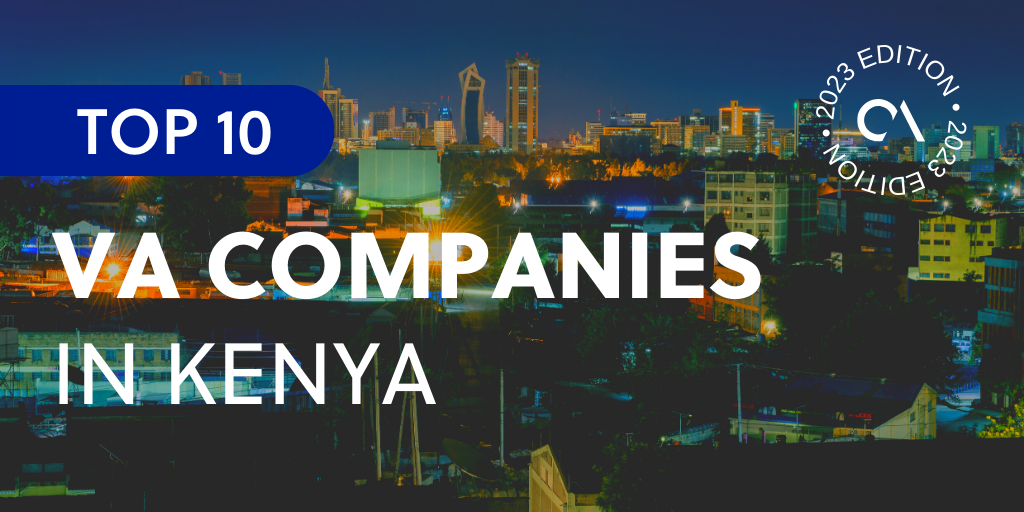 List of top VA companies in Kenya
Remaining competitive in today's business often involves finding creative ways to make your operations more efficient and productive. 
One increasingly popular option is enlisting the help of virtual assistants (VAs) provided by reputable companies around the globe. 
Kenya has emerged as a prime location for outstanding VA services, with its expanding workforce and proficiency in English. 
In this article, we'll look at Kenya's top 10 VA companies. We'll also discuss the benefits of hiring a virtual assistant from the country and explore the broader spectrum of global outsourcing possibilities.
Why hire a virtual assistant in Kenya?
Before we identify the top players in Kenya's VA industry, let's delve into why hiring a virtual assistant in the country is a smart move for your business.

Cost-effective solution
Kenyan VA companies provide budget-friendly solutions that can substantially cut your operational costs. 
Thanks to Kenya's lower labor expenses compared to numerous Western nations, you can tap into top-notch services without straining your budget.
Skilled workforce
Kenya possesses a rich talent pool with highly skilled professionals in diverse fields. 
By hiring a virtual assistant from Kenya, you unlock access to this wealth of expertise, which can greatly contribute to the success of your business.
English proficiency
One of Kenya's significant advantages is its proficiency in English. As English is an official language, you'll encounter minimal communication hurdles. 
Kenyan's fluency in the English language guarantees clear and efficient interactions with your virtual assistant, facilitating smooth collaboration.
Cultural compatibility
Kenyan virtual assistants are recognized for their cultural adaptability. They comprehend the significance of aligning with your company's values and culture, ensuring a harmonious and productive working relationship.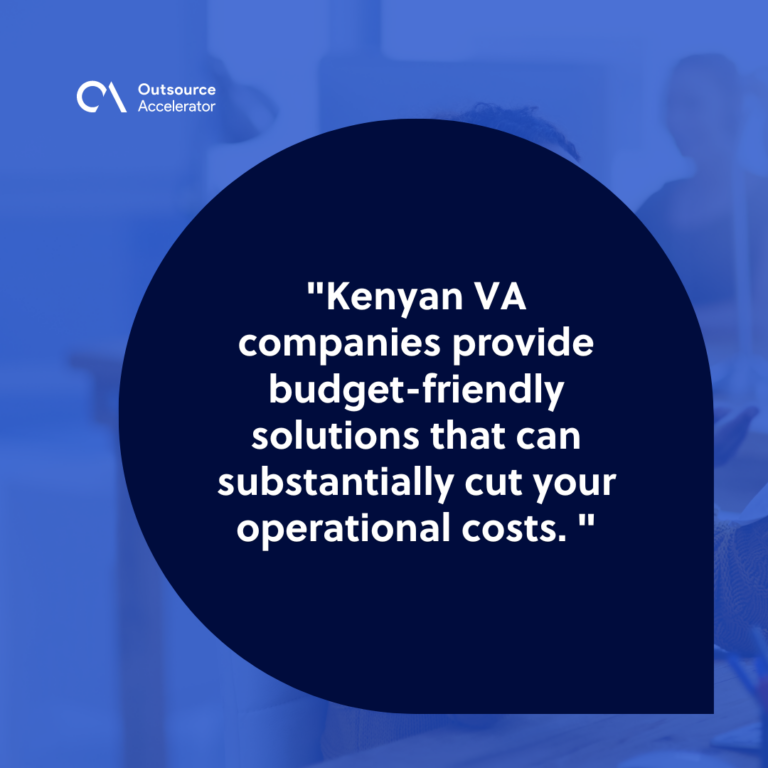 Top global outsourcing list
Outsource Accelerator is the world's leading outsourcing marketplace and advisory. We list over 3,000 BPO firms located across the globe in our global directory, and we provide detailed information, price guides, and reviews.
Whether you're a solopreneur, SME owner, or a corporate executive, we can help you find the most suitable outsourcing provider for your business.
Explore our outsourcing directory now. You may also check out our Top VA companies lists per country here:
Top 10 VA Companies in Kenya
Below are ten of the leading VA companies in Kenya global businesses can offshore services to:
Naypad VA is a company founded by Naomi M. Munyasya, a social entrepreneur from Nairobi, Kenya. The firm aims to connect entrepreneurs worldwide with English-speaking Kenyan virtual assistants.
Naomi founded Naypad VA to address the job crisis in the country by creating employment opportunities for educated and experienced Kenyans. 
By hiring a virtual assistant from Naypad VA, clients can benefit from saving time and increasing productivity in their businesses.
The virtual assistants provided by Naypad VA are college graduates with years of experience in their respective fields.
Vyemma is a company located in Nairobi, Kenya that offers virtual assistant services. It provides assistance for: 
Entrepreneurs

Professionals

Small teams



The firm claims to provide premium and passionate virtual assistants who have undergone a rigorous vetting process. 
Vyemma highlights personalized matches, taking the time to understand each client's unique business needs. It also features over-the-top customer service and ensures clients always have a trained backup virtual assistant.
Trace Virtual Assistance is a professional and client-oriented virtual assistance company based in Kenya. Whether you are a start-up or an SME, it offers a range of comprehensive advisory, administrative, and business support services to:
Executives

Board members

Business owners

Consultants
The organization is designed to handle businesses' critical operational and strategic aspects, allowing them to meet their objectives. 
Trace Virtual Assistance specializes in working with firms from the point of business registration and compliance, offering affordable support and advisory services necessary for growing a successful business. 
KontorVA is a company that offers professional remote technical and non-technical talent support to individuals, entrepreneurs, and businesses across various industries. 
The name "Kontor" is derived from the Estonian word for office, signifying its expertise in providing remote help and support. 
The firm aims to streamline workloads, enhance productivity, and allow clients to focus on growing their businesses.
KontorVA prides itself on delivering a diverse pool of talent, including engineers and marketers, to meet the specific needs of their clients.
Impact Outsourcing offers virtual assistant services to help individuals and businesses boost their productivity and achieve success. 
The company aims to revolutionize how you work by providing professional support and assistance with administrative tasks.
Hiring a virtual assistant from Impact Outsourcing offers several benefits. Firstly, it allows you to free up valuable time and focus on high-priority activities as the dedicated virtual assistants handle:
Administrative duties

Email management

Scheduling

Research

Repetitive tasks
This allows you to concentrate on growing your business and increasing efficiency.
PAKenya is a virtual services company that offers international personal assistant services to busy individuals. The company is based in Nairobi, Kenya.
This VA company is led by Joyce, an experienced information systems specialist with expertise in project management, programming, social media and internet marketing, and business process outsourcing. 
Joyce has over 12 years of progressive experience in various project management roles, including working with Wananchi Group, Bunson Travel, and Karen Blixen.
Outsource Kenya offers virtual personal assistant services to individuals and businesses across the globe. With its virtual assistant solutions, you can delegate administrative tasks and free up time to focus on core activities. 
The company's virtual assistants work remotely, eliminating the need for office space or equipment. Many companies globally have benefited from their professional and efficient handling of day-to-day operations. 
Outsource Kenya provides different price plans, offering flexibility to suit your needs.
Virtual Core is one of the renowned virtual services companies based in Nairobi, Kenya. It remotely offers:
Technical

Logistical

Creative

Social assistance
As a team of independent professionals, it provides various products and services to businesses and individual clients.  
Virtual Core operates 24 hours a day, seven days a week, and can be contacted via phone or messaging.
Remote Executive Support Services, or RESS, is an exclusive executive support service provider based in Eldoret, Kenya. It provides various virtual services and executive support solutions to businesses and individual clients. 
RESS specializes in several areas, including:
Business advisory

Training and professional development

Personal assistance

Leadership and public service programs

Concierge services
IPM Admin Services is a virtual assisting business based in Kenya. It offers various administrative services, including social media, email, and website services. 
The organization's mission is to provide easily accessible and affordable virtual assistant services to clients, aiming to revolutionize the local business support landscape. 
With a focus on continuous improvement, IPM Admin Services is constantly evolving to solve clients' challenges better.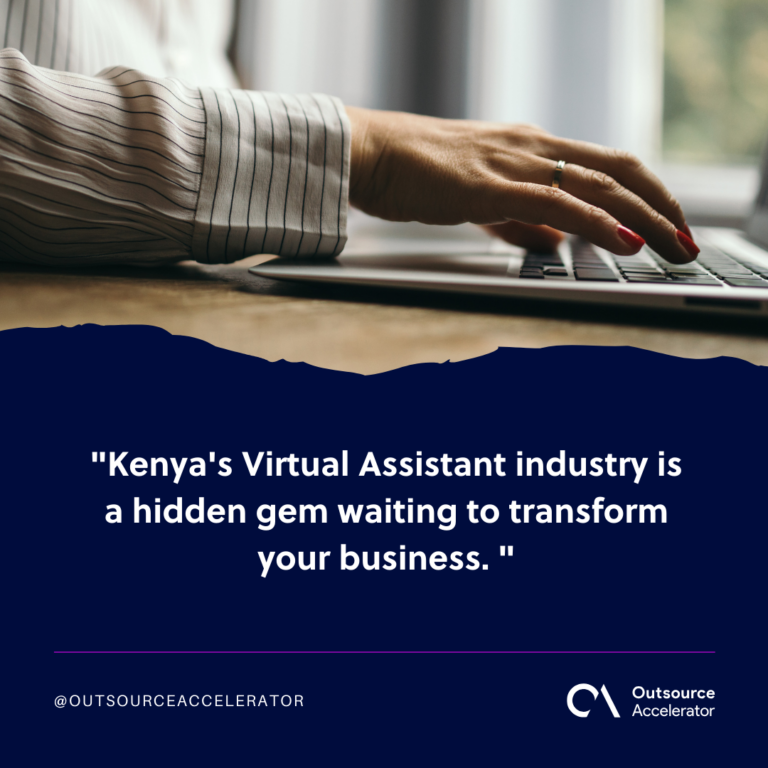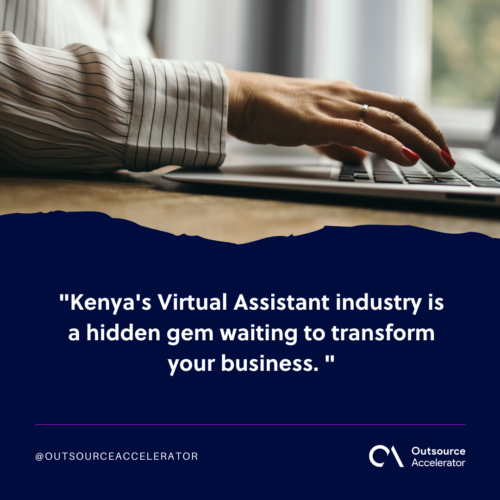 Explore the top 10  VA companies to elevate your business efficiency
Kenya's Virtual Assistant industry is a hidden gem waiting to transform your business. Partnering with one of the top VA companies in Kenya opens up a world of endless possibilities.
From handling administrative tasks with finesse to providing specialized services, Kenyan VAs have demonstrated their prowess across various domains. 
Their skilled workforce, proficiency in English, and remarkable cultural adaptability make them the ideal choice to drive your business toward unparalleled efficiency and success.
Embrace the future of business with Kenyan Virtual Assistants and witness the transformative power of their expertise.