Top 20 VA companies in New York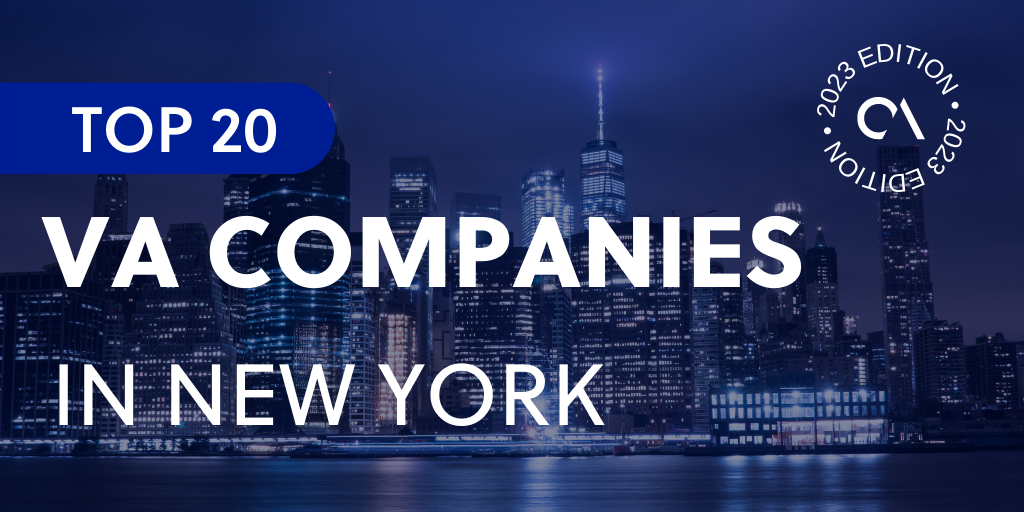 New York is one the most popular and densely populated cities in the USA. The city has more than eight million people from all over the world.
NYC houses a lot of prestigious universities like New York University, Columbia University, and Yeshiva University. Not to mention that Wall Street is in Manhattan, which increases the level of competitiveness and skill set of professionals and individuals in the city. 
These factors make NYC one of the ideal locations to outsource talents for various services. In addition, the city has a lot of foreign workers offering affordable rates for any tasks that fit their expertise. 
What are VA companies?
Virtual Assistant Companies or VA companies are third-party service providers that offer end-to-end solutions to a wide variety of needs. Most VA companies can manage both personal and professional functions for their clients. 
Normally, VA companies offer their products and solutions in packages allowing clients to customize or select based on their means and needs. Some VA services they cater include web content management, email marketing, digital marketing, and management.
Why outsource?
There are various reasons to outsource services from a third-party provider, such as cost savings. Outsourced services allow businesses to set a budget for a particular need without compromising service quality.
Second, outsourcing provides flexibility. Businesses can opt to get the task that they need. No need to direct hire employees. Just straight to the task with a fixed number of hours under a stringent set of expectations.  
Third, outsourcing enables businesses to scale. Tasks that are usually outsourced are menial, administrative, and time-consuming responsibilities that take too many resources and creativity out of the employees.
With the burden of repetitive tasks lifted from the shoulders of the company, it can focus on doing business and creating strategies to grow and improve internal processes. 
List of the best VA companies in New York
Top global outsourcing lists
Outsource Accelerator is the world's leading outsourcing marketplace and advisory. We list over 3,000 BPO firms located across the globe in our global directory, and we provide detailed information, price guides, and reviews.
Whether you're a solopreneur, SME owner, or a corporate executive, we can help you find the most suitable outsourcing provider for your business.
Explore our outsourcing directory now. You may also check out our Top VA companies lists per country here:
Top 20 VA Companies in New York
Below are the top 20 VA companies in New York.
24/7 Virtual Solution is an all-around virtual support service provider offering data entry, digital marketing, and chat support. The company specializes in managing financial services and medicare plans. 
Regardless of the industry, 24/7 Virtual Solution enables its partners to scale based on their means and needs..  
Acena has been in the industry for 15 years, offering bilingual support to its diverse clients.
The company's services include appointment scheduling, order taking and unified communications, also live chat support. They primarily cater to the legal, healthcare, and construction industries. 
Advanced Answering is a company that takes on the responsibility to talk directly to its partners' clients. Focusing on the service industry, the company helps its clients focus on core competencies and grow. 
Ask Sunday is a multinational VA company helping individuals, startups, and established businesses in their daily operations.
The company's services encompass a wide range of professional and personal expertise, from research to planning and scheduling, to documentation and content management. They operate in the US, UK, and Australia.
Boldly is an established outsourcing company known for its superb matching of talents with employers. The company partners with leading companies and brands such as Amazon, Microsoft, and Google.
Boldly specializes in project management, marketing, and content creation. 
Brand Connections (BC) is a digital solutions outsourcing company that integrates human ingenuity with digital technology. They help businesses create and establish brand awareness through on-the-ground activations and engagements through various channels and platforms. 
BC has 20 years of experience servicing notable brands such as Unilever, Loreal Paris, and Bayer Healthcare. 
CrewBloom is a virtual hiring company that pools various talents from all over the world and matches them to businesses based on their needs and capacities. The company offers 30-minute strategic discussions with clients to understand their unique requirements better. 
CrewBloom specializes in business and sales, and product implementation processes. 
C-Suite Assistants is a seasoned staffing agency that provides administrative and executive assistant services. The company has various branches in Austin, Chicago, and Los Angeles. 
C-Suite Assistants has a wide talent pool which ranges from executive assistants to management, marketing assistants, and HR coordinators.
Cybercity is an IT solutions company managing cyber and digital security measures for businesses and individuals.
Understanding the different needs of each business, the company helps its clients create a safe security architecture for its business. They specialize in cloud services, cybersecurity, and managed IT services. 
Daybook Group has 25 years of experience in supporting businesses from the medical, autobody, and hospitality industries.
The company leverages its bookkeeping, payroll, and office support acumen combined with accounting software in servicing its clients. Some of its notable partners include Strategic vision, Summerhill Landscapes, and Steri-tamp.
Daybreak Virtual is a US-based company that operates in Eastern and Central time zones. The company caters to a wide array of clients, including entrepreneurs, legal professionals, and the healthcare industry.
Daybreak takes pride in its services, including database management, document preparation, and workflow management.
Diligence Agency is a digital-based agency that provides web content management solutions. From drafting articles to curating customer experience, the company transforms its clients' businesses into fresh, insightful, and actionable website content. 
Gyst is a renowned personal assistant company that services celebrities, businesses, and professionals. The company is known for its closet reorganization and refurbishing services, usually availed by high net-worth individuals.
Gyst allows its clients to choose among part-time, full-time, and personal assistants based on their needs and means. 
Lambent Services is a staffing company that is based in New York. The company provides the option for businesses to either directly hire or avail of the hour services.
Some of their notable clients are NBA, Business Insider, and JP Morgan Chase. Aside from the New York branch, the company also operates in Florida, Silicon Valley, Los Angeles, and London. 
MMF Infotech is Amazon's top app development and marketing company for 2022. The company is celebrated for its expertise in digital marketing, back-office services, and app development. Based in India, MMF Infotech also operates in New York. 
Ossisto is a company of young professionals offering virtual services all over the USA. The company offers a mix of solutions needed by businesses to navigate and cope with the digital world. 
Ossisto provides scalable, time-tested services aimed at easing the burden of administrative tasks. 
Perssist has been featured by the Entrepreneur, The Wall Street Journal, and Product Hunt. The company helps its clients with all-around services such as party planning, moving and transportation, and customer service.
SBC helps startup businesses to scale and grow quickly. The company has been in the industry for 20 years and offers a lot of business functions, including marketing, operations, and digital management.
The company is a NACPB member and has a lot of accolades, such as the 2020 Stevie Weiner Business Award and 2020 Best of West New York Business Award.
Tech2Globe is an IT outsourcing company specializing in BPO-KPO data management and online marketing. The company has mastered making Amazon product copies with a tremendous conversion rate. 
Tech2Globe has 14 years of experience with 7,000 projects under its portfolio.
Time etc is proud of its achievement in enabling its partners by saving them 1,424,907 hours of menial administrative tasks.
A trusted partner of Google, Facebook, and KFC, the company takes on the email, scheduling, and content marketing-related tasks, which improve the scaling of its partners.