Top 25 VA companies in the UK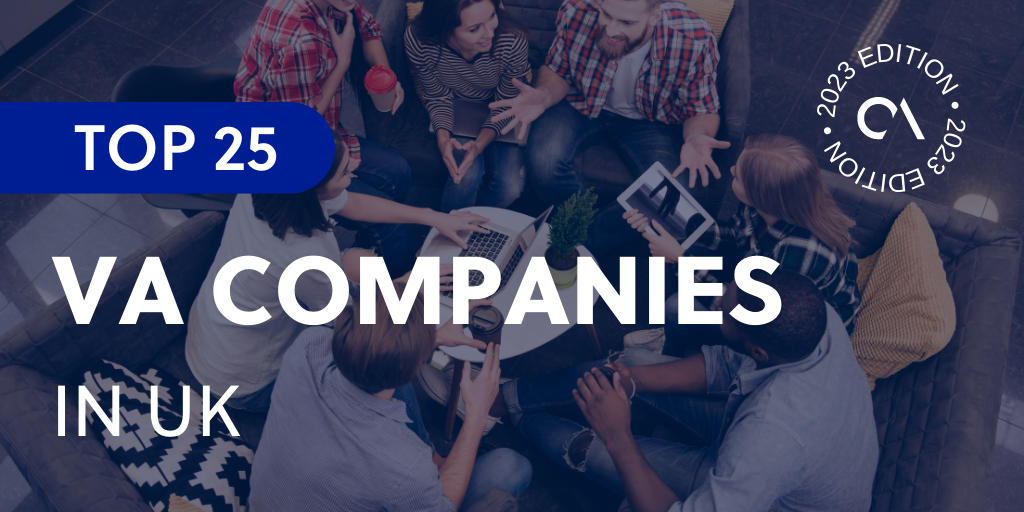 Virtual assistants are a dime a dozen, but those that manage to stand out from the crowd are the most sought-after.
Top VA companies hire the best talents from all around the globe, from Asia and America to Europe. In the UK alone, there are organizations with the best VA professionals to help you navigate your business successfully.
Why hire a virtual assistant
Hiring a virtual assistant will make your day-to-day operations go smoothly. No more spending time answering individual queries, crafting the perfect newsletter email, and calling your leads.
Virtual assistants or VAs, as the title suggests, are your helpers when it comes to making sure that your daily tasks are completed.
Take back your time and focus on your goals with a virtual assistant.
Roles you can outsource to a VA
There are certain roles and responsibilities that you can delegate to your chosen VA.
Keep in mind that some core services may not be suitable for a virtual assistant nor do they possess the right skills. This is why you need to assess their skills and character before onboarding them on your team.
Admin tasks (scheduling, organizing, and data entry)
Make time for the work that matters and hire a VA to help you out with administrative tasks.
Virtual assistants can help you arrange your calendar and schedule meetings for when you're most productive. All you have to do is inform them of your preferred time and dates.
Another task that you VA can help out with is data entry. From contact forms to spreadsheets, you can trust your VA to do it for you efficiently.
Outreach and outbound campaigns
Outbound campaigns are important to those who work with clients or suppliers and those who are active in sales and marketing. From sending out emails to cold calling, VAs can help you reach out to your prospective leads in no time.
Lead generation
Lead generation can be one of two things: purely data mining for valid emails and names or a combination of data mining and cold calling.
Either way, lead generation is another role that most businesses outsource to their VAs and remote staff.
Content writing
Content writing is part of content creation in which your team turns ideas into engaging and marketable content for your brand.
Creative VAs can be found almost anywhere—from creating short YouTube skits to making informative yet entertaining blogposts, creative virtual assistants can help you curate content based on your brand.
Graphic design
Graphic design is another branch of content creation. With graphic design, your creative VA can create all kinds of visual mediums to be used for marketing and posting.
Creative VAs are predisposed to using designing tools such as Photoshop and Canva.
Top 25 VA companies in the UK
Top global outsourcing lists
Outsource Accelerator is the world's leading outsourcing marketplace and advisory. We list over 3,000 BPO firms located across the globe in our global directory, and we provide detailed information, price guides, and reviews.
Whether you're a solopreneur, SME owner, or a corporate executive, we can help you find the most suitable outsourcing provider for your business.
Explore our outsourcing directory now. You may also check out our Top VA companies lists per country here:
25 VA companies in the UK in 2023
While Asia is perhaps the top source for virtual assistants, unbeknown to many, the UK also joins the likes of the Philippines and India as a country with the top VA companies.
These agencies and companies have a fleet of VAs ready to work with clients, with minimal training involved.
Based in Birmingham, Time Etc. works with entrepreneurs who sorely need a VA or a team of virtual assistants. With their compassion for growing businesses, this VA company in the UK matches businesses to skilled workers in just a few clicks.
They're in the midst of a big expansion right now—hiring more VAs around the world to keep up with their clients' demands.
Free up time doing email outreach and start outsourcing your tasks to Timpi VA.
Each of their virtual assistants goes through a rigorous client matchmaking process to ensure that the VA's skills will shine through the entire project.
Virtalent prides itself on having 15 years of experience under its belt. With its tenacity and expertise, the company is confident that it can match you with the right VA.
Virtalent caters to entrepreneurs, small businesses, and executives—their plans have consumable hours, anywhere from 10 to 60 hours per month. One bonus is that unused hours get rolled over to the next month.
Designated Group is one of the top VA companies in the UK that offers plans starting from $99. They also have plans that cater to entities who need an extra pair of hands but don't quite need full-time virtual assistants.
The Society of Virtual Assistants makes sure that you get all the support you need.
With their dedicated VAs, they provide flexible plans starting from $400 a month. On top of that, you get to have a free 14-day trial before fully committing to the service.
This UK-based VA company offers flexibility like no other. Once you've got a virtual assistant assigned, they will continue working with you—no requests needed. This is to ensure continuity, quality, and the consistency of every project you both have to work on.
If you need an extra set of hands for lightweight projects, Taskerly is perfect for you. Their VA hours don't expire for a year—meaning, you can always have a virtual assistant whenever you need them.
Taskerly works out of the UK working hours (4 AM to 1 PM EST), but they can be flexible if you need them to.
Need a multilingual virtual receptionist? Verbatim Virtual Receptionists has one for you and your business.
If you want someone to join your team and hit the ground running, this company trains its teams from the get-go. It provides in-house internships and training for its own employees, so you don't need to.
With Pink Spaghetti, you'll only pay for the hours you will use.
To take things even further, this VA company from the UK charges by the minute. Clients can also request a "pick up and put down" service for the tasks that are light enough.
Hello VA trains their virtual assistants so that you don't need to. The company is comprised of experienced VAs hailing from different backgrounds and sectors.
As "gatekeepers" of your time, Hello VA will ensure that you can focus on the task at hand. All emails, phone calls, and other important tasks will go through them.
Behind every marketable written content out there is an SEO writer. If you need help with search engine optimization, Oneresource Virtual Assistants provides virtual assistants that are SEO gurus.
From operations and HR to a more bespoke virtual assistant experience, FYXER has it all laid out for you.
With its unmatched accessibility and hours, this executive VA company truly helps businesses and people reach their full potential.
VA-UK provides top-notch virtual assistant support services. From being your very own personal assistant to helping you with finances, this organization is bent on helping busy individuals.
Catering to small businesses and entrepreneurs, VA-UK operates with specific clients' needs in mind.
As its name suggests, SmartPA provides agile administrative solutions for businesses and individuals. This VA company in the UK has three missions: "increase efficiency, drive productivity, and maximize profitability."
From administrative solutions to call handling, SmartPA has every solution for your business.
DailyPA enables you to focus on things that really matter. With their rigorously trained VAs, you don't have to worry about the quality of the output or the turnaround time.
In need of tech-savvy assistants? Look no further than UK's DailyPA.
Pay by the hour with AVirtual. Starting at £27/hour, packaged at five hours a month, you can already have an expert virtual assistant.
With VAs located in Cape Town, working UK hours, this VA company provides the assistance you need at a fraction of the cost of those located in the UK.
Bizee.co is founded by like-minded individuals—they are dedicated, tight-knit, and experienced. Their plans are packaged according to use: social media management, e-commerce platforms, and blog sites.
Big on social media? Blue Umbrella UK can help you and your brand get all the engagement, likes, and followers that you deserve.
This small VA company was founded to cater to small and medium businesses that want to build a consistent social media following. After all, it's important to have a digital presence in this day and age.
If you're looking for a talented VA that can match your working hours, look no further than Evolution VA.
European businesses and entrepreneurs can work with virtual assistants without needing to work nights or midday shifts. Based in the UK, Evolution VA has tech-savvy assistants that can help you with your websites and search engine optimization.
Outsource your digital marketing efforts to expert virtual assistants with the help of That's My VA.
Digital marketing is one of the sectors that need attention at certain hours of the day. With the help of your VAs, you don't need to worry about social media analytics and reports while you're out for lunch or doing something else.
Remote Bob is here to save you from spending hours upon hours looking for the perfect VA. This VA company plays a "matchmaker" to provide you with a virtual assistant that will deliver outstanding output every time.
From lead generation to social media management, Remote Bob has a VA for you.
Leading a busy lifestyle can take away precious time from doing the things that matter the most. VAEurope allows you to take those hours back so you can focus on important things and moments.
They offer remote assistance at the highest level, so you don't need to worry about minuscule details while tending to your core tasks.
"Get more done today" is Alchemy VA's tagline—and they're not wrong.
Hiring a virtual assistant will allow you to do exactly that. You'd be able to focus more on critical tasks rather than composing emails or answering your phone.
Alchemy VA offers support on nearly everything—from administrative tasks to bespoke projects.
Don't let a busy day take away your freedom and flexibility. With The Virtual Perfectionists, you can take back your hours in doing business-related administrative tasks and let them handle it for you.
This VA company offers an extensive list of services—from personal management to liaising with vendors, suppliers, and clients, they've got you covered.
Zest Support Services provides tailor-made virtual assistant support for you and your business. They're open to per-hour support as well—perfect for projects that you just need an extra hand with.
Before fully committing to their services, you can get free consultations or a trial to see if you can find a perfect fit.
How VAs help you focus on your business
Managing your time better is one of the key benefits of hiring a VA. Whether it's from an agency or a freelancing website, virtual assistantship all boils down to having someone support your daily operations.
Virtual assistants work hard to eliminate small, repetitive tasks that take up your time. So you can work on growing your business. With a more streamlined process and best practices, you will see growth on an exponential scale.