Top 20 VA Companies in Jamaica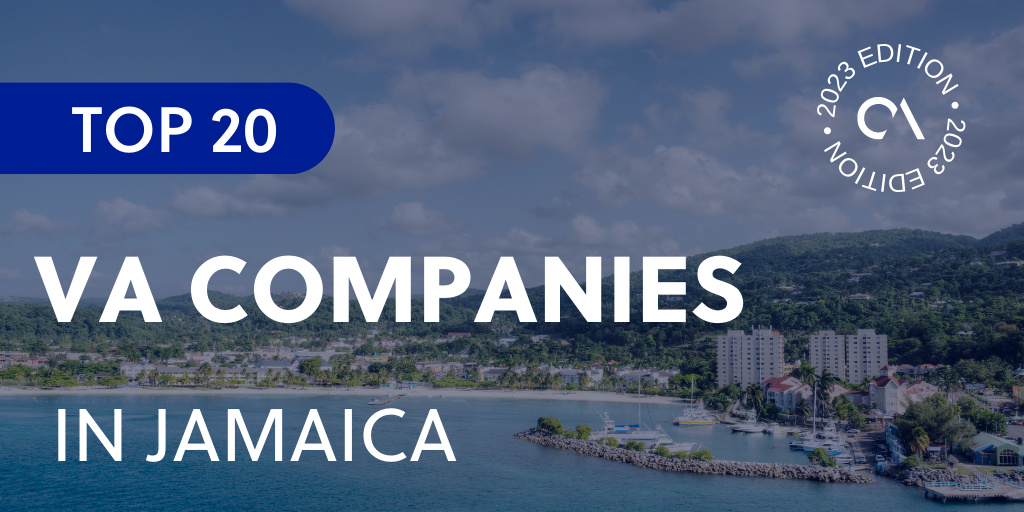 Business digitalization is one of the major transitions that happened in the modern economy. The pandemic hastened this process and caused many jobs to dissolve. Fortunately, it also created new remote opportunities for everyone, such as virtual assistants.
The demand for virtual assistants continues to increase as businesses undergo digital transformation. These businesses need people who are digital-savvy and are expected to deliver while working remotely. 
What's more, this work setup happens across the globe. While the Philippines and India are popular for providing outsourced talent, the laidback Caribbean region also has countries that boast a bunch of virtual assistant companies.
This article lists down the top 20 virtual assistant companies in Jamaica, why companies should highly consider working with virtual assistants and why it should be with people who gave birth to reggae music.
Why Businesses Should Hire Virtual Assistants
All companies across industries, whether start-ups, small businesses, or huge enterprises, can benefit from hiring virtual assistants.
Remote working is frowned upon by traditional business leaders, but they might think differently if they found out that remote workers are 77% more productive than on-site workers. Here are some of the many benefits of hiring virtual assistants:
Cost-effectiveness. Hiring virtual assistants is more inexpensive than hiring onsite workers. Virtual assistant companies can provide experienced candidates who are efficient and can perform a variety of tasks.
Variety of roles. Most virtual assistants can perform different tasks, from customer service and email support to setting up meetings and scheduling arrangements. Business owners can focus on more important tasks if there is someone taking care of the mundane but time-consuming tasks.
Flexibility. Virtual assistants work remotely, and they usually have all the necessary tools to perform their tasks in an efficient and timely manner. Increased productivity is the best trait of virtual assistants, as most have the three things every happy employee possesses—job satisfaction, good physical and mental health, and work and life balance.
Top 20 VA Companies in Jamaica 
Top global outsourcing lists
Outsource Accelerator is the world's leading outsourcing marketplace and advisory. We list over 3,000 BPO firms located across the globe in our global directory, and we provide detailed information, price guides, and reviews.
Whether you're a solopreneur, SME owner, or a corporate executive, we can help you find the most suitable outsourcing provider for your business.
Explore our outsourcing directory now. You may also check out our Top VA companies lists per country here:
Why work with Virtual Assistants in Jamaica
Jamaicans are always perceived to be fun-loving and carefree. As they come from a country surrounded by gorgeous beaches and lush topography, one could easily think that with an extremely laid-back life, people from Jamaica might have a bad work attitude.
Contrary to this, Jamaicans possess exceptional work ethics and have the constant desire to be the best at what they do. This attitude can sometimes be misconstrued as the desire to outshine anyone or the conscious effort to be a whole lot better than their friends, but it's nothing like that. 
Jamaicans are just raised to be hardworking with an unceasing thirst for learning.
Top 20 VA Companies in Jamaica
While the Philippines and India are among the top countries that provide outsourcing and virtual assistant services across the globe, countries from outside of Asia are also keeping up their game in the industry.
The Caribbean region possesses a pool of talented individuals that can also be outsourced. Here are the top 20 VA companies in Jamaica:
Located in Kingston, Jamaica, and headquartered in New York, USA, Yateman International is the house of talented individuals who provide virtual administrative services.
Among the services the company offers are data entry services, administrative support, and marketing support.
Established in 2020 in Kingston, Jamaica, KGS Business Support Services provides general administrative services. The company aims to help business owners and operators to focus and the more important aspects of their business by performing equally important tasks for them.
KGS Business Support Services offers support on email, invoice, and calendar management, digital creation, documentation and organization, transcription, and customer service.
Internet Income Jamaica is a training center that provides the necessary tools and skills to local Jamaicans to take advantage of the internet and make money out of it.
Organized in 2020 in Jamaica, Internet Income Jamaica is not your typical virtual assistant company. It transforms its talents and hones its skills to be properly equipped for virtual assistant roles.
Hands Working Virtually is an outsourcing company whose main headquarters is based in Palm Desert, US, with teams in Jamaica, the Philippines, Saint Lucia, and even in Europe. 
Established in 2013, the company is comprised of up to 500 employees who are experts in email handling, data entry, social media management, appointment setting, and other customer service-related tasks.
Paris Customer Solutions was established in 2021 in Spanish Town, Jamaica. It is a small company that houses skilled virtual assistants that are on Upwork's list of Best Virtual Assistants for Hire in Jamaica.
Among the services they offer are email and calendar management, data entry, and online research. They also provide customer experience and support services.
Founded in 2021 in St. Ann, Jamaica, Rich VA Outsourcing is one of the outstanding virtual contact centers in the country. It aims to provide services beyond client expectations through its core values—efficiency, transparency, passion, and communication.
Rich VA Outsourcing provides data entry, research, scheduling, and social media management.
Virtual Secretary Jamaica was established in 2014 in Kingston, Jamaica, to help business owners and entrepreneurs to be efficient and successful by providing them with virtual assistance.
The company has a pool of talented individuals that can perform data entry, administrative and marketing support, as well as customer service.
Originally from Palm Beach, Florida, DAW Global services expanded to Jamaica to provide quality, efficient, and cost-effective business services.
Primarily focusing on small and medium enterprises (SMEs), the company has a wide array of services to offer, including medical billing and collections, healthcare revenue cycle, insurance verification, finance, and accounting.
Caribbean Virtual Assistants is not the typical virtual assistant company providing administrative and clerical tasks.
With over 20 years of collective experience, the company caters to trainers, coaches, book authors, and coach creators, the company offers management and provides materials to these professionals to showcase their expertise, increase their online visibility, and generate new leads.
With offices in the US, Canada, and Jamaica, Cube & Arrow Inc. was established in 2018 and offers a variety of virtual assistant services. 
The company provides B2B and B2C telemarketing, writing, customer support, virtual assistance, and even training. It also provides a Remote Answering Service and a 24/7 live operator for in-call dispatching and inbound calls.
Virtual Assistant Services Kingston Jamaica specializes in small and micro businesses in providing answering services. The company caters to different industries, including real estate, information and technology, law, and healthcare.
It provides a variety of services such as call transfer and patching, and property management, along with features like customized call scripts, dedicated voicemail to email, and a dedicated phone number.
Virtual Media Hive is a Jamaica-based virtual assistant company that also has a registered headquarters in the US.
Founded in 2018, the company provides a variety of virtual assistance services, including email, calendar, and social media management, online store management, website creation, maintenance and management, graphic design, and more.
WebNutive started in 2020 in Kingston, Jamaica. Focusing on providing services to small and medium enterprises, the company aims to help digitize businesses. They provide website creation services, along with UI/UX design, web design, branding, graphics design, and more.
ATB Business Services started in 2020, intending to provide different kinds of virtual services to businesses.
With headquarters in Canada, the US, Jamaica, and the UK, the company offers proofreading and editing services, social media marketing and management, data scraping and blogging, language tutoring, voiceovers and voice acting, and appointment management.
A newly established virtual assistant agency, The Jamaicans started in 2022 to address the increasing demand for virtual assistants across the globe.
Acquiring clients in Upwork, the company offers a variety of virtual assistance services, including content writing and research, data entry and validation, transcription, and proofreading.
Established in 2021 in Portmore, Jamaica, Advirtedge Solutions has top-rated virtual assistants that cater to the needs of small businesses. The company provides project management services, from planning and design to development and implementation.
Founded in St. Catherine, Jamaica, BitVoxy Digital Media provides virtual assistance in digital marketing.
With 100 completed projects and 87 satisfied clients, the company provides services in website development, social media, eCommerce, and technical support to small and medium-sized businesses.
Virtual Office Jamaica is a company that is composed of talented, courteous, and professional virtual receptionists that provide answering services across the globe.
With offices in the US, United Kingdom, Canada, and the Caribbean, the company offers answering and automated attendant services, corporate address features, electronic faxing, and hosted PBX.
Freelance Superstars is a pool of freelancers that provides virtual assistance services. Founded in 2021 in Kingston, Jamaica, the company provides marketing services that include social media management, content creation, email marketing, and campaign management.
The company also has freelancers that perform customer service tasks like phone handling, chat and email support, and data entry.
Sutherland Linton Marketing Services started in St. Catherine, Jamaica, to provide virtual digital marketing services.
With its pool of talented virtual assistants, the company helps its clients with their digital marketing needs, like social media management, PowerPoint presentations, spreadsheets, copywriting, and blogging, as well as email management.