Top 20 VA companies in Canada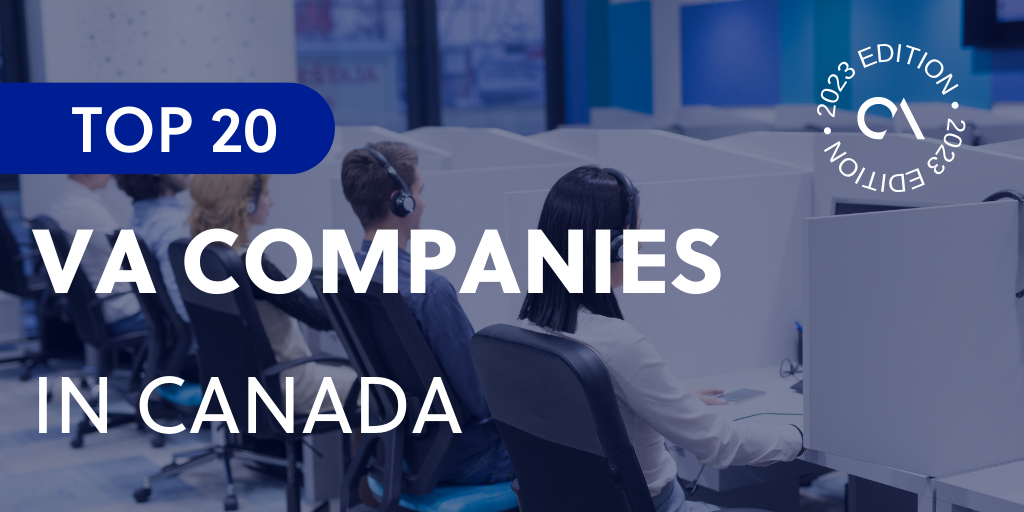 If you're looking for a way to streamline your business, consider hiring a virtual assistant. 
Virtual assistants are typically remote workers who provide services like bookkeeping, customer support, and even accounting in exchange for a set fee.
The best part? You can hire a freelance virtual assistant from anywhere in the world, meaning it's easier than ever to find one that meets your needs. The virtual assistant industry has grown rapidly in the past few years, and with good reason: it offers businesses a way to save money and increase productivity without adding staff.
It's important to note that there are many different types of virtual assistants, so it can be difficult to find one who meets all your needs. The best way to find a virtual assistant is to do some research. Look for companies that offer these services and take note of what they have to offer. You can also search online for reviews of various VA companies, as this will give you an idea of the quality of their services.
Once you've found a company that seems like a good fit, you'll want to do some due diligence. This means checking whether the company has any complaints against it or reviews from past clients. If there are any issues with the business itself or its past customers, then this is likely not a good fit for your need
What to Look for in a Virtual Assistant Company 
Apart from ensuring you know the skills of a virtual assistant, it is also vital to know what to look for in a virtual assistant company.
Experience
The first thing you should look for in a virtual assistant company is experience. A VA with five or more years of experience is an ideal candidate.
Make sure they have an actual office space, not just a virtual one. This shows their commitment to providing optimal services and not just for some quick cash. 
Offered services
Make sure they cover your needs and have customized services so you can add or remove features as needed. Doing this saves you from using resources on services you don't use frequently.
Attentiveness at work
You also want to ensure that your virtual assistant will be there when you need them. If they have an answering service for customer requests, make sure that your calls are answered quickly and efficiently.
Costs
The last thing you want to ensure is that their service isn't overpriced. You want to guarantee you're getting a good deal for your money. 
Benefits of Having a Virtual Assistant
Flexibility

. Virtual assistants will work around your schedule and can even work in shifts so that someone is always available if you need them.

Savings

. Virtual assistants are often cheaper because they don't require other overhead costs needed for in-house staff, including office space and equipment.

Convenience

. You can work with a virtual assistant from anywhere with an internet connection and the right technology.

Accessibility

. You can worry less about traveling to an office when working with a virtual assistant—they're always available online.

Support

. A good VA provides support as needed and keeps track of all of your projects on your part. This guarantees you fewer mistakes and more accurate support for your functions.

Time management

. You will save more time working with a VA because they can take care of your tasks, including those requiring more than one person to complete them.

Dependability

. A virtual assistant gets things done as you expect them. With this, you won't have to worry about missing important deadlines or meeting people halfway through a project.

Security.

Your data and details are secure with a virtual assistant because they know the importance of keeping your information private. A good VA will also keep their own information safe from prying eyes.
Top global outsourcing lists
Outsource Accelerator is the world's leading outsourcing marketplace and advisory. We list over 3,000 BPO firms located across the globe in our global directory, and we provide detailed information, price guides, and reviews.
Whether you're a solopreneur, SME owner, or a corporate executive, we can help you find the most suitable outsourcing provider for your business.
Explore our outsourcing directory now. You may also check out our Top VA companies lists per country here:
Top 20 VA companies in Canada
In this article, we'll take a look at the top 20 virtual assistant companies in Canada:
24H Virtual Receptionists and Answering Services is one of the best virtual assistant companies in Canada. They offer a wide range of services, such as live receptionists, chat receptionists, auto receptionists, and virtual business processing management.
Blue Hills IT can build apps, edit photos and videos, make graphics, do data analysis and research, and build and design websites. They offer their clients remote access to multiple IT professionals.
Gexel Telecom is a Canadian company that helps businesses with customer service and technical support using virtual assistants. They cater to companies that need help setting up meetings, managing calendars, and putting documents in order.
PW Business Support gives excellent help with Dubsado DFY setups, automation, email marketing, and course creation. They provide support to entrepreneurs, coaches, and small business owners who are seeking results.
Remote CoWorker was made because there are more jobs that can't be filled with virtual assistants who have the right skills and knowledge for the job or with virtual professionals who apply for projects just because they are available.
The Virtual Gurus offers a wide range of services, from administrative tasks like scheduling appointments and research to more complex functions like social media management and graphic design.
Their virtual assistants are here to help, whether you need one general administrative assistant or several part-time or full-time remote team members.
Complete Admin Solutions offers services such as financial reporting, bank reconciliations, customer billing, payroll, and many more. Their packages start as low as $75 per month. 
ExceptionalADMIN provides its clients with a variety of packages based on their needs.
Clients in Mississauga, Ottawa, Hamilton, Vaughan, Southern Ontario, Canada, and the United States can take advantage of ExceptionalADMIN's virtual assistant services, such as project management, virtual meeting support, and online research.
Task Network was established to help businesses find the time and resources to do all of their tasks easily.
Business owners are able to focus on more crucial areas of their businesses by letting professionals manage and finish their back-office administrative work.
With 13 years of experience across seven countries, NCRi offers different services like data-driven analytics, bookkeeping, HR support, and IT-enabled services.
The foundation of NS Virtual Services is the belief that they can advance their clients without adding burden.
Their wide range of virtual services, which are ideal for solopreneurs and small- to medium-sized firms, includes administration, social media, and web development.
CAVA gives virtual assistants a place to network, trade information, and expertise, organize and attend events, and get helpful assistance from other VAs at different stages of business development.
Clients looking for VAs are invited to browse through their member database to find one that suits them.
Canada's Virtual Assistant offers a wide range of services. Their specialty is managing Pinterest, social media, blogs, and online businesses; making new content and reusing old content; managing projects; and giving executive assistance.
They can also help their clients build their own manual or course for their staff's onboarding processes.
Upwork is a virtual assistant company that offers a wide range of services. They can help with everything from marketing to customer service, and they have an extensive network of workers who can help entrepreneurs with any task they need to be done.
It allows them to hire the best possible candidates for their project. They can choose from various skill sets and locations, which means that clients can find someone who is local and has experience with what they're looking for.
The great people who work at Virtual Assistant Canada offer a wide range of services that anyone can hire them for. These include administrative work, managing calendars, generating leads, graphic design, and managing social media.
Kimp provides service to customers located all over the world. They help implement innovative company ideas, grow marketing campaigns and agencies, and spread powerful messages to a broader audience.
Virtual Workers Canada offers reliable VA services to businesses looking to delegate complex jobs and get them done to their satisfaction. They provide virtual assistants that cater to their clients' requirements and standards so they can focus on their goals.
Virtual Corporate offers a wide range of services, such as help with real estate, data entry, hiring, accounting, and writing. They offer free quotes for their client's services.
Presto is committed to helping entrepreneurs and owners of small and medium-sized businesses. As a form of virtual assistance, they offer business management solutions and general administrative services to a wide range of industries.
AdvansisVirtual believes in helping your business connect with other businesses by giving you back-end support so you can focus on what's most important, which is growing your business.