Top 25 VA Companies in India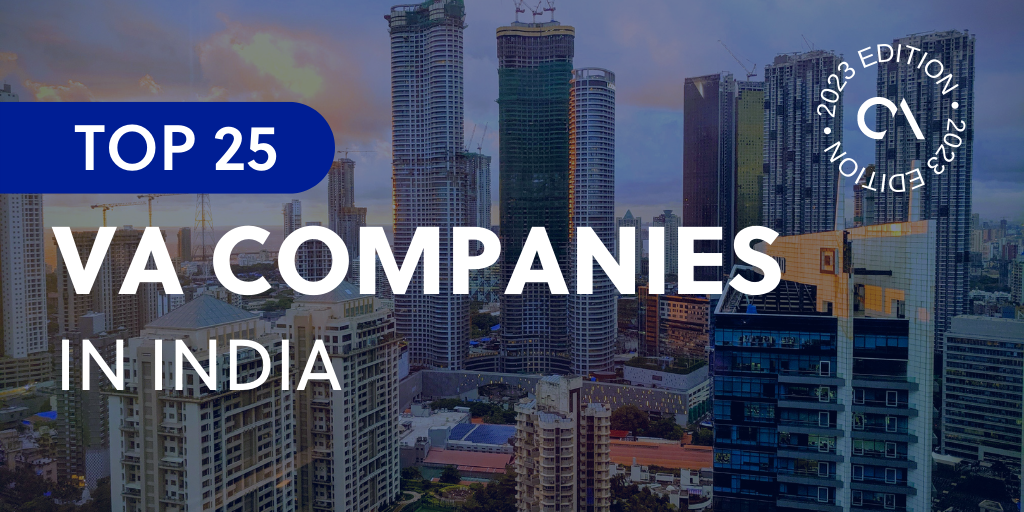 India is known for many beautiful things. These include its cuisine, culture, natural landscapes, languages, traditional dances, and its very own Bollywood.
India is a South Asian country that encompasses the majority of the continent. It is also a multi-ethnic country with hundreds of minor ethnic and tribal groupings. 
On the other hand, India's economy is considered one of the world's fastest expanding. The business community has become even more interested in India's offerings and huge potential since the Indian economy made its mark on the world stage.
Benefits of hiring virtual assistants in India
From brilliant software developers and marketing professionals to virtual employees, India is teeming with a skilled workforce. Indian employees have been offering outstanding services for decades.
Here are the other benefits of partnering with VA companies in India:
Employees went through extensive training
Indian virtual assistants are technologically aware and possess the required education, abilities, expertise, and job experience to offer excellent service.
Flexibility
If you need your firm maintained 24/7, you can hire virtual assistants from India, where time zone differences exist.
You may hire Indian virtual assistants to conduct sales calls or book appointments for you during business hours. You may have them check your CRM database, receive new queries, and update job files beyond business hours.
Cost-cutting
India offers more cost reductions to enterprises. Wages are usually lower than in the United States. Aside from that, virtual assistant companies are responsible for the taxes and benefits of their Virtual Assistants. Payrolls, pensions, and other advantages such as healthcare coverage.
Profitability is improved
Many virtual assistants do not require much training since they have prior expertise. They never take the time to get used to a new set of responsibilities and get right into the assigned duty without wasting a single second.
As a result, you won't have to spend a lot of time educating them. A seasoned virtual assistant only has to be focused before taking on the work full-time.
Top 25 Indian VA companies
Top global outsourcing lists
Outsource Accelerator is the world's leading outsourcing marketplace and advisory. We list over 3,000 BPO firms located across the globe in our global directory, and we provide detailed information, price guides, and reviews.
Whether you're a solopreneur, SME owner, or a corporate executive, we can help you find the most suitable outsourcing provider for your business.
Explore our outsourcing directory now. You may also check out our Top VA companies lists per country here:
25 best VA companies in India
When many people think of outsourcing, India comes to mind. In fact, the country is home to a slew of top-rated virtual assistant firms.
Here are the 25 most prominent VA companies in India:
Premium Help's virtual assistants have the expertise and experience to help you grow your business. They are capable of doing your work flawlessly and on time.
The virtual assistants at Growup Technologies have a lot of expertise in assisting different types of companies. Before being introduced to a client, each VA goes through a thorough screening procedure.
Wishup is a low-cost VA company in India that delivers service through an electronics marketplace of professional and competent VAs.
Managing schedules and calendars, managing leads, email lists, travel and venue planning, online research, email database building, social media management, expense tracking, and custom tasks are just a few of the services available.
VMG BPO is a Bangalore-based business process outsourcing (BPO) provider. Hundreds of online businesses, including some of the world's top internet corporations, collaborate with the company.
247 Virtual Assistant is a pool of highly qualified virtual assistants available to complete all of your duties. Sign up, assign your VA the work you want, and their assistant will contact you with all completed assignments.
YourDailyTask is a full-service outsourcing firm founded in 2008. In Mumbai, India, they operate an operating office and a delivery facility.
It is essentially one of the most prominent full-time offshore virtual assistant companies serving global markets.
AskSunday is a virtual assistant service that hires outstanding Indian people to complete your duties. It has a specialized assistant program with a primary and secondary assistant to ensure smooth operation.
Webcenture resides in Mumbai, India's business district. The VA company specializes in website building, WordPress maintenance, social media marketing, SEO, research, and administrative tasks.
Digi Media Infotech is a virtual outsourcing service company in India specializing in knowledge process outsourcing and virtual assistant services.
GetFriday has grown to become one of the world's leading virtual assistance suppliers and small company support.
The VA firm can perform nearly any commercial or personal obligation that does not necessitate our physical presence. GetFriday can handle everything that can be done over the internet, via email, fax, phone, or chat.
Get24 assistant is a prominent next-generation multi-tasking virtual assistant company based in India that serves clients worldwide.
They strive to provide high-quality, low-cost virtual personal assistant services to small businesses and other organizations searching for business support to help them develop efficiently.
MMF Infotech offers excellent solutions and services. They have remarkable experience in back-office support and services that assist in comprehensive B2B or B2C business expansion.
Techorion is one of the top virtual assistant firms in India. They are knowledgeable in web development services. Online advertising, blockchain, virtual assistant, and mobile app development are some of the other services.
Ossisto offers comprehensive support to businesses through virtual assistants. They are located in Bangalore, India, but provide services throughout the United States, Australia, and the United Kingdom.
Ossisto's services vary from business assistance and IT to graphic design. They are available 24/7, so you may contact them anytime you need a VA.
Sailwin Software is a pioneer in the field of IT outsourcing and offshore software engineering. They've been helping 14 clients manage their cost-performance requirements for IT projects for over two years, thanks to long-term ties with Sailwin Software.
Sage BPM offers high-quality service and long-term performance benefits. The VA company can work with enterprises of all sizes, from start-ups to large corporations, in a wide range of industries.
Tasks Leader is a full-service virtual assistant provider with a passion for making a difference. They are based in Kolkata, India, and employ a varied collection of bright individuals and industry experts who always bend the curve to evaluate success for all of their clients.
Acelerar Technologies offers customizable options as well as a free trial. You may obtain a free quotation by giving them a call or filling out a form on their website.
Staff members may assist with social media, online research, email and chat assistance, administrative support, accounting support, appointment scheduling, and other tasks.
Brickwork India is a commercial service provider located in Bangalore, India. They offer sales assistance, social networking, and other administrative support. They may help your various departments by providing aid in sales and marketing, online, administration, and human resources.
Outsource2India specializes in telemarketing services, including customer support, outbound calling, and product sales using cold and warm calling tactics. Outsource2India is more than simply a virtual assistant firm, having served over 18,000 customers globally.
Hubstaff Talent efficiently and expertly links virtual assistants wihttps://www.outsourceaccelerator.com/company/hubstaff-talent/th customers. You can quickly check a virtual assistant's hourly fee, abilities, experience, availability, résumé, and languages spoken with Hubstaff Talent.
WoodBows has been ranked as the top virtual assistant firm. They have skilled employees from all around India, aiming to help companies and agencies achieve new heights while keeping costs to a minimum.
From online research to database building, they've got you covered. CRM management, administration, and personal social media tasks, TasksEveryday virtual assistant company can support you with all these various activities.
MyTasker offers a wide range of virtual assistants to assist you with various activities ranging from office administration to real-time customer care and assistance. 
This virtual assistant firm may aid you in establishing your brand online and acquiring new clients without the need for months of marketing and telemarketing.
Datainox is a prominent data entry firm that offers various offline and online data entry services, data processing services, data translation services, web research services, and virtual assistance. Datainox is the ideal platform to fulfill your company's needs if you wish to outsource these services.