Top 20 VA companies in Brazil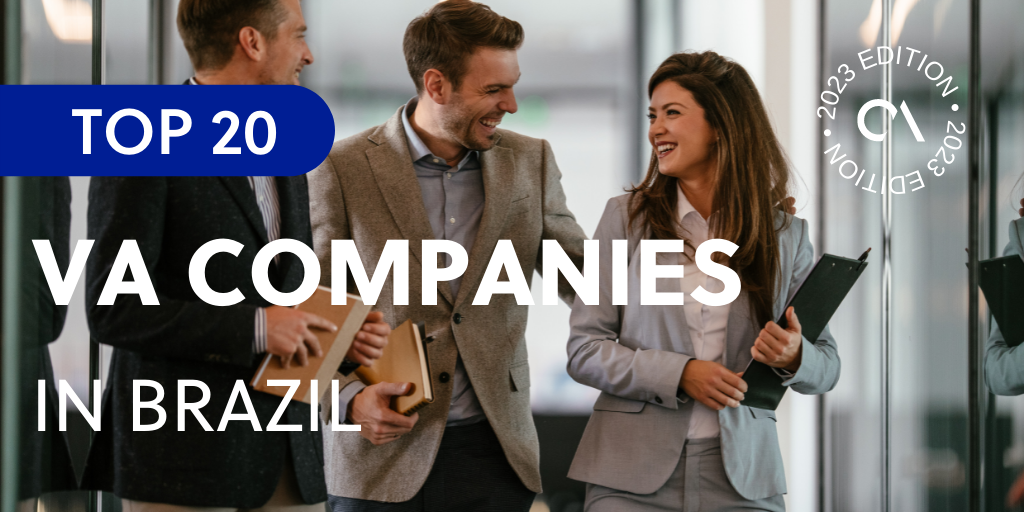 Managing a business can be a handful. From addressing customer complaints to dealing with tough executive decisions, sometimes, err, most of the time, all you need is a helping hand. That's where virtual assistants or VA come in.
Virtual assistants are third-party service providers that deliver a wide range of business activities and services to organizations from remote locations. 
Brazil is one of the leading countries in the world with talented virtual assistants. Brazilians can communicate in Portuguese and English as the largest country in South America and Latin America. 
The country is also favored among US organizations for nearshore outsourcing because of the advantage in time zone differences. Therefore, Brazil took advantage of the opportunity and improved its technology, resources, and organizations to keep up with international standards. 
Having a good reputation for handling numerical tasks, most companies hire Brazilian VAs for data entry tasks and bookkeeping.
Hiring virtual assistants for your company is an effective strategy to allocate other firm responsibilities so clients can have more time to focus on their priorities.
In searching for virtual assistants, one must look into trusted VA companies that provide a platform where clients can search for and hire the best VAs according to their needs. This article compiles a list of the top 20 VA companies in Brazil. 
Top global outsourcing lists
Outsource Accelerator is the world's leading outsourcing marketplace and advisory. We list over 3,000 BPO firms located across the globe in our global directory, and we provide detailed information, price guides, and reviews.
Whether you're a solopreneur, SME owner, or a corporate executive, we can help you find the most suitable outsourcing provider for your business.
Explore our outsourcing directory now. You may also check out our Top VA companies lists per country here:
Outsource Accelerator identifies the top trusted outsourcing firms after comprehensive research to produce dependable lists for those searching the suitable outsourcing providers. 
Top VA companies in Brazil 
Top 20 VA companies in Brazil 
Virtual Latinos is the first platform to connect entrepreneurs and organizations from North America (US and Canada) and globally with independent VA professionals from Latin America, like Brazil. 
Only selecting 5% of the top applicants, the company houses handpicked professionals, mostly university or college degree holders with past work experiences and English-qualified but offered a relatively lower cost. 
Its VAs serve various industries and companies like law firms, real estate, tech, healthcare, marketing, and non-profits with services ranging from administrative, digital marketing, customer support, sales, writing and blogging, and more.
Upwork is an American freelancing platform that connects independent professionals or freelancers (i.e., VAs) with international clients. It has numerous available VAs for hire situated in the top cities in Brazil, like Sao Paulo, Rio de Janeiro, and more. 
Trusted by global organizations like Microsoft, Upwork's highly rated VAs can perform administrative, customer support, and marketing strategies with rates varying from $35 per hour up to $80 per hour. 
Virtual Assistant BR is a platform for thousands of Brazilian jobseekers to connect with clients and organizations. Independent contractors or freelancers log in to the website and post their expertise so employers can search through their specific needs.
Its 248 candidates are listed as VAs for Amazon.com or administrative VAs with rates as low as $3.00 per hour to $10.00 per hour. 
Truelancer is a curated freelance marketplace for thousands of top-rated Brazilian VA and freelancers. The platform's VAs provide services from WordPress, Google Adsense, and social networking to legal and web development. 
When hiring VAs in Truelancer, payments are released directly to the independent contractor once the project is accomplished. 
As the largest freelance and remote work platform in Latin America, Workana has been a leading global precedent popular in Southeast Asia since 2012.
Catered to over 600,000 entrepreneurs and startups, Workana houses numerous highly-rated Latino VAs, including Brazilians, who can do customer service and support, admin assistance, and other freelancing jobs like technical writing, data entry, and SEO. 
A global professional services firm committed to providing a wide range of outsourcing solutions, PIE Multilingual offers highly experienced virtual assistant services and has an office in Brazil. 
Its VA services include appointment setting, event planning, web research, call answering support, and sales assistance. What's more, is that the company has multilingual VAs. 
Workhoppers is an online platform that connects clients with independent professionals who work temporarily, freelance, and part-time across countries. It offers thousands of skilled VAs from Sao Paulo, Brazil.
VAs from Workhoppers offer a range of services like translating, web services, administrative, customer service and support, executive assistant, writing, and marketing at affordable and flexible rates.
More than a law firm, Oliveira Lawyers is a company that also offers virtual assistance services. Its virtual assistants are committed to doing the following tasks: communication with other Brazilian companies, translating or interpreting, data gathering, customer service, and support. 
For other minor responsibilities or junior resources, its VAs are qualified to provide a rate of $50.00 for a minimum of 10 hours monthly. 
This global marketplace for freelancers connects virtual assistants from Brazil with employers looking for affordable and flexible charges.
beBee's VAs from Brazil provide services from administrative, marketing, and public relations, customer service to human resources and logistics. 
Guru's platform enlists virtual assistants from Brazil with rates starting from $25. While most of its VAs provide administrative, secretarial, emailing, and customer service services, some freelancers can also assist in computer engineering and mathematics or do Microsoft Excel and computer coding like C language.
BBMax Online is a platform that puts integration, security, and agility when hiring virtual assistance talents for employers. More than its USA and Spain offices, BBMax Online is also available in Brazil.
Its team of experts in virtual assistance is ready to work for various industries like real estate, legal, sales, eCommerce, research, and social media.
Fiverr is known as a global platform for multiple freelancers and job seekers. It also has independent contractors working remotely from across countries post they are available for virtual assistance services. 
Although Fiverr may be limited in available VAs in Brazil, rest assured the VAs are highly rated and trusted by its clients. Some services other than virtual assistance they provide are admin support, emailing, data entry projects, design, and PDF conversion. 
Amazon Virtual Assistant Services is a leading agency when it comes to Amazon businesses. It offers a range of VA services that Amazon businesses require, like ad creation, product research, competitor analysis, ad optimization, and store optimization. 
AMZVA provides a flexible monthly plan package for your VA needs which are a starter plan (best for startup companies or those with a limited budget), an advanced plan (the most popular), and a professional plan (to get the best out of its services). 
RemoteCo is an online marketplace that helps employers from diverse industries find and hire remote employees from Latin America, including Brazil. The platform also available virtual assistants for hire.
Its wide range of business-savvy VAs can do administrative tasks and provide support with back office with starting rates as low as a $3.75 hourly rate. 
J Lobanco Training is a training company for executive secretariat professionals that also offers virtual assistant services for an affordable cost. 
Their professional VAs are skilled in services like customer service (messaging and emailing), social media management, creation and publication of social media content, preparation of contracts, spreadsheets, meeting minutes, and agenda and financial control. 
Peopleperhour operates as an online platform for freelancers worldwide. Several highly-rated virtual assistants from Brazil are available for hire on this platform, offering services like customer service, data entry, market research, and even fashion design and legal assistance. 
Freelancer is a website where job seekers and employers can post job opportunities for independent contracting, like virtual assistance.
Freelance VAs can comment on the employers' posts and put their details available for viewing, like their personal descriptions, charges in US dollars, and rates from their previous clients' reviews. 
On the other hand, Freelancer also enlists available virtual assistants from Brazil with their respective details that employers can scroll through if they do not opt to post. 
RemoteOK lets freelancers like virtual assistants have individual pages dedicated to personal descriptions, work, and academic experiences. 
Some Brazilian VAs have posted their profiles and contact details for employers to connect with them on this website.
AstraQom Brazil is an online platform for finding virtual assistance specializing in virtual reception and professional telephone answering services. 
A key player in the global business telecom sector for fifteen years, AstraQom is an ideal partner for telephony and data connectivity needs.
Hailed as the first and largest virtual secretary company in Brazil, Prestus has been a partner of entrepreneurs and professionals from various sectors by providing virtual and remote assistance since 2009.
The company has contributed mainly to reducing monthly expenses in telephone services of small and medium-sized enterprises in Brazil. 
Prestus's virtual secretaries are "problem solvers" and are available 24 hours daily for remote solutions like directing calls and secretarial duties. Prestus has served over 500 companies in almost all states of Brazil.