Top 20 Nearshore VA Companies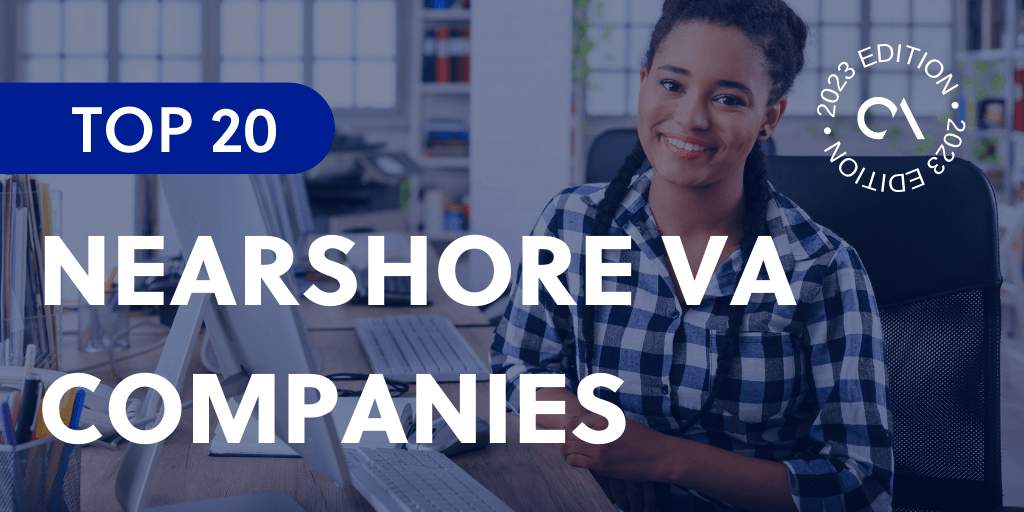 As more and more companies are digitalizing their businesses, the demand for virtual assistants continues to increase.
Many business owners prefer hiring virtual assistants for various reasons. It is cost-effective, plus most VAs have more than enough experience to perform different tasks. 
What Is a virtual assistant
A virtual assistant (VA) works outside the client's office to provide administrative support. It can be an independent contractor or someone from a company that offers VA services. They often work remotely but have access to certain tools, such as shared calendars. 
Virtual assistants frequently have years of office management or administrative assistant expertise. New opportunities are emerging with expertise in social media, content management, blog post writing, graphic design, and internet marketing.
As more companies allow employees to work from home, the increase in VA services also becomes significant.
Top 20 Nearshore VA Companies
Top global outsourcing list
Outsource Accelerator is the world's leading outsourcing marketplace and advisory. We list over 3,000 BPO firms located across the globe in our global directory, and we provide detailed information, price guides, and reviews.
Whether you're a solopreneur, SME owner, or a corporate executive, we can help you find the most suitable outsourcing provider for your business.
Explore our outsourcing directory now. You may also check out our Top VA companies lists per country here:
What do virtual assistants do
The main tasks that a virtual assistant performs depend on the client's demands and the contract's requirements. Here are some of the functions that can be assigned to virtual assistants:
Administrative responsibilities
Admin tasks are usually the primary responsibilities of a virtual assistant. Admin tasks include reserving flights, setting up calendars, scheduling meetings, and even taking calls on a connected line.
Bookkeeping tasks
Virtual assistants can also help make purchases, manage a budget and keepg track of spending. Keeping track of finances is an essential component of operating a successful business.
Personal assistance
Virtual assistants can also be delegated to organize tasks beyond the workplace. Personal responsibilities include planning vacations, managing a schedule, and buying presents for loved ones.
Customer service
Virtual assistants can also perform basic customer service. They can entertain customers and assist them in troubleshooting or providing product feedback. They can also offer tutorials or address typical issues. 
Data entry
Data input is also a typical role for virtual assistants. They can help acquire information, check its accuracy, and delete unnecessary records. This is extremely useful for institutions in the education and healthcare industries.
Social media management
Most businesses realize the value of social media and customer engagement, which is a task that is too big to handle. Aside from keeping track of the publishing schedule and engaging with followers, virtual assistants can also answer comments and interact with followers.
Content management
Suppose editorial materials are needed to attract visitors to a brand's website, build brand recognition, and engage potential consumers. In that case, it can be a huge amount of work, along with other tasks that go into running a business.
A virtual assistant can make managing a production calendar easier, organizing editorial materials, and facilitating various publication steps.
Research
Whether it's market research, consumer research, or performance research, every organization needs research to guide its operations.
Research can also be a product that is sold to clients. Even with devoted resources, research takes up a considerable amount of time, and businesses hire virtual assistants who can do the job. 
Top 20 nearshore VA Companies
Virtual assistant companies are all over the world—it provides a variety of options to business owners, and it is easier for them to tick the boxes of their considerations. Here are the top 20 nearshore VA companies.
Established in Silicon Valley in 2010, Prialto was born out of the need of executives to ease the load of their administrative work brought by technology that effectively replaced admin assistants.
Today, Prialto provides full-feature virtual assistant services from its offices in the US, Guatemala, and the Philippines. They offer administrative assistant services to individuals, small organizations, and enterprises. 
Working with Filipino virtual assistants helped Remote CoWorker create its foundation. Its main headquarters is in Florida, US, the company was established in 2013 and currently has an office in La Union, Philippines.
RemoteCoWorker provides various virtual assistant services, including customer management, development, sales, marketing, and data entry. 
Uassist.ME has more than 12 years of expertise in offering virtual support and outsourced business services (BPO) to small and medium-sized businesses in the United States and abroad.
With offices in Miami, Florida, and San Salvador, El Salvador, the company is armed with an award-winning, college-educated, completely bilingual (English/Spanish) crew. They possess extensive experience in business, marketing, lead generation, and sales.
Established in 2009, Unity Communications is a US-based company that provides different kinds of back-office support. It offers admin support, data entry services, general bookkeeping and accounting receivables, and customer service. 
With offices in the Philippines, Costa Rica, and Mexico, the organization mostly deals with small and medium-sized enterprises and startups who want a "white glove" outsourcing experience for the first time. 
Founded in 2017, APEX Call Centers have headquarters in the US, Mexico, and the Philippines and provide all kinds of full-feature assistance to businesses.
APEX Call Centers cater primarily to midmarket enterprises. Its back-office assistance service includes customer service, technical support, chat support, email support, order processing, appointment setting, data entry, answering service, and debt collection.
Smith.ai was established in 2015 in Los Altos, USA, and is known for superior call-answering services. The company houses virtual receptionists who answer calls, schedule appointments, qualify leads, handle new customer intake, and make outbound calls for businesses. 
Smith.ai works with every type of business, small or large, across all industries. 
With offices in Bulgaria, Madagascar, Egypt, Hong Kong, the US, and the UK, Oworkers provides all kinds of data services to its clients. 
Oworkers works with all types of companies, from Unicorn and big tech companies to AI companies and small and medium enterprises. Its multilingual data entry services include contact data entry, catalogs, invoice processing, and industry-specific data entry services. 
Established in 2015 in Amsterdam, Pexly provides virtual assistant services in advertising, digital marketing, and digital strategy. It also offers thorough customer support services to assist businesses, strengthen client bonds, and raise retention rates.
Pexly caters to businesses of all sizes across all industries. Its services include customer support, database entry & cleaning, social media content moderation, order management, and other back-office services.
Ideas Unlimited is headquartered in Texas, USA, and was founded in 2010. The company provides a variety of virtual assistant services, including customer support, multilingual support, healthcare support, eCommerce & backend support, and operations support. 
Ideas Unlimited caters to companies of different sizes from across the globe, particularly in North America, Europe, Australia, and the Middle East. 
Based in Calgary, Alberta, SureCall is a well-known BPO and contact center founded in 1982. The company comprises experts who take on big, complex, and smaller projects. Its services include omnichannel support, customer support, business processes, and emergency response. 
SureCall caters to companies of all sizes from different industries, including consumer products and services, business services, and non-profit organizations. 
Founded in 2006, Valoris has full Romanian ownership, providing its clients with different outsourcing services. Its multilingual team (English, French, Spanish, Italian, German, Hungarian, Bulgarian, and Russian) allows it to collaborate with companies worldwide.
Valoris works with companies of all sizes from more than ten different industries, with the majority coming from information technology, eCommerce, and automotive. Its back-office services include lead generation, presales, sales support, and upselling.
Conectys has been in the industry since 2004, with offices in Romania, Poland, the Philippines, the USA, Portugal, and Taiwan. The company provides various support services, including customer experience, technical support, content moderation, and digital transformation. 
Conectys offers its services to small and mid-market businesses from various verticals, including financial services, hospitality, and gaming. 
Headquartered in India, Task Virtual ovvers virtual assistant services to global organizations. The company provides services in data entry and management, research, lead generation, and marketing.
With its impressive projects in the past, Task Virtual has worked with Fortune 500 companies and brand-new startups. They collaborate with companies across all industries, including business services, hospitality, and real estate. 
Founded in 2014 in Mexico, Remote Team Solutions offers virtual employee management services to organizations. The company provides HR services and administrative support, scaling for both new and existing projects. 
Its clients are comprised of small businesses and midmarket from various industries, including marketing and business services. 
Tech2Globe was established in 2014 and is known to be one of the newest and most promising software development companies in India. The company has since expanded and now offers VA services on data management, Amazon services, digital marketing, and graphic services. 
The company focuses on servicing companies, startups, and entrepreneurs in different industries, including retail, information technology, and eCommerce.
ARDEM started in India in 2013 and now has headquarters in New Jersey, providing various outsourcing solutions to its clients. Its services include back-office support, accounts payable outsourcing, utility bill management services, and government solutions. 
ARDEM works with companies of various sizes from different industries, including financial services, medical, and government.
The Hour started in the US in 2015 and is known as a leading VA services and outsourcing partner. The company offers various virtual assistant services, including back-office administrative support, customer support, social media, and lead generation. 
The Hour collaborates with businesses of various sizes from different industries, including business services, financial services, and eCommerce. 
With its main headquarters in Makati, Philippines, Booth & Partners was established in 2013 and started to provide virtual human resource assistance to businesses.
The company expanded over the years and now provides managed services, staff leasing services, employer of record, and quality solutions to businesses in over 17 countries. 
Booth & Partners caters to midmarket and small businesses, mostly from information technology and eCommerce industries.
Fusion Business Solutions was founded in 2006, headquartered in India with offices in the US, and the UK. It started as a business process outsourcing company; since then, it has expanded and now provides different virtual assistant services. Fusion assists clients with operational tasks, including data management, research projects, software development, and web or mobile app development. 
Fusion works with midmarket and small businesses, mainly from business services, hospitality & leisure, and finance sectors. 
iWorker is a virtual assistant company established in 2018 in Santa Fe, USA. Rated as one of the best virtual assistant agencies across the globe, iWorker provides different kinds of virtual assistant services. Its services include social media management, graphic design & video editing, administrative support, digital marketing, copywriting, and sales.
iWorker primarily focuses on catering to small businesses from different industries.