Top 30 VA companies in Malaysia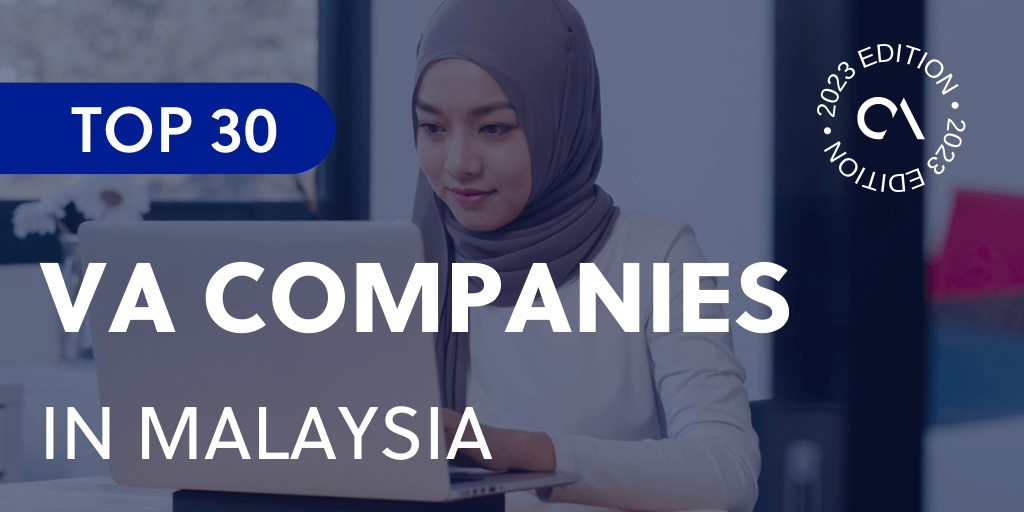 Having a flexible and well-staffed team is more important than ever. Virtual assistance allows businesses to get professional support at a flexible model to best suit their needs. This helps create a cost-effective way to streamline operations without overstaffing.   
The virtual assistant market is projected to grow at a compound annual growth rate of 11.79%, as found by Technavio. It is driven by increased demand for advanced customer services. There are good reasons why it is becoming increasingly popular. 
Find the best virtual assistant company for your needs. For starters, here are the top 30 VA companies in Malaysia to check out.
Why hire a virtual assistant in Malaysia
Virtual Assistants can help you manage your entire business. They're skilled professionals who can help you with nearly anything needed to run your business. They can handle tasks such as answering emails and phone calls, preparing spreadsheets and documents, and researching.
People hire virtual assistants for different reasons. While the Philippines is a common hotspot for VA services, its neighboring countries are also gaining traction for this role.
Here are some of the reasons for hiring a virtual assistant in Malaysia. 
Stable workforce 
According to the World Bank, Malaysia's labor force is valued at 16,277,252. Its robust characteristic gives global businesses an opportunity to leverage Malaysian laborers and expand their business. 
The country is known to provide expertise in customer support and is currently venturing into IT and education, among other sectors. 
Stronger client relations 
Your busiest clients need to feel a strong connection with your business and its employees. Without the right tools in place, it's easy to lose track of time and leave them feeling like they never get through to anyone.
Virtual assistants can help you provide custom experiences for each individual, so interactions can lead directly to more opportunities for engagement and conversion.
Greater flexibility
Virtual assistants provide you with a flexible way to fulfill your administrative duties without the upfront commitment of hiring. This is especially useful in startup situations, where there are high-priority tasks that need to be done.
Top global outsourcing lists
Outsource Accelerator is the world's leading outsourcing marketplace and advisory. We list over 3,000 BPO firms located across the globe in our global directory, and we provide detailed information, price guides, and reviews.
Whether you're a solopreneur, SME owner, or a corporate executive, we can help you find the most suitable outsourcing provider for your business.
Explore our outsourcing directory now. You may also check out our Top VA companies lists per country here:
Top 30 VA companies in Malaysia
Get your work done by the best virtual assistants in Malaysia. Choose from a variety of services, including project management and personal assistance.
Lionsworld Business Centre is based in Kuala Lumpur, Malaysia, and was established in 2004. Its virtual personal assistant service covers administrative tasks such as data entry, invoice issuing, and concierge service. Its coverage is customizable according to client needs. 
Arise provides an outsourced customer care solution that leverages a network of independent, micro call centers for a customer base including Fortune 500 companies.
They use innovations focused on virtual learning, on-demand capacity flex, and security to support customer growth.
MyTasker is a VA company providing 24/7 support to entrepreneurs and businesses since 2012. The company's roster of VA services covers research, transcription, email management, eCommerce management, and miscellaneous assistance.
It serves entrepreneurs, homeowners, students, and other people that require assistance in administration, IT support, content writing, and the like. 
24/7 Virtual Assistance was founded in 2006 as a payroll support service. Today, it offers an array of virtual assistance services such as live chat, bookkeeping, word processing, and filing, among others.
Customers can also get specialized support for real estate, online branding, marketing, and lead generation. 
Virtalent provides executive services from travel management to inbox management. It has a broad range of services and offers value to businesses of different sizes and industries with the help of experts who know what it takes to optimize business operations.
Virtalent harnesses more than 15 years of combined experience from their experts, making it possible to provide businesses with highly-skilled and versatile professionals.
Virtual Assistant Talent provides two different types of VA services: technical and non-technical. This lets companies work with experts on the task required. Technical support involves creative and development tasks, while non-technical involves administrative support.
Virtual Assistant Talent takes pride in being a Better Business Bureau-accredited company that works with assistants on an on-call basis. 
Magic offers a fast, affordable way to hire virtual assistants. It helps businesses find the best assistant match for any project or initiative, taking care of sourcing and screening VAs.
The company is known for data entry, research, transcription, and recruiting. At the same time, they provide skills and marketing tools that help entrepreneurs and potential clients gauge how well assistants can integrate into their teams. 
20Four7VA is a virtual assistant service that allows startups and enterprises to be more productive and efficient, so they can focus on growing their business. The company is accredited by the Better Business Bureau and recognized by organizations such as Inc.
The company employs virtual assistants with expertise in providing support for telehealth, construction, podcast, and eCommerce.
Elite VA provides virtual assistant support to law firms and businesses through specialized solutions. Its team simplifies hiring for anything from law, marketing, temp staffing, personal, and executive assistant to support different projects.
The woman-led business offers service plans starting at 20 hours. Its basic plan comes with a package including a virtual assistant, a relationship manager, and a support team.
The Mellon Group is a multi-service company offering technology solutions, contact centers, and outsourcing services.
Its virtual assistant services include digitization, data entry and cleansing, and file management. The company also provides support for people-intensive tasks such as payroll, recruitment, and employment lifecycle. 
Prialto provides solutions geared for individual, organization, and enterprise-level work with over ten years of proven experience. It helps by following best practices in providing specialized support, technological proficiency, and security.
The company's key competencies are document preparation, CRM and campaign management, time management, travel management, and custom process design.
Ossisto is a globally-renowned VA company with a team of professionals in the business of providing personalized assistance. Its assistants carry out specialized services such as bookkeeping and social media.
It lets companies find a virtual assistant in three steps. The company operates in five locations and provides 24/7 assistance.
TaskBullet is a virtual assistant agency that offers services in different fields, such as marketing, research, and phone answering. Its team of professionals comes with years of experience in their respective fields to help businesses optimize their operations.
The company offers a free trial of 10 hours to give interested customers a feel of what their services can do. Its packages are categorized as starter, light, and expert buckets that vary in assistance duration.
Phoenix Virtual Solutions offers specialized virtual solutions for healthcare. Its team performs customer service, accounting, back office, medical billing and collection, and data entry.
Healthcare providers, management companies, and insurance companies located in the US are members of its client base.
GetFriday offers virtual assistants to businesses and individuals. Its team of 100+ virtual assistants helps entrepreneurs and executives with time-consuming activities such as bookkeeping, analytics, and SEO marketing.
Bizee.co is a virtual assistant company that provides affordable marketing, social media, and e-commerce support. It is led by leaders who have undergone the struggles of scaling a business.
Its team of highly skilled professionals works with team leaders with over five years of expertise. 
VXI provides innovative and transformative customer experience (CX) solutions across a broad spectrum of industries and market segments. At the same time, the company aims to cultivate a people-first culture within its work environment.
VXI offers support for customer care, account management, technical support, and other tasks. 
Premium Help is a virtual assistant company that offers different kinds of assistance for real estate, social media, and other purposes. 
The company has over a decade of experience and offers a wide range of services to its customers. Customers are protected with end-to-end security for data protection.
Wishup is an online service that helps entrepreneurs and businesses build highly efficient and cost-effective remote teams.
The company employs pre-vetted assistants to help businesses work with highly skilled professionals. It handles administrative tasks such as query management and calendar management.
Booth & Partners has been providing fully-outsourced services since its establishment in 2013. It offers custom outsourcing and HR solutions, including sales and service support and administrative support.
The company offers various solutions, from managed services to employer-of-record arrangements. 
ReceptionHQ provides outsourced virtual reception and phone answering services to clients worldwide. It serves a range of industries, such as tourism, IT, real estate, and other services. 
ReceptionHQ is harnessed by bilingual agents with fluency in English and Spanish and provides 24/7 service.
Cloudstaff is an outsourcing company founded in 2005. It provides outsourced staffing and virtual assistant services, including SEO, live chat, customer service, and back office functions. 
Cloudstaff makes it easier for clients to hire staffing using the Team Builder that allows them to specify the staff needed by their team. 
Task Virtual has flexible pricing plans with full-time, part-time, pay-as-you-go basis, and other options available. It caters to Fortune 500 businesses and startups. 
The company has business-specific services such as real estate, social media, and administration to streamline integration.
Conectys offers award-winning support with multilingual call answering services. This company operates in 13 locations and in over 35 languages to help clients reach a broader range of audiences. 
The outsourcing company also prioritized digital-first thinking by leveraging automation and AI solutions to streamline operations.
Integreon provides alternative legal, business, and research support services for law firms, corporations, and professional service firms. It has data-driven solutions to provide clients with the right tools and process design expertise needed for daily operations.
The company operates in multiple global locations, including . 
Plaxonic is a leading IT service and consulting company with a decade of experience in the industry. Founded in 2003, the company offers a broad range of services such as digital transcription, staffing augmentation, and business applications. 
CrewBloom is a leading outsourced company that helps startups and Fortune500 companies handle marketing, sales, and support. 
In as fast as 48 hours, clients can start working with their virtual assistants to delegate functions such as sales cycles, lead qualification, and deal closing. 
STAFFVIRTUAL is a business process outsourcing (BPO) company specializing in customer support, back office, and IT outsourcing. Clients can delegate repetitive back-office processes to their teams so optimize their operations.
BELAY Solutions is a company founded in 2010 that provides virtual assistants and podcast assistants. It maintains a crew of talented and passionate workers to serve businesses of different sizes.
GEXEL is a customer contact and call center company. It provides support for administrative tasks as well as social media monitoring and data maintenance.
This company offers specialized services for three industry sectors: Telecommunications, Consumer Products and Retail, and the insurance industry.