Top 20 VA Companies in Puerto Rico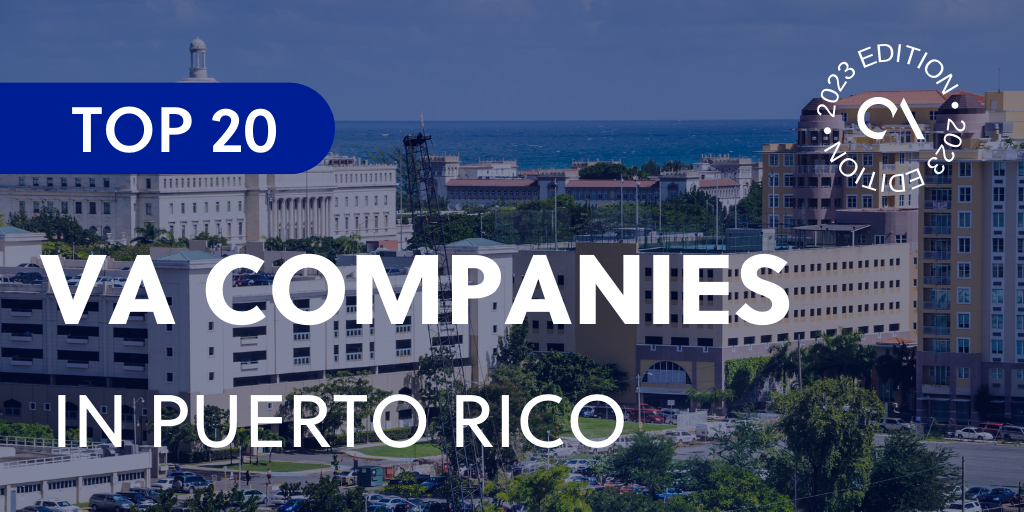 With economic shifts and digital transformation going on, having a flexible and well-staffed team is more important than ever. Virtual assistant services can be a helpful, cost-effective, and time-saving solution for US businesses. 
They are skilled professionals who can help you with nearly anything needed to run your business. They can answer emails and phone calls, prepare spreadsheets and documents, research information, schedule meetings, manage calendars, and much more.
Outsourcing to Puerto Rico offers global clients the opportunity to access a highly-skilled, low-cost workforce. It may not be the first country that comes to mind for hiring virtual assistants, but it has a competitive market that caters to businesses looking to optimize operations.
The territory's geographic location allows companies who outsource there to enjoy similar time zones, the same currency, and laws like intellectual property protection. 
Learn about the top 20 virtual assistant companies in Puerto Rico and get an overview of what they offer.
Why hire a Virtual Assistant in Puerto Rico 
People hire virtual assistants for different reasons, but here are some of the highlights of delegating work to professionals. 
Increase productivity 
Business owners often underestimate the value of proper delegation, but it's essential to being successful.  With the help of a virtual assistant, you can focus on the tasks that make a bigger difference to your bottom line.
The average person spends about 28% of their workday writing and responding to emails. Having someone take care of tasks like this can help you open up your day to create more opportunities for your business. 
Flexibility
Virtual assistants provide businesses with a flexible way to fulfill their administrative duties without the long-term commitment of hiring. This is especially important for startups that are still trying to get their operations up and running.
They often work on a contract basis, removing the additional cost burden of hiring. 
Seamless integration 
Apart from having similar protections and laws, Puerto Rico also has a culture akin to US-based companies. The territory has set English and Spanish as official languages, which grants you a bilingual workforce to diversify your team. 
Businesses can leverage this all while saving operations costs due to the competitive pricing offered by VA companies in Puerto Rico. 
Top global outsourcing lists
Outsource Accelerator is the world's leading outsourcing marketplace and advisory. We list over 3,000 BPO firms located across the globe in our global directory, and we provide detailed information, price guides, and reviews.
Whether you're a solopreneur, SME owner, or a corporate executive, we can help you find the most suitable outsourcing provider for your business.
Explore our outsourcing directory now. You may also check out our Top VA companies lists per country here:
Top 20 VA companies in Puerto Rico
From calendar management to website assistance–see what the virtual assistance companies in this area have to offer. Work with the best virtual assistants in Puerto Rico below. 
Helpware is a modern outsourcing company, founded in 2015. It customizes teams in Customer Service and Back Office support from virtual assistance to marketing. They offer seamless integration with advanced technology and systems to support operations.
The company also has start-up solutions that come with digital customer service, AI operation, back-office support, and other teams to cover different areas of operation. 
TAS United is a multinational telecommunication company that delivers live, real-time call processing solutions. The virtual assistance services of this company include answering services, virtual reception, and appointment scheduling.
Its operations run with advanced technology and are HIPAA & PCI certified with third-party auditors. 
Deuxt is an established virtual assistant services provider. The company has been in business since 2012 and serves a range of businesses in various industries. Deuxt's services include email lead follow-up, data entry, payment processing, and a variety of administrative tasks.
24/7 Virtual Assistance, established in 2006, was originally payroll support. The company has evolved throughout the years, expanding its services to discover different business areas such as live chat and virtual assistant services.
The company has different virtual assistant specialties, such as IT or customer service.
Virtalent offers executive services from travel management to transcription and typing. The range of its services is broad and offers value to businesses of different sizes and industries with the help of experts. 
Virtual Assistant Talent is a Better Business Bureau-accredited business that works with assistants on an on-call basis. It differentiates its VA services as technical and non-technical. This lets companies work with professionals who are well-versed in the niche they're in.
Magic helps businesses hire pre-vetted virtual assistants. It takes care of sourcing, screening, and other hiring-related tasks to help businesses get the help they need fast. Data entry, research, transcription, and recruiting are some of their key competencies. 
20Four7A has a customizable and scalable virtual assistant service to help businesses, from startups to enterprises. It has a team of in-house HR, training, IT, and accounting professionals to help create a smooth transition. 
Elite VA, also known as EVA, provides assistance to businesses and law firms through specialized solutions. Its team ranges from law, marketing, temp staffing, personal, and executive assistants.
Elite VA plans start at 20 hours that come with a virtual assistant, a relationship manager, and a support team. 
The family-run company offers executive administrative assistance. They have experience working with finance, pharmaceutical, international, and administrative clients. It provides round-the-clock services such as email management and organization. 
Prialto helps professionals and teams by improving productivity and eliminating the headache of time-consuming tasks. It has solutions geared for individual, organization, and enterprise-level work. The team helps by providing specialized support, technological proficiency, and security.
BELAY is a known virtual assistant company. It also offers services for websites, accounting, and social media. The company works with highly-vetted professionals that are thoroughly screened to increase its clients' chances for success.
Ossisto is a globally renowned virtual assistant company with a great track record and highly qualified team members. It has personalized assistance to help businesses become more productive and deliver satisfactory service to their clientele.
Specialized services from Ossisto include website maintenance and social media. 
Premium Help offers virtual assistants to help delegate everyday operations for real estate, social media, and general purposes. It is backed by over a decade of assistance experience. The company's broad range of services lets its customers get full support for different aspects of their business. 
Bizee.co is a digital marketing company that provides affordable marketing, social media, and e-commerce support. The assistants in the team are qualified professionals with over five years of experience in their respective jobs. 
Bizee.co possesses strong leadership from leaders who have first-hand experience in helping a small business grow.
Wishup's expertise includes software testing and virtual assistance. This company takes charge of coordination, travel arrangements, calendar management, and query management, among other administrative tasks.
Its team, composed of pre-vetted assistants, helps businesses work with seasoned experts and lessen adjustment periods. The company also offers instant replacement.
TaskBullet's services come in different packages designed for different projects starting at 10 hours and moving up to 240 hours of virtual assistance. Its team of professionals offers help in various fields, such as marketing, research, and phone answering. 
WoodBows has over ten years of assisting companies to become more productive. It has English-speaking assistants who are available 24/7. The company offers next-day start dates. 
WoodBows has served organizations from the USA, UK, Australia, and other robust economic centers. 
Phoenix Virtual Solutions has healthcare virtual staff services in customer service, bookkeeping & accounting, back office, medical billing & collection, and data entry. Its clients are healthcare professionals, management providers, and insurance companies.
GetFriday is the leading virtual assistant company that serves individuals and businesses across the globe. Backed by over 15 years of experience, its team of virtual assistants helps busy entrepreneurs and executives with time-consuming tasks.