Top 20 VA companies in Colombia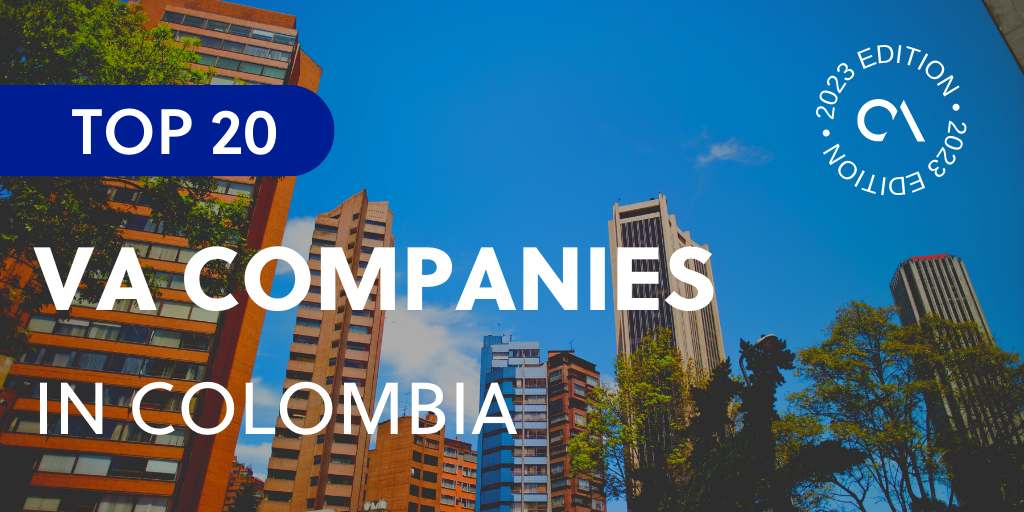 List of 20 VA companies in Colombia
Scaling your business is easier with the right resources, processes, and technological infrastructure. You must focus on the core competencies instead of diving into the hassle of tasks outside your business's core operations.
To reduce the burden, you and your team are better off delegating and outsourcing some tasks to virtual assistants.
If you are looking for top remote talents, consider skilled virtual assistants from Colombia. The country has earned a spot in outsourcing because of its competitive labor cost, workforce, and quality service.  
This article will explore the top 20 VA companies in Colombia if you don't know where to start: 
Why you should consider virtual assistants in Colombia
Growing your business should be your priority as an entrepreneur. It is difficult, especially if you wear the most hats at work.
Being a one-person show, people expect you to fill in the gaps and work on different functions. However, what happens when you fail to keep up with the deadlines?
Businesses have realized by now that Colombia is the country to consider for their outsourcing needs. It is due to its balance in quality, affordability, and convenience.
Colombia has the same time zone as the entire east coast of America. This real-time advantage allows easier collaboration and communication with the client.
Moreover, the Colombian government has been supportive by reforming business regulations and starting joint campaigns to position the country as a tech hub. 
Regarding the workforce, the government has invested in preserving Colombia's native language while developing bilingual skills. This has made it easy for companies to communicate with their outsourcing partners. 
The labor cost in Colombia is also a significant factor in why the country is a popular destination for outsourcing services. Generally, it is lower than in other countries, making it attractive for businesses.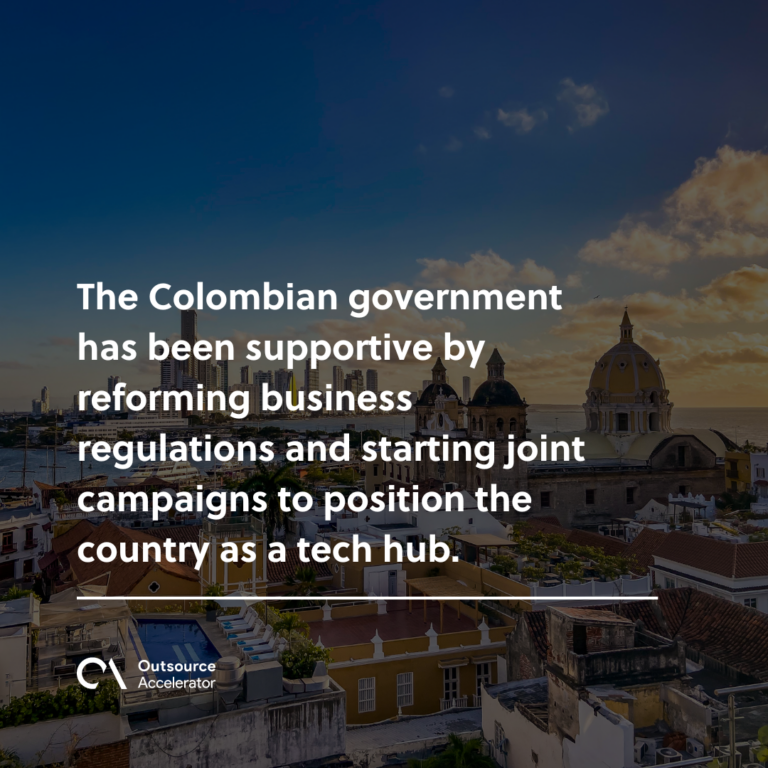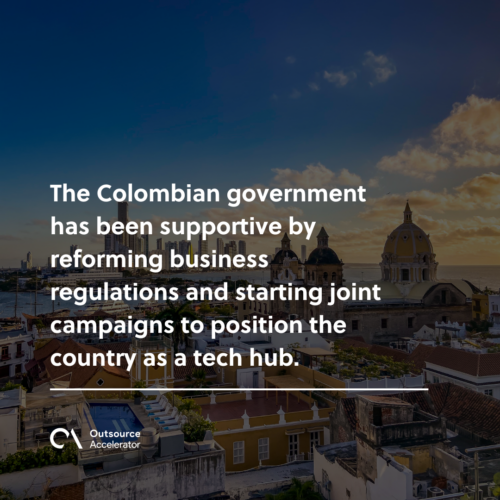 Top Global Outsourcing List
Outsource Accelerator is the world's leading outsourcing marketplace and advisory. We list over 3,000 BPO firms located across the globe in our global directory, and we provide detailed information, price guides, and reviews.
Whether you're a solopreneur, SME owner, or corporate executive, we can help you find the most suitable outsourcing provider for your business.
Explore our outsourcing directory now. You may also check out our Top VA Companies lists per country here:
Top 20 VA companies in Colombia
The power of remote professionals has been igniting businesses. Check out these top 20 VA companies in Colombia: 
Shark Helpers has been helping its partners connect and build lasting relationships with Colombian professionals. Its people can help you find the right talent who knows how to navigate e-commerce companies and marketing agencies. 
With eight years of experience in the industry, Shark Helpers understands that its job continues after employing remote workers. They are with their clients throughout the process, from scouting to retention. 
Shark Helpers could provide front and back-office support, including executive assistant, sales support, customer service, and recruitment. Technical and IT roles are also available–testers, project managers, developers, and scrum masters. 
For marketing support, Shark Helpers could find digital designers, copywriters, content creators, marketing strategists, and social media managers. Part-time and full-time options are available.  
Foundever, formerly Sitel Group & Sykes, is one of the largest customer experience companies globally. It has over 170,000 associates who have delivered an exceptional experience to 750 world-leading brands. 
Transforming customer experience powers Foundever. The company makes it possible by combining its scale and strength with an agile approach.
Foundever has global sales expertise, processes, and data intelligence to help grow your business. Its services include customer care, technical support, back-office support, right-shoring, multilingual support, debt collection, and content moderation.  
Virtual Latinos wants firms to spend energy and time growing their business. The company knows its clients cannot do this while swamped with menial tasks. To help focus on core matters, Virtual Latinos provide hand-picked and pre-vetted virtual assistants in Latin America. 
Their virtual assistants have undergone a thorough review to ensure they qualify to join the company's community. Clients can outsource different tasks to the top talents from Virtual Latinos. 
The most requested tasks fall under general administration, sales and marketing, legal, healthcare, property management, real estate, digital marketing, and social media sales and outreach. 
Diversity is one of Flatworld Solutions' selling points. It is an outsourcing service company with over 180,000 customers across 167 countries. Founded in 2002, the company's mission is to help businesses operate efficiently with the help of technology. 
Flatworld Solutions has professionals who handle administrative tasks, manage social media accounts, schedule appointments, conduct research, and manage emails.
Aside from these services, it covers the areas of customer support, data entry, research and analytics, software development, creative design, and finance and accounting. 
Filta's goal is more than just helping its partners build an inexpensive team. It is forming a team that works and generates a return on investment for your business. 
Filta seeks top talents in different disciplines, including creative design, digital marketing, general administration, e-commerce, customer support, website development, and traditional advertising and marketing. 
Working with Filta means getting more for your business and your team. The company provides cultural training workshops for the team, management tools access, and a library of soft and technical skills training.
Filta regularly updates its partners about the team's status and deeper dive into who they are. 
Solvo works with businesses of all sizes. The company's mission is to help them streamline their workforce efforts, reduce HR headaches, and deliver results. This purpose is possible through nearshore outsourcing services.
Solvo has a team of combined students and professionals that could go above and beyond the client's expectations. They are qualified individuals who could cater to a company's needs in the back office, web development, sales and marketing, staffing, logistics, and legal matters. 
As the adage goes, "Work smart, not hard." Using flexible outsourcing solutions is one way to work smart and scale a business.
Booth & Partners works as an extension of a company. It offers three outsourcing solutions for businesses: Managed Services, Staff Leasing, and Employer of Record. 
Booth & Partners provides a high-performance team who can handle the day-to-day operation while ensuring increased business performance.
This team also takes care of the nitty-gritty of filling critical roles, onboarding, managing payroll, providing network and technical support, and working on the legal and compliance side.  
Sutherland Global has been the engine that brought digital transformation to businesses across the globe. The company has delivered quality services, provided targeted solutions, and improved human experience as part of its pillars and promise to stakeholders. 
Sutherland Global works in different industries: insurance, healthcare, retail, telecommunications, logistics, travel and hospitality, technology, banking and financial services, and media and entertainment. 
Sutherland Global offers digital solutions for the evolving mortgage landscape. The company also aims to deliver a fulfilling customer experience, reinvent healthcare operations, future-proof facilities, manage technical support ecosystems, and get the finance function up to speed.  
Express Virtual Assistant (EVA) is a division of Flatworld Solutions. It is all about helping businesses of all sizes improve their productivity at lower costs but with a high quality of service. 
The company's services cater to small and medium businesses, freelancers, entrepreneurs, and professionals. If you need a virtual assistant for research, bookkeeping, call center, or software development, Express Virtual Assistant got it. 
Other disciplines where Express Virtual Assistant could help are healthcare, logistics, legal, marketing, transcription, and creative design.
Express Virtual Assistant has worked for different industries since 2004, including healthcare, mortgage, real estate, insurance, travel, e-commerce, and event planning. 
Origen BPO is not just a service provider but a partner. Its team of Colombian-based staff knows how to execute processes that meet metrics and exceed expectations. If you need an offshore back office and staffing support, Origen BPO is what you need.   
Its services include customer service, appointment setting, back office support, staffing solutions, sales and telemarketing, recruiting, and financial collections. 
Founded in 2016, Connect2BPO is a BPO company specializing in lead generation and sales campaigns. It is about transforming your prospects into paying customers. The company's goal is simple–helping its partners save costs while delivering high productivity. 
This is achievable with the help of trained personnel with expertise in different markets. Connect2BPO excels in providing contact center solutions, back office support, and digital marketing services. 
Clients can also outsource virtual assistants who can ease the burnout of basic operational tasks. They can schedule appointments, answer phone calls, manage email accounts, and handle travel arrangements. 
Virtual Emily connects clients through transformative technology, customer experience, and unique culture. 
Virtual Emily can connect businesses with top-tier individuals for remote executives specializing in general administration, marketing, data entry, and customer service. The company offers three plans–Part Time Emily, Full Time Emily, and Enterprise Teams. 
Virtual Emily undergoes headhunting once you decide which plan works best for your business. You can save up to 33.33% of an in-house employee by exploring the solutions and working with Virtual Emily. 
There is Talent's story began when its director encountered entrepreneurs who had worked with virtual assistants from the Philippines. However, there was a gap and miscommunication issues caused by timezone differences.
Since she was from Colombia, the idea of hiring qualified individuals in Latin America sparked, and the rest was history. 
There is Talent is a recruiting and outsourcing agency helping businesses free up their time by hiring virtual assistants. These bilingual professionals have experience working as WordPress developers, Salesforce experts, customer support representatives, and appointment setters.
The company aims to help businesses focus on growth and work efficiently. This would not be possible if the business owners spent their time worrying about the non-core strategies. Whatever you need to grow your business, there is talent available. 
Valatam stands for "Virtual Assistance Latin America." Based on its name, it is a company that provides remote team members to entrepreneurs and business owners. 
What makes Valatam different is its people. Their virtual assistants have college degrees and experience working in international companies. For any tasks you cannot work on, you can delegate them to Valatam's remote team. 
The company offers personal and administrative assistance, customer service, research support, social media management, lead generation, and content writing. Bookkeeping, creative design, project management, IT support, data entry, video editing, and PR outreach are also available. 
Just tell Valatam what you need; they will provide the right virtual assistant that fits your requirements. 
OrangeUP is an outsourcing agency specializing in offshore recruitment. It means that you can tell them what you need to outsource, and they will handle the entire process from start to finish. The company has virtual heroes who can address your professional and personal needs. 
Getting started with OrangeUP is easy as ABC. If you need to know what tasks to outsource, you can message their virtual assistants, who will walk you through the process.
OrangeUP offers three packages: Entrepreneur, Startup, and Small Business.
HAVA found a way to lend a hand to busy entrepreneurs and startups. As a customer-centric company, it takes a personalized approach to ensure every business gets more things done instead of wasting time. 
HAVA delivers customized virtual assistant services, including customer service, social media management, business-to-business (B2B) appointment setting, and administrative support. 
Moreover, HAVA offers a time-tracking and invoicing system, so clients don't have to pay hefty fees from other platforms. It also set up management channels on different platforms for more organized communication. 
Wipperoz is about cultivating human connections. This company is a platform that provides an opportunity to connect professionals–remote or in-person–with your business. 
It is also a firm believer in the power of technology. It is essential for streamlining operational processes and enhancing work and collaboration. 
When working with Wipperoz, describe what you need, your budget, and when you need it. The company assesses the information and finds the right profile that suits business needs. 
Some services on Wipperoz include gardening, data entry, accounting, software development, voice-over, creative content, video editing, storytelling, website design, customer service, and virtual assistance.  
Elevate Teams is an industry-specific company working with incredible brands in the insurance industry. Elevate Teams knows how to do business operations with less cost and hassle to elevate their operation. 
Finding the right insurance virtual assistant only takes two weeks. Rest assured that placing the well-trained assistants would require thorough recruitment processes and training.
Moreover, Elevate Teams covers the virtual assistant's healthcare benefits, wellness allowance, and bonuses. 
These insurance virtual assistants can help with CRM management, emailing, billing inquiries, cancellation notices, motor vehicle reports, endorsements, and more. 
Prosperar positions itself as a technology-driven outsourcing service provider. It is an industry leader with expertise and proprietary technology that helps its partners stay competitive. 
Moreover, the company supports the vision of startups, medium-sized businesses, and global enterprises. 
Prosperar presents a full-cycle sales program that does require minimal supervision and investment on your end. It offers contact center and business process outsourcing services.  
Colombian Buddy integrates a buddy system into its operations. If you are from somewhere other than Colombia, you might need someone to show you around and be your tourist guide. This is what Colombian Buddy is all about. 
The company offers local and virtual buddies who can help you navigate the local spots in different cities, set up appointments, make reservations, send gifts to a person, and or manage your airport transfers and ground transportation.