Customer Relationship Management (CRM)
Definition
What is a CRM?
Customer Relationship Management (CRM) refers to the creation, implementation, and evaluation of strategies in managing customer relationships. With CRM, a business can deal with customer problems and complaints to increase customer satisfaction.
CRM is either a technology, a strategy, or a process, depending on how management views its purpose. 
Most often, companies integrate technology into a CRM process for a more efficient outcome. Creating a system to manage customer interactions can provide many benefits to a company.
CRM, which refers to technology, refers to the use of cloud storage, a computer system, or an application to monitor progress. CRM as a strategy identifies the philosophy of the business regarding customer relationship, satisfaction, and interaction. CRM as a process may integrate the use of technology based on the company's strategy or philosophy.
With the proper use of these three different CRM categories, the company can create a powerful tool to aid them in dealing with demanding customers. Most companies rely on a CRM to track customer engagement to their product or service.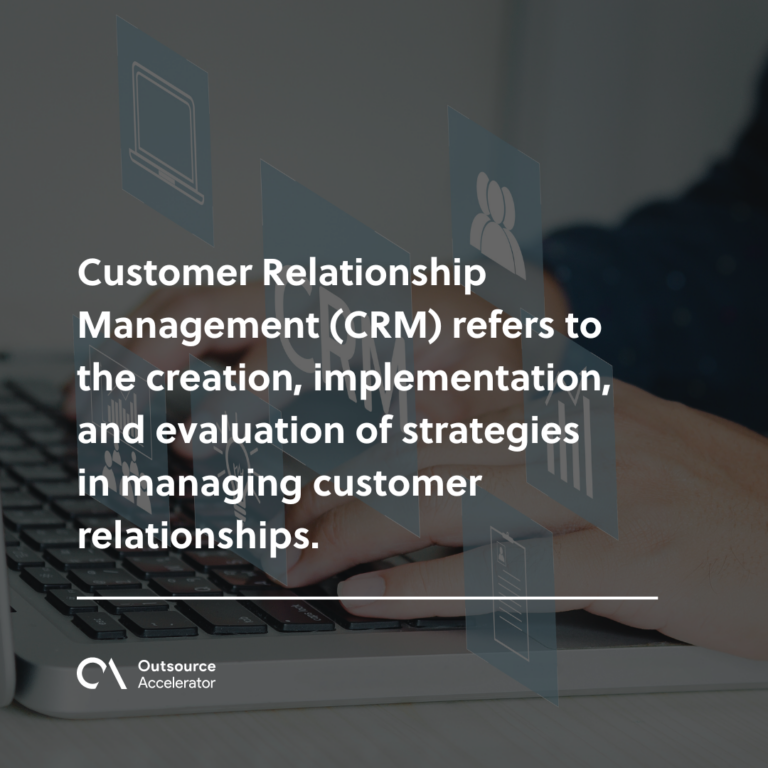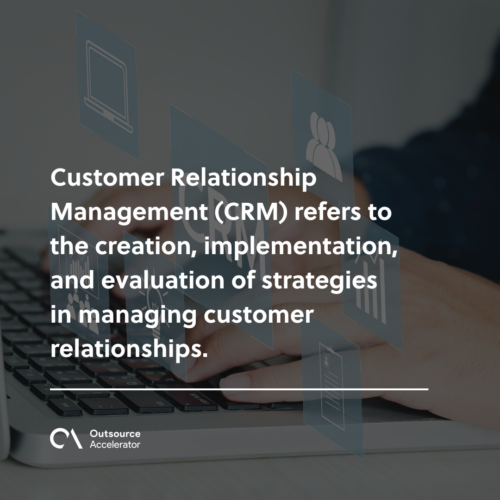 How can CRM help a business?
A CRM system can give a clear overview of a company's clients. With its help, a customer's previous history with the business, order status, and customer service issues can be easily seen by the service representative.
Additionally, using a CRM platform enables the management of inquiries across various so that companies can efficiently serve their customers without starting from scratch.
CRM in BPO
Customer relationship management is one of the main tasks delegated in outsourced companies. Commonly in call centers, CRM enables companies to attract and convert leads, retain customers, and give better services through business process outsourcing. 
This also helps them organize workflows and processes in customer service while saving costs and resources.
Outsourcing CRM
Outsource Accelerator provides you with the best outsourcing companies in the Philippines, where you can save up to 70% on staffing costs. 
We have over 5,000 articles, 350+ podcast episodes, and a comprehensive directory with 2500 BPOs… all designed to make it easier for clients to learn about, and engage with, outsourcing.