Advantages and challenges of outsourcing customer service in 2023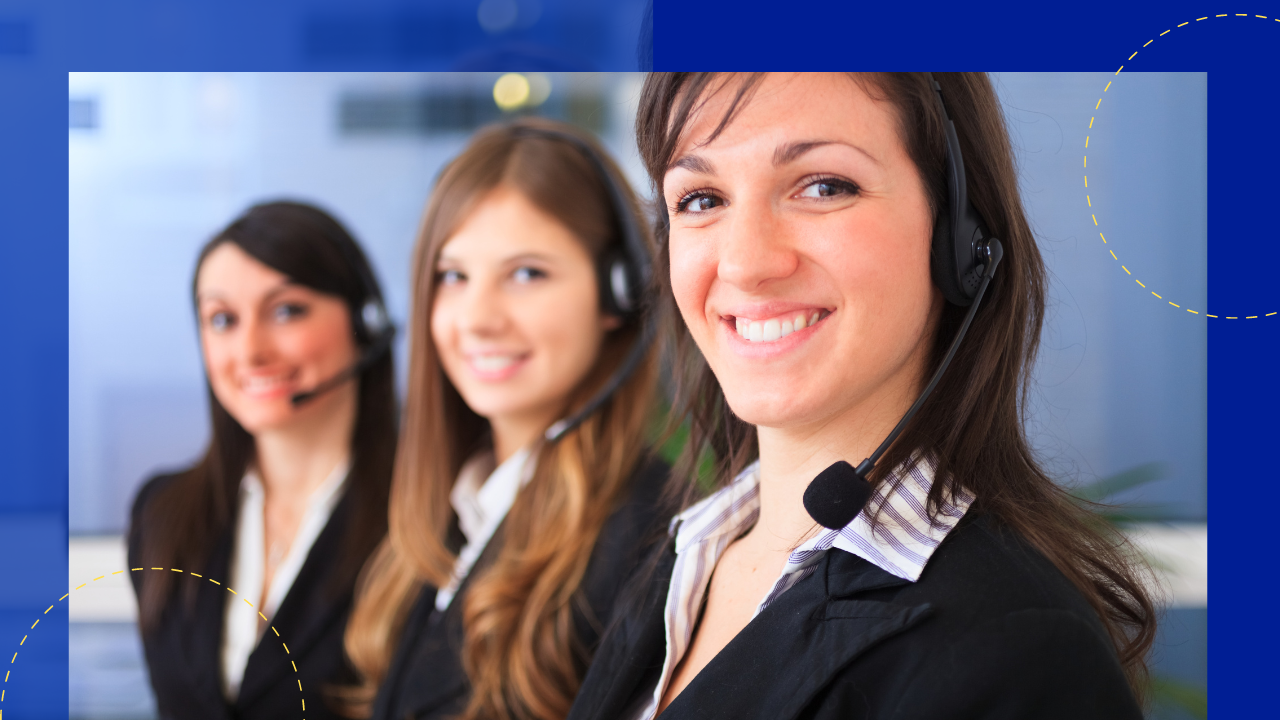 Advantages and challenges of outsourcing customer service in 2023
When a company is experiencing rapid development or drastic improvement, outsourcing assistance is the best option. It can help you maintain timely and high-quality service while determining your company's long-term future.
Customer service is a crucial aspect of every successful organization. It's something you must get right the first time.
Many worldwide corporations have shared their experiences outsourcing customer service to offshore and in-country enterprises in recent years.
What is customer service outsourcing?
Customer service outsourcing is the act of contracting out a portion of your customer service operations to a third-party service provider. Outsourcing can provide the appropriate standard of service support at a lower cost, with the extra advantages of flexibility and scalability.
Many enterprises and businesses are driving demand for outsourcing customer service due to the benefits that the practice provides compared to managing the duty in-house.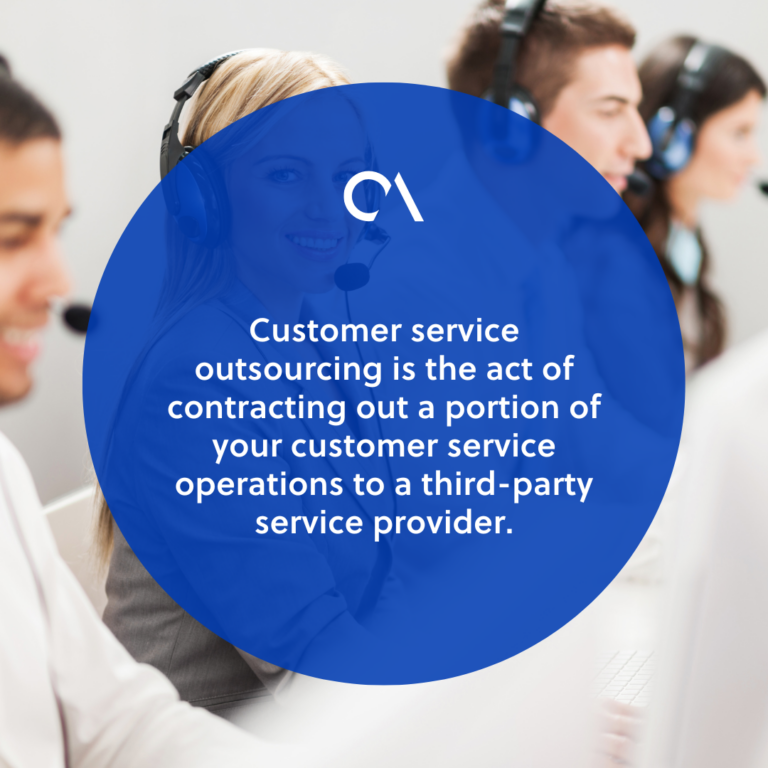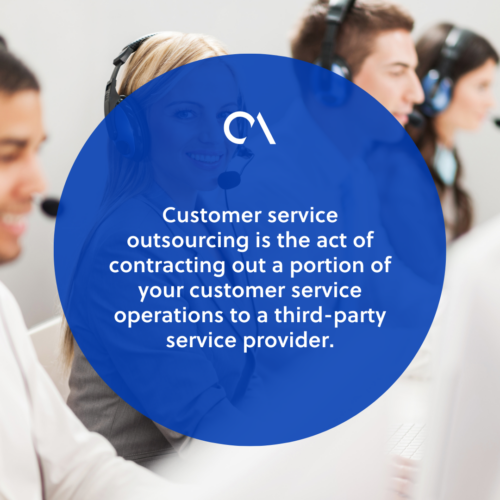 How does outsourcing customer service work?
Customer service is the most crucial component of any modern business, and it's critical to treat it with professionalism and dedication.
Here are the things you have to contemplate when outsourcing customer service:
Determine objectives
While goals are broad representations of what the organization seeks to achieve in general, objectives are the group's activities to achieve those goals.
Identifying your objectives is a critical outsourcing stage. It is a must to determine what you require from your Business Process Outsourcing (BPO) partner.
Whether you are determining goals or objectives, make sure they must be realistic, attainable, and practical.
Pick a flexible BPO company
As representatives of your organization, the outsourced team you select must be convincing. Switching to outsourcing requires knowledge and skill in managing outsourced processes.
Choose a company that is willing to adapt to developments.
Here are the things to consider before outsourcing your customer service:
How you'll find and hire the best candidates for your offshore staff.

Educating overseas staff about your company's culture and operations.

Clearly define duties and KPIs.

Strong communication between onshore and offshore employees is essential.
Create a solid onboarding process
Outsourcing your customer support personnel can relieve you and your company of a lot of stress. However, this does not indicate that you should recruit a crew and let them get to work independently. 
To have the company and its employees up to speed on your business, you'll need to develop a substantial onboarding procedure.
They must have a thorough knowledge of your company's culture, customers, tone, products, and services.
Ensure proper documentation
After collecting all of your data, the next thing to do is writing and presenting your business plan to make your case for outsourcing.
Determine when they should provide your firm with crucial statistics. It could be once a week, a few times a week, or every day. 
You want to get updates frequently and hold the corporation responsible for your objectives. If something isn't operating as expected, you can address it right away to limit the harm.
Make a list of everything you learned from each strategy stage, making sure to include the following:
Total Cost of Sourcing (TCS)

Workloads

Financial impact

Objectives and progression

Proposed timetable
Communicate and make an action
For your partnership to succeed, you'll need to keep the lines of communication open. In your company, appoint someone to act as a point of contact.
This person or persons should be accessible to take calls and respond to emails from the outsourcing firm at all times.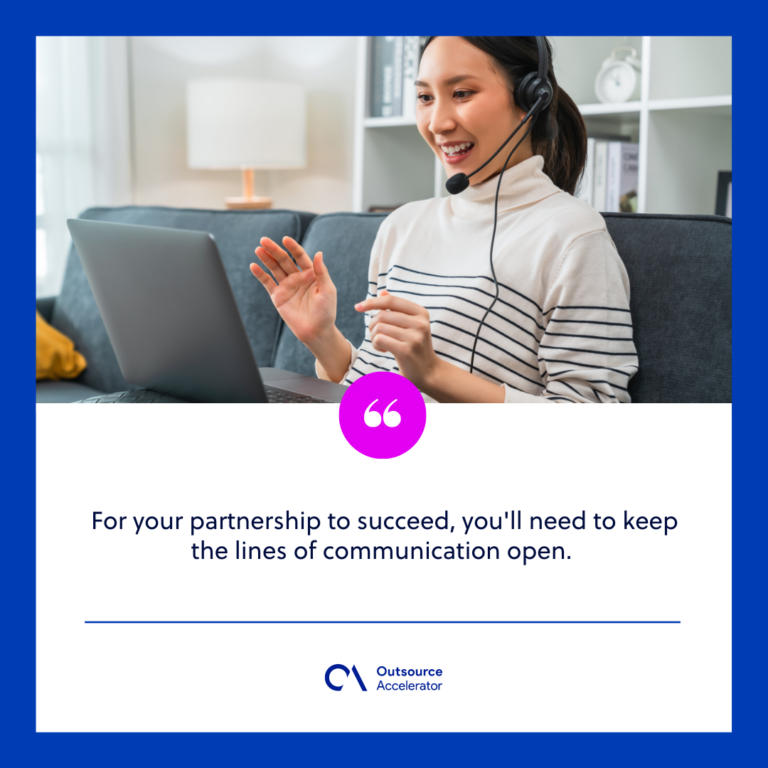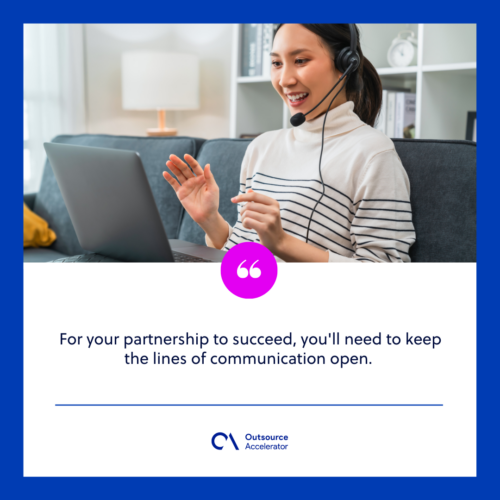 Pros of outsourcing customer service
Outsourcing is a standard commercial practice in which one organization hires another to perform a particular task.
Here are some of the benefits of outsourcing customer service:
Saves resources and expenditures 
An in-house contact center can be quite costly to run. The cost of setting up the infrastructure, personnel costs, prospective training fees, and administrative costs are all included in the comprehensive budget list. 
Outsourcing your customer service might help you save up to 70% on your labor costs.
You can hire a skilled crew with ready-to-use equipment, a detailed price list, and a guarantee of success if you do enough research.
Many businesses have discovered that outsourcing customer support is often a more cost-effective option than having full-time customer representatives.
An outsourcing company can also provide flexible and economical labor choices, such as a pricing system that charges per result rather than per hour.
Multilingual support
If your business wants to expand its scope and market share, it needs to help the local market's native language. There are numerous other advantages to providing multilingual help and solid evidence to back them up.
Companies that are offshoring offer language alternatives. It is a benefit that your company does not have to deal with.
Make sure to advertise this perk so that potential clients are aware of it.
24/7 customer service availability
Another advantage of outsourcing customer service to an external team is the ability to extend business hours. 
Customer satisfaction grows with round-the-clock service, and it also conveys a better level of dependability for your assistance. It gives you peace of mind even after your physical store or office has closed for the day.
Customer service that is available 24/7 appears to be a must-have nowadays, especially for larger businesses. However, you'd have to pay a lot to persuade a qualified professional to work longer hours.
You can fix this problem with offshore outsourcing by hiring workers from different time zones.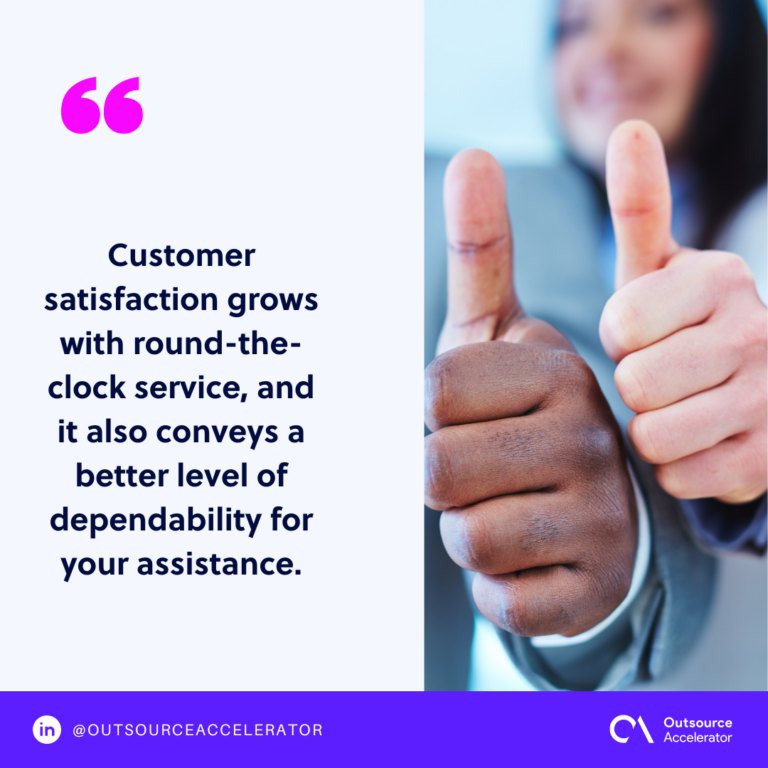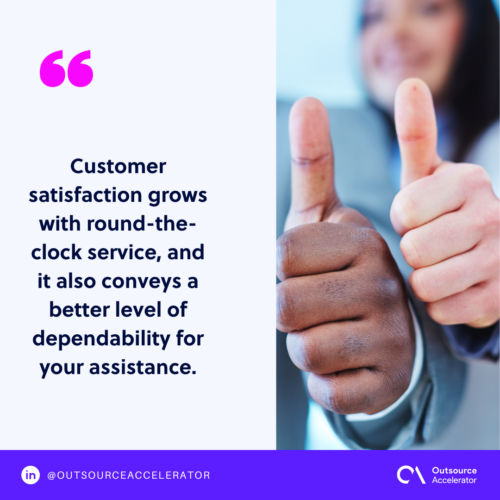 Access to cutting-edge technology
BPO providers can offer the necessary equipment and advanced technologies to improve your company's operations without hidden charges. It is a fantastic method to make better use of technology and keep ahead of end-user demands.
Most common freebies from these providers include corporate software and server programs, data warehousing, VPNs, current computer terminals and networking hardware, and finely-honed chatbot setups, among other things that you might not be able to afford in-house.
Getting rid of staffing issues
Managing your employees is an enjoyable experience. It increases employee commitment to the firm and allows you to identify areas for improvement. However, it needs a significant amount of time and work.
It's preferable to delegate responsibility if it's not directly related to your company's main product.
You retain control over the team you hire when you outsource customer support, but you don't have to deal with minor issues like new hiring or additional training.
Cons of outsourcing customer service
It's all about doing your best to meet your customer's customer service needs when outsourcing customer service.
But just like any other process, outsourcing customer services has drawbacks too.
There is less quality control
Since the operations are outside your office when you are outsourcing, ensure that your firm performs well if you want to have a solid reputation. 
It implies that each component must adhere to particular guidelines.
However, if a customer service department operates remotely, there is no way to ensure that they adhere to your guidelines.
Concerns on data security
Lack of transparency is usually the root of the main outsourcing issues. Lack of trust and communication are just a few of the most significant challenges that anyone who engages in an outsourcing firm faces.
It can be not easy to trust an overseas partner with your data if your call center operations are outsourced to a country where staff background checks aren't thorough.
If the agent vetting isn't up to par, you can feel vulnerable all the time.
Collaboration is lacking
The outsourced company's agents may not have all of their staff in the exact location and may not even speak with one another. 
Even if the language barrier and time difference are the least of your worries, they can have a significant impact on your productivity.
Before doing business with offshore corporations, you need to employ an international statute professional to safeguard yourself.
Start outsourcing your customer service.
Are you considering outsourcing your customer service department? When it comes to outsourcing customer service to a call center, more and more businesses are taking the plunge.
It's a full-time job to find and manage customer-centric employees, deal with challenging customers, and remember facts about your product or service.
Trying to run and expand a business while keeping all of that in mind would be stressful for anyone.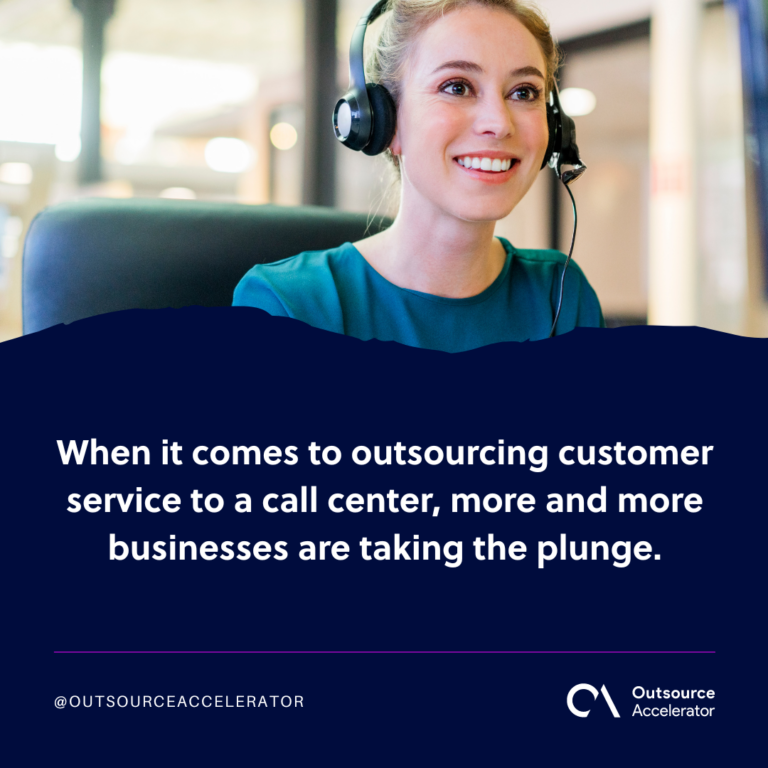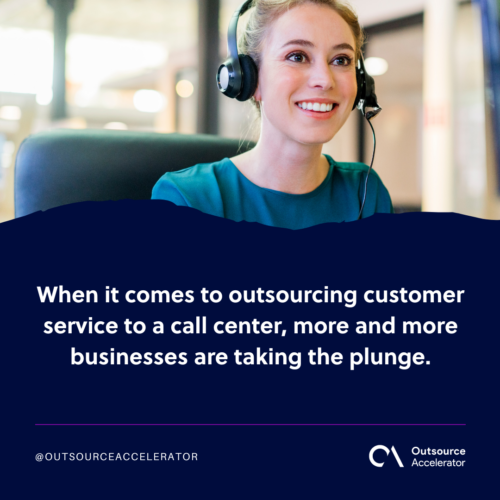 Companies can use outsourcing to add more support capacity fast, when they need it, without committing to employing full-time workers, which can take at least a few weeks.
Booth and Partners lets businesses easily scale their customer service whether its peak or off peak season
Outsourcing customer service to Booth and Partners enables businesses to leverage top-of-the-line technology combined with experienced customer service specialists.
To summarize, there are numerous advantages and disadvantages to outsourcing customer service. Each case, however, is distinct.
Businesses should be able to tell if outsourcing customer service is the best option.