Top 20 VA companies in Vietnam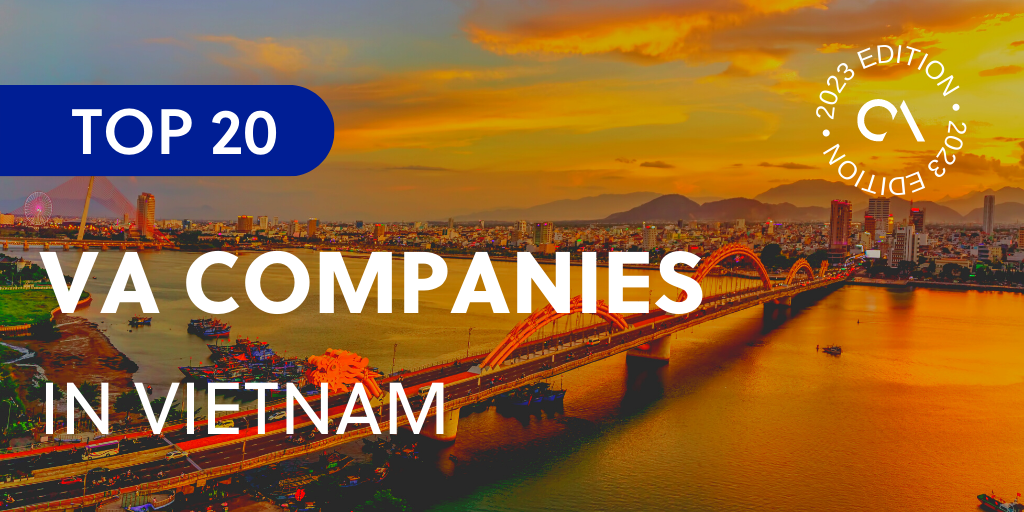 List of VA companies in Vietnam
Hiring virtual assistants (VA) has been a practice of small and medium companies in recent years. They partner with freelancers or with the top VA companies around the world so they can focus on their core business processes.
Vietnam, besides being a top tourist destination in Asia, it is also among the leading offshoring hubs for well-skilled virtual assistants. 
VAs typically handle administrative tasks or those that are time-consuming. From scheduling appointments and making phone calls to managing social media, most VAs are trained to do all these.
Are you considering hiring reliable virtual assistants? We have compiled a list of the top VA companies in Vietnam to simplify your search.
Understanding the VA industry in Vietnam
In 2020, hiring VAs through companies increased by 41% in the US alone. Self-employed or freelance VAs have also benefitted from this trend, reporting a 16% increase in their average hour workload.
There's currently a demand for VAs globally. And one of the countries that offer affordable and reliable VA services in East Asia is Vietnam. 
Besides the low labor cost, there are more reasons why international businesses outsource services from Vietnam. For one, the country has impressive internet penetration and speed, which is crucial in any remote work.
Vietnam also has a pool of well-educated professionals. Their VAs are experts in the latest technologies and digital skills needed to provide back-office support, customer service, accounting, and graphic design.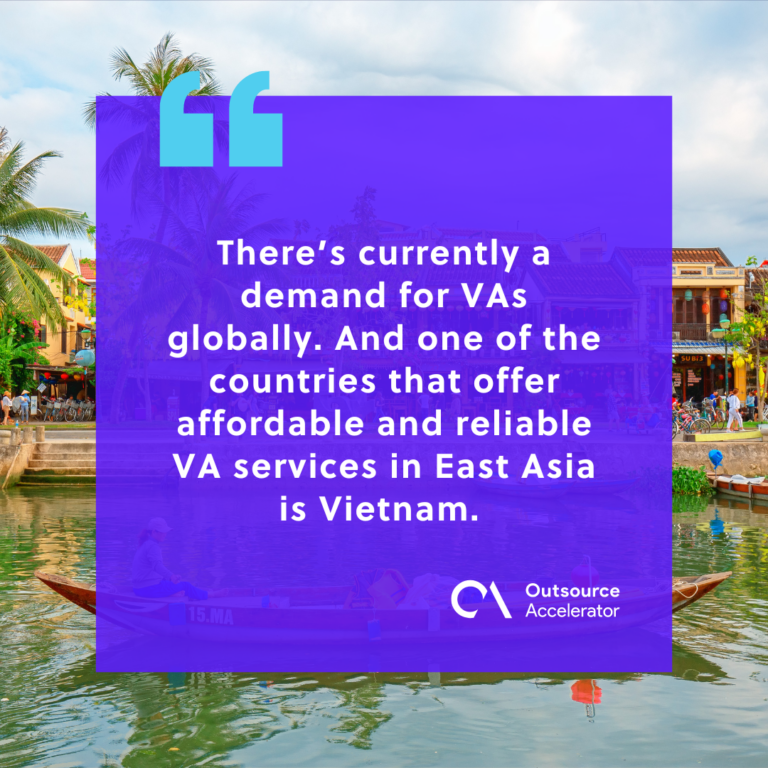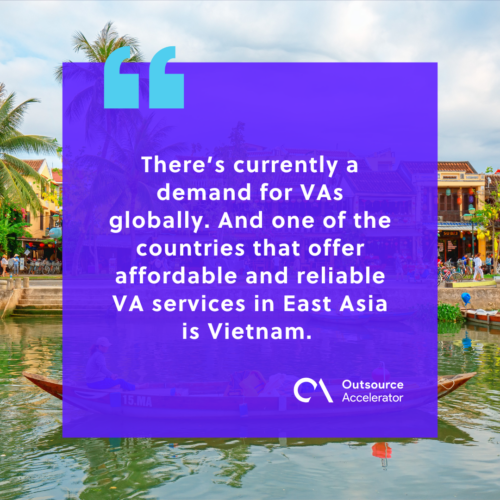 Different types of virtual assistants in Vietnam
The best thing about VAs is that they are capable to do a lot of things. Some VAs have areas of specializations, such as social media, accounting, and technology. 
To help you choose the best VA in Vitenam, check out this list:
Administrative VA
If you want to free up some time from time-consuming work, hire an administrative VA. A lot of virtual assistants fall under this category. 
Admin VAs are well-rounded professionals who can take care of scheduling appointments, managing email, and paperwork. They can also do bookkeeping and social media management.
Social media VA
The main job of your social media virtual assistant is managing the business' online channels. This include posting updates regularly, running ads or campaigns, answering inquiries, and creating graphics.
Bookkeeping VA
Every business needs proper accounting of costs, earnings, assets, and liabilities. Hiring a remote bookkeeper is beneficial to your finance team or small business because it's usually cheaper and more efficient.
Tech VA 
Also called as tech supports, these virtual assistants manage your company's software, systems, platforms, and tools remotely. They can help you stay updated with the latest technologies and trends.
Customer service VA
Hiring a remote customer service VA is recommended for small business owners. This type of VA will handle all the concerns and inquiries from the customers via phone calls, chat, or email. 
Top global outsourcing lists
Outsource Accelerator is the world's leading outsourcing marketplace and advisory. We list over 3,000 BPO firms located across the globe in our global directory, and we provide detailed information, price guides, and reviews.
Whether you're a solopreneur, SME owner, or a corporate executive, we can help you find the most suitable outsourcing provider for your business.
Explore our outsourcing directory now. You may also check out our Top VA companies lists per country here:
Top 20 VA companies in Vietnam
Here we have 20 of the leading VA companies in Vietnam:
Innovator BPO is a company in Ho Chi Minh City dedicated to transforming your customer services with its team of qualified Vietnamese and Filipino virtual assistants. 
The company started in 2015. Since then, it has helped small and medium businesses worldwide, including North America, Canada, Australia, and Asia-Pacific.

Established in 2016, Bellsystem24 Vietnam is a contact center BPO solutions in Hanoi that offers virtual assistant services. Its team performs a variety of back and front-office services, including data entry, data management, photo editing, and technical support.
For more than a decade, the company has committed to providing its services to businesses in the e-commerce, transportation, and logistics sector.
If you need virtual assistant services at affordable prices, consider VA-VIETNAM. This small company is based in Da Nang City. 
VA-VIETNAM is dedicated to offering tailored solutions to meet client needs. Its team works for both small and medium businesses.
Located in Ho Chi Minh City, Mekonglink is one of the most reliable virtual assistant companies in the ASEAN region. From sales, supply link management, and social media marketing to data entry and analysis, its remote virtual assistants can do them all. 
Mekonglink connects talents and resources. It aims to provide businesses with highly qualified remote talents at a lower cost. 
I-Share is on a mission to help businesses save up to 90% of their costs by offering virtual and shared offices in Ho Chi Minh to various Vietnamese enterprises. 
I-Share also provides quality and affordable virtual assistant services. The company employs professional virtual assistants who are experienced in administration and other types of services. 
THIENTU is a BPO company that provides omnichannel solutions for local and global small and medium businesses. It builds exceptional customer service experience that engages, retains, attracts, and converts. 
THIENTU's professional virtual assistants can handle inbound and outbound calls. They can also perform other tasks, including live chat, email support, and data entry.

ViBIM Vietnam started in 2014 as a building information modeling service provider. Based in Hanoi, the company partners with different businesses and government organizations. It caters to local and international clients in the UK, US, and Australia.
ViBIM Vietnam is also a trusted company that offers BIM assistants for contractors and design firms. Its services are designed to help clients focus on core business goals.
If you are in the lookout for reliable VA company in Da Nang, choose BPO.MP Co.Ltd. It's one of the best BPO service providers with offices in Hanoi and Ho Chi Minh. 
The company has ISO27001 certification and employs more than 2000 professional staff across Vietnam. They can perform data entry, data annotation, content moderation, and even financial and accounting tasks.
Based in Vietnam, Pure Moderation offers BPO services internationally. It started in 2006 and has clients in Indonesia, Laos, Thailand, Philippines, Poland, India, Spain, and USA.
You can partner with this company when you need professionals in customer care, content moderation, game management, and data entry.
BIPO Service Vietnam operates from its headquarters in Singapore, offering payroll and people solutions to enterprises and SMEs since 2004. The company also has an office in Ho Chi Minh and partners with clients across the world.
Their professional employees support businesses in managing their day-to-day operations. All services are tailored to each business needs.
If you prefer hiring freelance remote workers, check out Truelancer. It's a trusted platform that connects virtual assistants in Ho Chi Minh City to businesses globally. 
Employers join Truelancer to access thousands of top-rated virtual assistants that provide professional and affordable services.

US companies use Connect-VA to hire professional remote employees from Vietnam. You can find virtual assistants who can help you with sales, inbox management, lead generation, and data entry. 
Connect-VA has part-time and full-time virtual assistants that offer reliable services at competitive prices.
Leading Digital is a social media management company that just started in 2021. Its social media virtual assistants help businesses increase organic traffic, sales, and revenue. 
The company utilze a variety of tools to achieve business goals, including Google Ads, Zalo Ads, and content marketing. 
On Digitals aims to help businesses drive revenue through digital marketing services, including SEO, PPC, video marketing, and telemarketing. 
Its remote staff can manage all aspect of work, perform research, and provide local insights. The company caters to both international and local brands. 
AJ Marketing is among the leading digital marketing companies in Vietnam that provides assistance to clients in consumer products, arts, entertainment, and hospitality industry.
The company started in 2019 and is operating in 32 timezones. Its team of professionals can handle your advertising, SEO, PPC, and other marketing needs.
Emerhub offers a variety of remote services. Among them is virtual assistance. The company recruits virtual assistants in Southeast Asian countries, connecting them to companies in need of back office support and other types of services. 
Emerhub can also help businesses enter the Vietnam market. From visa, permits assistance to HR services, the company offers the best solutions for you.

Need a tech virtual assistant? When it comes to tech support, Digi-Texx Vietnam is the company you can rely on. 
Digi-Texx Vietnam has IT specialists who can troubleshoot daily process issues and ensure business efficiency. It offers technical helpdesk, tele verification, and customer support.
TDCX provides support to technology and blue-chip companies in Vietnam, Colombia, Romania, South Korea, Brazil, and Turkey.
The company has an experienced technical support team who are professional and friendly. They are knowledgeable about the different strategies to increase resolution rates.
Businesses looking to enhance customer experience should partner with Tobpos Vietnam. This company in Long Bien offers customer service virtual assistants.
Tobpos Vietnam's mission is to make its clients more efficient and profitable while improving loyalty to their company brands.
MOBERI was founded in 2017. Since then, it has dedicated itself to providing 24/7 remote services and 365 days a year. 
MOBERI believes that maintaining non-core services is also crucial to business success. That's why it created a team of professionals in data entry, recruitment, and business management.