Top 40 VA companies in the United States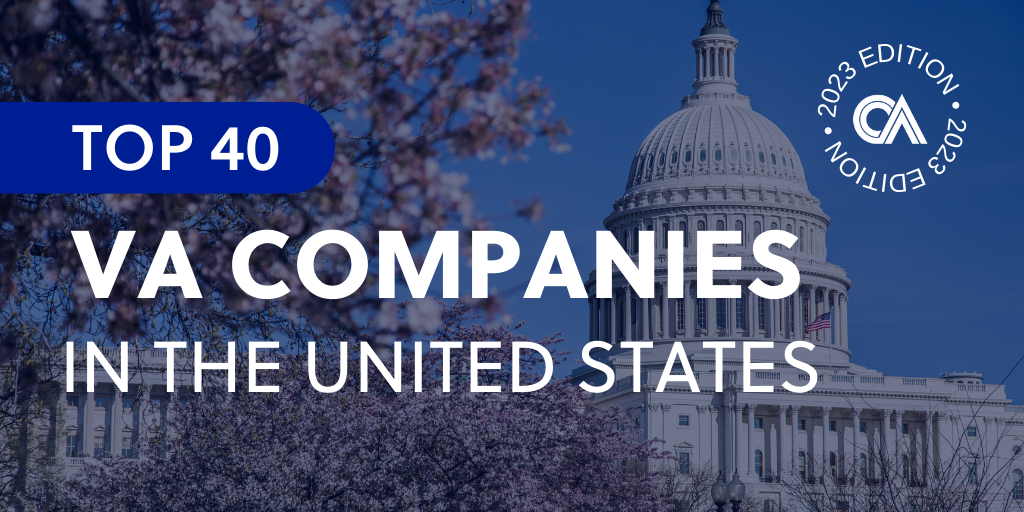 In terms of overall competitiveness and economic performance, the United States ranks among the best in the world. 
The American business culture supports free entrepreneurship and competition. The country's regulatory structure is especially beneficial to managing a business.
While the rich United States is considered as one of the world's main outsourcing clients, they also house a good number of VA companies that provide third-party services.
What are VA companies?
Virtual assistant companies or VA companies are service providers that offer various services to organizations from a remote location. 
Virtual assistant businesses do a wide range of activities that a business requires regularly. As a result, the client can free their time to focus more on core activities and responsibilities.
Importance of virtual assistants to your business
Virtual assistants (VAs) help firms with administrative, corporate development, social media, marketing, and other activities.
Hiring a virtual assistant can help you in managing your responsibilities. You'll be able to delegate many duties to your VA while you focus on other things.
List of 40 best American VA companies
Global outsourcing lists
Outsource Accelerator is the world's leading outsourcing marketplace and advisory. We list over 3,000 BPO firms located across the globe in our global directory, and we provide detailed information, price guides, and reviews.
Whether you're a solopreneur, SME owner, or corporate executive, we can help you find the most suitable outsourcing provider for your business.
Explore our outsourcing directory now. You may also check out our lists of top VA companies  here:
Best 40 VA companies in the US
Hiring a virtual assistant is a cost-effective solution to distribute responsibilities. You may be unsure of where to look for a virtual assistant.
We've compiled a list of the best VA companies in the United States:
RemSource is a unique small company solution that provides high-quality administrative, bookkeeping, and consulting services virtually and cost-effectively. 
The virtual assistants work out of RemSource's Baltimore, Maryland office and handle the day-to-day administrative chores that come with running a corporation.
Physicians Answering Service provides medical professionals with telephone answering and messaging services. PAS delivers all of the benefits from a market leader at a fair price and upfront.
Specialty Answering Service is a nationwide outsourcing company that works with fast-growing small businesses and well-known brands. The support staff at the company has been trained to assist their clients' businesses.
GetCallers provides virtual assistants services. GetCallers is a cloud call center solution for small and medium-sized businesses.
Since 2008, the firm has been a reliable, modern solution for a variety of common business needs. Its inbound and outbound call center representatives and virtual assistants are ready to help customers, manage administrative tasks, and grow your business.
iWorker provides steady, respectable work to Venezuelan professionals and those in desperate economic conditions, allowing them to better their lives, support their families, and build their local economies.
Premium Help is a virtual assistant company based in the United States. The firm is unrivaled in its understanding of the local market in the United States. They also provide services that most business people require.
Virtual Assist USA is an all-American team of Virtual Assistants, offers all of the advantages of having an in-house staff and support team at a fraction of the cost.
Their specialists are simple to deal with and dependable, and our one-of-a-kind system ensures that you only access and receive the benefits you require.
Rivvly is a Texas-based "visionary startup" that provides a customized approach to hiring virtual assistants. This startup grants busy entrepreneurs access to college-educated, well-vetted, and highly-trained VAs to help clients stay efficient, productive, and on top of their game.
Apart from helping clients focus on their core responsibilities, Rivvly aims to empower women and the future of work.
Small companies, individuals, and organizations seeking to expand can benefit from Myworkers.
Myworkers also give a percentage of every dollar you purchase to organizations that help build infrastructure and create employment in some of the world's poorest countries.
Prialto is a professional virtual assistant service that specializes in helping executives. Prialto can help you with your calendar and schedule management, expenditure management, and travel management, among other things.
LongerDays gives company owners and professionals access to a unique cloud-based staffing solution. The company can provide a half-dozen workers, managerial skills, office space, equipment, and cash to fund it all.
BELAY is the major supplier of Virtual Staffing Solutions. In 2010, the company was entirely virtual and received several accolades for its culture and employee happiness.
For optimum productivity, TaskBullet innovates and streamlines corporate operations. It is something they do for all forward-thinking business owners who see that the system is the answer.
Diversify is the industry's most reputable outsourcing company. By offering access to digitally-enabled global workforces, the company provides an entirely new outsourcing approach to the medium, large, and publicly traded companies.
Inso began as an international call center consultancy business in 2003. Since its inception, Inso has helped contact centers increase their efficiency and customer happiness by applying customized strategies and solutions.
Habiliss began as a virtual assistant service provider in 2009 and has now serviced over 6000 clients. From wake-up calls to flower purchases, meeting agendas to social media management, their services include personal and professional responsibilities.
Serenity Virtual Assistant Services has been a private company in Southern California since 2005. They are specializing in internet marketing and social media consulting.
The Downtown Tower Executive Office Suites include excellent office space, meeting room spaces, premium amenities, and expert administrative support.
Their full-service office spaces and talented assistants enable you to quickly expand your business, saving you both money and time.
CompuVision and Vision Communications' top objective is to deliver the most effective networks, data, phone, cabling, wireless, and security solutions to our clients, all under one roof.
BCS provides managed IT solutions from start to finish. The firm cultivates long-term connections and manages technological infrastructure for businesses across the United States and several other nations.
The tailored and specialized services offered by Office Edge Miami can help you grow your business. Their virtual offices, executive suites, and live receptionists are all professional and inexpensive.
VOX is a cutting-edge technology firm that aspires to make a positive impact on the world. The company values innovation and creativity, and it is willing to consider a change in massive paradigm changes.
Virtual Assistant Personnel is a firm established in the United States that provides dependable and competent Filipino talent. They hire full-time or part-time virtual assistants with college degrees, relevant experience, and verbal and written English fluency.
Since 1992, HyperGen has offered big, medium, and small enterprises full-service IT solutions and services. HyperGen customizes its IT solutions to meet your business needs.
Summit VA Solutions is the ideal solution for high-producing real estate agents and brokerage firms.
The firm can assist you in outsourcing some of my labor-intensive duties to virtual assistants based in other countries.
OkayRelax is a firm that was founded in the United States with the sole purpose of making your life simpler. They have committed a lot of expertise, time, and persistence to developing this distinct and valued customer support.
Fusion Business Solutions Pvt Ltd or FBSPL, initially headquartered in India and now operating in the United States and the United Kingdom, is one of the most reputable business process outsourcing firms globally.
Vital Admins is here to give support services so that business owners can focus on their business. Vital Admins will develop a customized package to match any business needs, whether onsite or virtual.
The Office Grapevine is a virtual assistant organization that operates with a community of virtual assistants. Their seasoned executive assistants link organizations with the administrative, secretarial, and corporate support services they require.
Ossisto is a brand-new Virtual Assistance firm. The company's headquarters are in New Jersey, while the delivery center is in Bangalore.
Ossisto is a virtual assistant company that specializes in backend business assistance, marketing support, and IT services.
MYVA360 is the best option for strategic expansion. The company claims to deliver the following advantages:
Concentrate on the jobs that require the most attention.

Time-consuming to-do lists should be delegated

Reduce operational costs by a significant amount.

Scale your business with ease.
Stamm Tech strives to be the go-to trusted consultant and to assist their clients in achieving their goals by serving them with passion and compassion.
They provide excellent service and emphasize developing long-term connections with their clients while delivering continuous value.
NSR Business Solutions is a dependable IT provider for both small and large organizations. The organization comprises two incredible teams, each with its distinct approach to accelerating your business with effective technology solutions.
A Cybertary Chicago is a highly skilled individual that works as a virtual assistant for firms, entrepreneurs, executives, and busy people. The company's primary focus is to provide administrative help and specialized services.
Cogito helps professionals improve their work by providing human-aware technology. Cogito's contact center AI evaluates hundreds of conversational habits in real-time to deliver live in-call assistance and a real-time customer experience measurement.
C.P. Technology Group is an IT service provider in Richmond, Virginia. The VA firm believes that success can be achieved via a dedication to its clients.
Ethos Technologies, formerly known as Blue Ridge Copier, is your go-to source for office technology and IT solutions. They are one of Southwest Virginia's most prominent office technology and IT solutions companies.
In Motion for Growth (IMFG) is a company in a virtual setting, provides dependable and economical leveraging solutions for growth-minded businesses. They also put in place mechanisms to help our clients become more efficient in reaching their objectives.
Outsource access is a VA company specializing in providing CEOs and entrepreneurs with high-quality, low-cost virtual assistants.
Outsource access is one of the few firms in the world that hires virtual assistants after putting them through a rigorous testing procedure that includes an IQ, EQ, personality, English proficiency, project management competency, and typing test.
Provalus is an Alabama-based outsourcing provider. The firm has worked with Fortune1000 companies, and is currently on a mission to "elevate underserved communities" by offering various roles to US' untapped talent. According to the firm's website, Provalus is "reclaiming the American dream."