---
---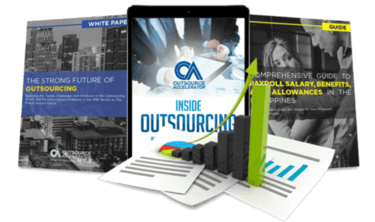 Outsource the right way, the first time
Get up to speed in outsourcing with this all-in-one tool kit
GET YOUR FREE TOOLKIT

PARTNER

PRO
About Outsource Access
Outsource Access is the number one source for fully managed outsourcing and virtual services with co-management offices in the United States and the Philippines. We offer a wide range of outsourcing services including general virtual assistants, executive assistants, account specialists, data scientists, digital marketers, social media experts and more. We help our entrepreneurial clients reach their potential by providing comprehensive and sustainable support teams.
What Outsource Access offers its clients
Our outsourced talent is uniquely trained to be able to offer you a wide range of services. We place our staff through training so that they are able to fill in many gaps in your organization without much lead time.
How Outsource Access outshines the competition
A big difference in our model? You get a vetted outsourced employee who does most of the work directly and if there is anything outside of his or her core skill set we have over 200 tactical skill staff supporting them.
And the staff member manages ALL the work so you have one point of contact. We offer high-quality and affordable sales, marketing, operations, bookkeeping, and other key support functions for small businesses and entrepreneurs.
We truly care for our employees and culture is a key advantage of working with Outsource Access.
Outsource Access company structure
We are a mid-sized BPO owned by an American serial entrepreneur and managed by our powerful team in the Philippines?
Sample highlight service offering of Outsource Access
Fully vetted, managed and trained outsourced staff member for $1,695/month.
A few metrics about Outsource Access
Services offered by Outsource Access
Outsource Access news, podcast and articles
This BPO doesn't have any news, podcast or articles yet.
This BPO doesn't have any news, podcast or articles yet.
Outsource Access videos & images
No video available for this BPO
No video available for this BPO