Outsourcing challenges and roadblocks through the years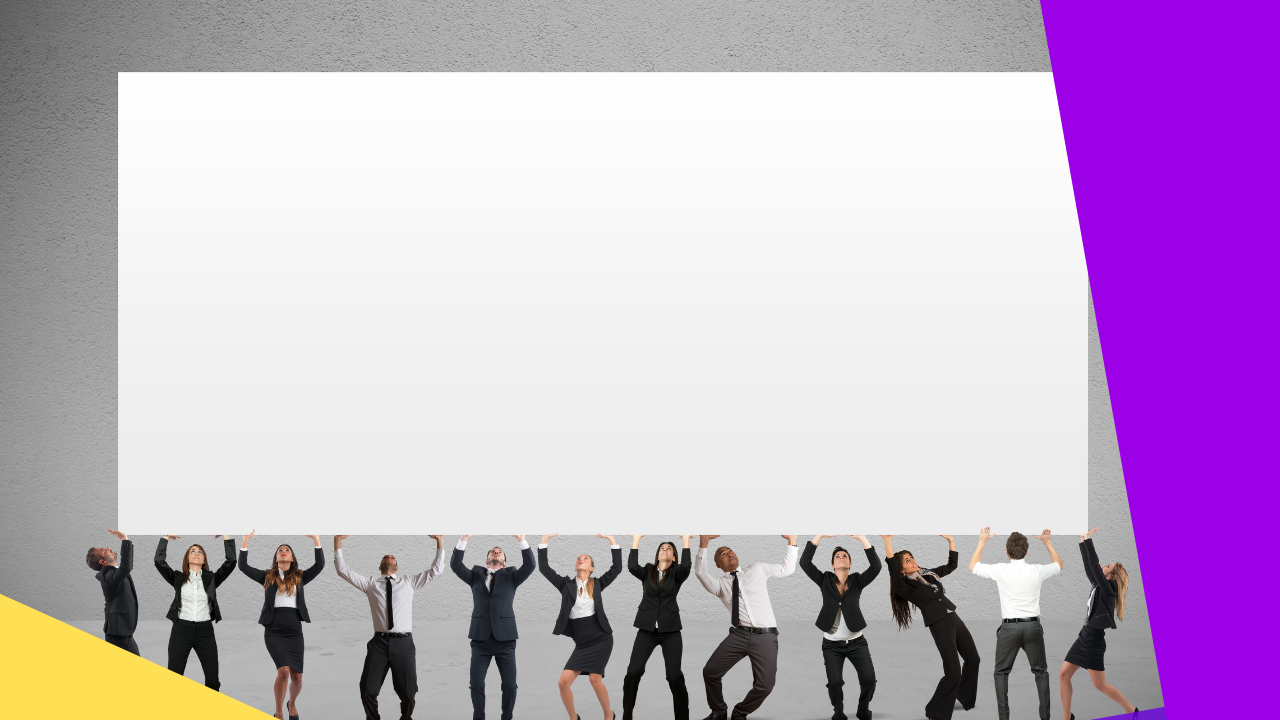 Outsourcing has truly changed companies and the way they do business. It paved the way to digitizing processes, introducing remote work, and creating a crisis-proof continuation plan in major situations.
From being a sunset industry, the outsourcing market increased its size to US$245.91 billion this year. This growth is expected up to 2028, with an average rate of 7.3% CAGR.
To sustain this growth, companies and outsourcing suppliers work their way to eradicate the challenges and roadblocks they encounter when outsourcing their operations.
Such as in the case of Brad Stevens, CEO and founder of Outsource Access. He personally saw what outsourcing has done to his previous business and has now dedicated his time and effort to educating other entrepreneurs about the industry. 
Brad and Derek will discuss this in episode 353 of the Outsource Accelerator podcast.
Brad Stevens and the concept of personalized global economies
Aside from being a CEO, Brad does speaking engagements for several organizations with entrepreneurs as participants
Brad outlined in his first recorded TEDx talk about the concept of "personalized global economies," which redefine entrepreneurs' success today. To him, having an outsourced workforce is like "having a personal global economy at your fingertips". 
Updated statistics in 2020 indicated that up to 50% of small businesses fail for their first five years. Their setbacks within these years are usually sustained by risks on time, money, and lack of knowledge and resources.
Fortunately, outsourcing can eliminate these constraints "as far as people get on board" with the industry.
Outsourcing challenges that companies face
Yet, companies still encounter some "roadblocks" or challenges when outsourcing, which Brad tagged as the DFCs (doubts, fears, and concerns). Some of them are stemmed from clients' lack of awareness of the industry and their preconceived notions of outsourcing.
These challenges include:
The myths and misconceptions on outsourcing
Myths and misconceptions about outsourcing are still around now. These preconceived notions usually sow doubts and concerns in clients, making them hesitate or be extra careful in delegating their services.
Some of these misconceptions include the following:
Outsourcing being exclusive to large enterprises

The industry is getting limited to customer service and repetitive work

Some countries are riskier due to political and economic conditions, and 

Outsourcing takes away jobs from local employees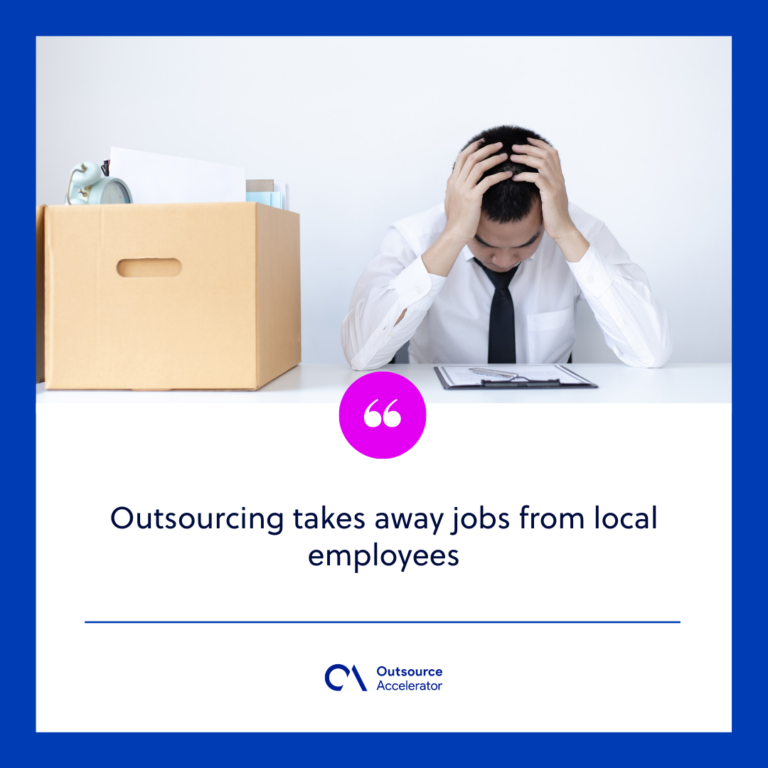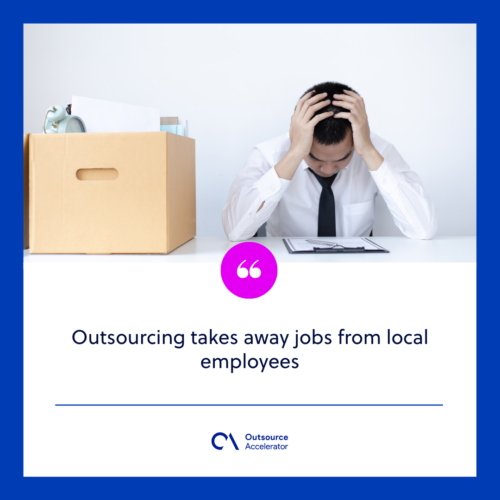 Communication and quality concerns
Companies also have concerns about communicating with their staff and the quality of their outputs. 
As much as possible, they want to take care of their branding by providing good customer service to their patrons. While hearing a foreign accent has minimal effect on their customers in a usual call, it can have a negative impact if they're calling for complaints or urgent concerns.
This, in turn, could affect their performance quality. Miscommunication could lead them to delayed outputs or repeated errors, or worse.
"More control" for entrepreneurs
Lastly, as Brad observed, running a business is "a matter of control" for entrepreneurs. Since most of them come from corporate industries, they tend to multitask and do everything on their own. 
This trait can be great for those establishing their businesses, but not when they plan to expand them. Yet, they have fears about outsourcing a function since they need assurance and security in doing so.
Breaking the barriers when outsourcing a service
Fortunately, an increasingly large percentage of businesses exposed to it slowly realized that outsourcing "redefines how they scale". 
BPOs and entrepreneurs like Brad take several measures on breaking the DFCs with their potential clients and others in several industries.
Building authority
For Brad, it's important to build authority and credibility to people that "you know what you're talking about". 
When doing speaking engagements and interviews, he makes sure to include case studies and papers to persuade and encourage his audience to try outsourcing.
Creating awareness
It's also crucial to raise awareness to companies about outsourcing and how it can benefit them. With this, BPOs and startup websites put up educational resources and content that range on topics such as outsourcing, offshoring, remote work, and managing a business.
Providing guidance
Lastly, BPOs such as Outsource Access guide their clients throughout the entire outsourcing journey. 
To Brad, helping clients "get their hands on the wheel" and guiding them through their journey are the keys to encouraging them to outsource successfully.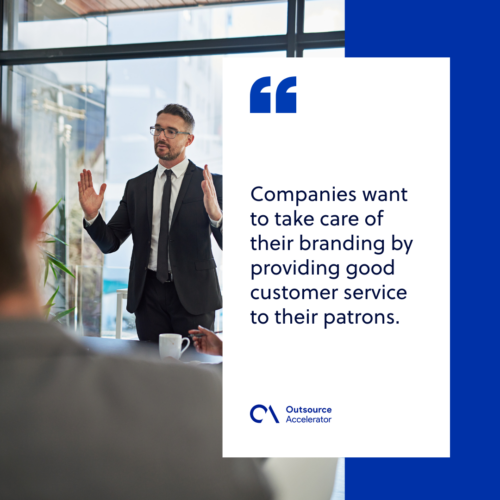 Outsource Access: Providing more than virtual services
Outsource Access does not simply provide virtual assistant services. They even aim to "break the stigma in outsourcing" by providing the best experience for small and medium businesses.
Their client's journey starts with discovery sessions to determine the functions they should outsource and the virtual staff they need.
Once they get the first steps done and have built a team, they now create a playbook for clients to monitor and track their team's performance more easily.
Outsource Access's services are "not specific to any industry" since they see that organizations across different sectors encounter similar problems and experiences in running their business.
Check out their website and page for inquiries and interests in their services. Listen to episode 353 of the OA podcast here.