41 best startup blogs for any entrepreneur in 2023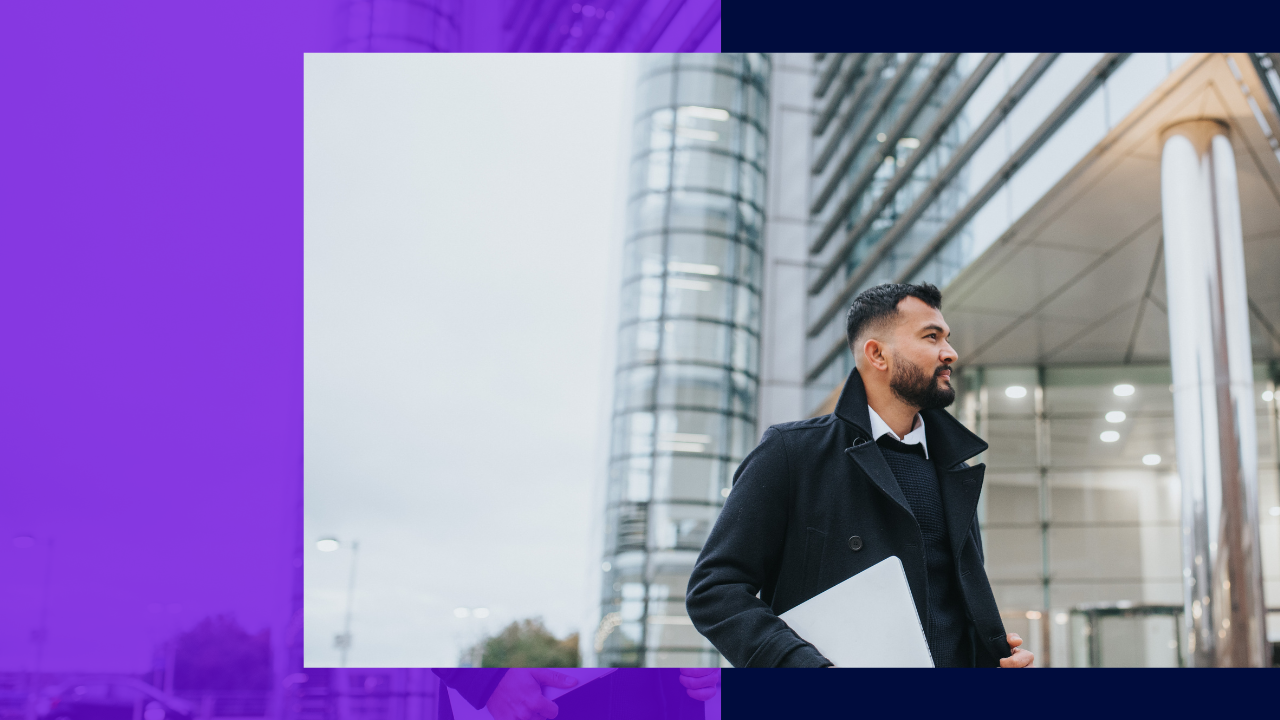 Even in this pandemic, many individuals and entrepreneurs think of building and growing their businesses. 
While most small businesses see this crisis as a threat, many still think of this as an opportunity, especially in buying resources while they are still at a low and setting up business strategies.
Before, business insights and ideas were limited to books, magazines, and other printed publications available to a small amount of the population. 
Now, with the internet and technology, everyone with startup blogs can now have access to this, from a business school graduate to a stay-at-home individual wanting to see their ideas come to life.
Entrepreneurs learn and gather insights through different methods. Business websites make these available through videos, podcasts, articles, and even product reviews. 
From here, business owners can learn and gain insights about major aspects such as:
Marketing

Sales

Finance and accounting

Venture capital

General management
Some startup blogs from SaaS products also provide valuable information for their customers. 
The following are some of the best startup blog sites for individuals looking to start their businesses and owners who want to improve theirs.
Publishers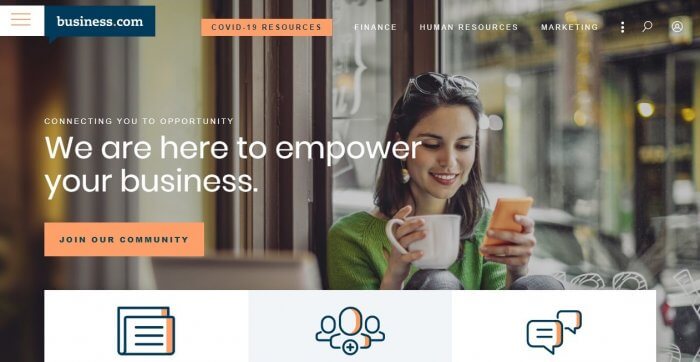 Founded in 1999, Business.com is one of the leading publishers for businesses and startup blogs of all sizes.
It is considered a one-stop shop for tips, tricks, advice, and resources on several aspects including sales, marketing, HR, and outsourcing. 
The website also recommends products and services to use to improve business operations.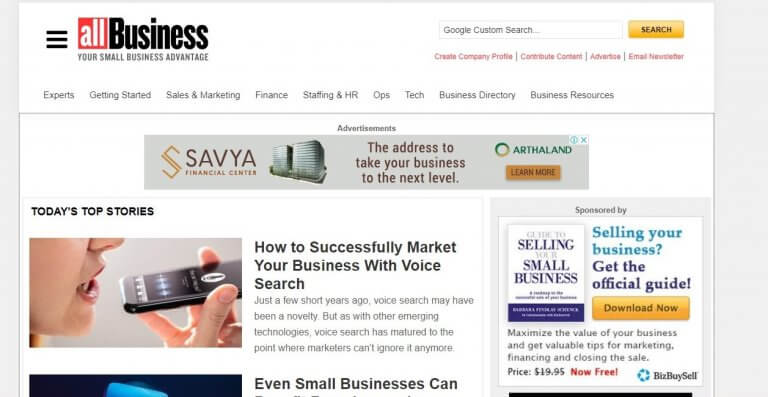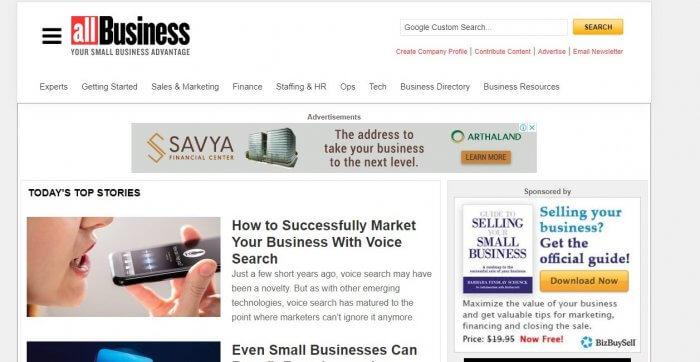 AllBusiness focuses on giving tips and advice to small and startup businesses, especially those with less than 500 employees.
The website provides essential tools and resources to help owners start, grow, and manage their businesses. Its value is recognized by several publishers such as Forbes and Wall Street Journal.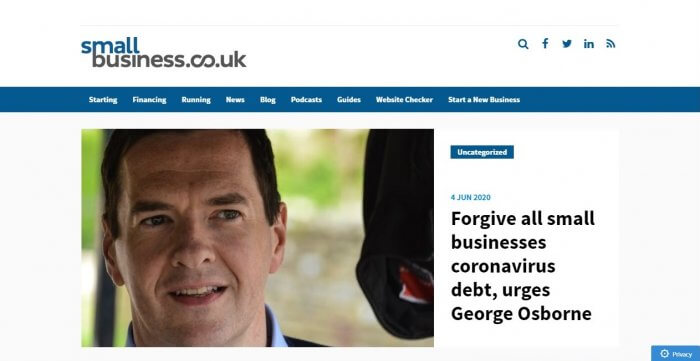 Also specializing in small businesses, SmallBusiness.co.uk provides resources and insights to help entrepreneurs grow and manage their operations.
Usually, it goes in the form of news updates, guides, features, and Q&A forums. Startup blogs can utilize their wide audience to broaden their reach.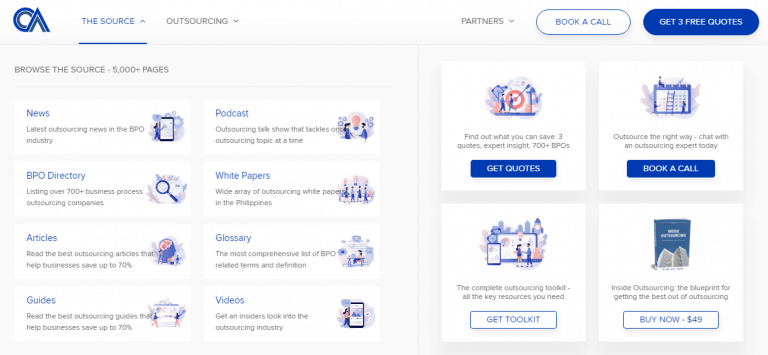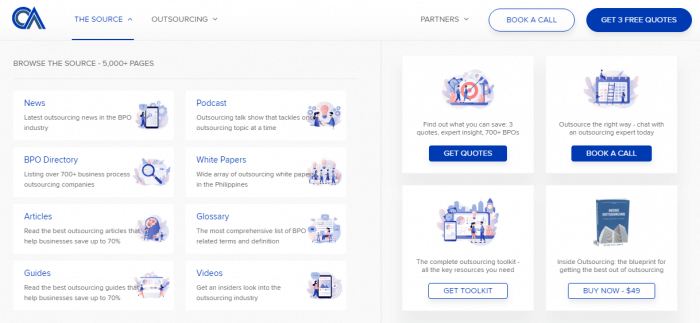 Outsource Accelerator is the leading marketplace for the BPO industry. Its educational center, The Source, provides resources for businesses wanting to learn more about remote working, distributed workforce, and mainly, outsourcing.
They have an extensive range of news, articles, guides, podcasts, and videos to learn from and more than 700 BPOs in their directory.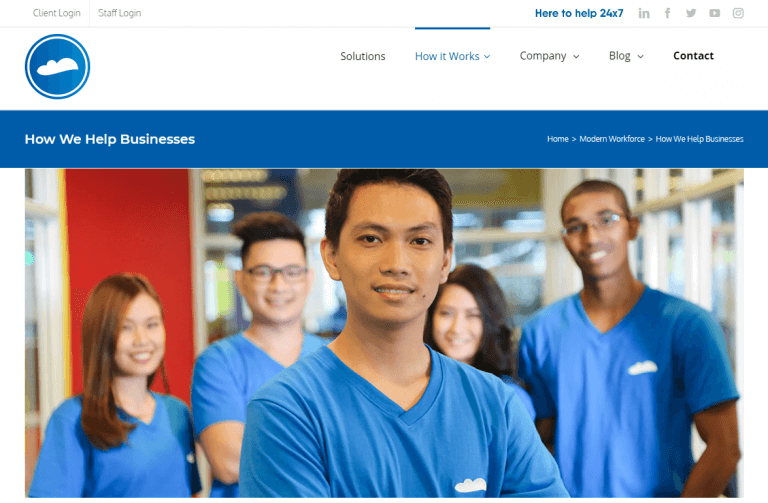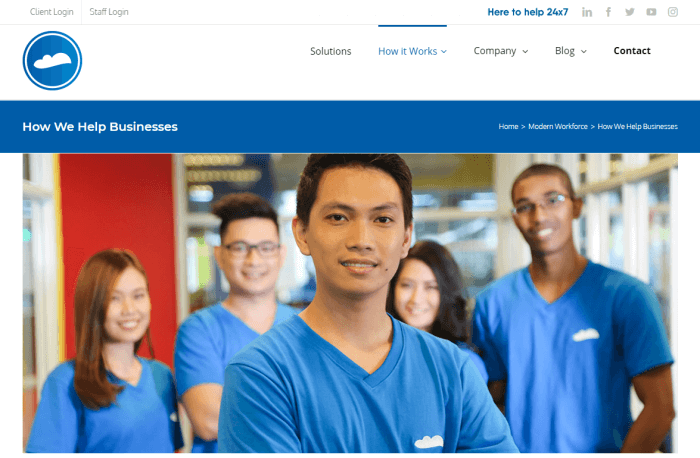 Cloudstaff is a leading global cloud workforce provider and was named as one of Australia's top 100 fastest-growing companies by the Financial Review.

They provide a lot of resources in helping business owners to cut costs and consider remote staffing solutions. Cloudstaff has highly skilled, specialized staff in many diverse fields who are perfect for any business.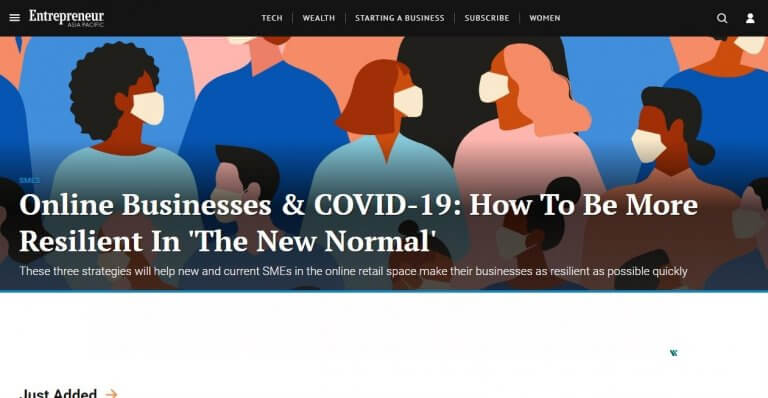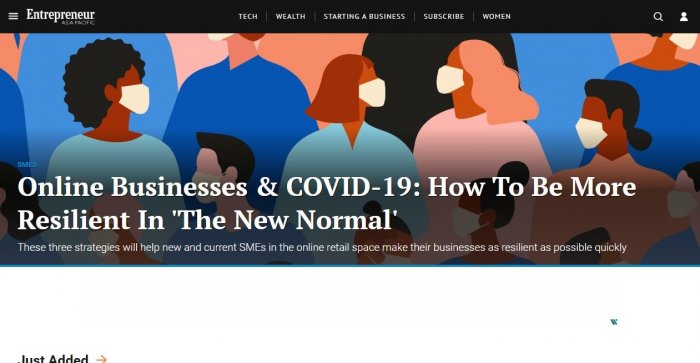 Mainly published in magazine format, Entrepreneur provides news stories and advice about entrepreneurship, small businesses, and business in general.

Currently, they have expanded their resources to podcasts, articles, and videos for more convenient learning. Their website also lists several franchise establishments and startup blogs to give business opportunities in starting a franchise and garnering more audiences.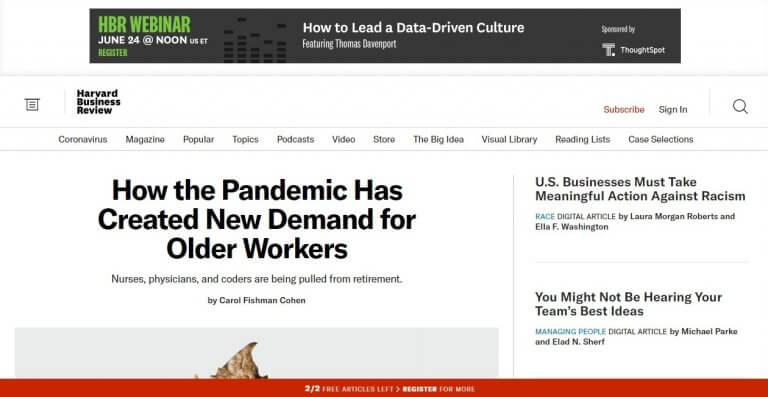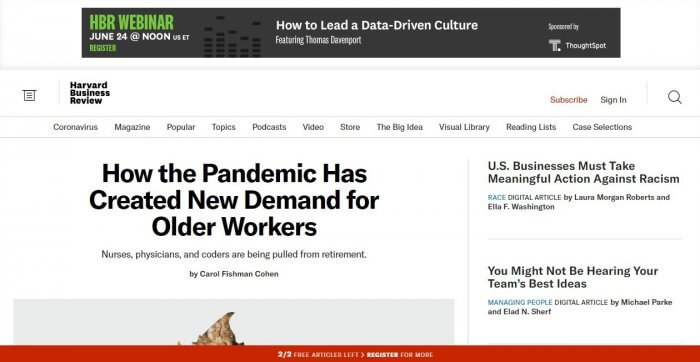 Coming from one of the Ivy League schools in the US, Harvard Business Review focuses mostly on management tips and advice for entrepreneurs, small business owners, and startup blog sites.
This aims to help them become great innovators and global leaders in terms of the international market. The website also provides updates on global business, current affairs and its impact, and the movement of markets.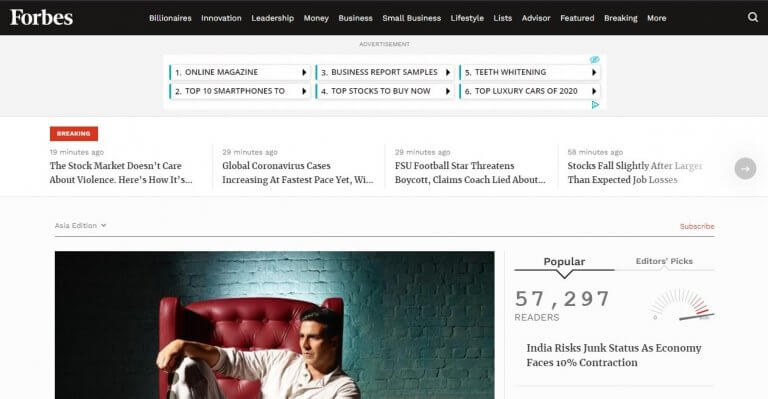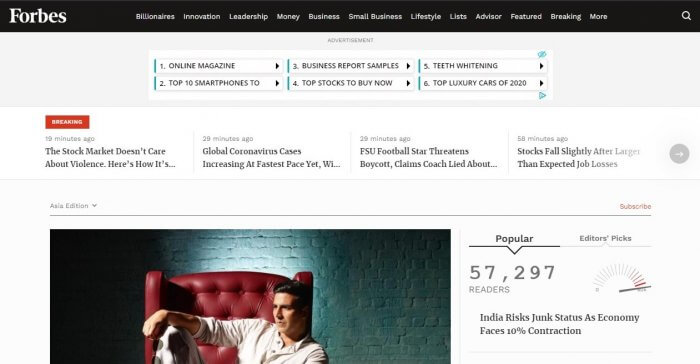 Mainly a business magazine, Forbes publishes content on finance, industry, investing, and marketing. It also features related topics such as technology, politics, and law.
The website is more ideal for financial and marketing experts who want to be informed about the latest updates on their fields. Though currently, topics relating to remote work management and outsourcing are also featured here.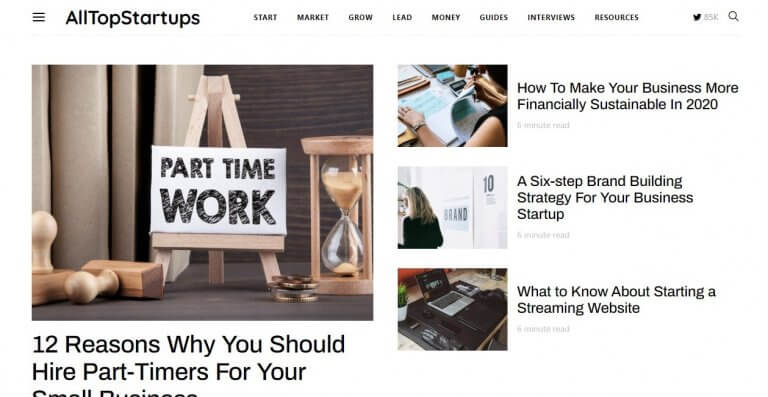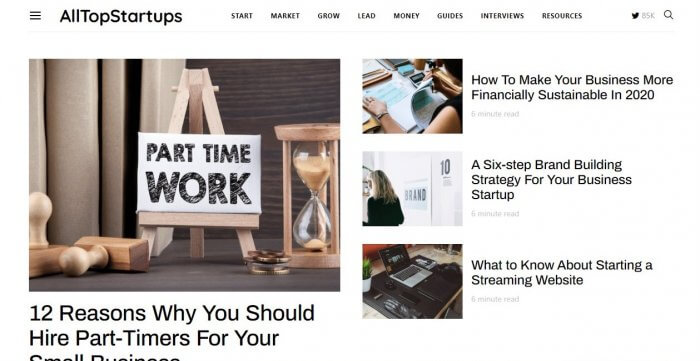 AllTopStartups features news articles about startups and tech companies from different countries. They have been providing resources for young entrepreneurs since 2010.

Currently, they cover several aspects from conceiving a startup blog, starting a business, knowing, analyzing, and targeting markets, to growing and expanding their services.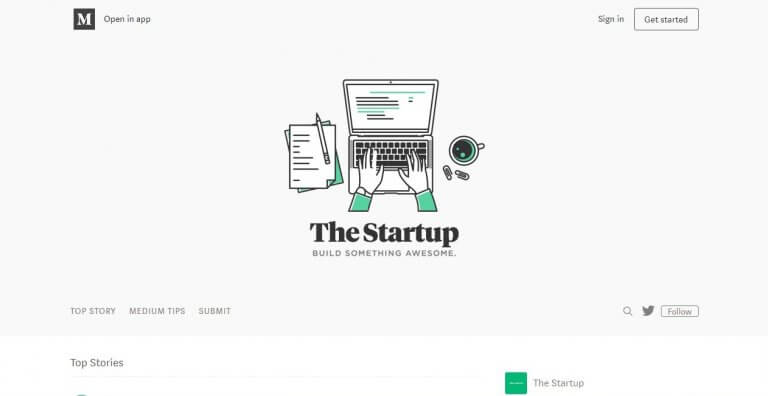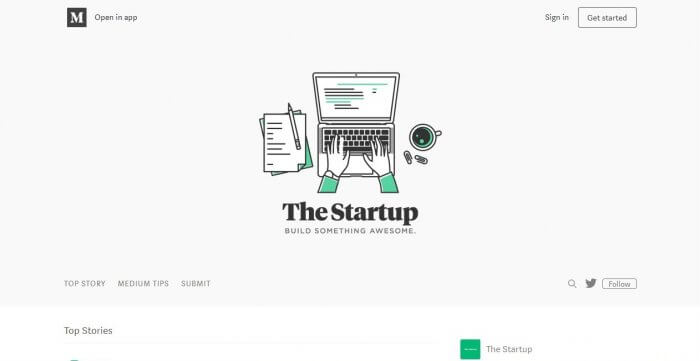 Medium, being a blog site, covers a wide range of topics from arts to sciences to general events. Its section for startups, meanwhile, provides fruitful and up-to-date insights from individuals, entrepreneurs, and CEOs of small-to-medium-sized businesses and startups on different aspects.

Here, readers can learn marketing strategies, customer engagement tips, and other useful statistics they can apply to their businesses.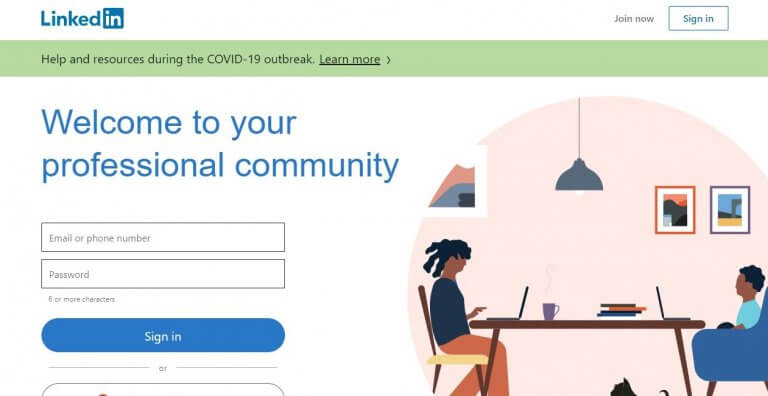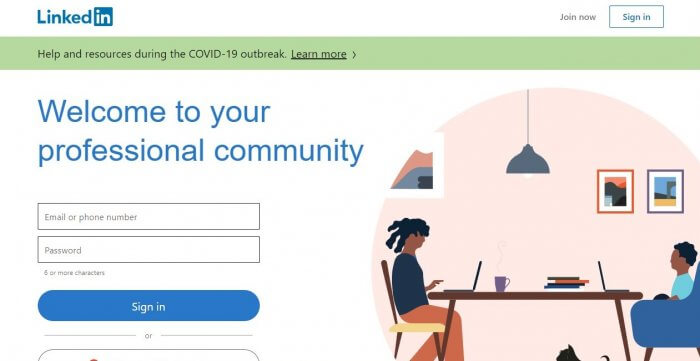 LinkedIn, a professional network for businesses, professionals, and entrepreneurs, also has its publishing section called Pulse. It is an aggregate that lets its users share their insights and self-published content for their network. Professionals use this website to gain more audiences to reach and build their profiles.
HR and management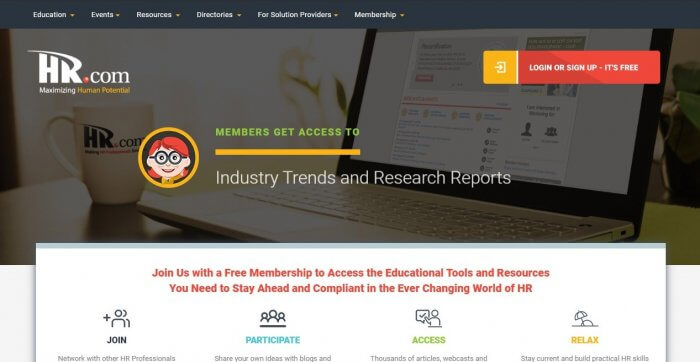 HR.com is a social networking site for HR experts and recruiters. Here, HR professionals and business owners can freely share insights through articles, white papers, guides, forums, and webcasts regarding human resources and recruitment.
The website also provides courses, forms, templates, and certifications for individuals delving into the human resources sector. HR startup blogs can definitely get content ideas here.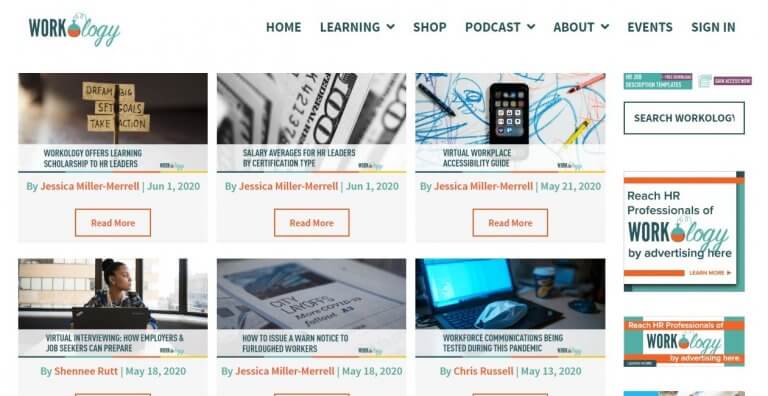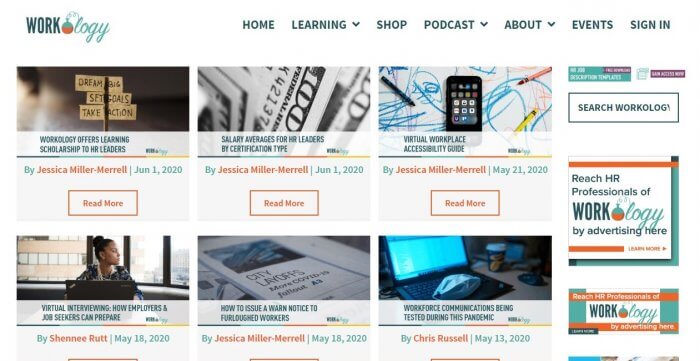 Workology, meanwhile, serves as a one-stop shop for digital resources pertaining to human resources. They share insights for employers and professionals on managing their workforce in the digital era. HR professionals can also use their free practice tests for certification and upskilling to widen their knowledge.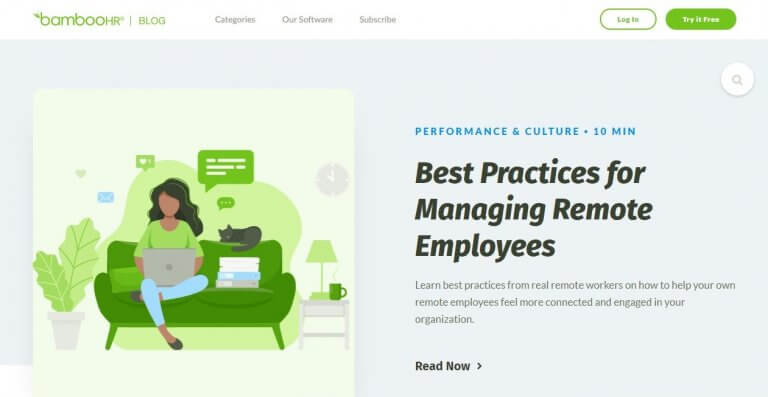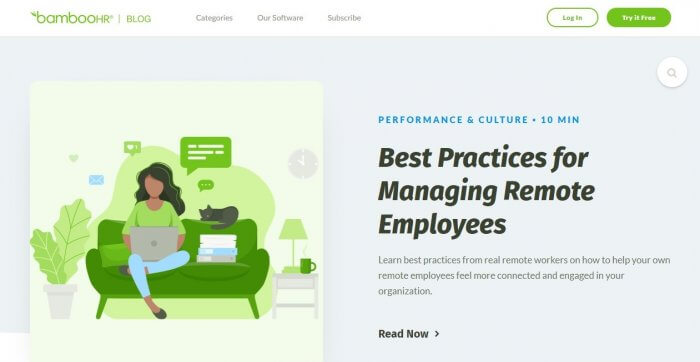 Software as a service (SaaS) for human resources, BambooHR is one of the famous tools for employee tracking and management in the market. Moreover, their blog shares great tips and advice on managing remote and in-house workforce better.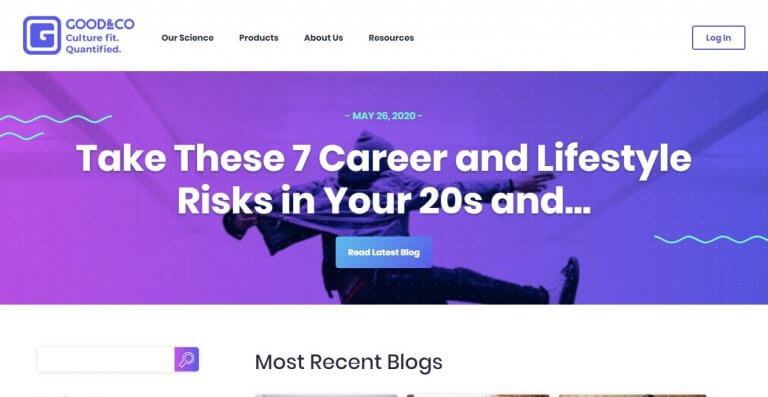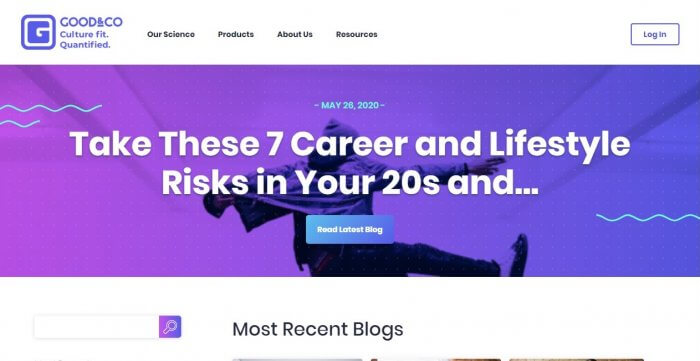 Being the largest psychometric database, Good & Co. provides culture-fit assessments for both employers and their applicants alike through tests, quizzes, and other resources.
Their blog covers a good blend of human resources, recruitment, psychometrics, and workplace culture management, a perfect resource for both employees and business owners.
Venture Capital and Accounting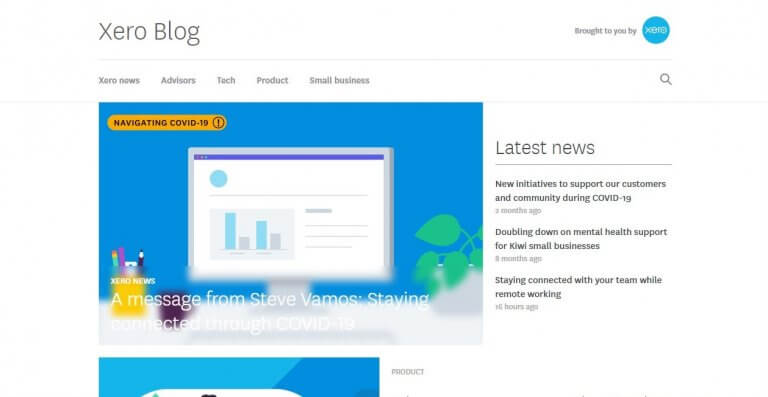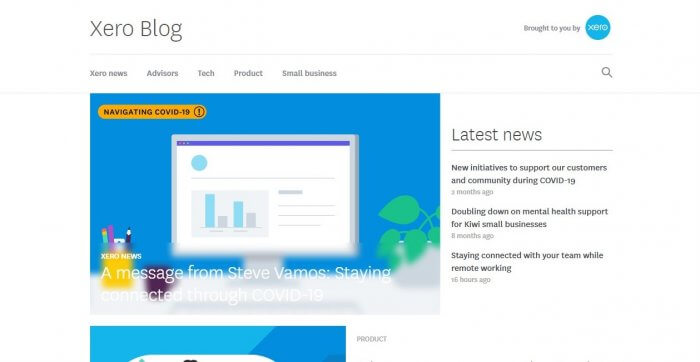 Xero is one of the leading accounting software in the market currently used by small and large businesses, institutions, and non-profit organizations. 
Though limited, their blog features valuable articles on small business management, financial health, technology updates, and how-tos.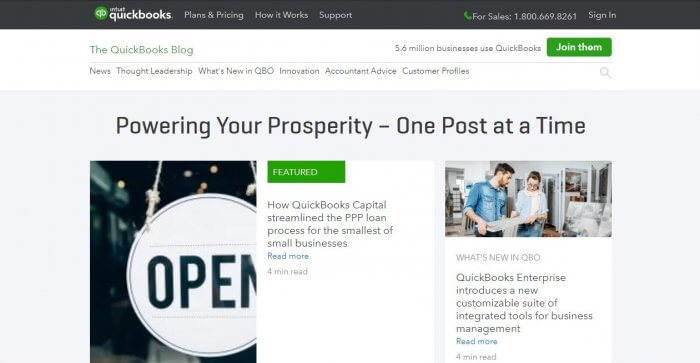 Intuit's QuickBooks, meanwhile, focuses on small and medium businesses, giving them the flexibility to manage payments, invoices, and payroll through the web- and cloud-based application.
Unlike a usual accounting blog, the QuickBooks blog features thought management, accounting advice, and tech innovation. This makes it more ideal for accounting firms and tech companies alike.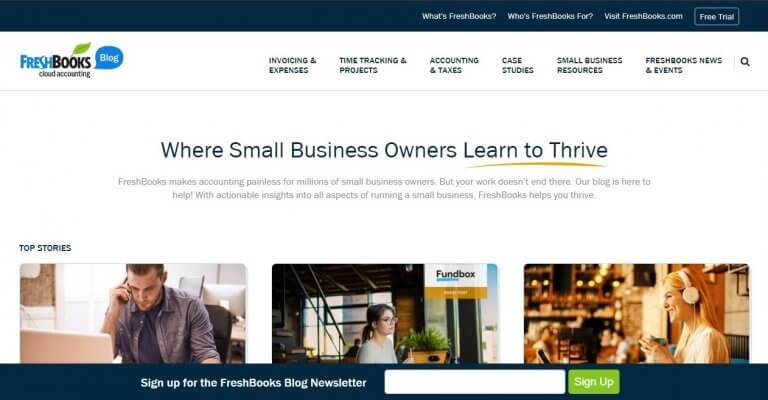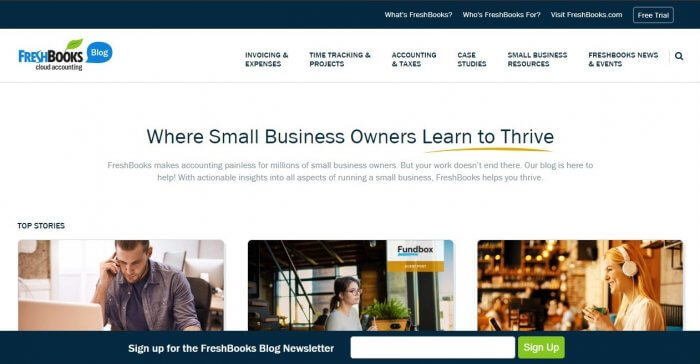 FreshBooks, easy accounting software for small businesses, focuses more on accounting aspects such as taxes, time tracking, invoicing, and expense management.
They also have resources on starting up a business and scaling it, as well as with useful marketing and leadership techniques.
Startup blogs that focus on accounting topics can utilize guest posting on this site, harboring new and organic traffic every month.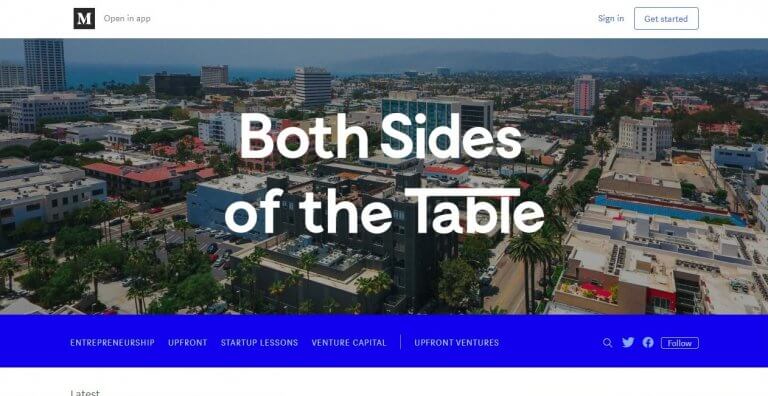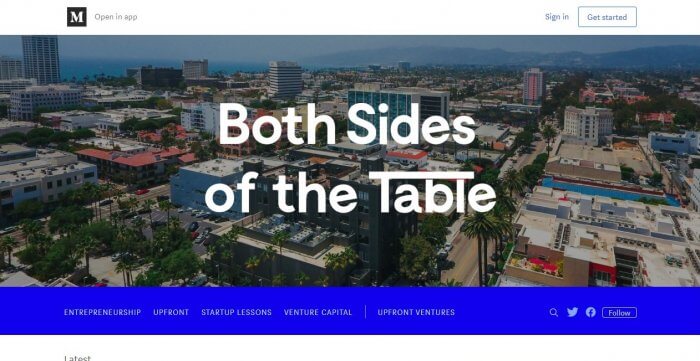 From the founder of Upfront VC, the largest early-stage fund in California, Both Sides of the Table shares perspectives and tips for startups looking for venture capital.
It provides lessons and learning resources on startups (subsequently, startup blogs), entrepreneurship, and venture capital funding. 
They also share videos on interviews and seminars regarding Upfront and venture capital.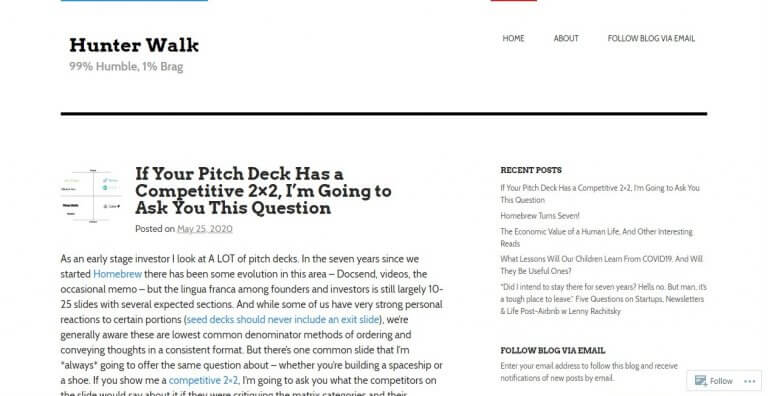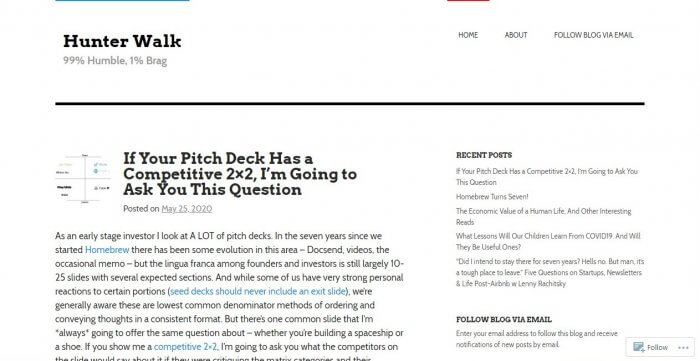 Also from the concepts of venture capital company founders, Hunter Walk prides themselves as 99% Humble, 1% Brag.
They provide articles and videos on running a business and looking for venture capital funding. They aim to help small businesses and startups to think big and expand.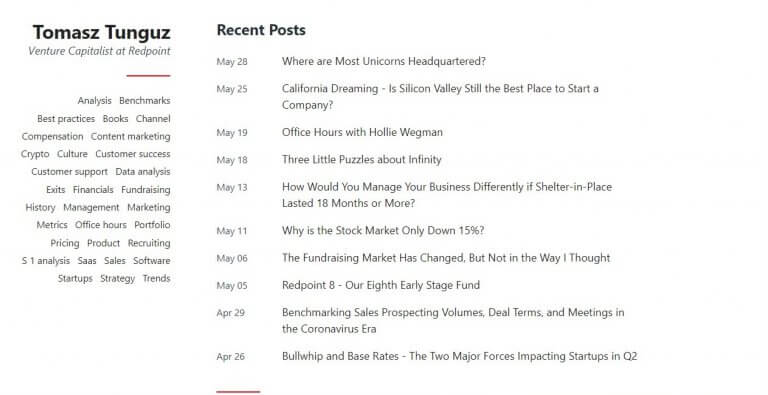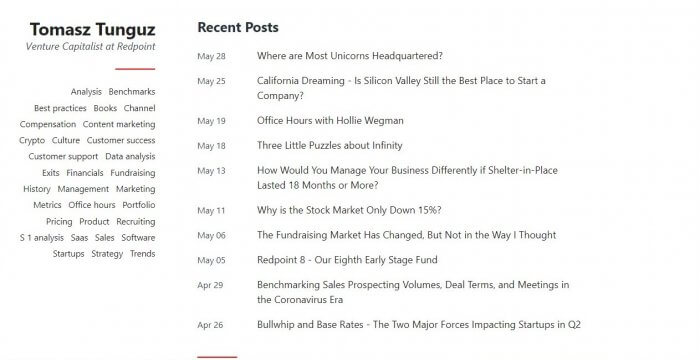 Tomasz Tunguz is a venture capitalist at Redpoint Ventures. His website shares insights on a wide range of aspects such as current markets, fundraising, and marketing.
Articles on this site are perfect for startup blogs, entrepreneurs, marketers, and venture capitalists alike who want to gain insight from an expert in the field.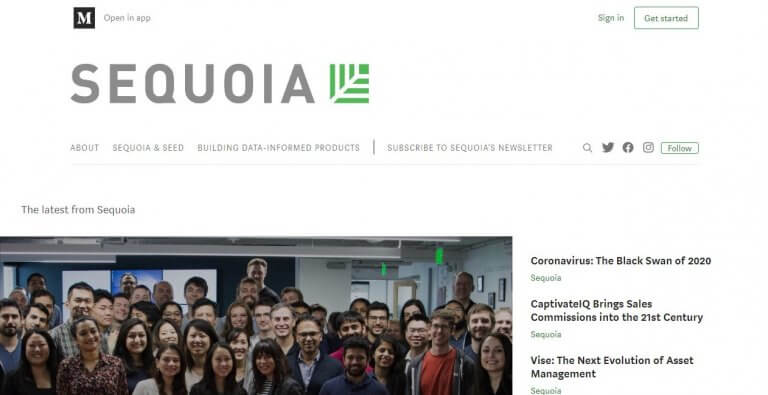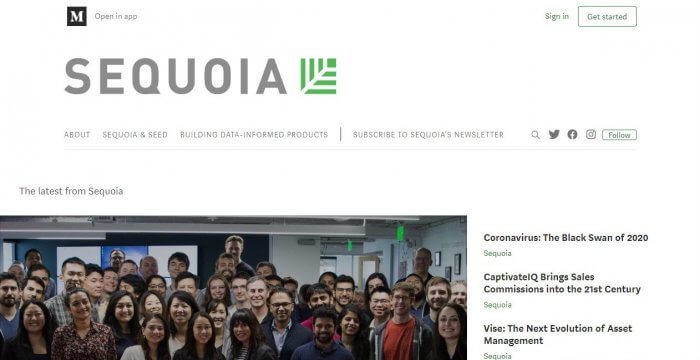 For tech startups, Silicon Valley's Sequoia Capital is one of the reliable companies for venture capital.
Their website features articles and stories about their successful ventures such as DoorDash and Guardant Health. Their section at medium, meanwhile, features business insights on relation to the current situation of the world.
Tech and SaaS sites for tech-infused startup blogs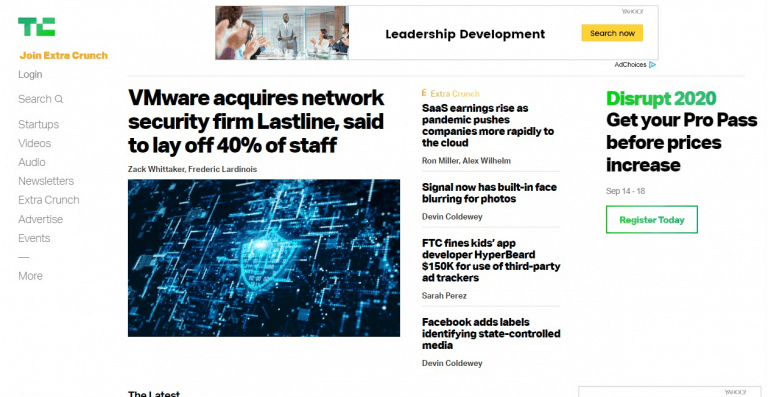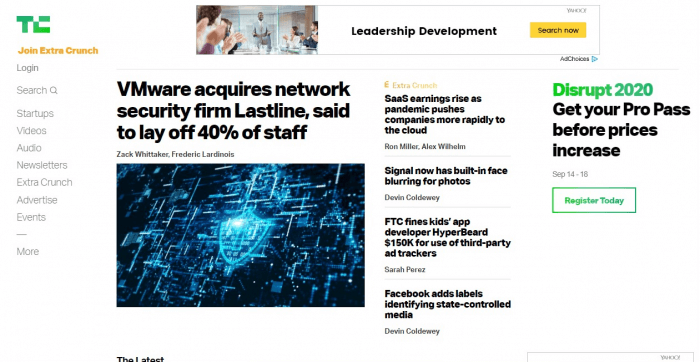 TechCrunch focuses mainly on startups and the tech industry. They are one of the leading American publishers regarding insights on analysis on emerging tech trends, news, software reviews, and tech business profiles.

The website also runs a venture capital podcast entitled Equity, which focuses on the stories behind the funding of companies in Silicon Valley.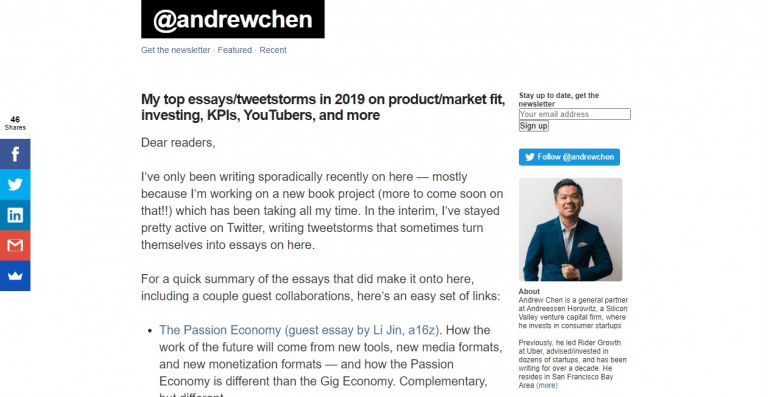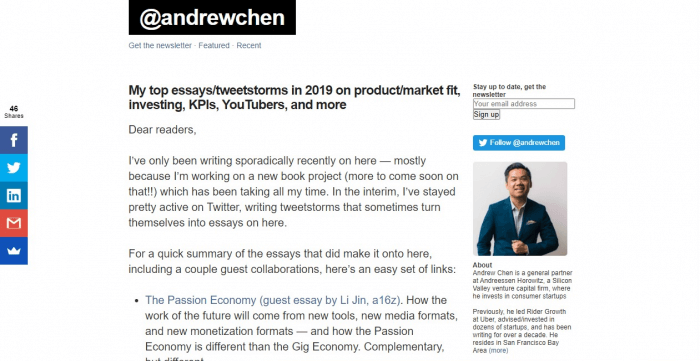 With extensive knowledge of tech, startups, and startup blogs and being a part of Uber before, Andrew Chen surely has a lot to say on his blog.

The website features long-form articles and essays on startups and tech which can help aspiring entrepreneurs and tech professionals know about the industry.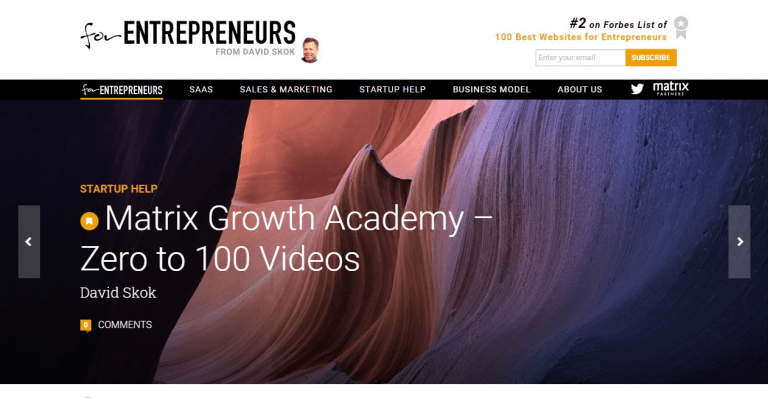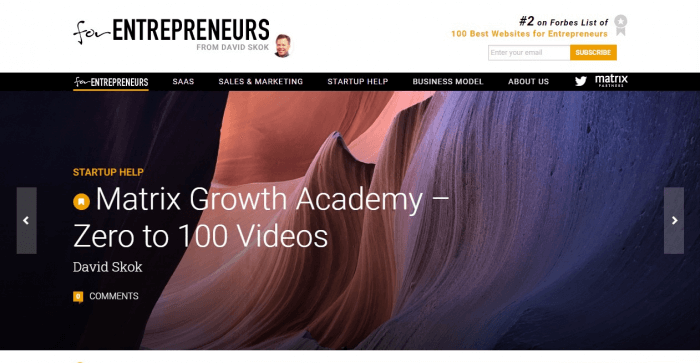 ForEntrepreneurs is made for startups with topics focusing on startups, business models, and software as a service (SaaS).
It is recognized as the number one website for entrepreneurs by Inc. and is included in the top 100 websites for businesses by Forbes.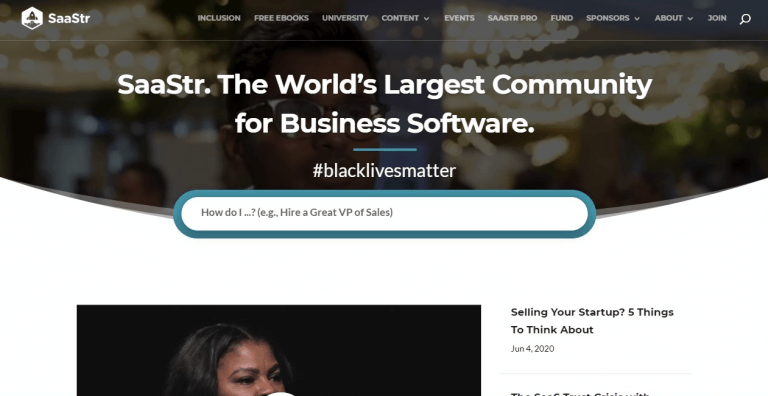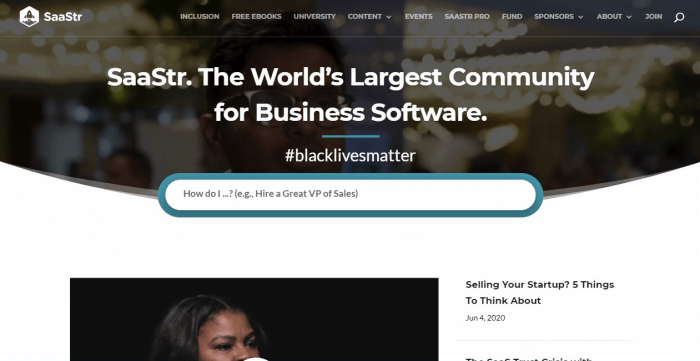 SaaStr prides itself as the only non-vendor SaaS site where businesses come together to learn and grow their business.
They regularly post content, events, and crash courses on managing SaaS companies and solving problems that businesses may encounter. What's more, they also have several ebooks and videos that are free to download by the public.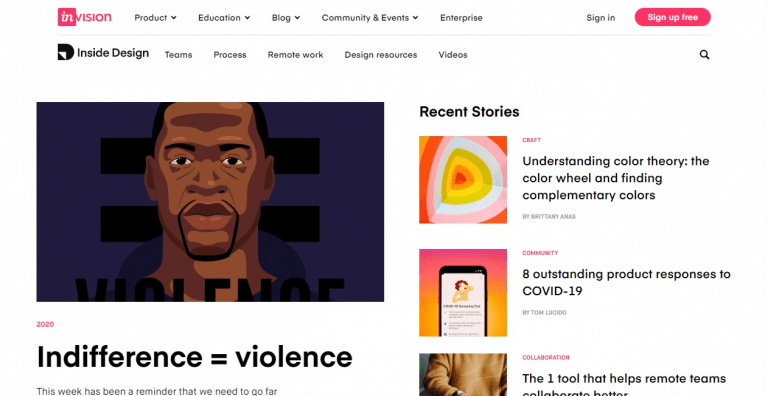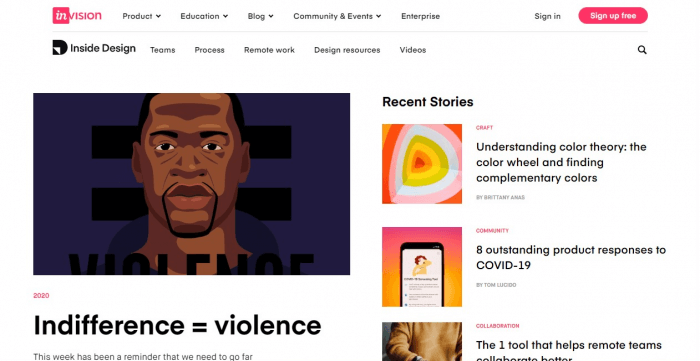 More than collaboration, InVision also encourages learning and improving startup tech products through its blog.
Inside Design has a niche in design thinking, teams, and inspiration. True to their purpose, they also tackle remote teams and how to properly manage them.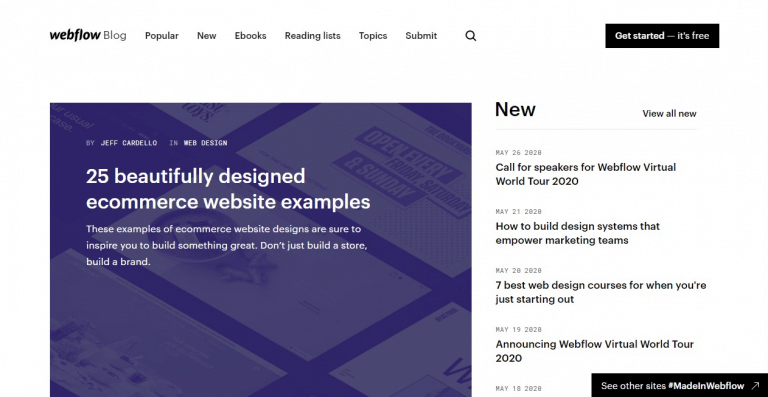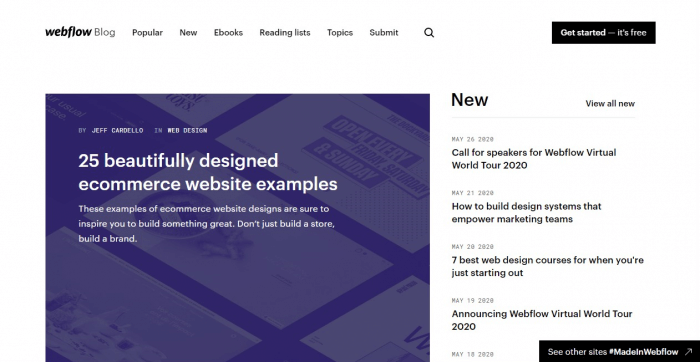 Webflow's blog tackles more about web development, WordPress, and website building for beginners.

This is mostly handy for businesses who just started designing their websites from scratch and want to learn more about maintaining and keeping them protected from security threats. 
Customer Service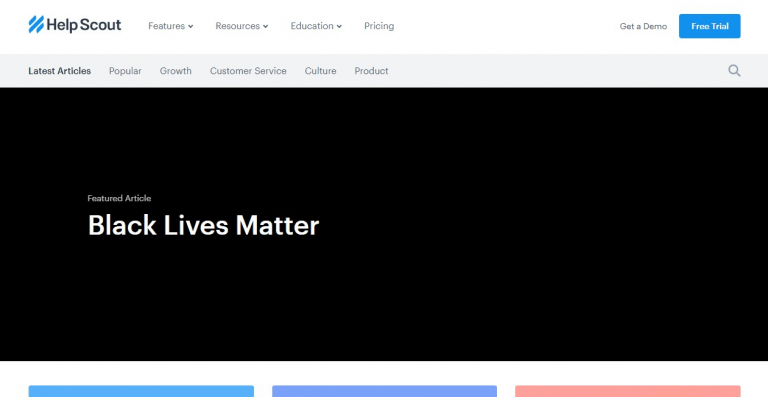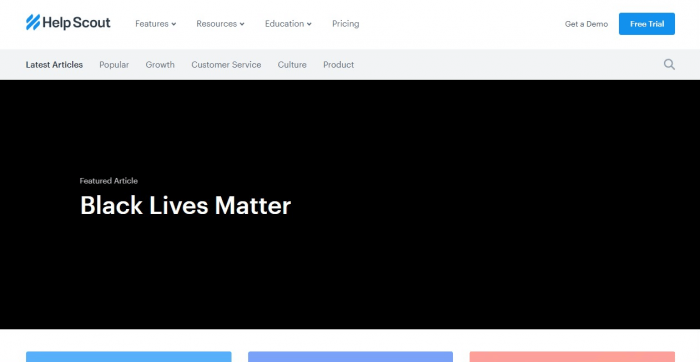 Being a customer service software, Help Scout's blog helps businesses improve customer loyalty and experience through advice and tips.
They focus more on building customer service, work culture, and growing business, especially for e-commerce sites.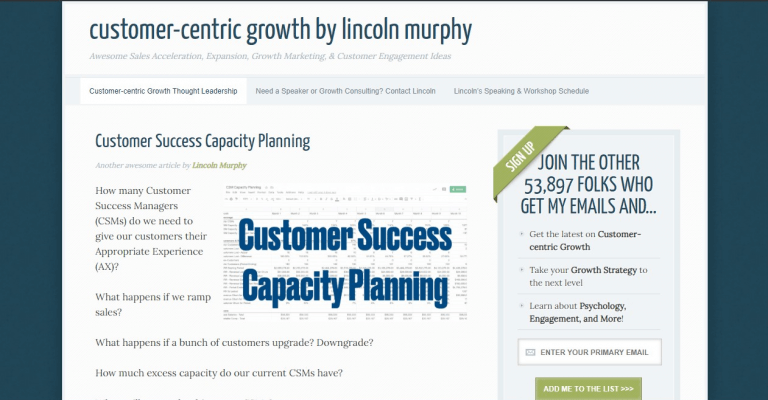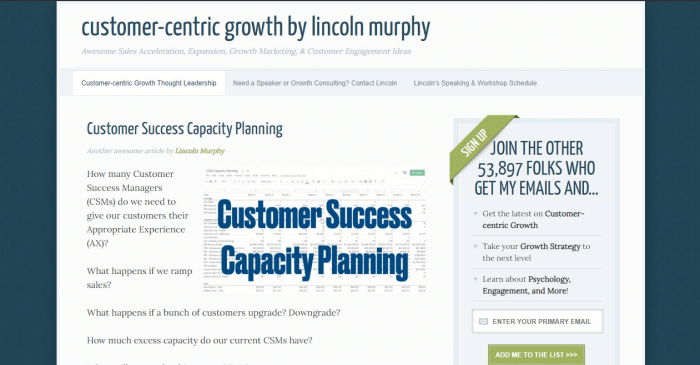 Sixteen Ventures shares ideas on sales, expansion, marketing, and customer experience. The website aims to help businesses achieve customer-centric success through consultancy and education.
The author also gives workshops and seminars regarding business growth and expansion online and in person.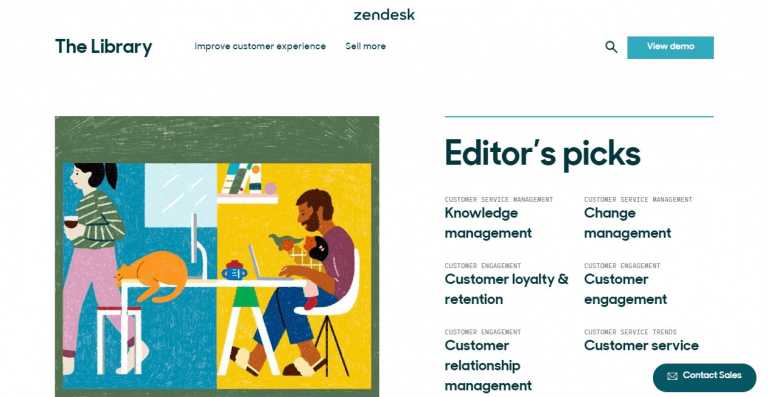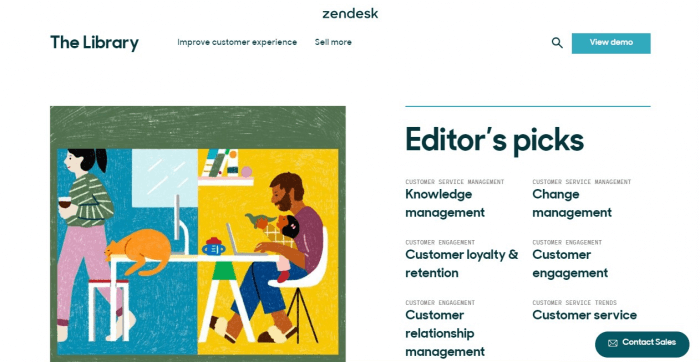 Zendesk, aiming to improve customer service through SaaS, focuses its blog content on sales and customer experience.
Topics tackled in the site include the metrics and how to build one for a team, trends in the industry, and how-to guides. 
Marketing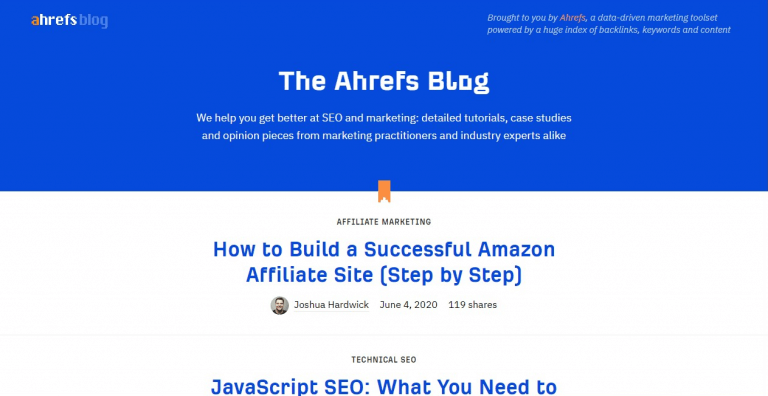 The articles on Ahrefs blog can take a business a long way in digital marketing. The website helps them navigate link building, SEO, and keyword research easily through simple tips and tricks.
The blog is perfect for entrepreneurs who just want to learn basic SEO without taking up an entire course for it.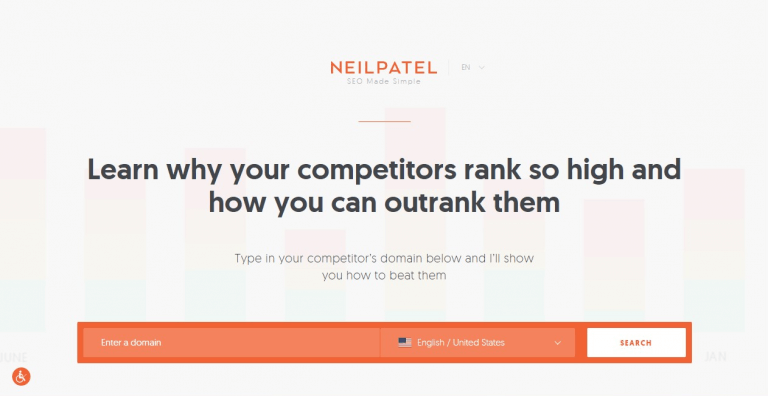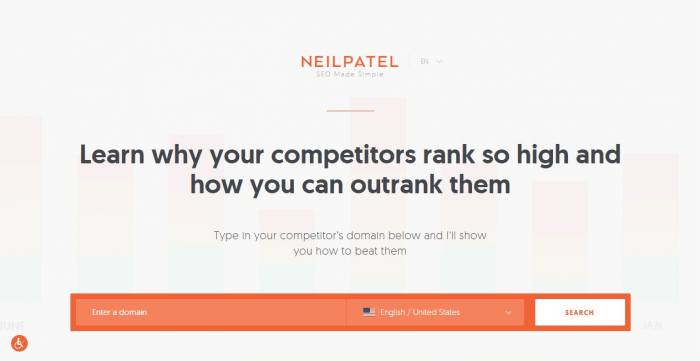 Neil Patel established himself as one of the SEO experts to date. This is because he has found the tips and tricks into creating organic traffic and get noticed by Google Analytics.
His main site focuses on SEO tips and how website content can get noticed each year. Ubersuggest, his free analytics tool, can also be found there.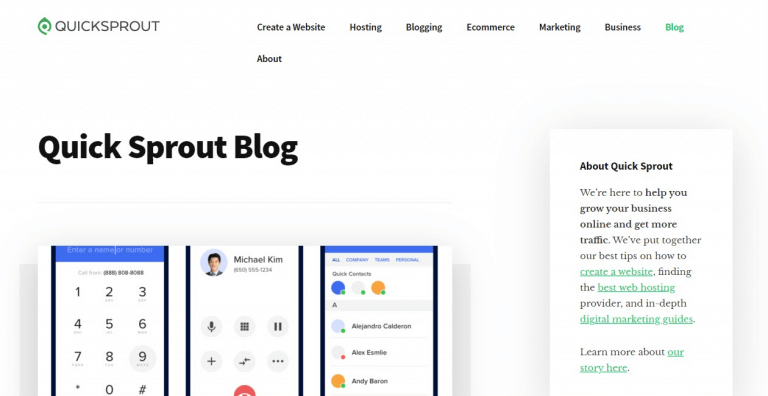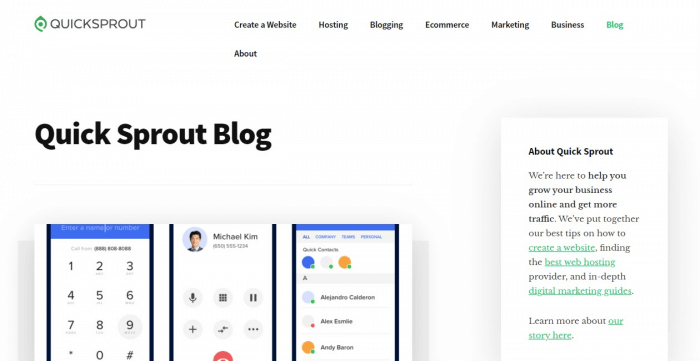 Also founded by Neil Patel, QuickSprout blog aims to help entrepreneurs grow their businesses online and gain traffic through their website.
The site features step-by-step guides and best tools on creating a website, web hosting, blogging, and marketing.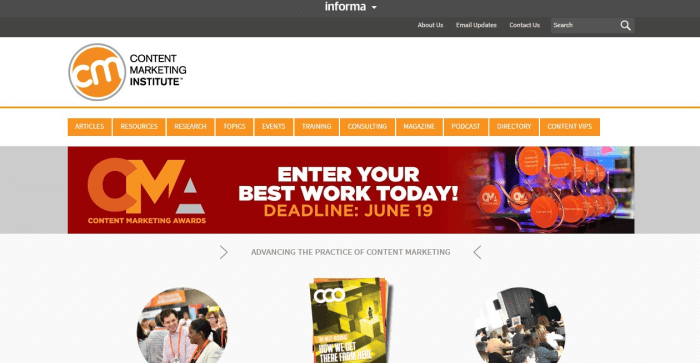 Content Marketing Institute is founded by Joe Pulizzi, content marketing evangelist and author of Content, Inc.
The site specializes in the different sides of content marketing, from creation, distribution, SEO strategies, to social media. Their content also features updates such as social media automation and updated analytics.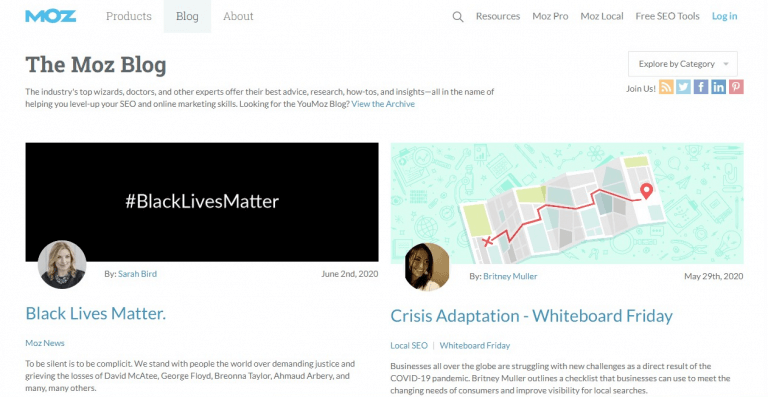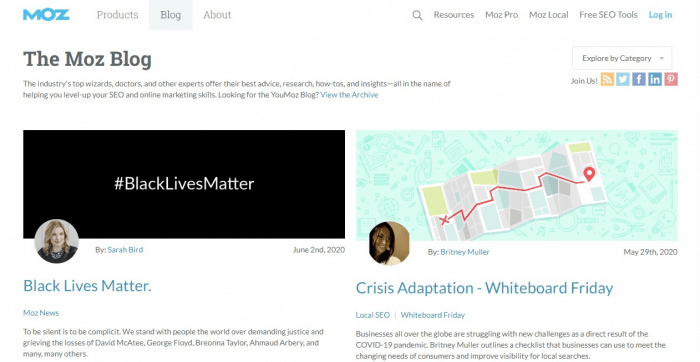 Moz blog offers digital marketing and SEO learning resources for businesses. Whether they need a crash course on SEO, backlinking, or scraping, Moz has the resources to learn it.
The website also has courses for site audit and keyword strategies.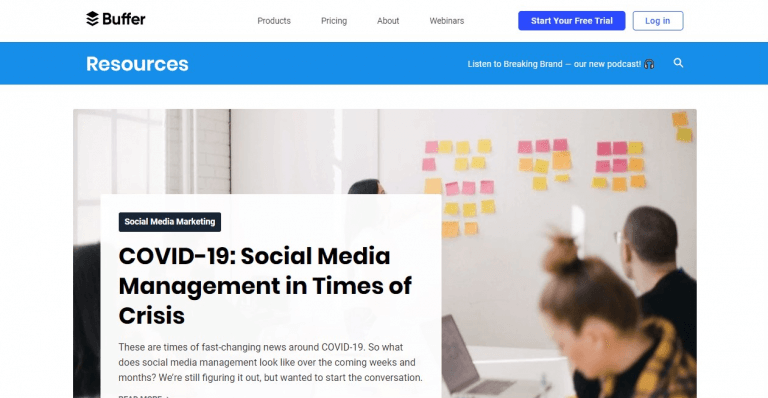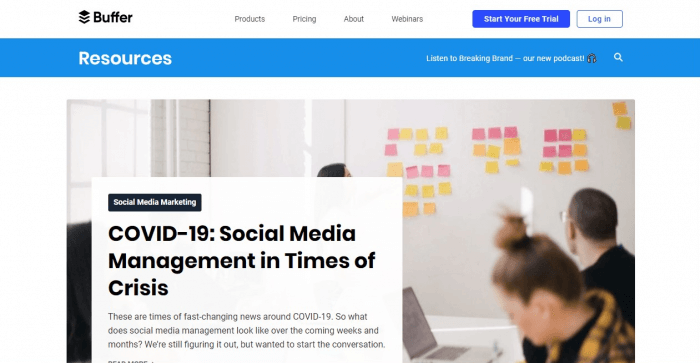 As a social media management tool, Buffer blog focuses mainly on social media and online marketing.
They give elaborate and actionable advice on running and maintaining the online presence of a business and using it to their advantage in the market.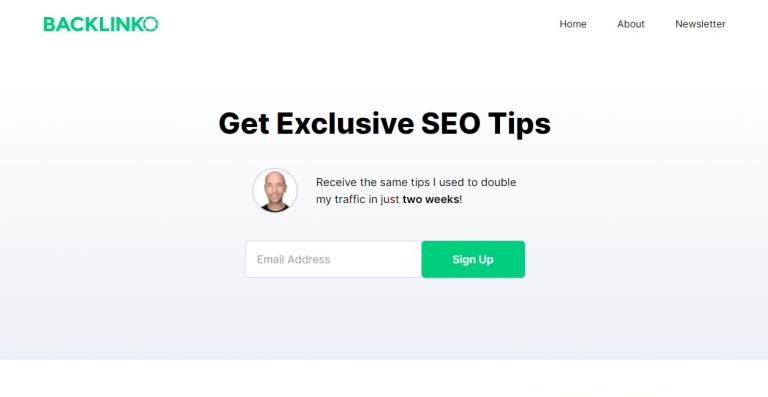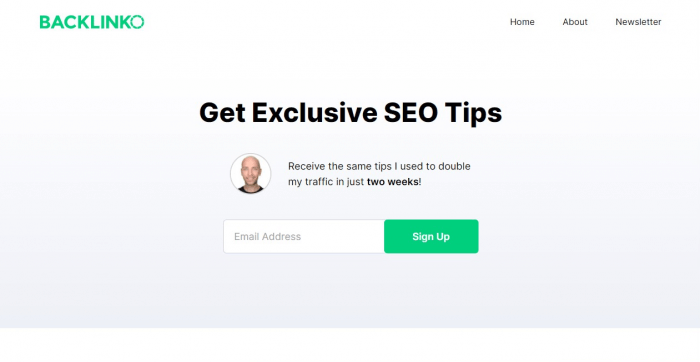 Backlinko, meanwhile, provides actionable SEO tips, strategies, and case studies.
They give tips on how business websites can rank on Google, updates on SEO strategies each year, and building backlinks for beginners. They also provide SEO training to individuals who want to master SEO for their growth.
Sales and e-commerce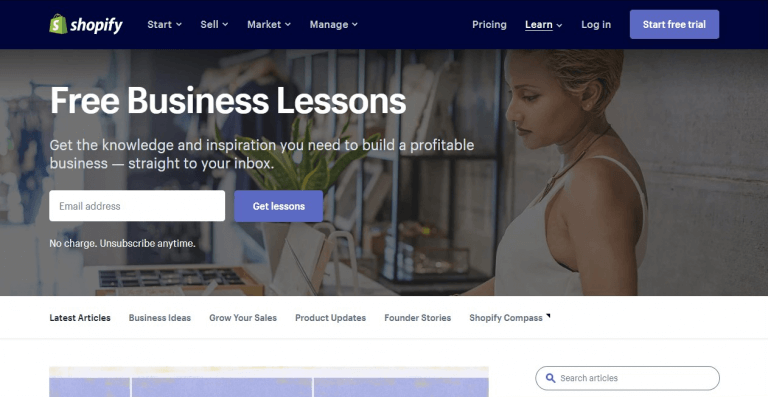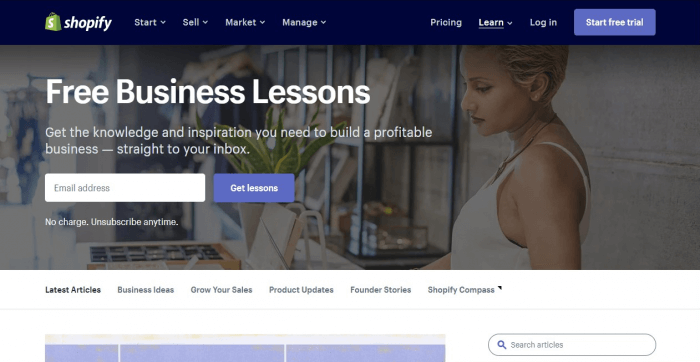 Shopify is one of the most popular tools today for e-commerce stores. No wonder their blog is also popular when it comes to topics such as running an online store and setting up payments.
It contains how-to guides and actionable tips perfect for entrepreneurs who have just started their stores.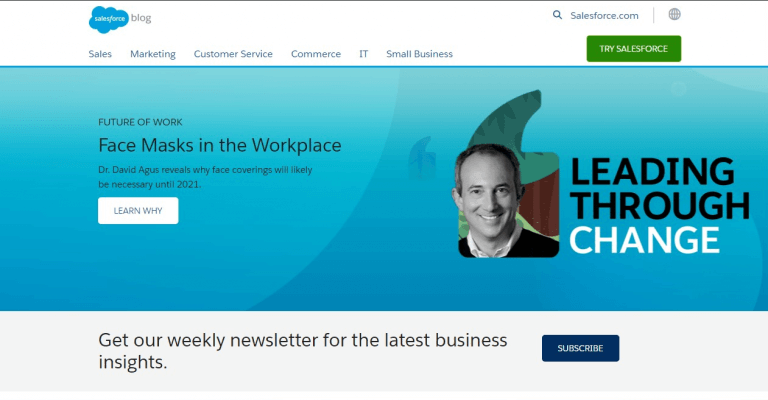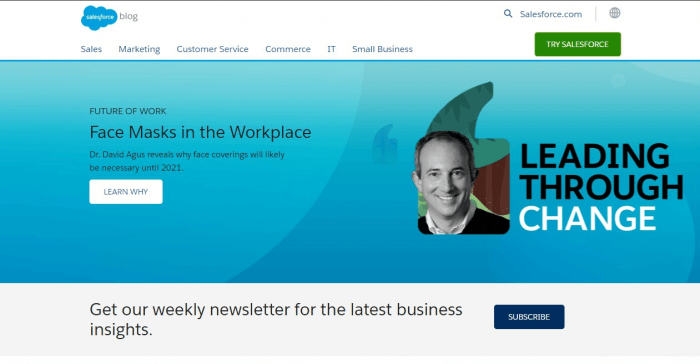 Most companies trust Salesforce for their cloud-based CRM solution for sales, marketing, customer service, and commerce.
Their blog also gives us an idea of how well they handle these aspects. Salesforce blog gives valuable advice, ideas, and case studies on sales and marketing trends and analytics.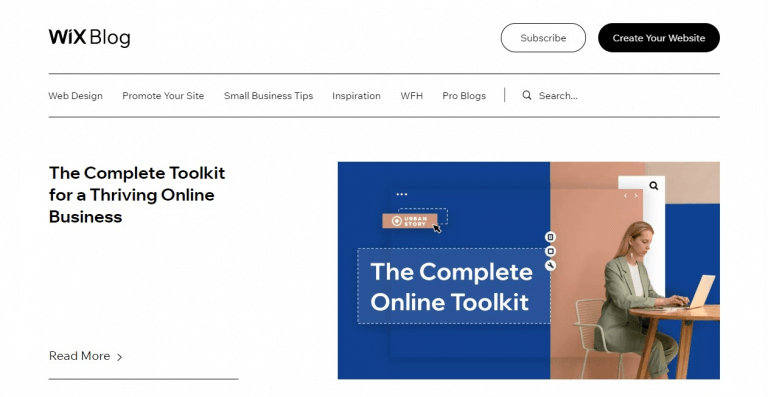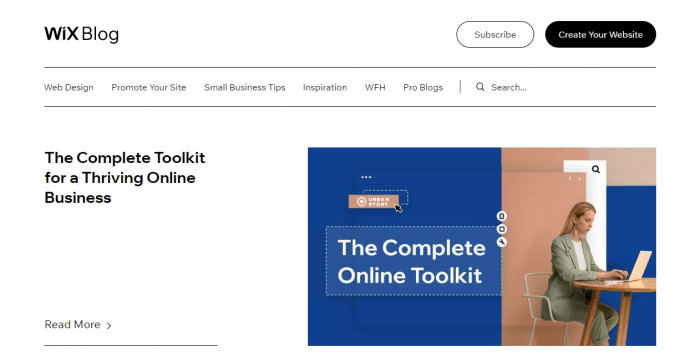 Wix provides web design solutions for businesses creating their first websites. On their blog, they provide actionable tips and how-to guides on how the can utilize their sites more, especially in e-commerce.
Users also share their success stories and experiences in building and growing their websites to inspire others to do it, too.
How startup blogs can take advantage of major sites
Most major sites and publication pages allow guest posting as a way to attract other businesses and individuals to post blogs (with links) on their site. Thus, strengthening both parties' SEO and backlink credibility.
Startup blogs can guest post on major sites as a way of organically garnering views and traffic, as well as indexing their site higher on search engines.
In a way, guest blogging is another tool that startup blog owners can utilize.