Top 20 VA companies in the Philippines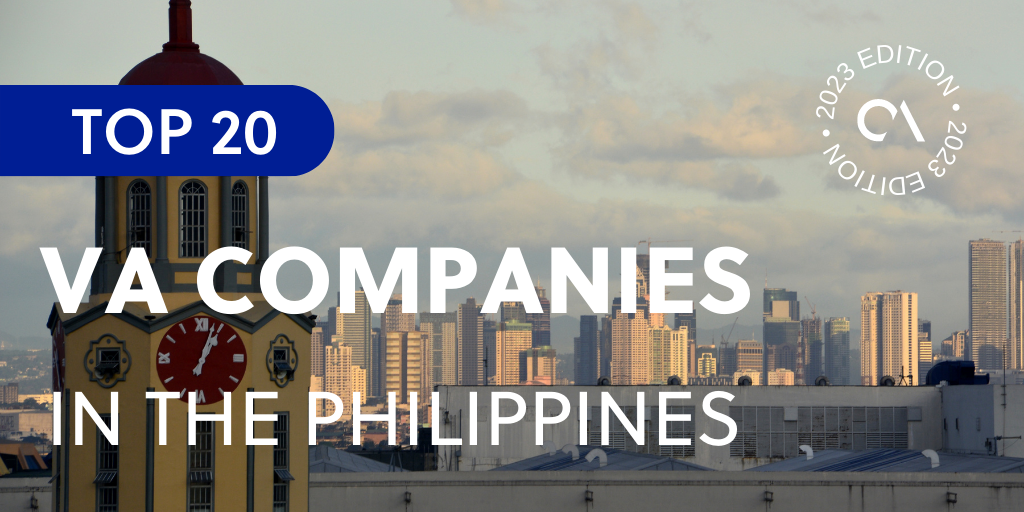 With the emergence of remote work settings due to the pandemic, many companies worldwide are now eyeing virtual assistants. More and more businesses strive to keep their operation by hiring employees that can handle the work despite being in another country.
Virtual assistants are a huge help for businesses. Getting swamped with many tasks for the company is overwhelming, especially if the business is starting. A VA is one of the best solutions to grow and upscale the business at a rate.
Check out this article to see the top VA companies in the Philippines where you can outsource your work. 
What is the role of a VA?
Since foreign clients often resort to virtual assistants to develop a task force for their business locally. These employees reside in different countries and can take up the role and do the tasks for these clients. They do the work in a remote location.
Virtual assistants often work with only one company or juggle multiple companies simultaneously, depending on the flexibility of their work schedule. Their tasks vary from administrative to technical, depending on their skill set.
They can work as an individual contractor or from a staffing agency. 
What are the services VAs offer to clients?
The services virtual assistants often provide are the following:
Manage schedules and take calls

Bookkeeping

Handle customer support

Build and update databases

Conduct research

Create social media profiles

Develop marketing material using graphic design

Do basic proofreading and editing on external and internal documents
To become a virtual assistant, there are requirements that clients always ask. However, it depends on the type of work expected from the VA. 
Education

Training

Certifications

Skills
Getting a bachelor's degree is only sometimes a critical requirement for education. There are several options for one employee to be certified even without a degree. 
Learning a skill is possible through training. Workshops for social media management, graphics design, spreadsheets, databases, essential website building, and many more are available online.
Why is it essential to have a VA for the business?
It is common for businesses to be overwhelmed with the load of work when starting from scratch. New entrepreneurs are often welcomed by a pile of documents, contracts, and marketing plans on their hands. 
Getting a VA feels like gaining extra body parts that will function for work. Your virtual assistants will be your guide in helping your business grow even further.
Below are the benefits of acquiring a VA for your business:
Increased productivity

No work politics

Excellent time management skills

Reduced workload

Helps scale your business

Becomes your support system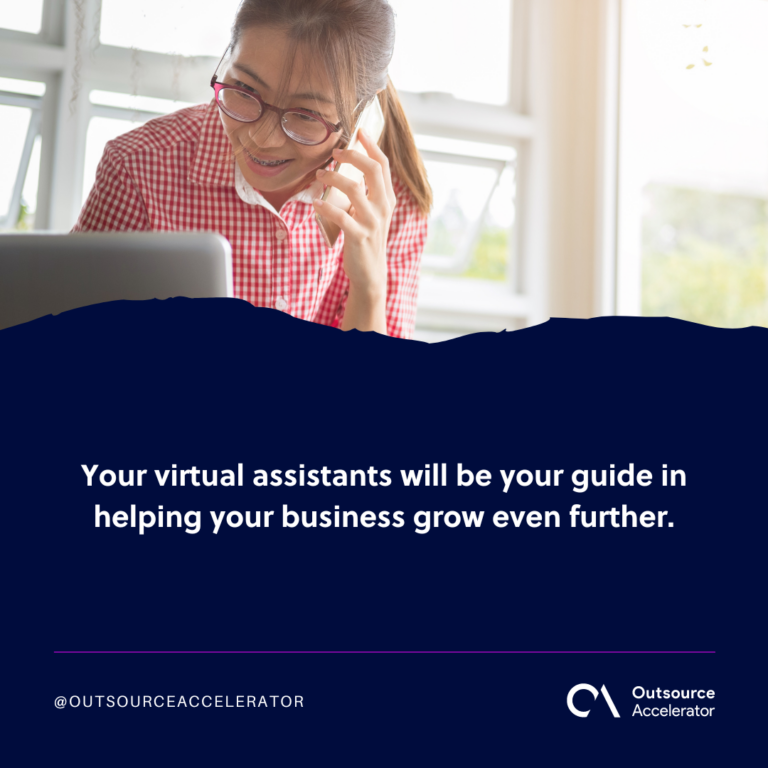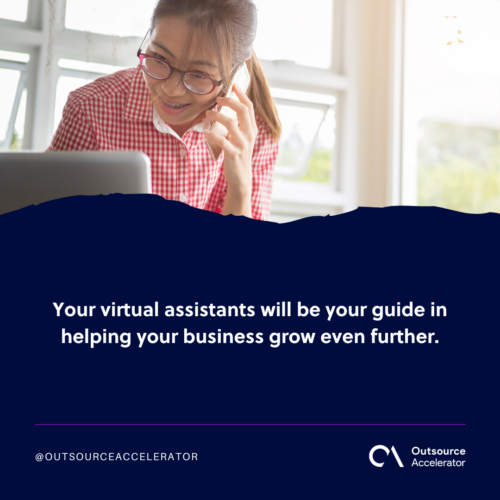 Top global outsourcing lists
Outsource Accelerator is the world's leading outsourcing marketplace and advisory. We list over 3,000 BPO firms located across the globe in our global directory, and we provide detailed information, price guides, and reviews.
Whether you're a solopreneur, SME owner, or a corporate executive, we can help you find the most suitable outsourcing provider for your business.
Explore our outsourcing directory now. You may also check out our Top VA companies lists per country here:
The top 20 VA companies in the Philippines
The Philippines is home to many trusted and reliable VAs in the market. If you're a business owner looking to scale your operations, consider looking to work with these VA companies in the Philippines.
Although a startup, VirtualCoworker is one of the famous VA companies in the Philippines. The hiring process is as minimal as possible. After you contact them, they will share their best resumes and let you choose the VA of your liking. 
OnlineJobs.ph is one of the most sought-after companies in the Philippines. Their website lets you hire multiple virtual assistants without communicating with an agency or middleman.
The good thing is many Filipinos visit this website daily to check for VA job hiring. However, you will be responsible for posting the job ad, time tracker software, and payment policies.
Real estate businesses can benefit from MyOutDesk as they specialize in outsourcing VAs highly trained in the real estate niche. They help expand enterprises without spending too much on cold calling and marketing.
MyOutDesk also enables you to build your brand even without spending on human resources outsourcing and development.
Virtual Staff Finder has been in the business for quite some time, which makes them an optimal choice for a VA company. With over 8,000 virtual assistants hired from this platform, you can guarantee to score a reliable one for your operations.
Clients only have to sign up from their platform and place their requirements or job description. After that, the company's team will present the top three VA candidates before going through the interview, screening, and background check.
eVirtualAssistants is a good starting point for hiring VA services as they allow clients to communicate directly with the VA during the initial process. The company provides a real-time communication feature to experience seamless communication with the applicant.
Post your job ad with the requirements and description, and wait until you get the correct number of applicants you need for the position. You can proceed with the usual process–interview, agreement, and job offer. 
If you are a startup company looking to build a team, Virtual Assistant Talent is dedicated to assisting small business owners, startups, and other entrepreneurs to expand and grow.
Virtual Assistant Talent's process starts with a phone consultation. VAs get to discuss the services they can offer to the client. The company then chooses the most suitable candidate.
Finally, when you select your VA, the company will send an invoice you need to fulfill. Only after that can you start working with your VA.
Pepper Virtual Assistants is based in Manila, Philippines, and offers services like web design and development, administrative tasks, marketing, and customer service representative. 
What's unique about Pepper Virtual Assistants is they allow an initial five hours of free services to check if the VA you acquired is a good fit. You can start by choosing a plan and free trial with their services.
They offer full-time and part-time positions, but you can only pay for the hours they worked with you.
Consider Remote CoWorker if you are looking for a premier virtual staffing company. They have been in the business for a decade and offer top-notch virtual assistants. This company was headquartered in Florida, then built a team of Filipino workers.
It takes less than 24 hours to process agent setup with the aid of the account manager. They will be responsible for setting up Zoom interviews for your chosen candidates.
Based in Davao City, Philippines, Virtual Done Well offers VAs from all over the country that can provide services like email management, booking appointments, and customer service. Fill out their form, and they will start sourcing candidates best suited for your business. 
Remote Workmate is based in Australia but promotes the advantages of hiring Filipino VAs for Western countries. They offer a unique free trial period and recruitment support services like creating job descriptions and reviewing resumes.
Remote Workmate provides a free employee swap program that lets you switch VAs in case the first choice is not the right fit for your business.
This company is exceptional because it primarily consists of talented Filipina VAs. OVA Virtual offers services from customer service representatives, administrative assistants, and HR officers to IT experts. It is reliable to look for virtual assistants that fit your business in this company.
TaskBullet outsources Filipino professionals to assist your business in accounting, administrative support, content writing, social media marketing, and data entry. 
They have efficient VAs that can help you complete your tasks in a few steps. Sign up, pay for the initial hours, and TaskBullet will find you your virtual assistant.
Another VA outsourcing company to look out for is USource, an Australian and Philippine-incorporated company.
They offer services for digital ads, SEO, analytics, graphic design, copywriting, website development, customer support, email marketing, back office administration, social media, and e-commerce.
USource only offers full-time work hours for their employees, not part-time or freelance.
A US-based healthcare VA company established in 2017, Hello Rache has been in the business specifically for medical professionals. They outsource Filipino virtual assistants in the medical field, like dental assistants and nurses.
Dentists, doctors, and veterinarians are often the clients of these kinds of virtual assistants. Based on their website, they offer free training, certifications, and competitive rates.
Based on its name, MultiplyMii aims to connect its virtual assistants to clients worldwide. They have highly-skilled VAs perfect for whatever a client needs. MultiplyMii aims to progress its VAs further by offering career growth and professional development programs. 
Outsource Access may be one of the latest VAs companies in the Philippines, but it has grown exponentially over the years. The company started in 2019 through CEO Brad Stevens. They are based in Mindanao, so most of their virtual assistants are from there.
Outsource Access work mostly with solopreneurs and small and medium businesses worldwide.
Support Shepherd is a headhunter company outsourcing Filipino virtual assistants to American and European clients. What makes them different from other agencies is that they allow virtual assistants to work directly with the company.
Customer support, finance, programming, and creative industries are the services offered by VAs working for Support Shepherd.
Cyberbacker is one of the most prominent virtual assistant outsourcing companies in the Philippines, with publication materials all over Metro Manila.
Cyberbacker offers various services for clients, like customer relations, social media and ads marketing, and administrative tasks.
If you're into Tiktok or LinkedIn, you might have seen this VA company a lot. Athena Executive Assistants is still new to the market but has progressed rapidly. They are a hundred percent remote and offer a robust training program for virtual assistants. 
Since 2016, VA Hub PH has been helping Filipinos fulfill their online careers. They offer training for different niches like real estate, marketing, and product sales. VA Hub PH has a comprehensive website that answers commonly asked questions about their team.
Top VA companies in the Philippines as excellent starting points for any client's business
Businesses always go through a rough patch at the beginning of their journey. This is why most clients often get stressed and anxious about whether progress is possible. Investments are at stake, knowing that there are millions of competitors globally.
It is good that getting a virtual assistant is now easier than ever. Doing all the work alone is no longer necessary since a couple of people or a team can work on it for you.

Take the time to visit these outsourcing companies in the Philippines, where you can hire VAs to help streamline your business.