Work from home. Become a virtual assistant today!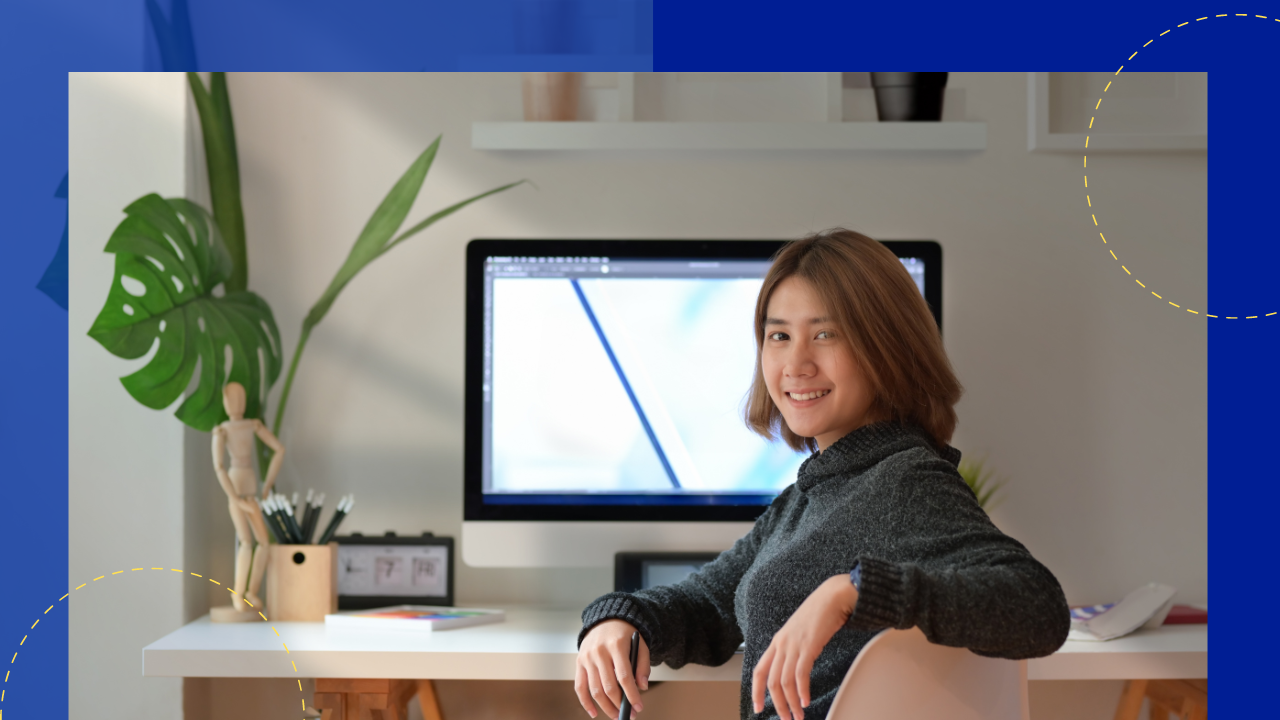 With lockdowns and restrictions in place across the globe, people are expected to stay at home. For some, this means adapting to a work-from-home setup. Others, unfortunately, lost their jobs.
But there's hope yet. Most people who have found themselves out-of-work turned to the opportunity to work freelance and take up projects they're passionate about. 
Companies have also become more open to outsourcing and hiring online workers, including virtual assistants (VA). 
VA services became one of the most in-demand roles during the pandemic. Coincidentally, becoming a virtual assistant is easy since it does not need complex qualifications to enter.
Find out how to become a virtual assistant, the qualifications you need, and the important statistics you should know in this article.
Virtual assistant: what is it?
A virtual assistant or VA refers to a person rendering service to a client remotely. VAs usually do administrative work. Though they can also provide other specialized tasks such as digital marketing, social media management, and bookkeeping.
A typical VA renders work from home or a controlled office managed by a business process outsourcing company. This setup is ideal for small businesses and startups who cannot provide office space and enough resources for them to work in-house.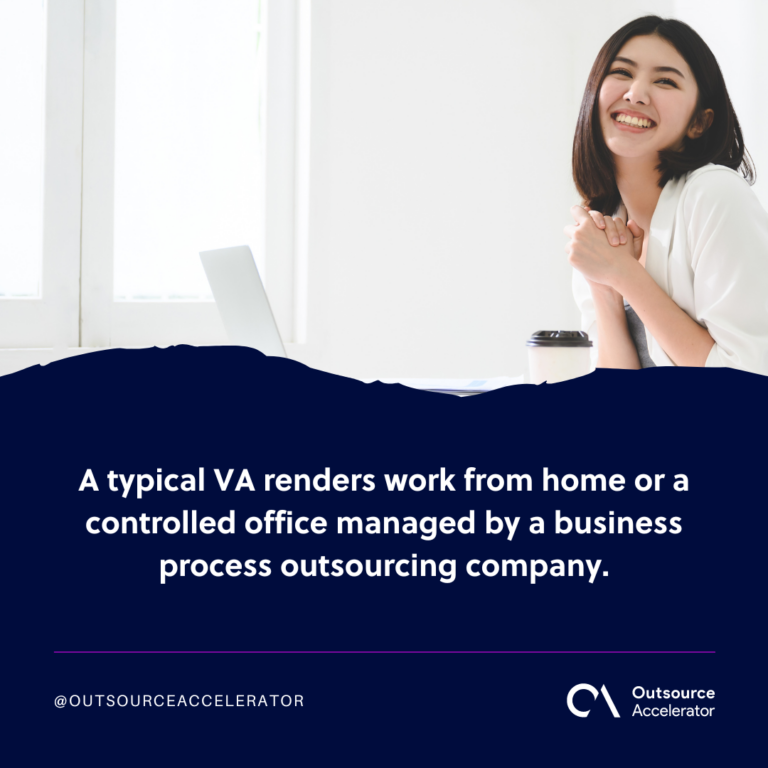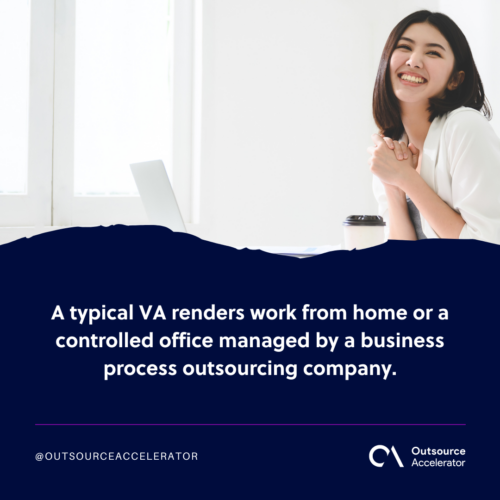 Duties and responsibilities
You can hire a general virtual assistant to do most of your administrative work, such as:
Preparing reports and presentations

Scheduling appointments

Preparing travel itineraries

Monitoring and answering email inquiries

Ordering office supplies online

Editing and proofreading important documents

Coordinating physical and virtual events
Specialized VAs, meanwhile, are hired for particular functions that require more expertise or certifications. You can delegate a specialized VA to render work for the following functions:
Social media management

Research

Digital marketing

Content moderation

Customer service
Average salary
A VA's average salary is usually affected by two aspects: location and type.
General VAs in the United States earn an average of US$19.21 an hour or an equivalent of US$57,860 annually. This rate may vary depending on their expertise, skills, and certifications. Meanwhile, specialist VAs may earn higher or lower depending on their field of expertise.
In terms of location, VAs in outsourcing countries such as the Philippines and India may have an even lower rate. Filipino virtual assistants, for instance, usually earn an average of US$10 an hour or US$500 per month. 
Virtual assistant vs personal assistant
One aspect places the distinction between a personal assistant and a virtual assistant: location. 
A VA can do a function as long as it can be done online. They can do more than just administrative work compared to a personal assistant.
Having a virtual assistant gives more flexibility to business owners since they can work with their VAs anywhere within their office hours.
On the other hand, a personal assistant (PA) renders work in-house where the business owner can closely monitor them. They can do administrative functions and anything that requires physical activity, such as preparing coffee and going to the bank.
Both can contribute greatly to the efficiency of a business owner's work. However, they can strategize hiring one or the other depending on their needs, the urgency of work, and their managing preference.
Become a virtual assistant
Professional VAs usually possess years of experience as personal assistants or office clerks. But these days, you can become a virtual assistant even when you have minimal experience or qualifications.
Education
You don't need to have a four-year degree to become a virtual assistant. But it can be an advantage for them when you're looking for clients.
Alternatively, you can undergo training and get certified by community colleges or several companies that offer online courses for virtual assistant services.
For specialized VA functions, clients might look for training certificates and licenses depending on the role to be filled.
Training and certification
There are online courses available for general VA training on several websites. These courses may range from free to up to hundreds of dollars to take. Certifications are also offered once you complete these courses.
You can undergo training for specialized roles in addition to your VA training if you want to expand your expertise at work.
Online virtual assistant courses
There are online courses available in the market for virtual assistant training and development. While getting certified is not required for the role, applicants are recommended to take these courses to gain additional learnings and apply them to their tasks.
Websites like Coursera and edX, meanwhile, offer specialized courses in social media marketing, digital marketing, bookkeeping, and research for a minimal fee. Participants will be given a verified certificate with their grades after completing the modules and passing the final test.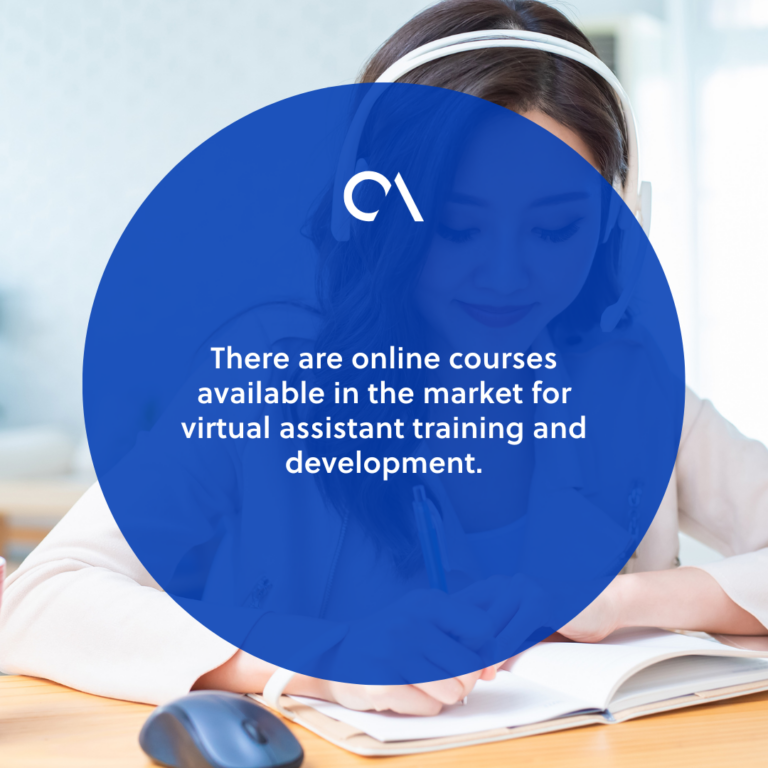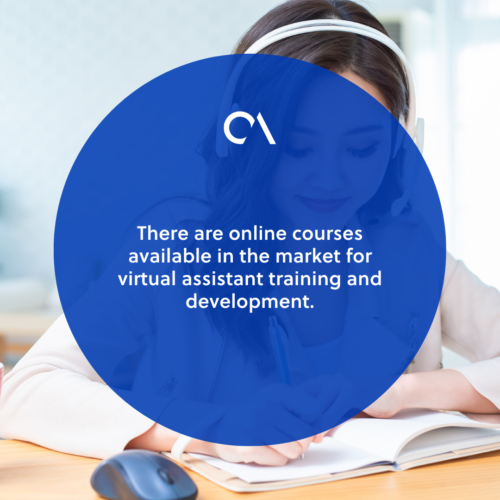 Skills
A successful VA possesses the following skills to work efficiently:
Organizational skills
As a VA, you should be an expert in organizing and maintaining office files. This is crucial especially when managing confidential correspondences from internal and external sources.
Time management
Virtual assistants deal with multiple workloads a day. You need to manage your time better to be able to prioritize tasks accordingly and get more work done quickly.
Communication skill
A part of a VA's routine involves talking to internal and external clients and suppliers of a company. For that, you need to develop effective communication skills to reach out and work with your customer's clients and suppliers better.
Computer proficiency
Virtual assistants use a wide range of online tools when working on multiple tasks. You need to be tech-savvy and comfortable in using a desktop computer or laptop, word processor, spreadsheet, and even website and social media tools. 
Ability to multitask
Urgent tasks will always be assigned anytime the client needs them. You should be able to jump from one task to another efficiently.
Equipment
Virtual assistants only need a working laptop or desktop, webcam, Voice over Internet Protocol (VoIP), and printer to work on their daily tasks. 
Depending on the role, you might need additional tools and software installed on your computer. This includes software for bookkeeping, photo editing, social media management, and document processing.
A lot of free online collaboration tools are available in the market. You can use them for better and smoother collaboration with clients.
Work environment
A typical VA either works from home or in a controlled VA office. Freelance VAs who work from home provide their equipment and tools at work with their own resources. 
For those working in the office, the company provides everything they need, including network connectivity and dedicated office space.
Ways to get hired
Despite having the tools, equipment, and skills at hand, you still need the right network, experience, and portfolio to get hired as a VA. You can get hired and secure a virtual assistant role through the following ways:
Join VA organizations
In the United States, VA organizations offer networking and skills development opportunities so they can easily get hired and earn work experience.
Build an online profile
Get clients by building an online profile through LinkedIn or other professional freelance sites. From here, applicants can also find their clients and available projects they can work on.
Create a portfolio
Gather works and client reviews, then compile them into a portfolio to secure better, long-term contracts.
Consider specializing
Specialized VAs with years of experience have the chance to find and secure better projects in the future.
Where to find virtual assistant work
Virtual assistants can find work online easily in several ways. They can opt to apply as a freelancer, under a VA firm, or in a BPO company that offers VA services to their clients.
Freelance websites
Applicants find VA work easily through freelance websites. You can either post your service offers for clients or look for long-term and short-term projects to work on. 
Most of these websites are open for clients and applicants to freely browse since they don't undergo a vetting process.
However, be careful in reaching out directly to clients. Be wary of freelance scams and fraud.
There's an increasing number of freelance sites offering skills tests you can take to show competency and knowledge in several work aspects.
Outsourcing companies
You can also apply to BPO companies, like HireSmart Staff, for VA functions. This is the best way to secure a career in virtual assistant services.
You will receive a regular salary with benefits, undergo training sessions, and have opportunities to improve your skills.
Through this method, the client and outsourcing company will take care of all your needs for work, from tools and equipment to office space.
Virtual assistant firms
VA firms usually attract virtual assistants through their dedicated websites. The setup works the same as in freelance websites. However, to get into a firm, VAs are required to take several assessment exams to test their skills and match them with a certain client.
Not all VAs qualify for a certain site. Usually, they curate and get the best VAs among their applicant pool.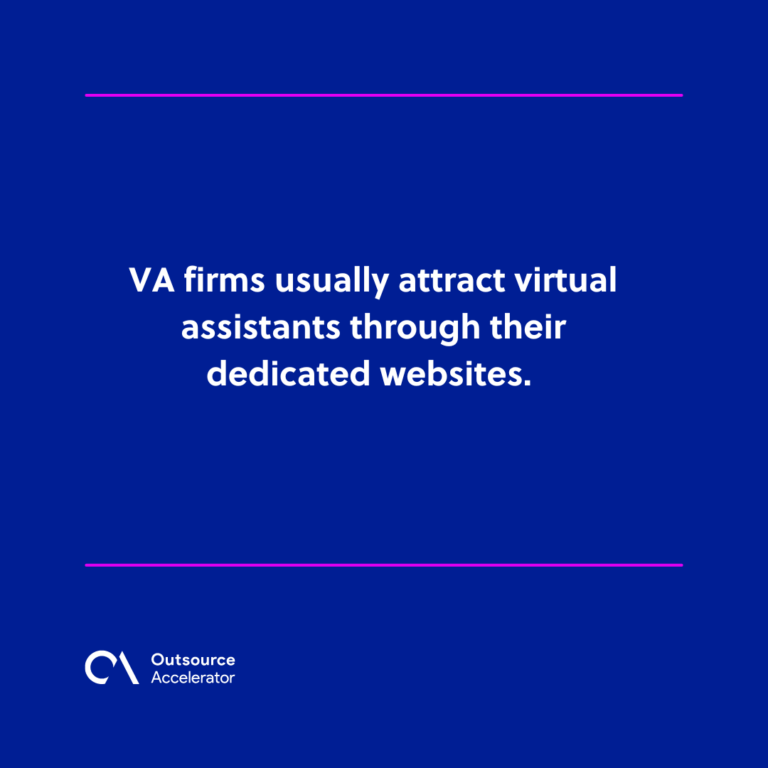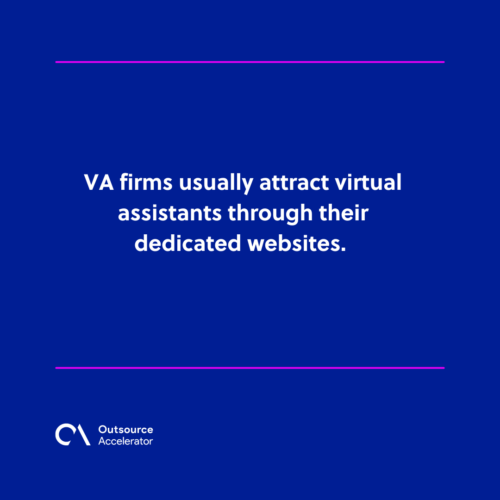 Virtual assistant statistics
Virtual assistant services are one of the sought-out functions currently in the market. Most company owners who prefer working from home find it convenient to hire a VA to do administrative work online.
Hiring virtual assistants benefits companies in several ways. For one, it helps them save up to 70% of labor costs and resources. Companies don't have to shell out much on the resources they need at work.
Remote working also cuts their attrition in half, as proven by a Stanford University study. This is because VAs take fewer vacation leaves and breaks compared to their in-house counterparts.
Lastly, VAs are happier and more dedicated to their work. A study finds that 97% of remote workers are happier than their in-house counterparts. This is due to the more flexibility and balance they have.
VA services also have a bright opportunity in the future of work. According to the Bureau of Labor Statistics, secretarial and administrative jobs are projected to decline by 9% up to 2029. With this, expect the job market to be more competitive in terms of delegated functions, skills, and most importantly, average salaries.