Hire a virtual assistant
Last updated: November 2, 2021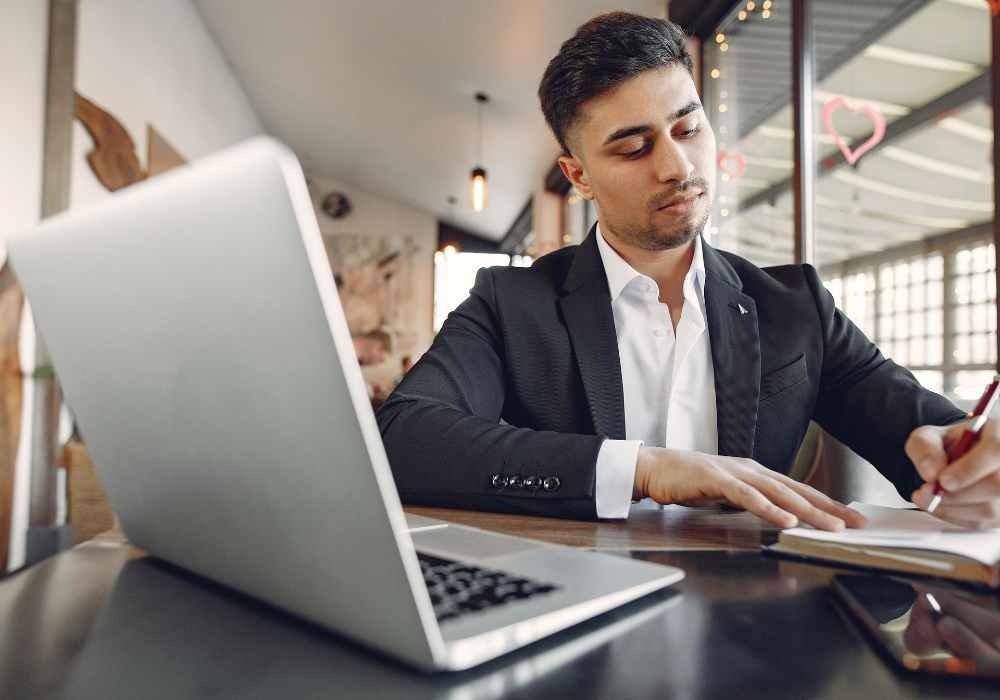 The virtual assistant industry has grown significantly over recent years. Many startup companies rely on virtual offices to cut costs, and businesses of all sizes expand their use of the internet for day-to-day operational activities. To help with the tedious and repetitive tasks, firms have sought the services of virtual assistants.
Many entrepreneurs have been promoting the advantages of recruiting a virtual assistant for several years. Many small businesses claim that hiring a virtual assistant has enabled them to scale quickly, even on a tight budget.
Hiring a virtual assistant will help them concentrate on increasing the company and generating sales by freeing up time. Outsourcing repetitive and time-consuming tasks to virtual assistants can save time and be more cost-effective.
What is a virtual assistant?
A virtual assistant ("VA") is a professional that specializes in offering administrative services for a client and provides logistical support when working outside the client's office. A virtual assistant usually works from home but has remote access to essential planning documents like shared calendars.
Virtual assistants can either be freelancers or full-time employees. To be safe, most companies hire virtual assistants through trusted Business Process Outsourcing (BPO) providers.
VAs frequently have worked as administrative assistants for several years. The demand for professional virtual assistants is predicted to boost as working from home becomes more embraced by both staff and employers.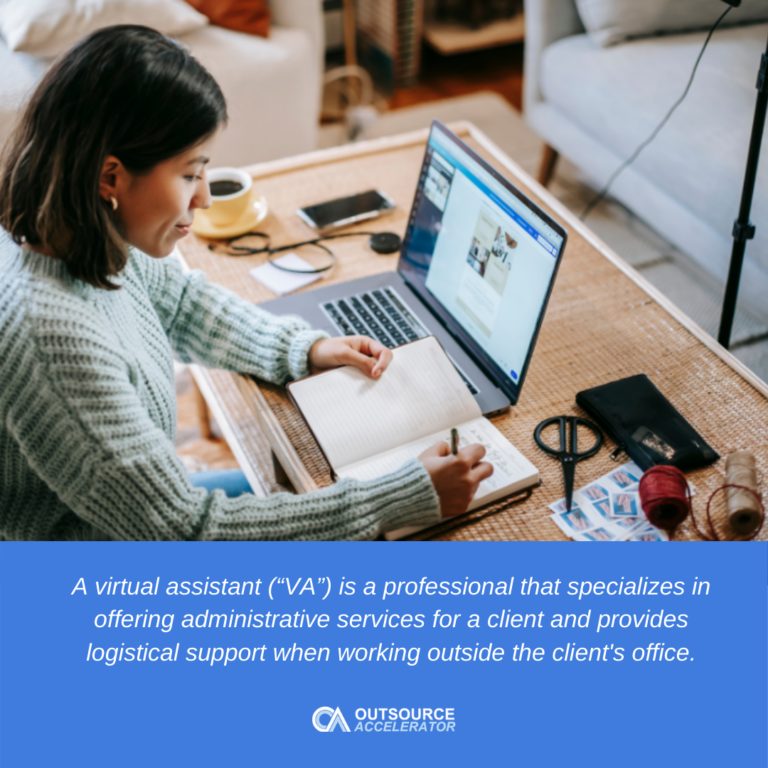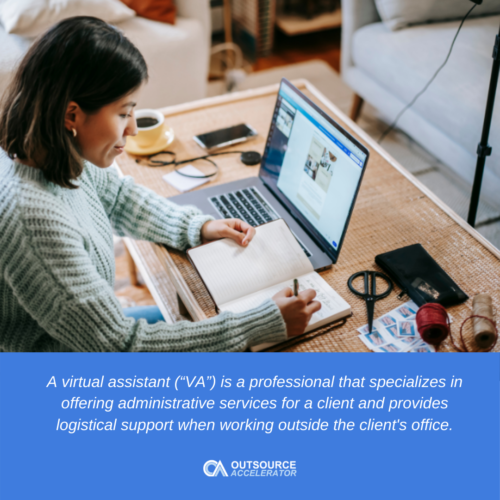 Types of virtual assistants
A Virtual Assistant can theoretically do something that does not require their physical presence as long as they have the appropriate experience, expertise, and equipment.
They come in various types, and it's essential to understand which one is better suited for the tasks you want to outsource.
Virtual administrative assistant
These virtual assistants work similarly to your office managers. The only difference is that they work from home and are unable to communicate in person. Since most busy business owners cannot keep up with all of the challenges in their market, it is best to delegate the job.
They will help you organize schedules, create details and presentations, and create reports, allowing you to focus on your business's core responsibilities. A virtual administrative assistant is also known as a general virtual assistant.
Specialized virtual assistant
A Specialized Virtual Assistant has a particular skill set and is best suited to managing a specific process in the company. They are usually more costly than general virtual assistants because of their advanced and more specific expertise
Examples of specialized virtual assistants are:
Real estate virtual assistant.

A real estate virtual assistant provides a variety of resources related to the real estate industry. They provide several services, including locating property information, data entry and management, and cold calling and lead generation activities.
Virtual research assistant.

A virtual research assistant can help the company with online research tasks. A virtual

research assistant

will churn out understandable information from the internet and deliver it to you in an easy-to-understand format.

E-Commerce virtual assistant.

For all companies, an e-Commerce virtual assistant is highly beneficial. The ability of e-commerce entrepreneurs has grown in tandem with the growth of industries.  

Virtual bookkeeping assistant.

  They are the virtual economic assistants who assist you in achieving the company's cash flow. Virtual bookkeeping assistants can handle the company's books and even payroll management.

Virtual marketing assistant. A virtual marketing assistant offers clerical and managing projects support to a company's marketing department. Marketing is a constantly changing sector, with new ways being developed to create and construct new markets.
Social Media Virtual Assistant.

A virtual assistant for social media is a social media specialist who promotes the company, its products, and its services, online. To succeed, businesses must keep up with current trends and be recognizable and identifiable for their products and services.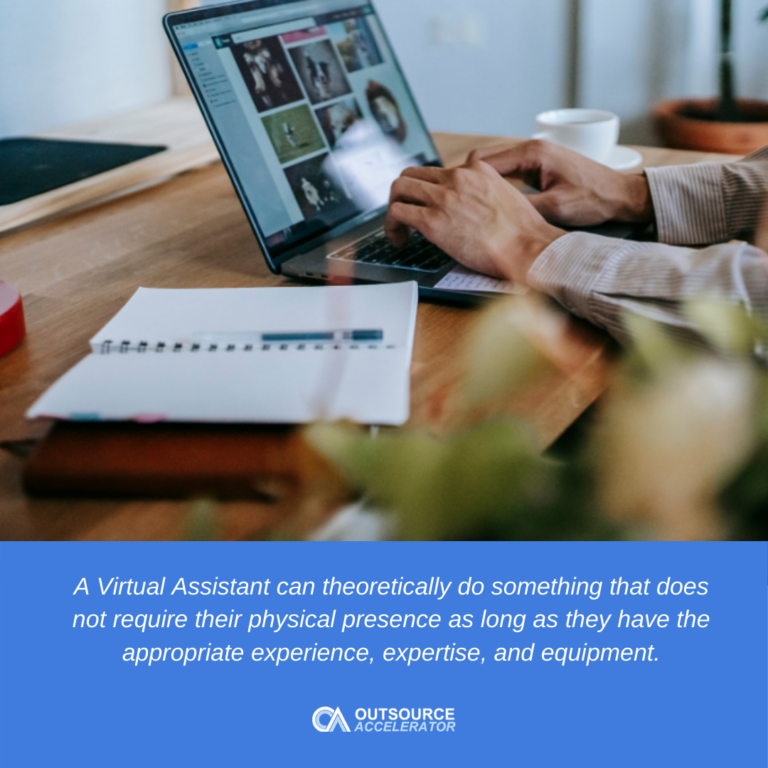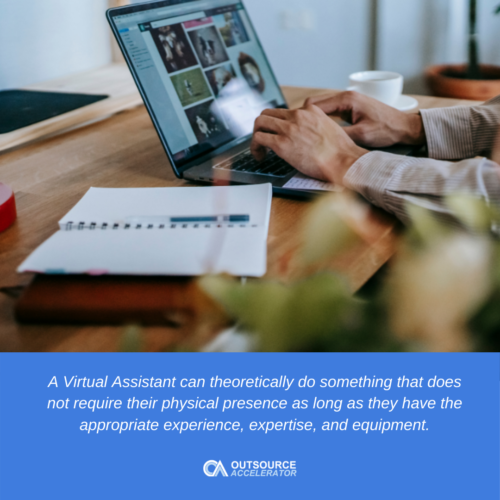 What virtual assistants do?
A virtual assistant operates from a different location to offer various services to investors or companies, from digital media functions to appointment arranging and event management to personal errands. A virtual assistant was trained and flexible to do almost anything.
Virtual assistants have a variety of tasks which includes the following: 
Social media management.

Managing several social media accounts

includes paying attention to responses, reaching out to users, uploading content, sharing content, and scheduling content.

Event planning and management.

Suppose you don't have the time to organize and coordinate your activities. In that case, a virtual assistant ensures that the event goes smoothly.

They are keeping track of schedules, meetings, and emails.

A virtual assistant can help with calendar bookings and avoid double bookings, missed appointments, and meeting rescheduling.

Report writing.

Virtual assistants are well-suited to administrative duties, report preparation, and possibly even content development.

Help with booking hotels and restaurants.

Virtual assistants will take the burden off by assisting you with scheduling appointments to make travel plans for you and your business associates or clients.

Simple roles in digital marketing. An online marketing virtual assistant has years of experience and has been qualified in various

online marketing activities

.
Hiring a virtual assistant
Businesses that do not take advantage of technological advances will find themselves slipping behind more ambitious competitors. Most travel and hospitality companies use a virtual personal assistant to improve the high level of customer service. And now, more companies from different industries consider hiring virtual assistants to help with their daily operations.
As an entrepreneur, one of the first and most critical hires you will make is a virtual assistant. You should employ a virtual assistant if you find yourself spending most of your time on such time-consuming everyday tasks.
They can easily manage these operations, allowing you to concentrate on more critical tasks. BPO firms, such as Outsource Access, can assist you in finding skilled VAs that are fit for your brand.
Must-have skills for a virtual assistant
A virtual assistant must have the relative set of skills as a personal assistant, project manager, or office manager. If you want to make the transition from your current role to a virtual assistant, here are the three fundamental skills you must possess:
Communication skills.

A virtual assistant must interact and communicate effectively with your clients, both verbally and in writing.

Computer skills.

If the client needs maintenance and support for his business website or database system, internet and computer skills may be required.

Skills in time management.

Virtual assistants must be able to plan, set deadlines, and keep track of their time.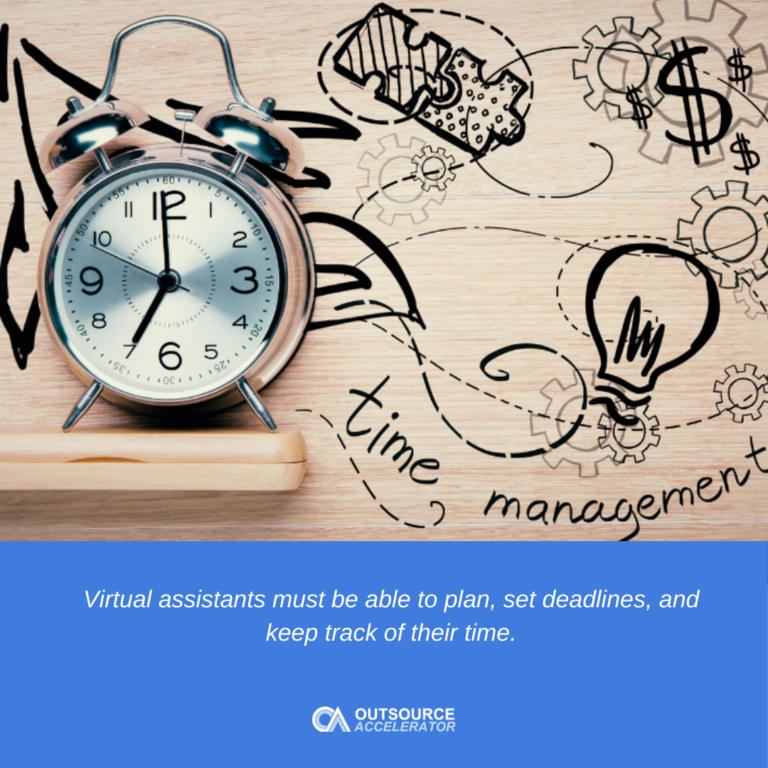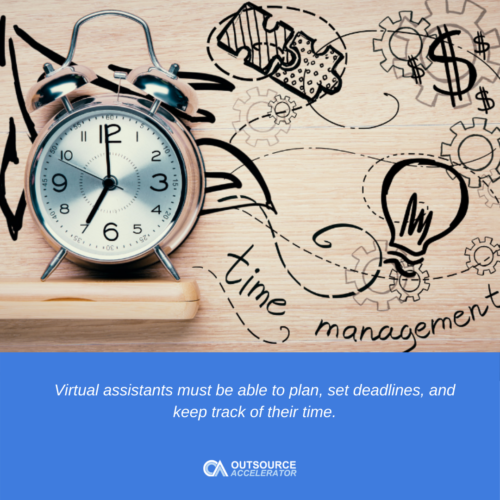 How to hire a virtual assistant
You are recruiting a team member when you employ a virtual assistant. You may hire a virtual assistant by following these four steps:
Step 1: Make a list of the qualities and skills you're looking for
It's essential to have a solid grasp of the qualities and skills you're looking for in a virtual assistant. Hiring a virtual assistant is like hiring every other employee to ensure that they are eligible for the position.
Instead of focusing on a person's previous job experience, the interview process should focus on managing specific circumstances.
Some essential yet straightforward virtual assistant qualities to consider are:
Someone who has worked in the industry before.

Someone who is an expert – or at least familiar – with your industry.

Look for someone eager to learn, responsible, dependable, and can work under minimal supervision.
Step 2: Choose a communication channel and strategy
Adopting a platform and communication style that you all adhere to is one of the most important ways to keep communication open. In any relationship, communication is crucial, mainly when dealing with someone who does not work in your office. It's critical to establish a system that works for you.
Step 3: Post a job listing/hire a BPO partner
Once you've finished writing your job description, you'll need to post it online and begin accepting applications. Posting your job description directly on job listing sites like Upwork is one choice. Another choice is to use a recruiting service or directory for virtual assistants.
As mentioned above, more and more businesses are seeking the staffing services of outsourcing providers. This is so they can ensure the quality and accountability of every staff that they hire.
Companies can also turn to Outsource Accelerator's directory of over 700 BPO suppliers to find trusted and established BPO partners for the best prices.
Step 4: Interview and require a trial period for the best candidate
Examine the applications received and set up interviews with the top 5-10 applicants. Choose the most eligible candidate for the job and offer them a trial period.
A trial period provides extra motivation for your Virtual Assistant to do an excellent job for you, understanding that it will lead to a permanent position on your team. To avoid future misunderstandings, have them sign a formal service agreement.