Top 20 VA Companies in Spain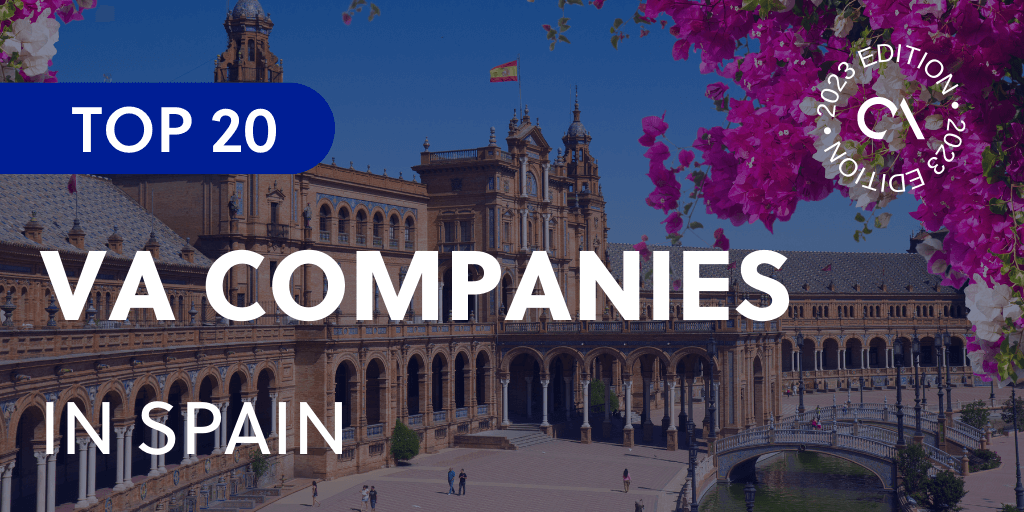 Spain is one of the most developed social markets in the world. It ranks 14th globally with one of the highest nominal GDPs. In Europe, it has the fourth largest market and economy. 
Spain is a member of the European Union. This entails that the standards, processes, and institutionalized economic and political policies are well-entrenched in its market.  The workforce is highly skilled, professional, and experienced. 
With a booming economy and well-established policies and regulations, it is no surprise that Spain is one of the most sought-after markets for businesses looking for outsourced support for operations. 
Spain as an ideal outsourcing location
Spain is known for its culture, arts, and great food. Being a dominant figure in world history, many countries enjoy the food, religion, and majestic paintings of prominent Spanish artists. 
But what makes Spain more marketable is it has become a melting pot of different cultures and nationalities. Aside from major European languages, most Spanish people know Arabic, Greek, English, and other Asian languages, which makes it viable for outsourcing.   
What are VA Companies?
Virtual Assistant (VA) companies are third-party service providers that match skilled and experienced VAs to clients that need them. These companies offer a wide range of services which include administrative operations, content management, and in some cases, website development. 
The main goal of outsourcing these services is to reduce the costs of operations. Instead of hiring a professional, which entails monthly remunerations and costly benefits packages, VA companies offer fixed contract prices, with fixed terms, and usually tailor-fitted services. 
Focus on core competencies is another advantage of hiring VA companies. Businesses are usually plagued with menial tasks that take too many resources and effort. With the automation services of most VA companies, these menial tasks can be accomplished in seconds.
Tailor-fitted solutions can also be considered a major advantage of VA companies. With the plethora of services these VA companies have, it is not common to have these services in bundles depending on the needs and means of a company.   
List of 20 Best VA Companies in Spain
Top global outsourcing lists
Outsource Accelerator is the world's leading outsourcing marketplace and advisory. We list over 3,000 BPO firms located across the globe in our global directory, and we provide detailed information, price guides, and reviews.
Whether you're a solopreneur, SME owner, or a corporate executive, we can help you find the most suitable outsourcing provider for your business.
Explore our outsourcing directory now. You may also check out our Top VA companies lists per country here:
Top 20 VA Companies in Spain
Below is a list of the best VA companies in Spain. Most companies offer back-office solutions and digital content management services. With the development of AI and e-commerce, VA companies have varied their solutions
Aidey is a digital BPO company focused on providing businesses with e-commerce solutions. The company offers flexible solutions for different business sizes, especially in the hospitality industry. Aidey is a trusted partner of known brands such as Airbnb, Guesty, and Trivago.
Bukit BPO is a consulting, technology-oriented company established in 2014. The company specializes in document management and financial data processing. The main sectors it services are banking, IT, and legal.
CCM is a customer-focused BPO that provides back-office administrative services. Specializing in various customer support solutions, the company takes into consideration the needs and means of its clients, allowing them to customize the services they get.
Data Centric Solutions leverages technology to create value for its clients' needs. With 14 years of experience in the market, DataCentric is a leader in database management and administrative solutions enabling businesses to scale through actionable insights.  
Essential Outsourcing operates in five different countries: Croatia, Mexico, Portugal, Spain, and Vietnam. The company uses multichannel solutions to generate leads, book appointments, and conduct market research. 
Grupo CMC is a technology-based company that integrates human ingenuity and resources with automated solutions. The company harnesses AI in handling back-office operations. Grupo CMC recently merged with CGI. 
JMAE is a professional service company with 45 experts working in different fields of business law and operations and financial consulting. The company specializes in different aspects of corporate law, which helps businesses to focus on key strategic operations. 
Konecta is a solutions-oriented company based in Madrid. The company partners with various sectors, including Media, Education, and Health. Process automation is its main flagship solution that encompasses back office and BPO services.
Newco boasts of its AI-powered solutions which create a huge transformation in customer support. Leveraging customer satisfaction and innovation, the company provides seamless integration of front and back-office services for its clients. 
Neyond was established and incorporated in 2004. The company's expansion to Lisbon, Madrid, and Porto paved the way for its 600 national and multinational clientele. Setting the standard, the company is ISO 9001:2015 certified. 
Nova BPO is an administrative and accounting solutions company with 15 years of experience. Known for its specialization in documentation management, the company handles digitization, data capturing, and document printing services. 
The company is popularly known worldwide as a portal for freelancers. It caters to different kinds of experts offering specialized services and industries looking to employ expert services. Upwork has been in the industry for two decades offering flexibility and connectivity to better opportunities. 
Parera is a consultancy company based in Madrid offering Administrative management, outsourcing, and tax consulting services. The company is well-known in Madrid for its expertise and length of service in the industry – 25 years.
PresenceME is a digital marketing company that specializes in content creation, SEO analytics, and digital management. The company has mastered the science and art of online presence, which allows the localization of its international clients and vice versa. 
Remote Co-worker is an international VA company offering a diverse set of solutions handled by skilled professionals who have been in the industry for years. The company caters to bookkeeping, real estate, and BPO services. 
Quarnstrong & Vang (QV) is a trusted company by popular brands such as Estatta, Hafsland, and Inselo.  The company specializes in inbound and outbound services and back-office support solutions. 
QV is known for its multilingual expertise in sales, which is ideal for clients looking to penetrate various markets in Europe.  
Formerly named UGH, Qipert was established in 2002, and its initial dealings were mortgage processing. The company diversified to outsourcing services and now caters to insurance and financial businesses. 
Qipert specializes in BPO, Real Estate Management, and Mortgage process outsourcing.  
TDCX is a global leader in IT and digital outsourcing solutions in Asia. The company expanded to Spain and some parts of Europe to broaden its market share and range of services. TDCX offers tech support, analytics, and content moderation services. 
Truelancer is a multinational company offering various services, from administrative solutions to research and development and data entry. Its platform provides opportunities for experts to find the right project while businesses can seek the right expert for their needs. 
Xterna is a Barcelona-based outsourcing company that has been in the market for 25 years. Its outsourcing portfolio includes accounting, labor, and financial solutions. It has a global reach in more than 50 countries through BOKS International.