Top 30 VA Companies in Los Angeles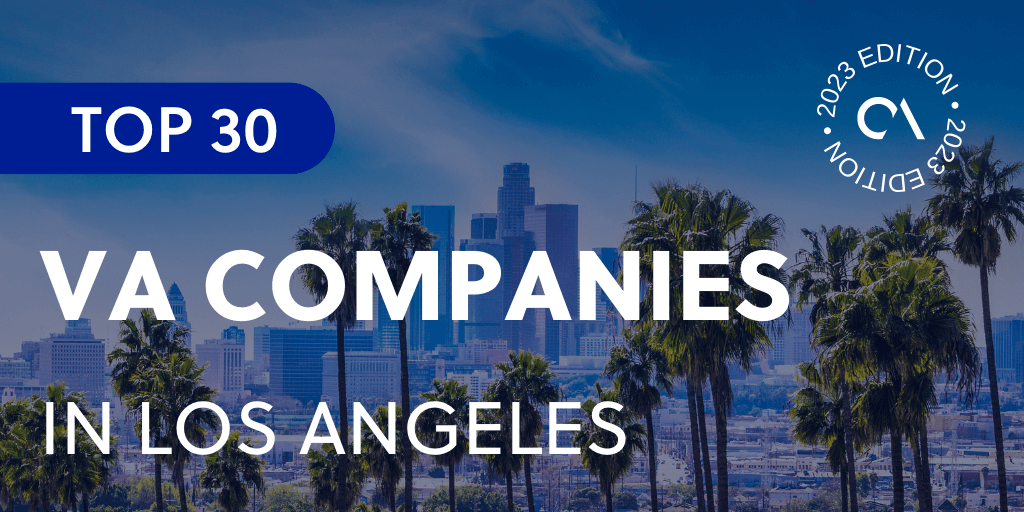 A flexible and well-staffed team is more important than ever. Virtual assistance allows businesses to get professional support at a flexible model to best suit their needs. 
Working with virtual assistants helps businesses save money by hiring experts at a flexible rate. This helps create a cost-effective way to streamline operations without overstaffing and ensuring uncompromised work quality.
It's no wonder why a study from Technavio found that the virtual assistant market is projected to grow at an 11.79% compound annual growth rate in the next few years due to increased demand for advanced customer services.
If you're wondering where to find support for your business operations, check out this list of the top VA companies in Los Angeles. 
Why hire a Virtual Assistant in Los Angeles
Los Angeles is home to different industries. Giants from the entertainment, aerospace, technology and fashion industries are headquartered in this location. It offers an array of creative and highly-technical individuals tapped by institutions worldwide. 
It's no wonder why businesses can find high-quality virtual assistants in this state. Here are some highlights of offshoring to culture-rich places such as LA. 
Strong workforce
California had the largest civilian labor force in the United States with about 18.92 million people as found by Statista. This number contributes to the booming economic growth of the city. Businesses can tap into this opportunity to work with such a robust population. 
Flexibility
Hiring a virtual assistant can be a great way to free up your time and focus on the things you love. Virtual assistants can take over administrative tasks, freeing you to focus on other important projects.
Make a mark
One way to have prospects and clients remember you is to create a strong connection with them. Without the right tools in place, it's easy to lose track of time and lose the chance to make an impression.
Virtual assistants can help you provide customized experiences for each individual, leading to greater engagement and conversion opportunities.
Top global outsourcing lists
Outsource Accelerator is the world's leading outsourcing marketplace and advisory. We list over 3,000 BPO firms located across the globe in our global directory, and we provide detailed information, price guides, and reviews.
Whether you're a solopreneur, SME owner, or a corporate executive, we can help you find the most suitable outsourcing provider for your business.
Explore our outsourcing directory now. You may also check out our Top VA companies lists per country here:
Top 30 VA companies in Los Angeles
Drive productivity with the best virtual assistants in Los Angeles. Choose from a variety of services, including project management and personal assistance.
Delegated is a virtual assistant company that provides services to small businesses and executives. It supports front office, back office, and personal operations. The company has worked for renowned companies such as Beats by Dre and Hulu. 
Established in 2003, Delegated has a team of US-based, college-educated, and specially trained assistants who specialize in financial, administrative, and executive assistant services.
Buying Time is a California-based woman-owned business. Its services include online business management, Keap implementation, and website packages to provide specialized support.
Its virtual assistant services cover billing, project management, business development, marketing, and other services to help businesses scale. 
VaVa Virtual Assistants is a full-service virtual assistance provider that connects global clients with professionals. The women-owned business was established in 2011. 
Today, its services include design, social media, and executive assistance. The company's core competencies include virtual assistance and social media.
Wing is a marketplace for businesses to hire remote talent for recurring tasks such as social media management, executive assistance, data entry, and sales calls. Wing Assistant has affordable rates so your company can get the support it needs without breaking the bank.
Clients are given a choice to work with either global or US-based assistants. Its packages differ by specialty and hours of service. 
Pralto helps businesses with document preparation, CRM and campaign management, time management, travel management, and custom process design.
The company helps individual, organization, and corporate security by providing specialized support. It follows the best practices in its client's niche and data security.
FreeUp offers a quick way to hire pre-vetted freelancers online. It connects businesses with skilled professionals by recruiting, screening, and interviewing hundreds of freelancers every week. This helps reduce back and forth and get projects going uninterrupted.
Its services provide specialized support for projects ranging from Web, Mobile, & Software Dev to eCommerce.
Remote CoWorker was founded in 2013. The company offers 24/7 support for companies in different industries.
Its team of assistants is fluent in English and Spanish. Customers also have the option to work with assistants who are skilled in their niche. 
ReceptionHQ operates from different locations around the world to help businesses and entrepreneurs provide reception services for their callers. It offers 24/7 live call answering with no lock-in contract and bilingual receptionists. 
Its service plans start at 50 minutes monthly and up to 900 minutes monthly. Interested individuals or companies may take advantage of its 7-day free trial. 
Okay Relax is an American company that offers personalized assistance. The company offers support for documentation, travel planning, and calendar management, among other administrative tasks. 
Working with the company allows businesses with screened assistants and flexible service models. 
Staff Boom helps companies find, hire and retain the best talent for their company. Clients can work with this provider to get custom solutions designed for small and medium-sized businesses.
The company works with brands for legal and accounting tasks, insurance marketing, back office tasks, and the like. 
Hello Rache provides Virtual Assistant Solutions for Medical, Dental, and Veterinary Professionals. Founded by a family doctor in 2017, it has been providing specialized support ever since.
The family-owned business trains its assistants on proper privacy practices and makes them complete a HIPAA training program.
Hired Support helps companies with lead generation, transcriptions, administrative tasks, and more. Its clients come from all around the world for this company's support. It is headquartered in California and offers a seven-day free trial for its services. 
Arise leverages virtual-learning innovations, on-demand capacity flexibilities, and security to support customer growth. It is trusted by Fortune 500 companies as well as entrepreneurs and organizations.
For solutions, the company helps with contact center outsourcing, business continuity, omnichannel support, and more. 
MyTasker is a Virtual Assistant company based in the United States. It offers support for companies needing to delegate research, transcription, email management, e-Commerce management, and miscellaneous assistance.
It has provided 24/7 support for entrepreneurs, companies, and students since 2012. 
24/7 Virtual Assistance, Inc. provides virtual assistance services through live chat, bookkeeping, word processing, and filing, among others. 
The company was founded in 2006 as a payroll support service. Customers now trust the company to provide specialized support in areas such as marketing, lead generation, and real estate.
Virtalent works with a team of assistants—all of whom have at least 15 years of experience. These assistants connect businesses with highly-skilled and versatile professionals.
Its services range from travel management to inbox management. Its services are great for small businesses as it offers fully managed services and flexible hours. 
Virtual Assistant Talent is a VA service provider that connects companies with experts on the task required.
The Better Business Bureau-accredited company offers two types of support: technical and non-technical. Technical support involves creative and development tasks, while non-technical involves administrative support.
Magic offers a fast, affordable way to hire virtual assistants. It helps businesses find the best assistant match for any project or initiative, taking care of sourcing and screening VAs.
Working with the company provides a fast, affordable way to hire virtual assistants. It connects businesses and entrepreneurs with talented, vetted virtual assistants for any project or initiative.
STAFFVIRTUAL is a business process outsourcing (BPO) company that specializes in customer support, back office, and IT outsourcing. Its services include payroll, data entry, logistics coordinators, and many more.
Its process starts with four steps and takes two to three weeks to assemble a team of professionals for your company.
20Four7VA provides virtual assistant services to startups and enterprises, helping them be more productive, efficient, and focused on their business growth.
The Better Business Bureau accredited company employs virtual assistants with expertise in providing support for telehealth, construction, podcast, and eCommerce.
Elite VA, also known as EVA, offers service plans starting at twenty hours. Its basic plan includes a package with a virtual assistant, relationship manager, and support team.
The woman-led business provides virtual assistant support to law firms and businesses. Its team provides support for tasks such as law, marketing, temp staffing, and executive assistant to support different projects.
The Mellon Group provides a full range of technology solutions, including outsourced contact centers. It provides a range of virtual assistant services, including digitization and data entry, file management, and support for people-intensive tasks.
The company has been providing outsourcing services since 1994.
Ossisto is a virtual assistant company with a team of professionals in the business of providing specialized assistance. Its assistants help businesses with tasks involving bookkeeping and social media.
The company operates in five locations globally and provides 24/7 assistance for its customers. 
TaskBullet is a virtual assistant agency that offers services in different fields, such as marketing, research, and phone answering. It provides affordable and high-quality services to entrepreneurs, startups, and small businesses. 
Its staff with years of experience in their respective fields will help businesses work with knowledgeable assistants.
Phoenix Virtual Solutions offers specialized virtual solutions for individuals and companies involved in healthcare. It provides support to healthcare providers, insurance companies, and the like.
The services it offers include customer service, bookkeeping & accounting, back office, medical billing, and data entry.
GetFriday helps entrepreneurs and executives to organize their time more effectively and leverage new opportunities. Its team of virtual assistants helps with time-consuming activities such as bookkeeping, analytics, and SEO marketing.
Companies and individuals can expect English-speaking assistants with 24/7 support. The company also offers backup assistants.
Bizee.co is a VA service provider with affordable marketing, social media, and e-commerce support. Its team of assistants is managed by team leaders with at least five years of experience.
Its rates vary by what type of service you are planning to get, be it social media management, eCommerce support, and the like. 
VXI's solutions help companies create remarkable customer experiences. Its services are geared to optimize organizational efficiencies and drive growth.
Companies can work with this provider for customer care, technical support, and other administrative tasks. 
Premium Help is a virtual assistant company that offers real estate assistance, social media management, administrative assistance, and more. With years of documented experience, we strive to provide support to clients while offering end-to-end security for data protection. 
Wishup's remote teams support different customers, such as entrepreneurs and businesses, to build efficient teams at a reasonable cost.
The company's services include assistance with administrative and project management tasks. The pre-vetted professionals help with tasks such as query management and lead generation.