Top 20 VA Companies in Poland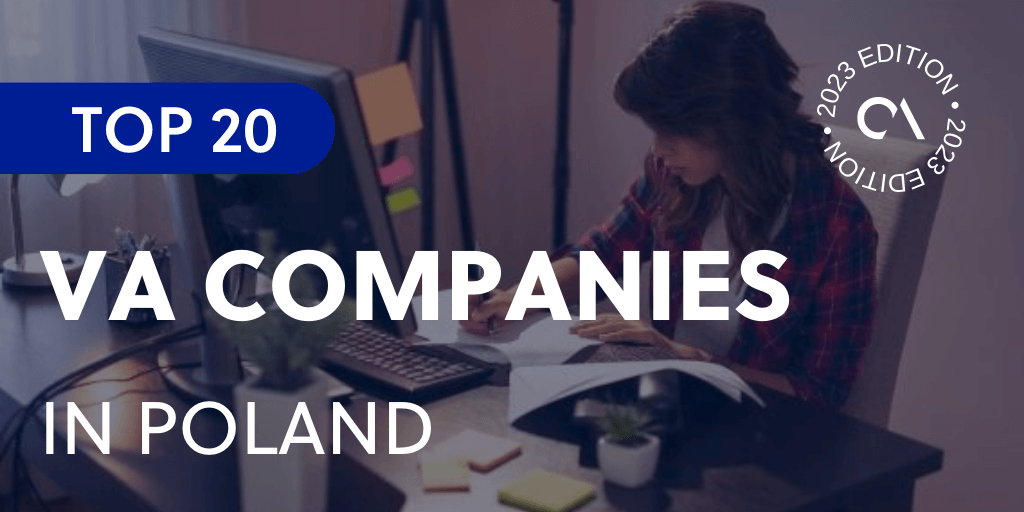 Poland is a country in Central Europe rich in cultural diversity, history, and natural beauty. The country is the fifth most populous across all European Union member states and has a fair to temperate climate. 
Polish society has one of the most developed markets in Europe. In terms of economy, Poland is considered to be a middle power which implies that businesses thrive in the country, making it a viable investment destination for multinationals.
The country has an established and well-developed tax system which makes it possible for the government to provide a lot of public goods to its citizens, including free university education and healthcare. 
The Polish workforce
As a member of the EU, the Polish workforce follows strict regulations and standards of performance and excellence. The majority are multilingual, experienced, and skilled. 
With the abundance of BPO and multinational companies in the country, the Polish workforce is equipped and tested with IT technologies, AI solutions, and back-office services. 
Benefits of VA services
Virtual Assistant Companies or VA Companies are contractual service providers which offer end-to-end solutions to various needs of a business. The contractual relationship makes it easier for businesses to look for the best package or offer in the market. One can shift from one VA company to another if the performance is not good.
VA companies offer a great deal of flexibility and scalability for businesses. In terms of budgeting, a company can set a threshold and look for VA companies that will accept it. Normally, VA companies tweak their services according to the budget. 
In terms of scalability, VA companies empower business owners to focus on growing their businesses. By taking the burden of administrative tasks off the shoulders of the company, employees can work on tasks that create value for the business. 
List of top Polish VA companies
Top global outsourcing lists
Outsource Accelerator is the world's leading outsourcing marketplace and advisory. We list over 3,000 BPO firms located across the globe in our global directory, and we provide detailed information, price guides, and reviews.
Whether you're a solopreneur, SME owner, or a corporate executive, we can help you find the most suitable outsourcing provider for your business.
Explore our outsourcing directory now. You may also check out our Top VA companies lists per country here:
Top 20 VA Companies in Poland
Below is a list of the top VA companies in Poland. The majority of the companies are technology-oriented and customer-focused.
Accounting ace, or Accace, started as a small accounting firm in 2006. From its humble beginnings, the company has expanded to administrative solutions such as corporate and secretarial services, payroll and HR administration, and consultancy. 
AFK-COB is an outsourcing company focused on providing administrative services such as accounting, HR processes, and web content development. Being in the industry for 20 years, the company focuses on helping startup businesses and medium-scale enterprises. The company uses its own software enova365 ERP system in assisting its diverse clientele. 
BPG is an internationally known company operating in various cities in the EU such as Berlin, Frankfurt, and Warsaw. The company specializes in bookkeeping, taxes, and legal consultancy of any business transactions. BPG was established in 1979 and continues to diversify its services. 
CCDS is a group of young professionals who work with multiple clients with different needs and specifications locally and internationally.
Supporting clients with its expansive and diverse communication channels, the company offers back-office solutions, call services, and email management.  
CCIG is a multilingual, multinational BPO company with two decades of experience under its name. As an industry leader, it specializes in multi-channel support and customer-focused back-office solutions. 
Central Warsaw goes beyond the usual secretarial solutions offered by VA companies by offering expert solutions in the field of finance, taxes, sales, and marketing. These are important for local and international companies looking to operate a business in Poland. 
Cotel is a research-oriented BPO company that started in 2006. As a company specializing in sales, marketing, and client support services, it aims to transform menial tasks into valuable solutions clients can bank on in performing their endeavors. 
OEX Cursor is a leader in marketing and auditing services. Through the years, it has serviced and enabled popular brands like Bosch, Coca-Cola, and Dr. Oetker across its company campaigns and initiatives, including some administrative functions.
Genli is a company dedicated to meeting the marketing needs and requirements of its diverse clientele. This company specializes in email management, management and consulting, and IT solutions.
Genli's main advantage lies in its automated solutions, which add more value to its client's needs. 
Gold Place Business Center started operating in 2010, offering professional accounting and legal services. Clients turn to this company for business start-up requirements and managing monthly responsibilities in paying taxes and other dues.
The majority of its clients are big corporations and businesses lacking time to process some of their crucial tasks.  
IPTCC is a B2B, B2C BPO company that has been in the industry for 16 years. The core competencies of the company are appointment setting, database management, and voice services. As a call center company, it handles complaints and generates marketing leads.  
Jerozolimskie is a Warsaw-based support and advice company offering multiple services. The company specializes in offering personnel and HR-related solutions, which include employee training and management.
Jerozolimskie's solutions are supported by expert legal advice and skillful accounting management and troubleshooting services.  
KODA bots develop chatbots to support its clients. Integrating AI into customer service, the company tailor-fits solutions based on the needs of the client.
Kontador, a company based in Wroclaw, Poland, offers reliable, time-tested administrative solutions.
The company is an industry veteran with 20 years of experience servicing individual clients and businesses, mostly startups and medium-scale enterprises, in accounting and company registration needs. 
Corporate administrative processes can be quite tricky and daunting, especially for businesses employing foreigners to Poland.
Lege Artis is a company specializing in processing legal and administrative requirements of businesses in terms of their immigration needs. This includes securing work and residence permits.
OmniOffice was established in 2013. It initially catered to freelancers and small-scale businesses, eventually, it branched into accounting, bookkeeping, HR, and payroll services.
The company also offers marketing support and legal services to help its clients in managing their businesses in various aspects. 
Simply Contact is a company that has mastered omnichannel customer support. The company offers data analytics, chat support, and customized solutions that enhance customer satisfaction and experience. 
Sitel is a premier BPO company offering VA and administrative support worldwide. The company is a leader in technology, back-office solutions, and content management. The company operates 24/7 and has thousands of agents locally and abroad.  
Vimar takes pride in its secretarial expertise combined with accounting and bookkeeping solutions. The company is located in one of the most prestigious skyscrapers in Poland, the Concept Tower.
Wadmex is a company offering accounting and online support services locally and abroad. It conducts its services in four main languages: Polish, English, Ukrainian, and Russian. 
This company and its employees are all accredited by the Ministry of Finance. Employees have two to three decades of work experience in the industry, ensuring quality services and solutions are delivered.