Top 30 VA companies in Australia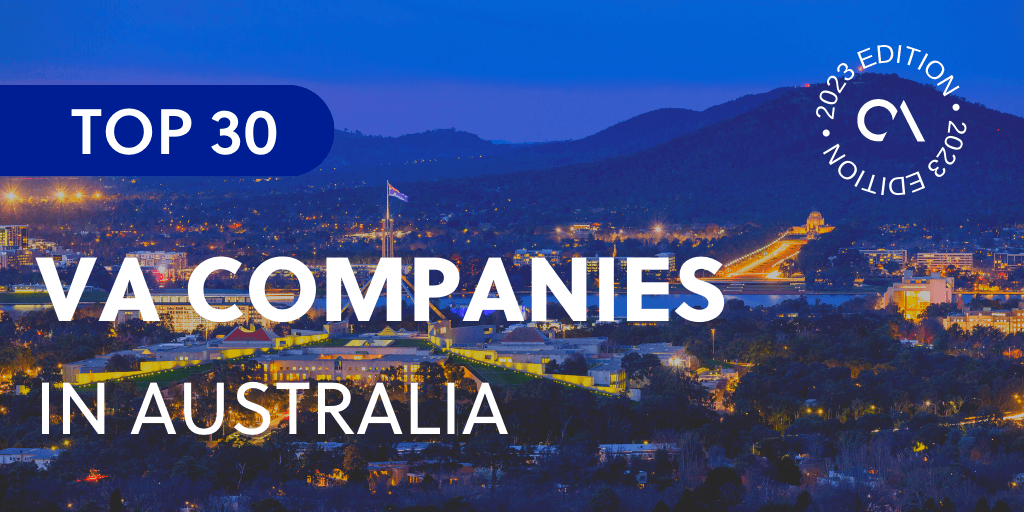 List of top VA companies in Australia
Companies of different sizes continue looking for the best virtual assistants (VAs).
VAs are remote employees that offer support in varying roles. Often hired in an administrative or clerical capacity, firms can immediately get an experienced professional for their operations.
Accessibility, costs, and the quality of work all make virtual assistants very valuable in the post-pandemic business market. 
This article will help you outsource your VA needs to Australia, a rising hub in this particular business process outsourcing niche.
How Australian VA companies can help you
Hiring a VA translates to savings in office space, equipment, and onboarding costs. This is why many companies prefer having these off-site professionals as a part of their teams. 
The sixth-largest country has become a preferred source of virtual assistants across the world. Despite minor language differences, Australia is home to Native English speakers, which is a cornerstone of international businesses.
In terms of costs, Australian virtual assistants cost less than US-based ones, but Australian VAs have higher rates than those based in India, Jamaica, or the Philippines.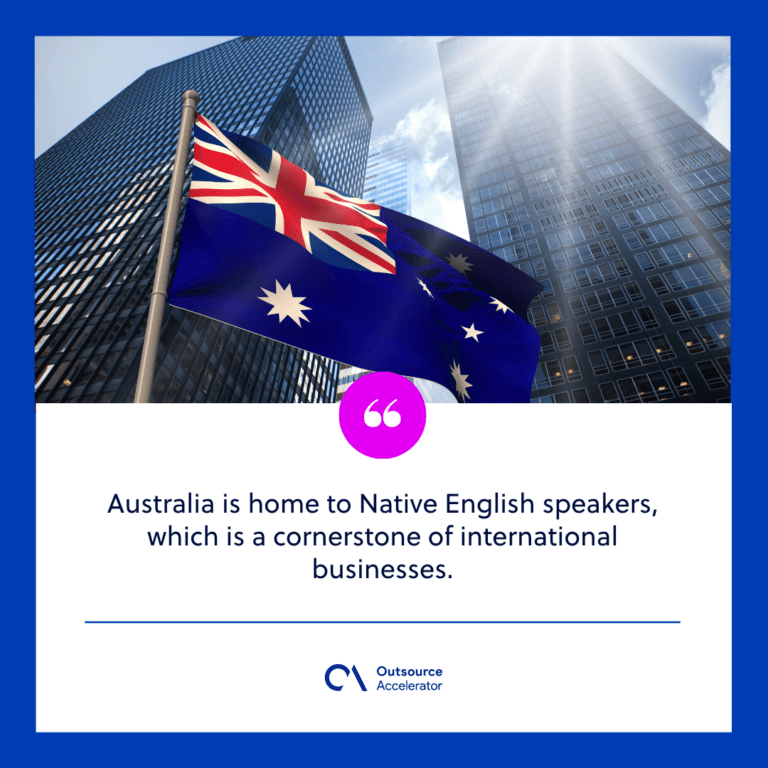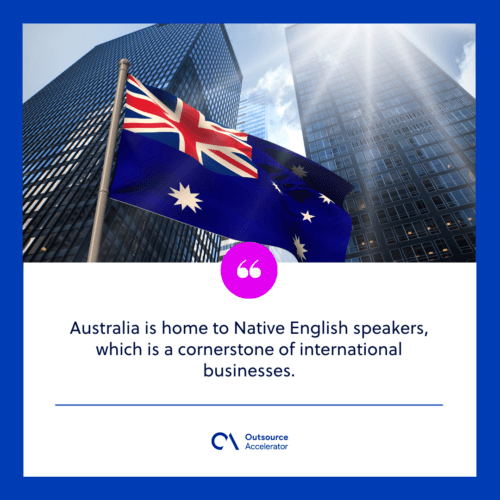 Advantages of having a VA in your business
While virtual assistants have been around for quite some time, their potential for supporting businesses was greatly highlighted during the pandemic. 
As companies struggled to stay afloat amidst challenging economic conditions and extended lockdowns, remote employees became a promising alternative.
If you're considering having a VA on your team, here are a few reasons to go ahead:
Drive down operating costs
Virtual assistants provide professional services at significantly lower prices. You save up on onboarding and training costs, as well as benefits. As independent contractors, companies usually pay them an agreed all-in rate.
Also, you can get VAs as needed instead of retaining an employee part-time or full-time basis.
Reduce turnaround time
Being plug-and-play is one of the main reasons why companies turn to VA companies in Australia. These service providers curate talents and professionals and connect them with companies in need.
Getting a team member that already knows what to do accelerates business processes. Business owners also get extra hands to get things done faster.
Improve business efficiency
Aside from business owners, team members across all levels also benefit from having a VA. Australian service providers can cover almost any business requirement. You can have email marketers, bookkeepers, or paralegals.
Companies in the digital space can tap creatives such as writers and graphic artists.
Promote a more balanced work culture
By gaining access to professionals at lower costs and easier onboarding processes, leaders now have an opportunity to reduce the burden on their in-house team members. Reduced workloads allow them to enjoy work-life balance even more.
Outsourcing your VA requirements in Australia
Since virtual assistants are becoming commonplace among businesses everywhere, make sure you don't miss out on the best options available.
With Outsource Accelerator, you can rest assured that you are directed to independent contractors that will boost your operations. As a leading organization in business process outsourcing, we keep updated entries on over 3,000+ BPO providers worldwide.
Top global outsourcing lists
Outsource Accelerator is the world's leading outsourcing marketplace and advisory. We list over 3,000 BPO firms located across the globe in our global directory, and we provide detailed information, price guides, and reviews.
Whether you're a solopreneur, SME owner, or a corporate executive, we can help you find the most suitable outsourcing provider for your business.
Explore our outsourcing directory now. You may also check out our Top VA companies lists per country here:
Top 30 VA companies in Australia
Below are some of the virtual assistant firms based in Australia. Some of them offer support for general administrative tasks, while some of them cater to more specialized requirements. 
Based in Ingleburn, New South Wales, South West Sydney Virtual Assistant (SWSVA) is ready to cover all your VA needs. From web development and social media management to accounts and admin support, they can provide you with the right professionals.
They cater to a wide range of clients, too. Whether you're a small business owner in Australia or a multinational seeking additional remote talents, SWSVA has something to offer.
Work4you also offers most VA-related services to clients in Australia and the rest of the world. Over the years, it has evolved into a full outsourcing company with business process outsourcing (BPO) and key process outsourcing (KPO) capabilities.
Headquartered in Epping, Victoria, Work4you also has a strong social media presence that makes them even more accessible for businesses of all sizes.
Kively Office Assistants Online (KOAO) is among the best VA companies in Australia, especially for those with specialized requirements. They specialize in data entry, secretarial support, and legal writing.
Based in Byford, West Australia, one unique feature of KOAO is that it is fully insured with professional indemnity and public liability. 
GoVirtuals is an Australian-Filipino company with offices in both countries. Most of its VAs are Filipinos, capable of covering almost any business requirement. As a leader in the VA space, GoVirtuals has been featured on several platforms, such as Forbes and Wise.
Specializing in the digital marketing space, they can help upcoming businesses with their brand design and strategy, plus professionals for conquering social media.
Virtual Coworker also capitalizes on Filipino skills to help businesses accelerate their processes. With offices in Sydney, Australia, and West Hollywood, California, this company has catered to high-profile clients over the years.
The Virtual Coworker team can provide you with administrative virtual assistants, digital marketing managers, bookkeepers, and accountants.
If your business is in the real estate industry, REassist is one of the best VA companies in Australia. They cover all aspects of procuring and sustaining talent: hiring, upskilling, and resource management.
Their focus on real estate gives them an edge in this particular industry, but their capabilities in other industries are quite limited.
Property Management Virtual Assistant (PMVA) is also focused on the real estate sector, with their virtual assistants geared toward accelerating rent rolls and property sales turnover.
PMVA is headquartered in Brisbane, Queensland, Australia. They have started expanding with a location in Pampanga, Philippines.
Tagging itself as a "boutique agency," Capital EA is also a specialized VA company in Australia. They cater to high-level executives, as well as businesses in the Education field. This VA firm also offers secretarial support and highly selective recruitment services.
Aside from providing high-level VAs, the Capital EA team also offers online programs. Leaders and visionaries can sign up for mentoring and coaching. Aspiring professionals can start with workshops and webinars.
WrightVAServcies is a one-woman outsourcing firm. With 20 years of management experience, this VA based in Australia covers most administrative requirements. Whether it's for travel planning and contact management or data entry requirements, this firm is worth a shot.
GetFriday is a VA firm in Australia that also has locations in the US, the UK, and India. It offers virtual assistance for both personal and business needs, at flexible rates and customizable subscription plans.
Like most VA companies, they can also help with a range of tasks, whether it's data entry or conducting online research.
My Cloud Assistant is located in Australia and specializes in connecting international clients with Filipino virtual assistants. They can connect you with ready-to-deploy professionals for call and chat answering to general HR assistants.
The team behind My Cloud Assistant also has dedicated experts for Xero BPO needs and contact center management solutions.
The Admin Guru is a family-run business based in Greensborough, Melbourne. Despite its small size, it has become a recommended VA outsourcing option for small and medium-sized businesses.
As independent contractors, team members of The Admin Guru charge reasonable rates under flexible terms.
Unlike other entries in this list, MS Virtual Assistant is fully based in Australia. They also focus on local clients, maximizing the same time zones to deliver quality VA services.
MS Virtual Assistant covers administrative tasks, website development, and outbound calling requirements.
Vaxtra promises end-to-end virtual business solutions, including providing your company with the VAs you need. Their services focus on customer service, human resources, and admin tasks.
Beyond VAs, they also cover other outsourcing requirements. One of their key abilities is to offer seat leasing in various Southeast Asian locations to help with expanding businesses.
Also based in Melbourne, Inspired Virtual Assistant provides VAs. They particularly focus on web development and bookkeeping. 
Their small team is composed of qualified professionals, such as alumni from Swinburne University and the National Academy of Technology.
Aside from providing virtual assistants, Auxilio Business Solutions has also been providing other outsourcing solutions to multinational firms since 2008. This Australian-owned outsourcing company's other featured services include sales, customer support, IT development, and digital marketing. 
Hammerjack is based in Sydney, with remote locations in Manila and Pampanga in the Philippines. Interested clients meet up with an Australian account manager who will then provide them with the VA that fits their criteria.
With over 10 years of experience in the industry, they have built a team of trained professionals for accessible remote support.
Aside from simply helping with your day-to-day operations, Outsourcing Angel has the capability to support systemization and automation. They assist businesses in digitizing their records and using workflow automation solutions.
Outsourcing Angel also has a lot of VAs coming mostly from the Philippines. They can assist you with various fields, from digital marketing to administrative tasks.
New Media Services is a full-service business process outsourcing company that can provide customized service packages to fit unique business needs. This makes them great for both startups and established companies.
It has become a go-to VA provider for companies looking to speed up their social media growth.
Galilee Business Support Services, better known as GBSS, is a Sydney-based BPO company that connects Australian businesses with Filipino virtual assistants. This allows local organizations to work with experienced professionals at a reduced cost.
Their large pool of VAs covers a range of tasks, from real estate specialists to accountants, they can connect you with a new team member in no time.
Office Work For You boasts over 40 years of combined experience across different industries. One of their unique offerings is for companies in hotel services, with behind-the-scenes support like drawing up conference quotes.
They also have professional VAs at your disposal, should you need support in virtual reception and social media management.
Wopno Outsourcing Services is a BPO company with agents and VAs mostly based in the Philippines. Their headquarters is in Sydney, and most of their client base is from Australia, the United Kingdom, and the United States.
They cover most VA needs, such as helpdesk and data entry. Wopno Outsourcing Services also offers VAs for accounting, and IT needs.
ThoughtPenny has an in-house team of graphic designers, web developers, copywriters, and virtual assistants all based in Australia. You can tap them to handle campaigns or entire business sections.
Their credentials include Keap, Asana, and Zapier, making them ideal for projects that require minimal onboarding and fast turnaround times.
Operacy Staffing is based in Sydney and is recognized for its fast deployment of virtual assistants for all levels of your organization. Whether you need an encoder or an executive assistant, they can connect you with the VA you need.
Their Operacy Workbuddy approach provides clients with support at every step of the way, making them a good choice for startups.
VA World Outsourcing helps businesses outsource processes and access VAs that fit their unique needs. Some of their clients include the international restaurant chain Kahyangan and BPO company ELU.
Headquartered in Sydney, VA World Outsourcing taps a mostly Philippines-based remote staff to handle the bulk of your day-to-day operations.
Busy Made Simple caters to entrepreneurs and business owners looking to hire virtual assistants with specialized skills. This VA services provider located in Canberra, Australia also offers other services like online business manager, website designer, business streamlining, and virtual assistant coaching. 
Starting as a small team of receptionists, accountants, and data encoders, Onehalf Offshore Business Solutions has grown to meet most business outsourcing and VA requirements.
With a mix of Australian and Filipino contractors, it strives to help clients cut down operating costs by much as 70%.
Virtual Assistant Team is based in Brisbane, Queensland. Their virtual support team can cover most office requirements. Office administration, finance management, marketing and sales, and even events planning are all within their range.
With their firm, clients can avail of their consultation, professional recruitment services, and a one-week trial—all for absolutely free.
The Helpware Group is a fully-digital virtual staffing firm based in Melbourne. It is a multinational team that offers unique services such as content moderation, fraud prevention, and a range of AI-powered operations.
Helpware provides support for a variety of industries, such as FinTech, healthcare, food and beverage, and more.
ProfitAbility Virtual Assistance focuses on helping small business owners in Australia to scale and survive with a range of cost-effective arrangements. They pair businesses with the right virtual assistants to help them thrive.
Aside from the usual VA services, ProfitAbility Virtual Assistance even offers meeting spaces and a virtual office, both located in Rockhampton, Australia.
Find the right virtual assistant for you
Outsourcing business processes can come in different forms. For some organizations, a single off-site employee can make all the difference. This is why teaming up with the right VA company from Australia can ensure your fast track to success.