5 Reasons why your business needs a Filipino virtual assistant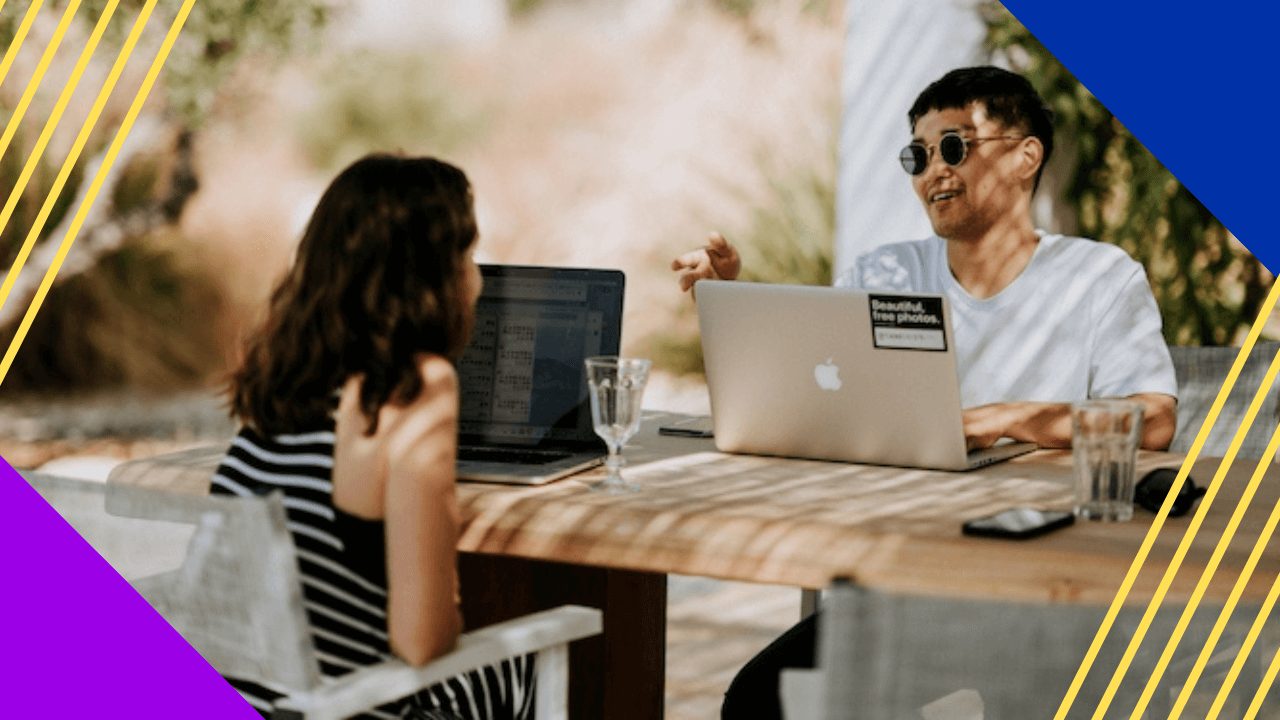 Nowadays, virtual assistants are a staple for every online business in the market. Running a business remotely has become possible with a wide range of services you can delegate to them.
Being a BPO capital of the world, the Philippines is known to be an outsourcing expert country and is also popular for hiring best virtual assistants.
Filipino virtual assistants are primarily known for their excellent English language skills, work ethic, and cultural affinity.
Hiring a virtual assistant anywhere in the world is still ideal for starters.
You can source for virtual teams that can do writeups for your company as content writers and avail other services that they can offer like social media management.
But what makes a Filipino VA special? Read about some of the reasons to hire a Filipino Virtual assistant and where to start hiring them for your company.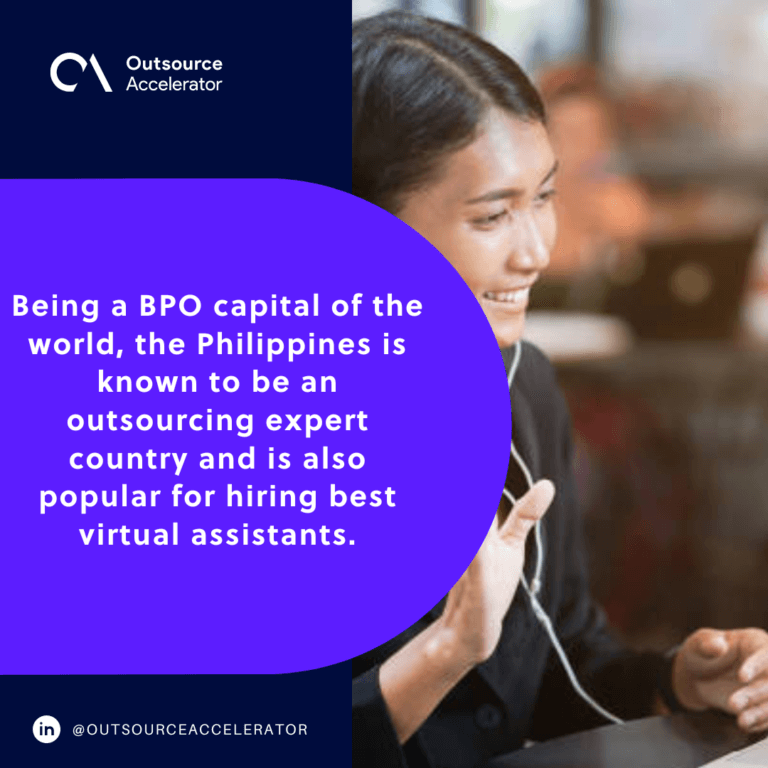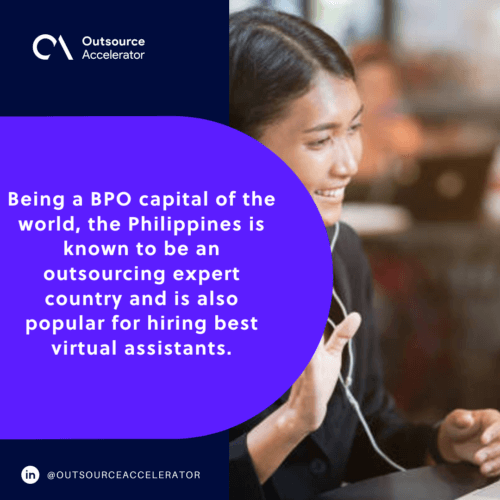 Why you should hire a Filipino virtual assistant 
 1.
Filipino VAs understand you well
Most Filipinos have been bilingual almost their whole life, English being their second language. Out of an estimated population of 103.3 million people living in the Philippines, over 90 Million speak English.
The country boasts of being the second most proficient in English throughout Asia and 18th worldwide. This means they can lead business discussions, understand instructions, and manage complex tasks for you.
2. Filipino VAs establish trust and respect with their clients
Filipino VAs aim for more than just getting the job done. They know how to establish relationships with their clients, manage multiple tasks, and satisfy their requirements.
What's more, Filipino VAs are known for their cultural affinity with foreign countries such as the US.
While they retain their respect to authority as a standard Filipino trait in and out of the workplace, they still know how to get along with their foreign clients and counterparts.
3. Filipino VAs are affordable — but not like "cheap labor"
Contrary to what people think, hiring a Filipino Virtual Assistant talent in a virtual assistant company is not "cheap labor."
The Philippines is known for having low labor costs matched with its cost of living standards. This is why you can hire quality offshore staff in the country for at least US$500/month in a virtual assistant company.
This goes the same with a Filipino Virtual Assistant talent. Entry-level assistants hired via online platforms in a virtual assistant company have starting rates of at least US$2-5/hour, most of them already experienced and capable of providing quality work in return. 
4. With Filipino VAs, you get the quality you pay for
However, despite the huge savings it could provide, keep in mind that going cheap when finding a virtual assistant company is not always the good option. 
Virtual assistant rates could vary according to several aspects such as educational background and experience in administrative tasks. Someone with a college degree, professional license, and years of experience in their role could have a higher rate compared to undergraduates and entry-level staff.
When you bring in a virtual assistant, you should consider the background, qualifications, and reviews their former clients leave. You should also consider if they can manage basic tasks efficiently to boost company productivity.
5. You can guarantee success when you hire a Filipino VA!
Given the qualities stated above, there's no doubt that hiring a Filipino Virtual Assistant is the most ideal way for businesses to improve and expand. You can guarantee that your operations and customers are taken care of by a virtual assistant talent in any possible manner.
You don't have to worry about which roles you should delegate and whether they will deliver well. A lot of VAs in the country cater to a wide range of rules, from digital marketing to customer support and design.
Aside from this, Filipinos can adapt to their work environment quickly. You can easily teach them your company culture and values so they can integrate with your core employees better.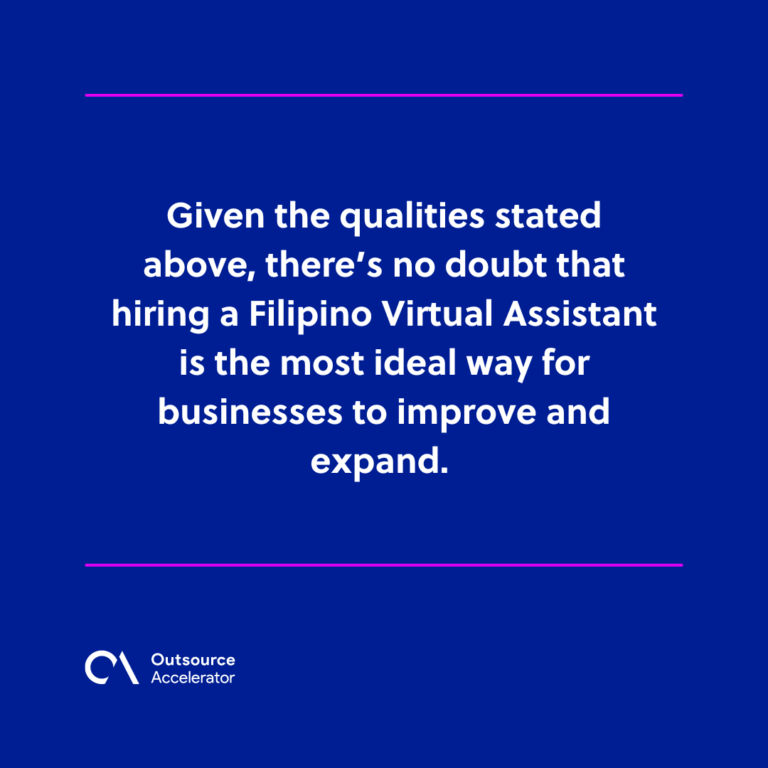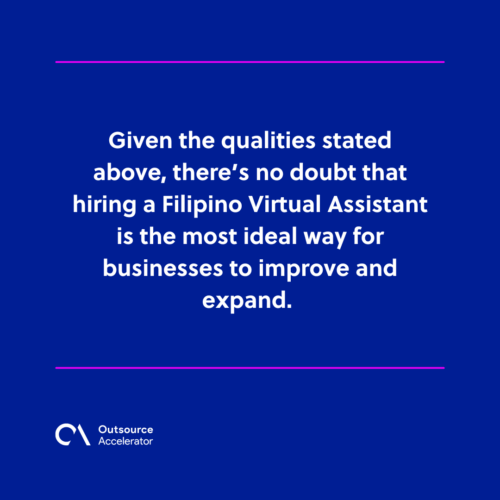 How to hire Filipino virtual assistants?
There are a few options when you're looking for a Filipino VA: Through virtual staff finder (either through a dedicated site or one posted by yourself) or through an agency.
Through direct hiring
The first option is to create a job listing yourself. This method gives you the most control over the hiring process, but will also require the most effort. 
Once you've made your job listing, post it on your virtual staff finder platforms and online job boards, such as Indeed or LinkedIn. Different websites have different requirements and systems, so make sure that your post is clear on how applicants can respond to you.
Additionally, posting a job description may help your recruitment team easily find prospective employees.
Because of the wide range of worker experience on different platforms, you will need to do a lot of the work yourself in interviewing, hiring, conduct training courses, contract signing, and onboarding.
This also includes making sure your VA has the equipment needed, can handle administrative tasks as well as issues of payment and local labor laws. 
Through Upwork
A well- known online job board for freelancers, Upwork even has a section dedicated to Filipino workers in the Philippines. 
They also have Philippines based virtual teams to help you find best virtual assistants in the Philippines.
You can either post a job listing yourself, or peruse the pool of freelancers who have listed VA as a skill.
For the former, you can review the list of applicants who have responded to your listing and your social media posts and select the best match for your company. Upwork's algorithm will suggest the best virtual assistants for you. 
For the latter, you will have to locate the Virtual Assistants tab, then find the Philippine section. 
Upwork displays a list of highly- rated VA freelancers, as well as their other skills and hourly rates. You can then browse their resumes yourself.     
How much a company pays a VA usually depends on their experience. You will also need to pay Upwork a fee, usually 3-5% depending on your country and payment method. Different activities also require different payments. 
Upwork is a very useful option as it immediately grants your company a visibility to a wide pool of VA talent.  The rating system on the site also saves you the trouble of excessive background checks, and the layout allows you to more easily skim resumes and skill sets. 
Through an agency
An outsourcing agency usually has its own shortlist of VAs. Instead of talking with the VAs directly, you will communicate with the outsourcing agency about your requirements. 
The agency is then in charge of selecting the best virtual assistants for your needs. They also handle all the company equipment and hiring processes. You will pay the agency directly, and the agency then pays the VA. 
Usually, your VA will serve "as needed", so you will need to define clearly to the agency what responsibilities the VA will hold. VAs can also have multiple clients at a time, so this should be something the agency informs your company of. 
Hiring a Filipino VA through a virtual staff finder will save you both time and money. The entire recruitment process is done in a more efficient way, which is the reason most business owners today prefer to hire through outsourcing.   
Outsourcing tasks to a Filipino virtual assistant is a low-cost way to free up your time. It will provide more time for the management to work on the vital aspects of your company. 
Numerous other websites, such as Upwork, assist in recruiting virtual assistants, freelancers, and independent contractors.
There are also outsourcing firms like Doxa7 that provides diversely talented virtual assistants at competitive rates.
Before hiring a Filipino virtual assistant, take time to assess the following questions:
What are the areas where you most need assistance? Identifying what areas you need the most help for correlates with what your VA can be doing for you. Make a list of the things that are currently overwhelming you.
If you've figured out the answer, you can turn it into a work posting that specifically targets the type of person you need.
Do you need a full-time or part-time virtual assistant? Decide how much support you need every week. A part-time contractor is usually working for other people while working for you. 
Once you've got everything in order, let's move on to the recruiting process itself.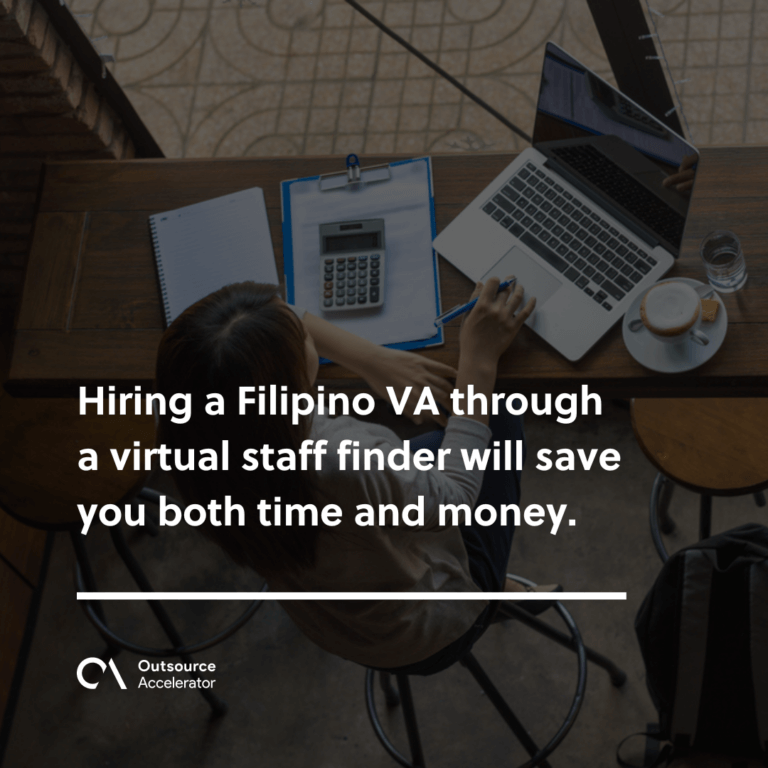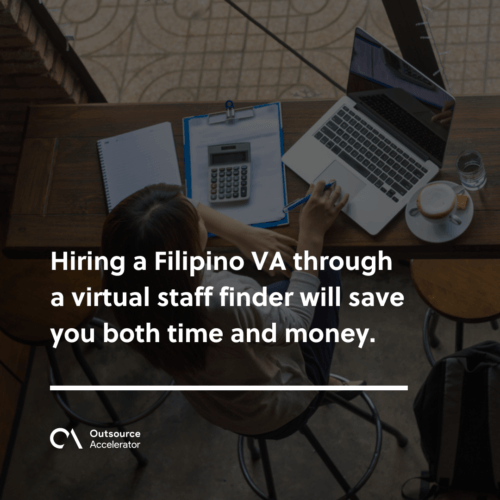 How to pay a virtual assistant in the Philippines 
Hiring a Filipino workforce proves to be beneficial for businesses seeking a competitive edge in the global marketplace.
The Philippines, which has a talent pool of experts, has known to have a "high regard" for providing payroll salary compensation and employee benefits. 
If you're looking to employ Filipino workers, you must understand rightful compensation and benefits adhering to being a good employer of Filipino workers. 
Philippine Compensation Laws 
The Department of Labor and Employment (DOLE) administers the laws and regulations of the benefits and compensation policy in the Philippines. It follows the rule stated in the Labor Code of the Philippines, a legal code that governs employment practices and labor relations in the country. 
Note that the employee benefits in the Philippines may vary depending on the kind of employment arrangement; regular, project-based, seasonal, fixed-term, casual, and probationary employment. 
Wage and wage-related benefits 
Part of the Book III of the Labor Code of the Philippines states minimum employment conditions in regards to their working hours, rest periods, overtime, night shift, holidays, and leave benefits. 
Minimum wage 
The minimum wage rate varies depending on the region, the province, and the industry sector.  The rate ranges from PHP 282 and PHP 537 a day. 
Overtime/Holiday pay 
The overtime pay rates differ according to the overtime work that takes place: regular work day, holiday, rest day, or night (between the hours of 10 pm to 6 am).
The regular work day has a plus 25% of the hourly pay rate, while the rest day or regular/special holiday has a plus 30% of the hourly rate on said day.
Employers are required to compensate employees' daily wages for non-working regular holidays (Republic Act No. 9849). 
13th month pay 
The 13 month pay also known as "13-month salary" is a mandatory requirement that employers must provide as an additional pay benefit given to all employees in the Philippines.
This benefit is equivalent to 1/12 of an employee's basic annual salary and must be given before December 24 of every year. As per Tax Reform for Acceleration and Inclusion (TRAIN) law, the 13th-month pay may be subject to tax if it exceeds the PHP 90,000 threshold. 
Workers who have worked for at least one month in the company are already entitled to 13th-month pay. While, employers are required to file a compliance report by 15th of January of the following year in regards the the payment process. 
Night shift differential 
Employees are entitled to night shift differential, for those who work between 10 pm to 6 am, were additional 10% of the employees regular salary.
Premium pay 
Workers are entitled to receive premium pay for working on special holidays or their rest days. Employees receive an extra 30% of their daily salary if they work on a rest day or special holiday. 
An extra 50% payment for those who work on a rest day which is also a special holiday. Lastly, if the work is performed on a regular holiday that is also a rest day, the workers gets a total of 260%.
Statutory employee benefits in the Philippines 
SSS contributions 
SSS is a government insurance program that covers private-sector employees, self-employed workers, and household workers. The contribution is deducted according to the employee's salary bracket. 
The contributions have benefits that cover maternity pay, disability, death, funeral grants, pensions, salary loans, salary, and housing loans.
Philhealth contributions  
PhilHealth is the government's health insurance plan for employees of private companies in the Philippines. As of 2022, the monthly contribution rate for the health insurance program is 4.0% of the employee's basic salary. 
This monthly contribution is shared by both employees and employers. The salary minimum is PHP 10,000, and PHP 70,000 is the salary ceiling.
Global companies may choose not to offer private health insurance, but many employers still offer Philhealth insurance to give their employees access to health assistance. 
Pag-IBIG contributions 
Home Development Mutual Fund (HDMF), often referred to as Pag-IBIG fund, is also a government savings program that provides housing loans, calamity loans as well as multi-purpose loans for Filipino employees. 
There is a 1% contribution of the salary to workers who earn less than PHP 1,500 a month. While 2% contribution of their salary to workers who earn more. Companies have to contribute 2% regardless of the salary bracket of the employee.
Pros and cons of hiring a VA in the Philippines
Here are the pros and cons of hiring a virtual assistant in the Philippines. 
Pros of hiring a VA through a BPO firm
Low costs 
Businesses significantly save costs from hiring VA in the Philippines. Scouting VA from the country at a competitive rate and you can save as much as 70% in operating costs. 
VA still performs and can deliver the work you need, and they get paid at a lower rate. Thus, hiring through a BPO firm can save you a significant amount, especially if you are a start-up.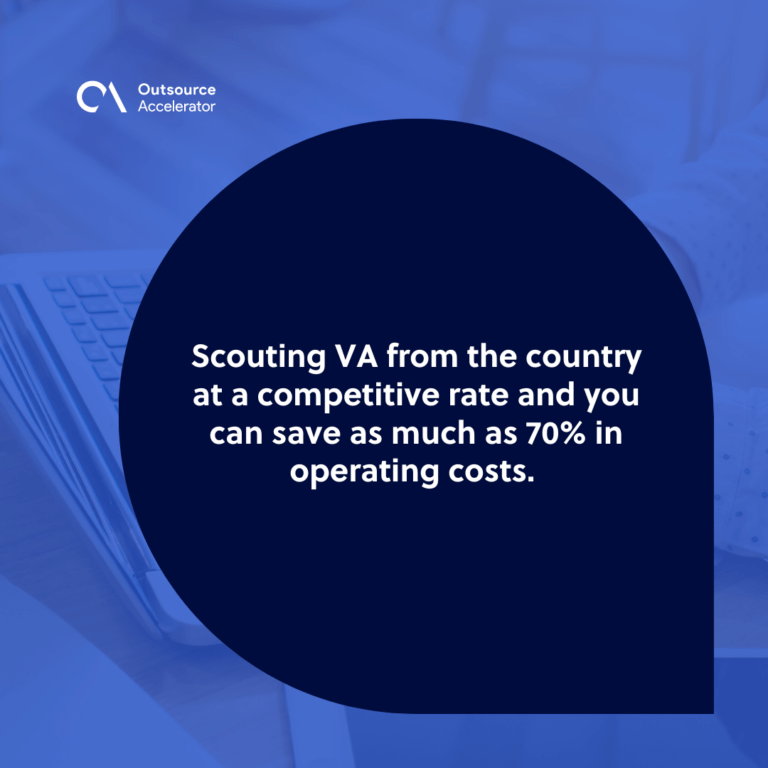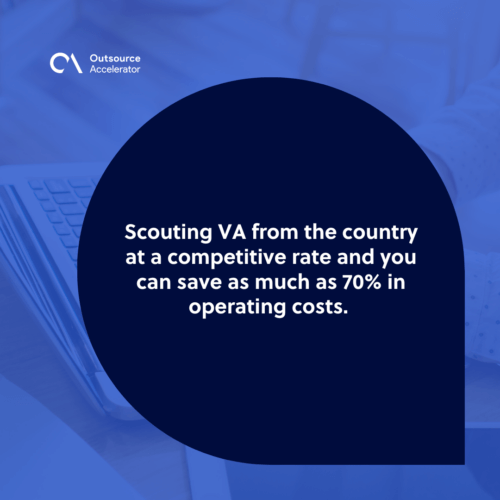 Managed approach 
All BPO firms have different requirements for workers. Typically, Virtual assistants have to submit a daily report of their tasks during the day. This is an assurance for clients that virtual assistants in the industry adhere to the regulations of the management. 
Onboarding support 
Virtual assistants significantly help the BPO firm in its onboarding process. Thus, companies leverage their talent and opportunity to focus on another aspect of running the business. 
Co-managed 
When you hire a VA in BPO firms, this ensures that they can take on different tasks. You can easily manage various repetitive or specialized projects in a shorter amount of time. There's nothing to worry about the details. 
Cons of hiring a VA through a BPO firm
Time zone differences 
Time zone differences are really a big factor when hiring VA through BPO companies, especially in the Philippines. Some businesses are hesitant to outsource their remote workers.
Thus, they ended up working with locals that could work within their time zone. 
Reduction of quality control 
Virtual assistants need time to can get through the learning curve in the BPO company. It requires a lot of work to hire and train VAs. It is hard to find a virtual assistant that can deliver the kind of output that matches your business, brand style, and culture. 
Lack of focus due to multiple clients 
Typically, virtual assistants often work with many clients at the same time. There are instances when VAs miss multiple deadlines. If you consider hiring a virtual assistant through a BPO company, it is important to set expectations and communicate them clearly. 
Pros of hiring a VA through a platform 
Cost-effective 
When you hire a VA through a platform, you can expect that you can save a significant amount of money. If you are a remote business, you don't have to worry about providing the virtual assistant with a physical working space, equipment, internet connection and etc. 
Save time 
Having a virtual assistant in your company frees you from your routine, repetitive, and mundane administrative tasks, so your business can focus on growing your business instead. 
High quality of work 
Virtual assistants undergo extensive training, which means they are experts in multiple skills. You can expect them to deliver high-quality work for your business. 
This is another reason to hire remote workers. VAs knows their own reputation, and they value their clients. 
Streamline business operation 
Virtual assistants can help you improve your business operations and services. They often use software for automated workflow basically to speed things up.
Hence, VAs are a big help in scaling up business operations quickly. 
Cons of hiring a VA through a platform 
Risk of data security
When you engage with a virtual assistant, you'll be dealing with giving confidential information. They will be handling sensitive company information, which can be risky for your business. 
You must give importance to privacy and security, which can give your further protection against any data security issue. 
Logistical short comings
Despite the advantage of different tools for communication, it is still a challenge to compromise when working with a virtual assistant together with your in-house employees. 
Since they are not in the same physical location, there are tendencies that misinterpret behavioral patterns with one another. 
Question on commitment and dedication 
Another con of hiring a VA through a platform is commitment and dedication are in question. You shouldn't expect to be their only client. VA often works with a lot of clients at the same time. 
This means there's always the question of the VA's commitment and dedication to your tasks. There are instances when your projects will be subcontracted to other virtual assistants. 
Pros of hiring a VA directly
Specialized skills
A lot of virtual assistants have specialized knowledge and expertise in specific tasks such as content management, social media, project management, etc. So,  VAs can handle such tasks with efficiency.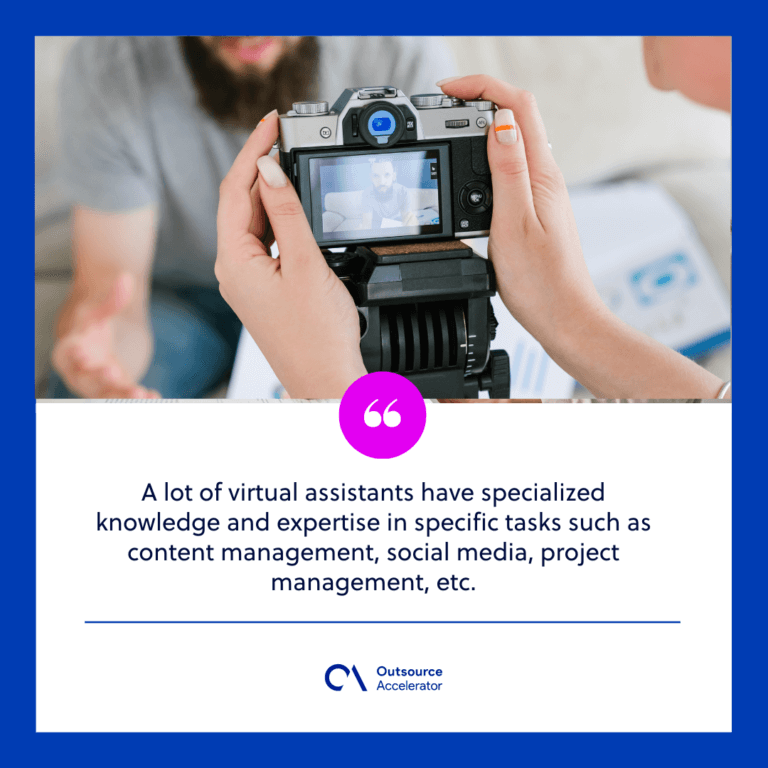 Non-Office Hours Support
Since virtual assistants are based remotely, they are spread across the globe in different time zone. This means that your business can still run operations 24/7. You don't have to worry about your business even when you're sleeping, virtual assistant got your back. 
Increased productivity 
Virtual assistants let your business focus on its core competencies. Outsourcing non-core tasks to a virtual assistant ensure that you and your in-house employee have more time and resources for important tasks that need to do. 
Cons of hiring a VA directly
Potential language and cultural barrier
VAs that come from a foreign country is also a challenge in business when hiring remote workers. There might be some potential language and cultural barriers differences that might affect the work process, and this is crucial since they'll be representing your business. 
Backups and Replacements
Most virtual assistant knows their reputation, and they often deal with clients who they think are suitable for them. If they think your project is quite demanding and complicated, there is a chance that your virtual assistant will withdraw the deal or get a replacement to fulfill your tasks. 
This is time-consuming for you and your business operations. Thus, it is important to work with a virtual assistant that is willing to dedicate work from the initial stage to the latter part. 
Potential for abandonment
When you hire a virtual assistant, expect that they can abandon you anytime if they can get high-paying clients. This is an advantage for you because this might affect the pace of your business operations and might end suffering in the long run. 
How much does it cost for a virtual assistant in the Philippines?
Generally, these are the expenses when hiring a Filipino VA:
| | | | |
| --- | --- | --- | --- |
| | Entry | Junior  | Senior  |
| Average annual salary | $4039  | $6714 | $8682 |
| | | | |
| | | | |
| | 2.75% (split with employee)  | 2.75% (split with employee)  | 2.75% (split with employee)  |
| | (monthly salary x month rendered) ÷ 12  | (monthly salary x month rendered) ÷ 12  | (monthly salary x month rendered) ÷ 12  |
| Night shift differential* | (hourly rate x 10% x 8 hours)  | (hourly rate x 10% x 8 hours)  | (hourly rate x 10% x 8 hours)  |
*Consider this especially if your VA works in a different time zone 
Alongside the above, if you're hiring through Upwork, you'll also need to pay for the use of the platform. Other online job boards will have a similar arrangement. 
Admin professional/ Data entry VA

Marketing VA/ Customer service/ Accounting support

Advanced VA/ Consultant

Executive Assistant 

Average hourly salary

$12-20

$20-35

$38-50+

Marketplace fee

Upwork payroll*
*If the hire is classified as an employee under the Upwork payroll system rather than an independent contractor 
Should you choose to hire your Filipino VA through an outsourcing agency, the agency handles all other expenses of the hiring process, including government benefits. 
| | | | |
| --- | --- | --- | --- |
| | UK | Aus | US |
| Average annual salary  | $39,066 | $31,797 | $42,240 |
| Outsourced expense | $2,285 | $2,285 | $2,285 |
Virtual Assistant companies Philippines
There are a slew of outsourcing companies that offer virtual assistant services. We've rounded up the 10 best companies with operations in the Philippines for you to select the best match for your business. 
Perfect Data Entry's expert team can handle it all- from coding and marketing to data entry, graphic design, and project management. A full range of services at competitive rates. 
They hire college- educated and fully- trained professionals to be part of their teams, sourcing them from India, the USA, and the Philippines. Ever since their inception, they have offered excellent data entry and virtual assistance services to their clients worldwide, including many Fortune 500 companies. 
MicroSourcing makes it easy for clients worldwide to build full- time dedicated teams in the Philippines. As one of the first companies to offshore in the Philippines, they pioneered the way businesses retain control of their team, while MicroSOurcing handles everything else. 
Their database alone lists over 19,000 skilled candidates with virtual assistant experience. These professionals are flexible in their work and can quickly adapt to changing times and requirements. 
3. Integreon
If you're looking for a virtual assistant with knowledge of legal matters, Integreon can provide that service. A global leader in legal support for law and professional service firms, they have built trust with their clients spanning more than 10 years. 
The common denominators for the roles they supply are data, process, and expert resources. Drawing from talent and tools from around the world, their service is tailor-made to solve your complex problems. 
4. Prialto
Prialto manages telecommuting so that talented people around the world can work where they're needed. They seek to amplify people by allowing the global workforce to really connect with the larger world of work.
Inspired to give opportunities to bright, motivated college graduates around the world, Prialto has since grown into a fully managed virtual assistant service. The administrative service they offer focuses on human- centered connection and empowerment. 
Combining unrivaled expertise and capabilities across industries and business functions, Magellan Solutions brings fresh approaches to outsourcing services. As a leading business process outsourcing provider, they commit to bring great customer experience with every interaction. 
Magellan Solutions ensures that highly qualified virtual assistants are at the forefront of your business. With their training and affordable cost, their VAs are perfect for the needs of start-ups and SMEs. 
6. TaskBullet
Ready. Aim. Hire. According to TaskBullet, there's no better virtual assistant than theirs. They are driven to provide effective and efficient business processes for forward- thinking owners. 
Through their iconic "Bucket system", the company provides their clients with more of a valuable asset- time. Hire a VA without worrying about hidden fees, and you can monitor the progress of your delegated tasks easily. 
Pepper Virtual Assistants is committed to providing excellent and efficient virtual assistance. A mix of experienced VAs form their dynamic team, specializing in executive and marketing assistance and project management. They even have a creative team for content and design services. 
They are a subsidiary of i-Pepper Virtual Network, which is a B2B company based in the Philippines. They take special pride in their company's strengths, which includes extensive VA training in client handling, communication skills, and executive assistance. 
8. Executive Boutique Call Center
An American and Australian- owned call center service and BPO provider, Executive Boutique is designed to help businesses elevate performance. They serve a wide range of business segments, handling office support while their clients are freed for more critical tasks. 
Their VAs come with highly- skilled expertise, specialized knowledge, and the capability to perform highly- repetitive tasks. They make sure to select the best skilled college- educated agents to support your business. 
9. OkayRelax
A USA- born company, OkayRelax offers cost- effective and efficient virtual assistant services so that busy clients can slow down and relax more. Their support team matches the best VA to the job. 
All their VAs are screened and trained well to provide premium customer service. Purchasing their VA services will give you employees and teams capable of general research, schedule management, documentation, and more. 
10. Booth & Partners
Booth & Partners helps businesses find more flexibility and achieve a better way of working. Through sustainable talent solutions, they help your business to grow. 
They see your vision and help you find the right talent to bring that into reality. Aside from offering virtual assistance for administrative support, they also provide skills in finance, content, marketing, and other business services.  
The VA hiring process
Here is the best process for quickly filtering out the wrong candidates and bringing in the good ones:
Review of the application
Assess the submissions you get in response to your work posting.  Also, include simple instructions in your work posting, such as a short question they must answer. Remove any applications that do not have the skills you need.
Test and interview
Applicants who are going to this round will have to complete a screening or skills test within a limited time.
If they pass, they can undergo the second round of interview, usually with the hiring manager. 
During the screening process, the hiring manager can ask the applicant some questions to determine their suitability for the position, such as:
Their prior work experiences

Their educational background

Previous relevant achievements
Final hiring and contract signing
After you've chosen a candidate to hire, write to inform them and ask them to sign a brief employment agreement that includes salary information, the number of hours they must work each week, etc.
Now, Outsource Accelerator is your go-to consultancy service when it comes to Outsourcing. 
With years and years of experience in the industry, they will make your life better… Seriously, they will make it easy for you to put the pieces together from the start to ultimately reaching your goal.