Virtual Assistants (VAs) wear multiple hats to fit multiple roles. From content creation to scheduling meetings, VAs are a godsend to busy executives everywhere. It's not a surprise to most when VAs tend to take on more responsibilities. After all, most of the job descriptions for VAs are more general in comparison to other positions.
So when it comes to delegating tasks to your virtual assistants, what responsibilities come to mind? To some, they might say administrative tasks and other back office work. And if we're being specific, data entry works perfectly for qualified VAs.
Tip: There are tons of online crash courses of people wanting to be a VA out there, you just need to know where to look.
What is data entry?
Data entry is a process of inputting data and information into a system (most often into a spreadsheet or a word processor) for easier access and better organization. It involves good hand and eye coordination, attention to detail, and the ability to do repetitive tasks for hours on end. Some might argue that it's just another boring desk job; when in reality, it's an important and underappreciated role in a company.
Without data entry clerks, most of the company archives will be gathering dust in a file cabinet. As mentioned above, data entry involves making sure that those old information sheets won't be lost for good.
In the 21st century, having digital backups of everything pays off in the long run. With backups, you don't need to worry about losing track of your data ever again.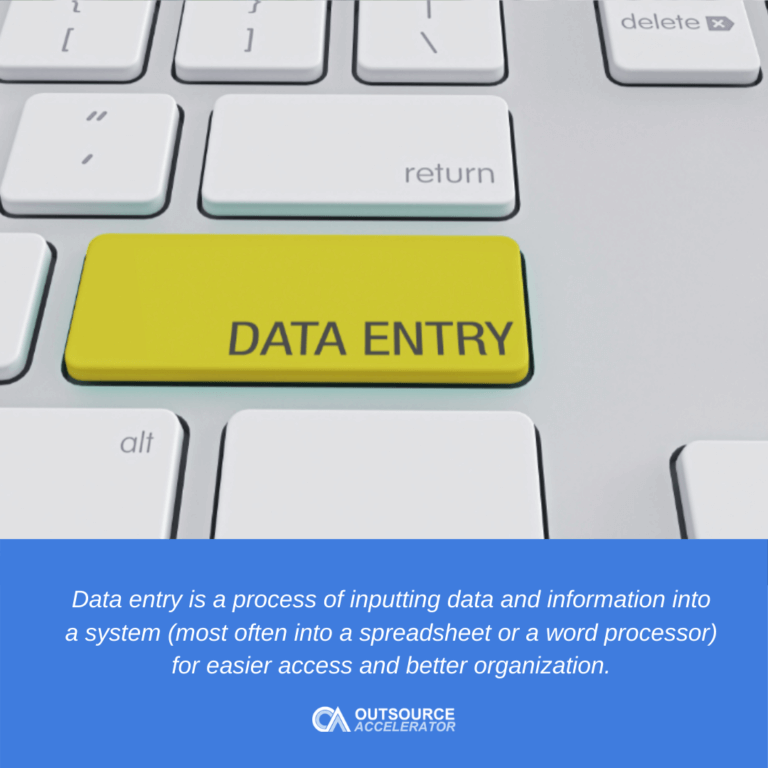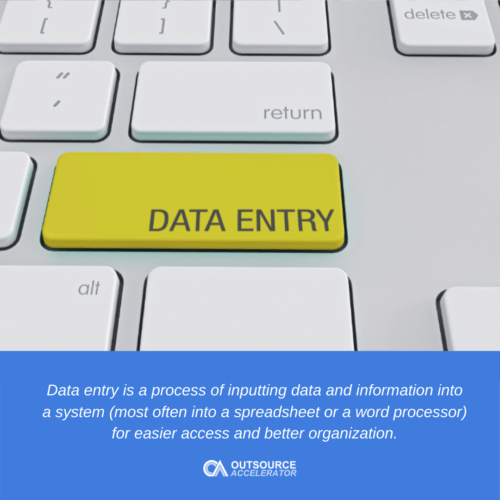 What are virtual assistants?
Virtual assistants, like traditional ones, support their clients on a day-to-day basis. They make sure that there are no hiccups on their daily tasks. 
VAs are popping up everywhere, ever since the rise of the gig economy. Recently, people have been leaving their office jobs for something flexible – a job that allows them to spend more time outside of work. VAs, as the name suggests, are people who are working remotely –  all know the perks (and cons) of working from home. 
While most of us can handle our duties without the help of a virtual assistant, some executives would benefit from one. It's not just about making others do things for you; it's about reclaiming your time.
One of the advantages of hiring a virtual assistant is that it allows you to be more concentrated, flexible, and efficient. We don't have the same 24 hours, make better use of yours.
What do virtual assistants do?
There are a lot of things that virtual assistants can do, other than data entry. VAs train and study for almost everything—we have creative VAs for content creation, technical assistants, administrative VAs, and customer specialist virtual assistants.
We mentioned at the beginning of the article that VAs wear many different hats to fit the role, it's your responsibility to compensate them according to the value they add to your business.
For starters, here's an idea of the responsibilities you can delegate to a VA:
Maintenance of data and contact sheets

 
As someone's assistant (whether you're a virtual or an office-based one), VAsare expected to at least handle a workload of maintaining contact books.
Clients with a plethora of files and folders just waiting to be encoded and backed up onto the cloud can delegate these tasks to their trusted VA.
Organization of work and personal calendars
A task as old as time. All assistants, not just the virtual ones, are offloaded the responsibility of organizing their client's work and personal calendars. From booking a meeting to blocking off a weekend for a mini-vacation, VAs have the power to schedule their clients to the brim.
Taking meeting notes, whipping up a newsletter, sending emails, and rerouting calls are what VAs do in general. VAs are a jack of all trades but they usually excel at one or two specific responsibilities.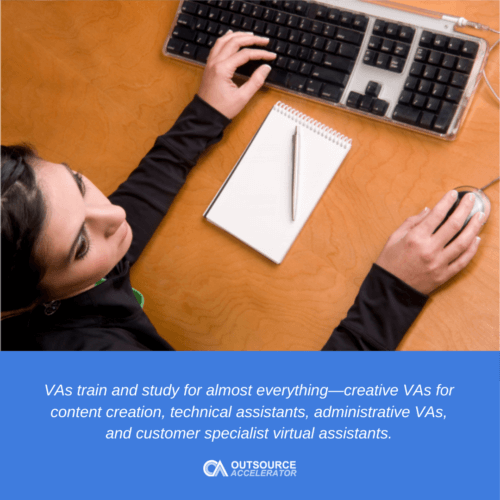 Can virtual assistants do data entry?
Data entry is one of the well-known admin tasks. Its responsibilities include managing, reviewing, and arranging paperwork and files. As a VA, most of them should be able to juggle the role of a data entry clerk if it's one of their primary responsibilities.
Side note: Remember that as an employer, it's your job to properly indicate what the role is for. There are multiple cases in which employers fail to assimilate the difference between having virtual assistants and administrative clerks.
To further clarify, there are jobs that may overlap between the two. Virtual assistants often work with a client as an individual support system while administrative clerks work within departments.
That being said, virtual assistants drive value to the companies and businesses they chose to work with. From making sure that the day goes by smoothly to juggling tasks for their clients, investing in a good VA pays off in the long run.