Outsourcing to Latin America: A guide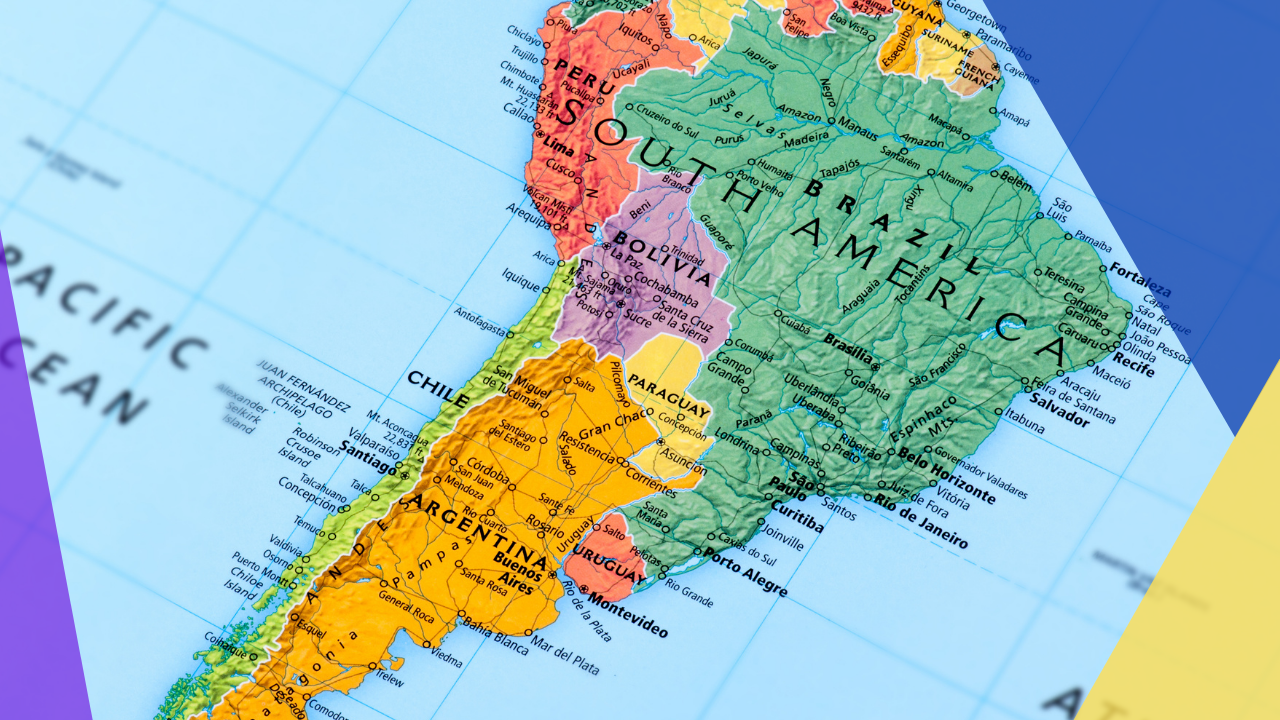 About half of the Americas comprise Latin America, whose culture, language, and heritage are predominantly of Hispanic origins with influences from the Western world. 
With how vast and diverse Latin American countries are, there's no doubt that companies are vying to expand into the region.
Outsourcing to Latin America is a trending concept that companies around the world, especially the West, are considering, given the advantages that it offers.
4 benefits of outsourcing to Latin America
The practice of outsourcing has many benefits in general, but each region and country has its own. The region of Latin America has 20 countries and 14 dependencies, and many of these are viable options for multinational companies can expand into.
Here are the benefits that many companies have reaped from outsourcing to Latin America.
Lower labor costs
Developing countries within the region have lower labor costs compared to the developed nations of the world. The minimum wage in Latin America ranges from about USD 200 to USD 400 a month, which is considerably lower than in North America and Europe.
With that said, multinational companies often provide competitive wages to entice local workers.
Proximity to North America
US and Canadian companies often outsource operations and job roles to countries within the Latin America region, a process better known as nearshoring. This is because the time zones of most countries overlap with North American time zones, making it easier for teams to collaborate.
This also means that outsourced employees are highly familiar with American and Canadian English.  
Network infrastructure
Latin America's network infrastructure is getting better and better, especially in major cities, all thanks to next-generation technology that allows companies to provide better services.
With the advancement of technology, more and more companies are investing in different sectors of the region. In return, it opens up more opportunities for major and large-scale upgrades.
Language skills
Working professionals in the region are often well-versed in English, be it verbal, written, or conversational. This makes them viable candidates for multinational companies that are looking to connect with the locals in the job market.
Aside from English, most Latin American workers can also speak Spanish, which gives businesses opportunities to expand their target markets into Spanish-speaking countries.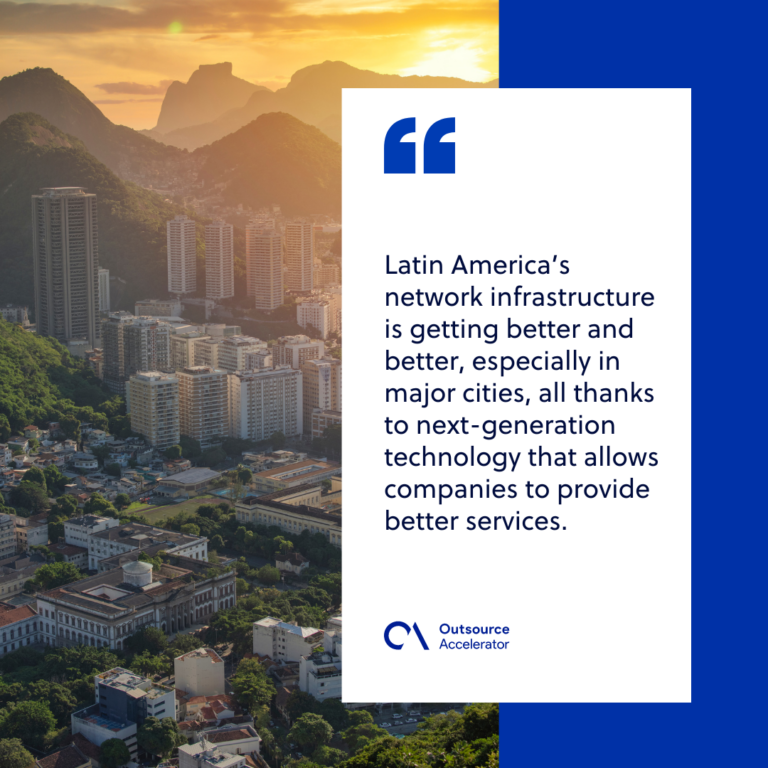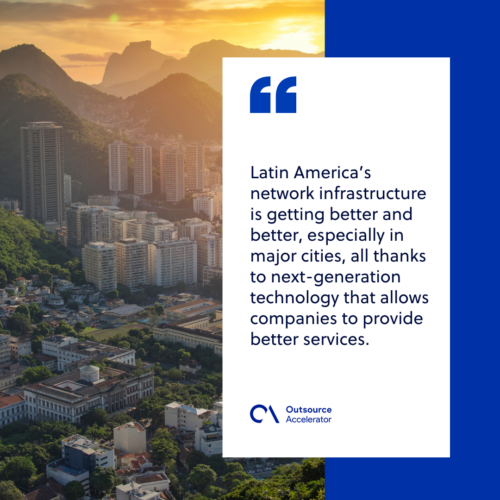 3 risks of outsourcing to Latin America
As always, there are some risks when it comes to outsourcing processes and operations overseas. Business analysts and outsourcing consultants often take these risks into mind when delegating jobs to third parties.
Data security
No business is safe from cyber-attacks and data breaches, even if they have the highest level of security enabled. However, mitigation of these issues can be done by implementing preventative and maintenance measures on all crucial digital assets of the company.
Lack of control
Hiring a third party may mean letting go of control of some aspects of the outsourced process. This means that there would be lapses in quality monitoring and control that some executives may find unreasonable.
This lack of control can be fixed by working with the right outsourcing partner with transparent and truthful documentation processes and workplace communication.
Suboptimal work quality
Work quality can differ from one provider to another. This is another risk associated with outsourcing or offshoring processes as companies have to trust these service providers to do their work while applying best practices.
Top services to outsource to Latin America
In Latin American countries, there are certain outsourcing sectors that thrive better than others. While there are a whole array of services you can outsource to the region, here are the most commonly outsourced functions you can start with.
Bilingual customer service
Companies are always clamoring to expand their customer service beyond catering to one language only.
With locals knowing at least two major languages, countries such as Mexico and Costa Rica allow businesses to cover more bases. Spanish, Portuguese, and English are the most widely spoken languages in Latin America.
Back-office work
Roles that are not customer-facing are known as back-office work. Teams such as bookkeeping, accounting, data entry, and internal support work "behind the scenes" of an organization.
Offloading these roles will be a low-stakes deal for companies that are testing the waters before fully committing to outsourcing bigger, high-stakes, and customer-facing roles.
IT outsourcing
Cybersecurity and infrastructure development are common roles outsourced to BPO companies in Costa Rica, Mexico, and the rest of Latin America. 
Governments have been launching initiatives to boost their respective countries' IT industries, such as education and training programs for young professionals. 
Telemarketing and telesales
These activities are mainly outsourced to save costs on running a department focused on acquiring new customers and retaining existing ones. 
As a practice, telemarketing is composed of lead generation, cold calling, client acquisition, and retention. On the other hand, telesales is the practice of actively selling products and services over the phone.
Manufacturing
The process of outsourcing manufacturing dates back to the industrial revolution. Some might say that this kickstarted the movement of outsourcing and its climb to popularity.
Assembly and quality control are two of the most popular jobs in manufacturing that get outsourced and offshored. Because of this, more and more Latin Americans take labor-intensive jobs.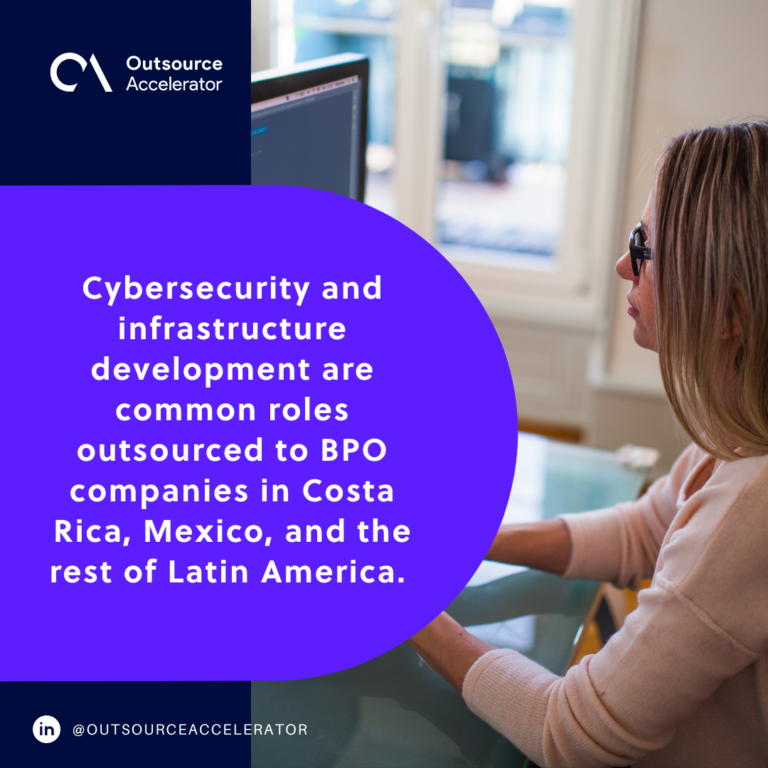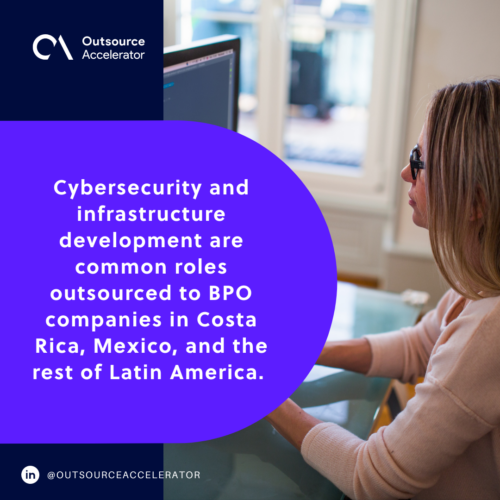 Things to consider before outsourcing to Latin America
Before outsourcing to Latin America, there are some things that business owners need to consider. The act of delegating tasks to third parties is a big leap, especially for companies that are only starting out.
Project scope
There are times when the outsourcing project only lasts for a couple of months or during peak business season. On the other hand, some projects can be active for a long period of time. That said, client companies should be able to gauge how long the project will go.
This also helps in budgeting and ensuring that every part of the plan will be executed perfectly.
Track record
Outsourcing companies often partner themselves with clients that have the same mission and vision. A company's track record can reveal how they do business and how they run the company altogether. Both clients and service providers should be able to tell if they're a perfect match or not.
Workplace practices
Even if it's far from the norm, there are workplaces that are toxic and unhealthy for employees. Clients should be wary when it comes to service providers that don't treat their employees in a professional manner.
Productivity and efficiency
When partnering with an outsourcing provider, it's important to know if they can handle the deliverables efficiently and consistently. Efficiency and productivity in the workplace are important, especially for those who have client-facing projects.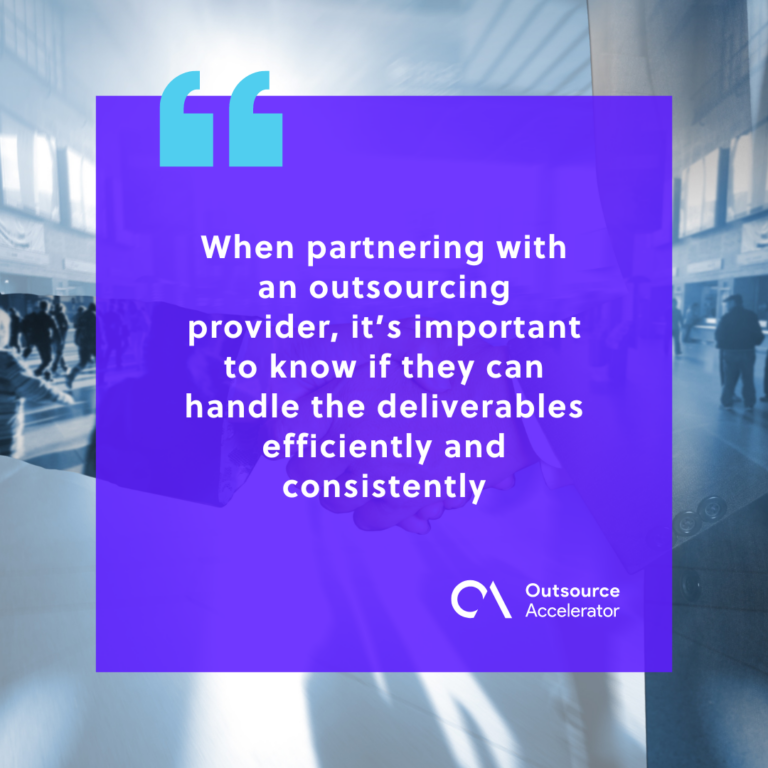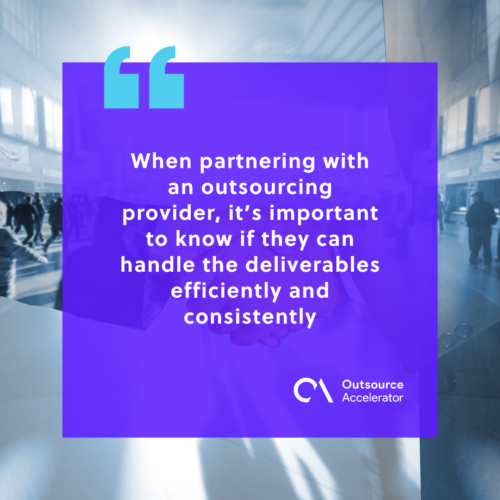 Top 5 Latin American outsourcing destinations
The region of Latin America has a roster of territories that are thriving and well-known within the outsourcing industry. These countries often have their own outsourcing hubs that serve as a home for multinational BPO companies and local agencies.
Mexico
Just in 2021, the Mexican government announced drastic changes to its labor law for subcontractors and outsourced workers. 
While it has enforced certain limitations to outsourcing in favor of hiring workers directly, the reform does not affect non-core activities such as back-office and customer support.
Puerto Rico
The island of Puerto Rico has remained one of the most popular destinations for outsourcing, especially for businesses in the US looking for a nearshore option. In 2016, the country held the 74th place in Tholons' list of top outsourcing destinations. 
Costa Rica
More and more companies are choosing to outsource to Costa Rica, thanks to their growing list of BPO companies.
Given its proximity to the major business districts of Mexico, the United States, and Canada, companies don't think twice about outsourcing to Costa Rica.
Uruguay
As the smallest Spanish-speaking country in all of Latin America, Uruguay has emerged as a hotspot for North American companies interested in nearshoring. It's all thanks to the country's IT infrastructure, economic reforms, and English proficiency level. 
Argentina
Argentina is another outsourcing hotspot in Latin America, which means there's plenty of room for further investment. It is one of the top choices for IT and software solutions, with its growing population of young IT and engineering professionals.
Latin America's outsourcing data and statistics 2022
Thinking about outsourcing to Latin America? Here are more information and statistics that may help you decide.
From setting expectations to finding the right outsourcing destination and partner in Latin America, we hope this article has provided everything you need to get started.