How virtual assistants can help your business grow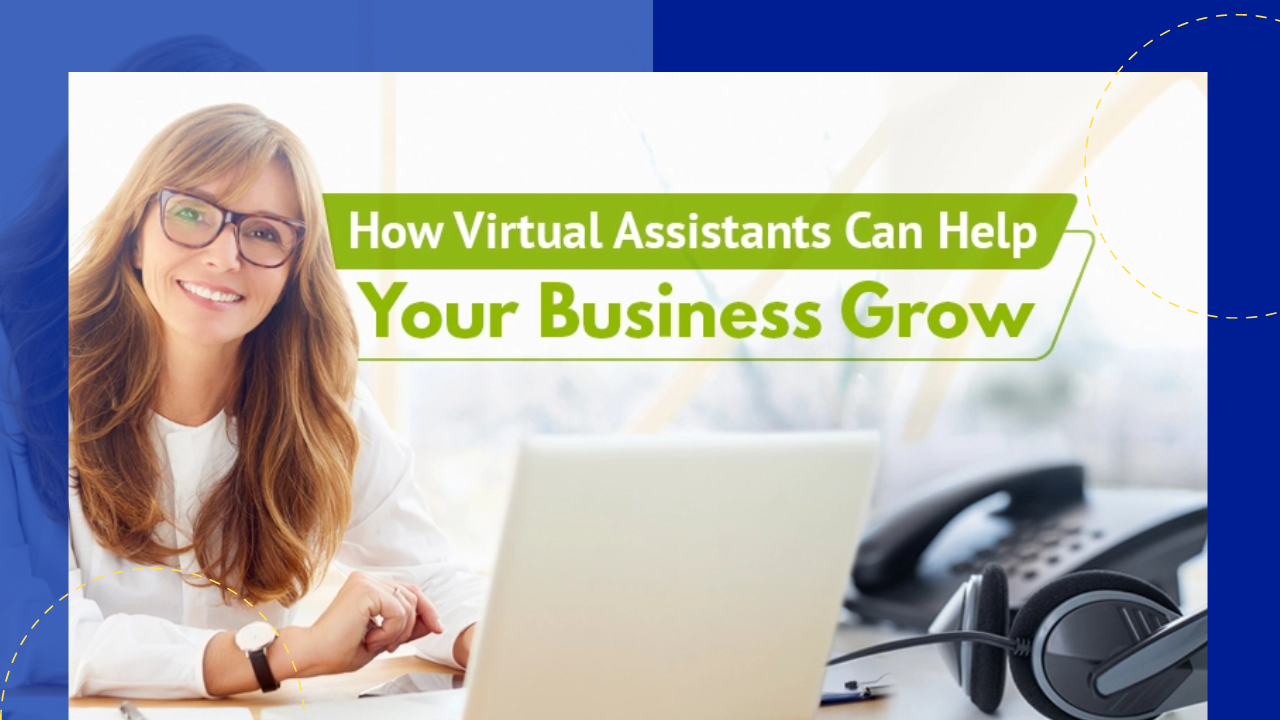 Virtual assistants (or simply known as VAs) are accomplished and highly skilled professionals who have a wide range of experience.
Small and medium-sized businesses contribute to the high demand for virtual assistants as they scale up their businesses to cater to more customers. The demand will only continue to increase exponentially as remote working is here to stay. Many companies are already reaping the benefits of outsourcing and hiring remote workers.
How virtual assistants help businesses grow
How exactly do virtual assistants help businesses grow?
Virtual assistants execute your business plans
They are responsible for the small details in the big picture you planned. They tell you what's doable in the frontlines of your business. Some VAs expertise may be the solution to your business pain points.
Virtual assistants organize and prioritize daily tasks
It's good to have goals outlined but it's achieving the step goals that take most of the time and effort. VAs have the necessary skills to perform the tasks assigned to them according to what's important and what's urgent. 
Virtual assistants innovate
As business executives, you'd want innovators in your team. You want people who think outside of the box and work alongside winners, not whiners. VAs have been exposed to numerous leaders throughout their career.
What are the benefits of hiring a virtual assistant?
Since the inception of the term, virtual assistants are commonly referred to as virtual secretaries and are known for administrative work only like calendar management.
However, virtual assistance has become an integral part of online businesses and entrepreneurs because of the following reasons:

You get more time for doing the tasks you're good at
Hiring a virtual assistant gives you more time to plan strategically for your business. You can have time to network, observe business trends, check out the competition, and map the vision and mission of your business clearly so others can follow through.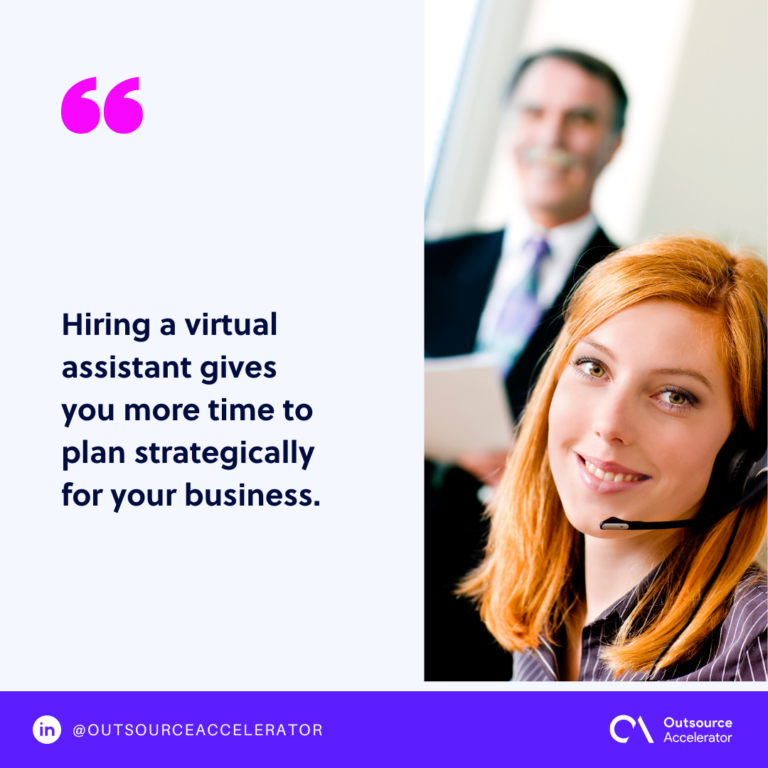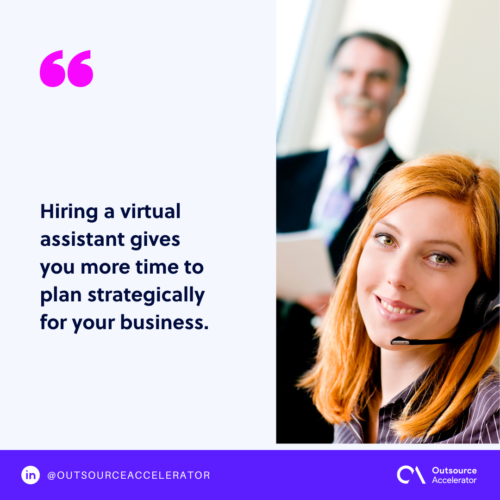 You get more time for self-care and family
Aside from giving you time to focus on your business you get more time also for your hobbies and families. Everybody needs self-care and time with friends and family. 
You save money
Hiring an experienced VA with an extensive or similar background to your business is an investment in the future of your business. It's like having a 3-in-1, task hungry, mean machine who you no longer need to train. Some of them have access to tools that they invested in to help them be more efficient.
Virtual assistants at GetCallers, for instance, are experienced and well-trained to deal with complex tools and systems. They are also well-crafted with marketing tools to get your company in front of your customers.
Most of the time, when you've found the right VA for you, there may be little training and hand-holding needed to perform the tasks 
You learn more about your VA and the best practices they bring with them
Most experienced virtual assistants are immersed in different business strategies implemented in the industries they have supported in the past. Most of them also possess an entrepreneurial mindset as they build their business around the virtual assistance demand.
Type of Virtual Assistants
Generally, there are three types of virtual assistants in the remote working industry. There are executive or personal assistants who take care of your personal affairs and your business tasks. Some go beyond the administrative tasks and take on managerial positions even.
Executive VAs
Executive virtual assistants are highly organized and have a keen eye for details. Some tasks that you can delegate to executive VAs are calendar management, sending and organizing emails, booking and scheduling appointments, internet research, data entry, and many more similar tasks.
Executive assistants act as your admin support to manage your work-life balance.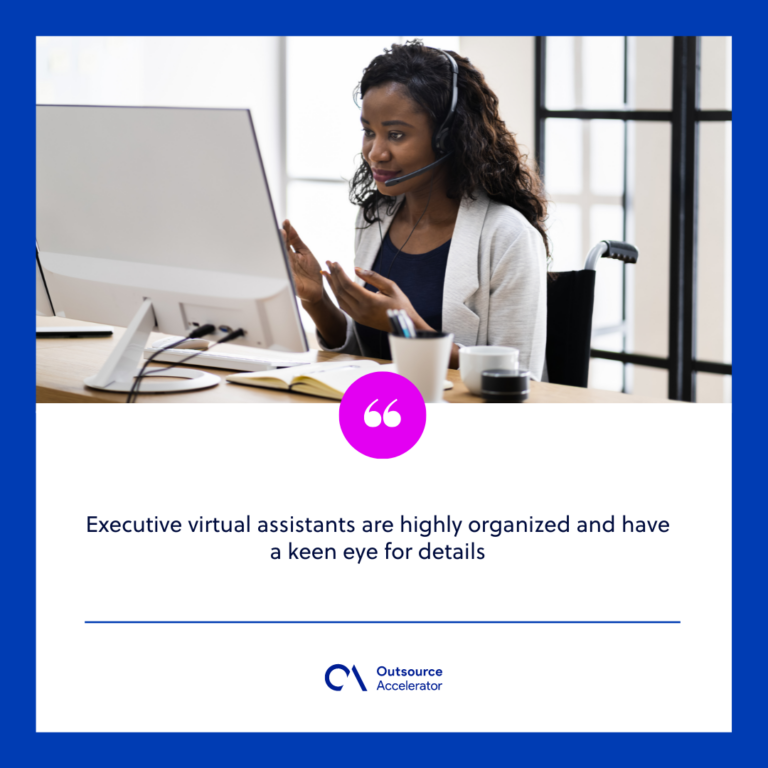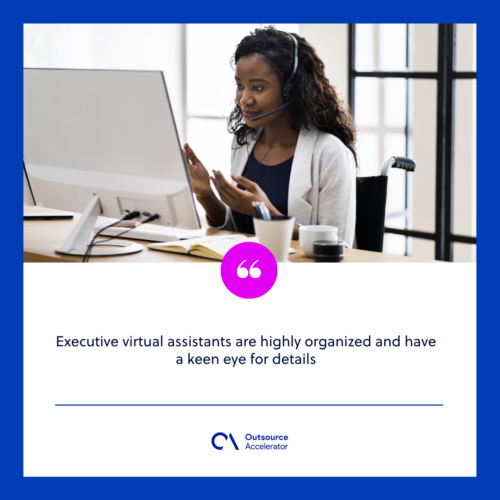 Administrative VAs
Administrative assistants do the frontline legwork in your business. The most common administrative VAs are divided into:
Customer service phone, email, and chat support
Virtual assistants in customer service usually include telemarketers and inquiry or complaints channels like phone, email, and chat.
Most customer service VAs work for dropshipping companies and Amazon retailers.
Sales virtual assistants
Delegate your telemarketing efforts to sales VAs. They mostly have acquired their skills from big outsourcing companies before working remotely as inbound or outbound phone sales representatives.
They use softphones for appointment settings, lead generation, and after sales support.
Remote accountant/ Accounting VA
The demand for accountants is predicted to grow from 2019 until 2029. A virtual accountant can take on tasks from bookkeeping to reviewing invoices and performing tax services.
Creative VAs
Marketing virtual assistants
Marketing VAs would include roles in digital marketing specializing in creating digital content for the website, landing pages,
An additional skill set in search engine optimization (commonly known as SEO) is required to analyze how well the content or website is ranking.
Social media management virtual assistants
The main role of a social media VA is to create content for social media channels like Instagram, Facebook, Twitter, and sometimes YouTube also. They execute the social media plan mapped monthly, quarterly, or annually.
Sometimes, depending on the experience and skill, the social media strategy proposal and goals come from them too.
Writing virtual assistants
Writing VAs create content for marketing materials, newsletters, blog articles, landing pages, and other document artifacts.
With the sudden rise of online training courses, writing VAs can also outline and design course content for you.
Finally, as businesses scale, a new specialized skill set that involves critical thinking and higher self-awareness and management is now an emerging need in a remote work environment. Some businesses have built a whole team remotely and hired managers to lead the team.
To hire or not to hire?
Indeed, that is the question. Virtual assistance has evolved to be one of the most challenging yet rewarding roles. Like any business relationship, finding your match is key.
Sourcing, hiring, interviewing, and selecting the best fit is not easy, but it's possible.