Digital ecosystem: Your road to successful digital transformation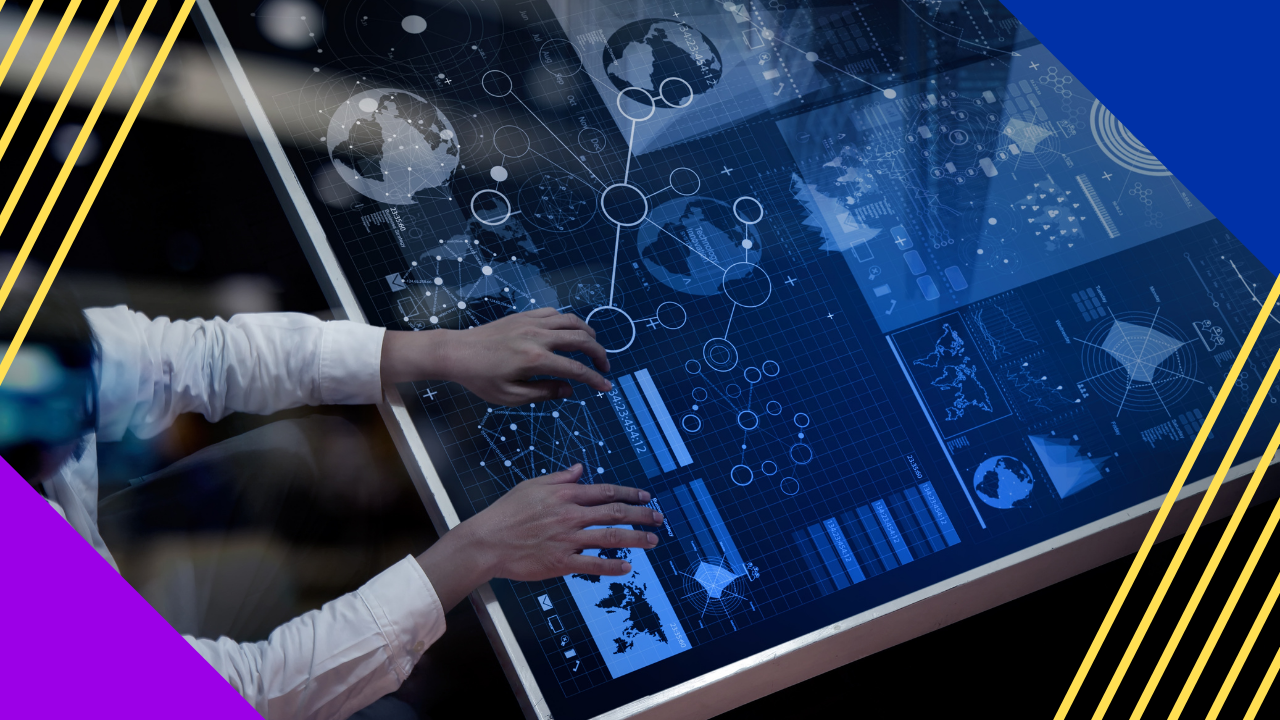 Digital transformation is crucial to every organization, but it may not always have the same outcome. 
Ultimately, it depends on how companies integrate digital technology into all aspects of their organization. Changes are essential, specifically in how businesses operate and how they drive more value to consumers.  
In line with digital transformation, many companies have now recognized the importance of having connected networks through a digital ecosystem. 
A digital ecosystem can help your business successfully achieve digital innovation. On top of that, you do not need to partner with large corporations to benefit from it. 
A quick overview of a digital ecosystem 
A digital ecosystem is composed of dynamic and interconnected organizations or products. It is made up of various companies that partner with one another to offer a wider selection of products and services. 
A digital ecosystem can include systems or applications, internal solutions, external trading partners, third-party data service providers and suppliers, and a mix of their technologies. 
In some cases, a digital ecosystem can also be composed of inter-connected products with different offerings from a single company.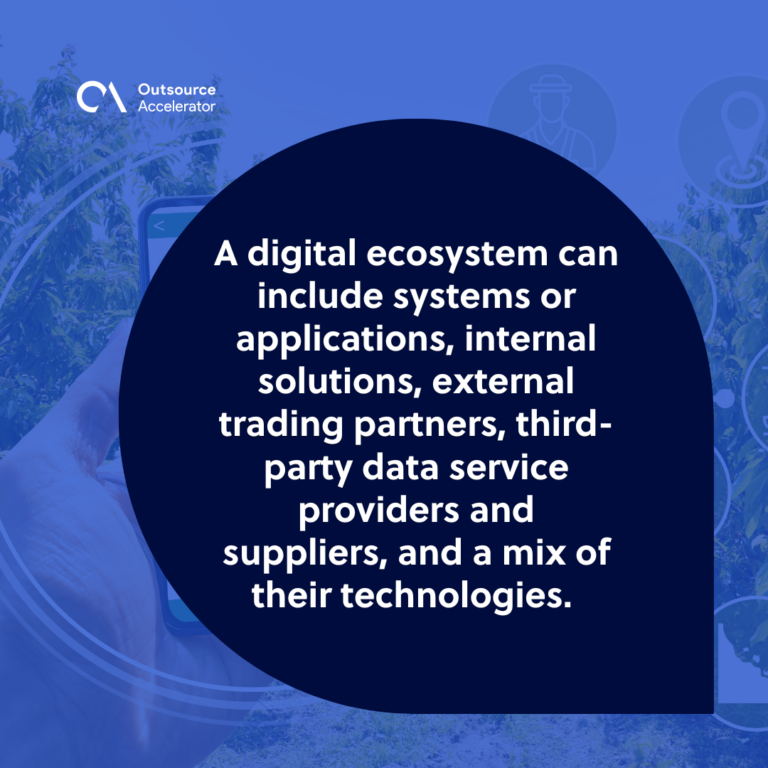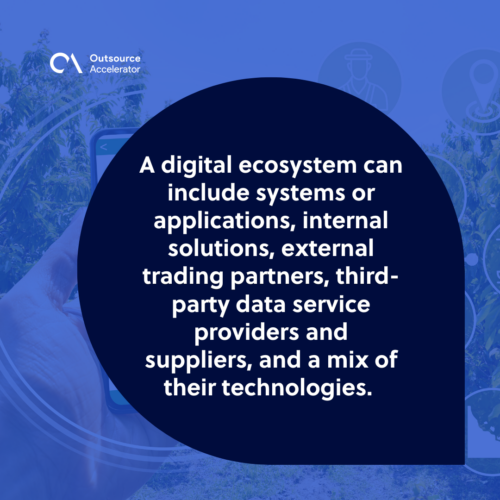 2 common classifications of a digital ecosystem 
Here are the two common types of a digital ecosystem: 
Multi-company partnership
This happens when two or more companies partner with one another and exert collaborative effort to offer significant products and services. All companies that network together are required to contribute and benefit from this partnership. 
This kind of digital ecosystem can come in different sizes. One perfect example of this is Amazon which has an overall core network of 67 partners. 
In-house ecosystem
An in-house ecosystem is a type of digital ecosystem within a company that offers an array of interconnected products. 
These products are built to cater to the needs of the customers. They also work with each other, and customers will be required to purchase other suites if they wish to utilize added features. 
An example of an in-house ecosystem is Microsoft, which has a wide range of business tools like productivity and cloud platforms. 
How can digital ecosystems help with your digital transformation?
Integrating a digital ecosystem into your organization allows you to leverage new and improved technologies. Moreover, you can set up new and automated processes around them for your business growth and expansion. 
Whether what type of digital ecosystem you integrate within your company, it will give you the following advantages: 
Lower down costs in customer acquisitions
Having a robust and healthy digital ecosystem lets you reach a wider audience without having to spend extra on marketing and customer care. 
Having an extensive network also allows you to have access to partners' customer base. You will also have the opportunity to offer additional features, products, or services through your partners.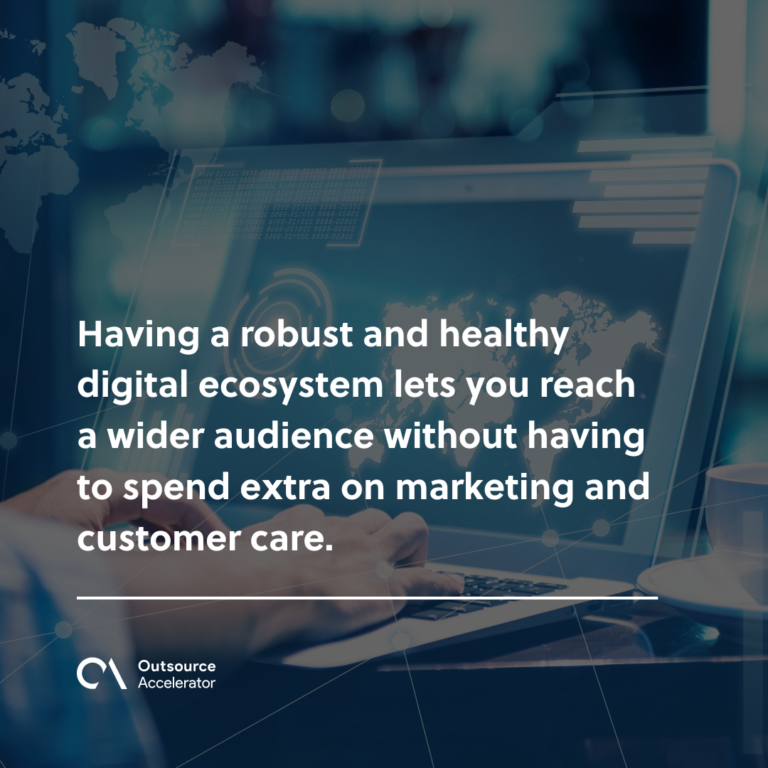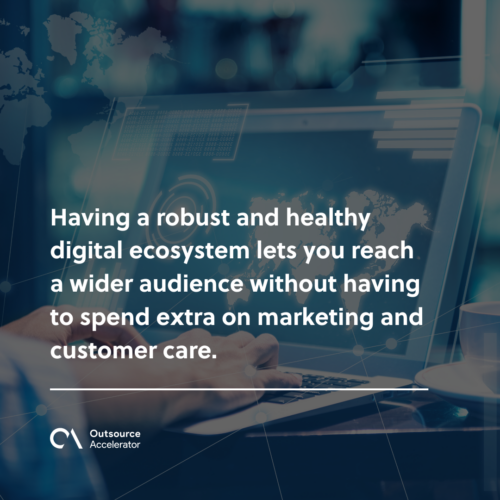 Build new revenue streams faster
Working with companies with a well-built infrastructure will make it easier for you to distribute new products or services effectively. 
One example of this is the online payment platform Alipay. During the onslaught of the pandemic, it partnered with several providers to add essential features to its platform, such as food delivery, doctor consultation, insurance, and infection tracking map.
This example shows that a digital ecosystem can help support your business in creating new features or products in a much shorter period. 
Enhance customer experience and loyalty
Being able to provide your customers with a suite of interconnected products will be more convenient and time and cost-saving for them. From consumers' point of view, it is ideal if they can have everything they need in one brand.  
On the business side, it will help you boost customer loyalty if you offer discounts as they purchase your package deals. You can also incentivize them when they purchase several products in one transaction. 
Quickly adapt to global issues or economic changes 
Connecting and partnering with other organizations can also help you quickly adapt to a time of economic changes. For example, if the demand for your specific product or service drops, you can turn to your partners and their offerings. 
Having access to various resources can help you adapt to the rapidly changing demands of the global economy.