How to build and attain customer loyalty
What is customer loyalty?
Customer loyalty is a customer's desire to repeatedly conduct business with a company year after year because of positive experiences. It's one thing to hook customers, but a whole other beast to retain them.
Why is customer loyalty important?
Customer loyalty is important because your business cannot thrive–or possibly even survive–without it. In fact, Bain & Company and Harvard Business School reveals that "increasing customer retention rates by 5% increases profits by 25% to 95%."
Not to mention, the more loyal a customer is, the more likely they are to vouch for your business online or by word-of-mouth. According to the 2018 Bond Brand Loyalty Report, 70% of consumers are more likely to endorse a brand with a good loyalty program. That's essentially free marketing!
And to be clear, acquiring new customers is vital for growth and always will be. However, it cannot come at the expense of existing ones. There has to be a balance, especially since we live in a world where customers don't trust businesses anymore.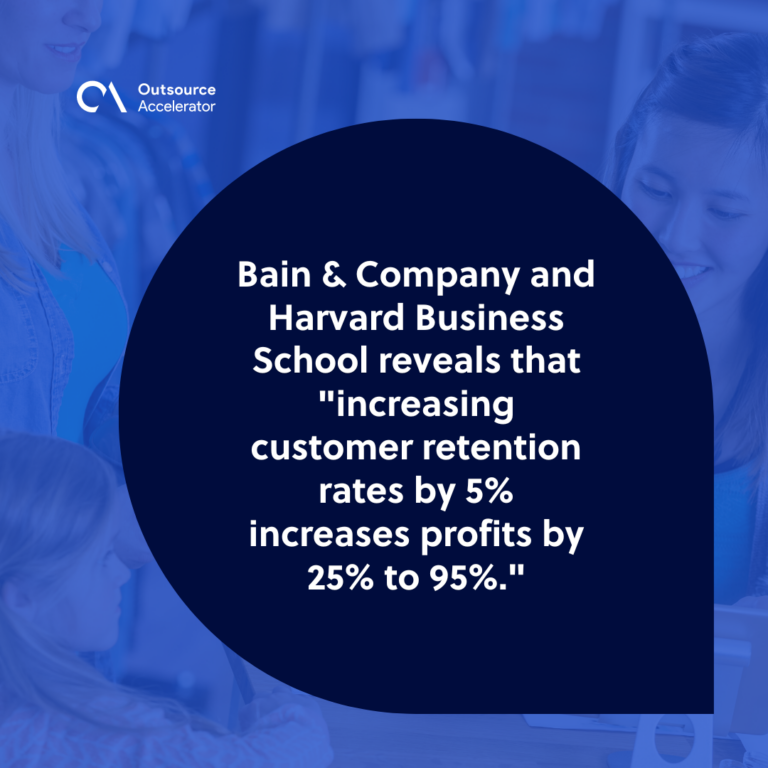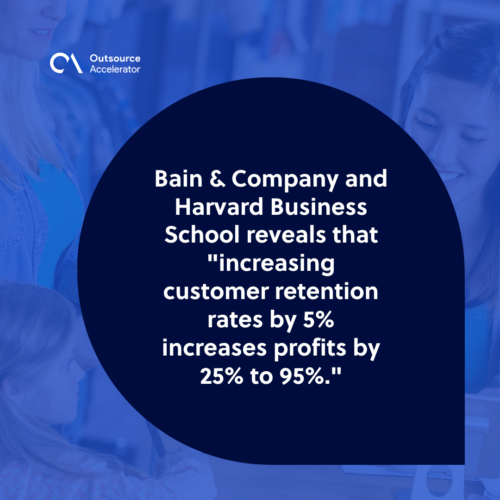 How to build customer loyalty
You can build customer loyalty by mastering customer satisfaction and customer service. This means you need to deliver an excellent product that meets your client's needs (and possibly more) and be responsive/helpful when they reach out to you. 
Essentially, you are establishing a "customer first" bond with your clients. Here are a few ways to do that:
Take care of your employees 
Make sure your employees do not feel undervalued or overworked. If you have unhappy employees, it will show in their job performance. They will not go the extra mile to make your customers happy. And your customers expect this from you. 
Exceed customer expectations
In today's competitive business market, it's not easy to stand out. You have to go above and beyond to show your customers that they are worth it and remind them why they should come back to you time and time again.  
Provide top-notch customer service
This may be the most important thing. You have to be responsive to your client's needs when they have a problem. If your customer does not feel like a priority, they will not be happy. Be sure to invest in quality, highly trained customer service representatives. If needed, feel free to seek the services of a trusted BPO provider like iContact BPO.
A single bad experience can turn off a client forever. Additionally, while social media does wonders for marketing to a wide range of people, it can also be your demise. Potential customers will read reviews of your business on Yelp before calling you–and if you have bad ones–it is basically like a black mark on your reputation. Don't expect a call!
Be open to feedback
Listening to your customers helps you improve, lets you gauge how satisfied they are, and is a great way to show them that you value them.
Well, how exactly do you quantify how happy your clients are? Here are a few ways: 
Customer satisfaction score (CSAT)

Net promoter score (NPS)

Customer effort score (CES)

In-app surveys

Live chat

Post-service and long email surveys

Customized surveys

Social media sites

Review sites

Word of mouth
Want to learn more on how to measure customer satisfaction?
Also, keep in mind, gathering data, suggestions, comments, and criticisms is one thing, but you actually have to do something with it. Your customers will check back to see if you implemented their feedback, so it's crucial that you at least attempt to do so.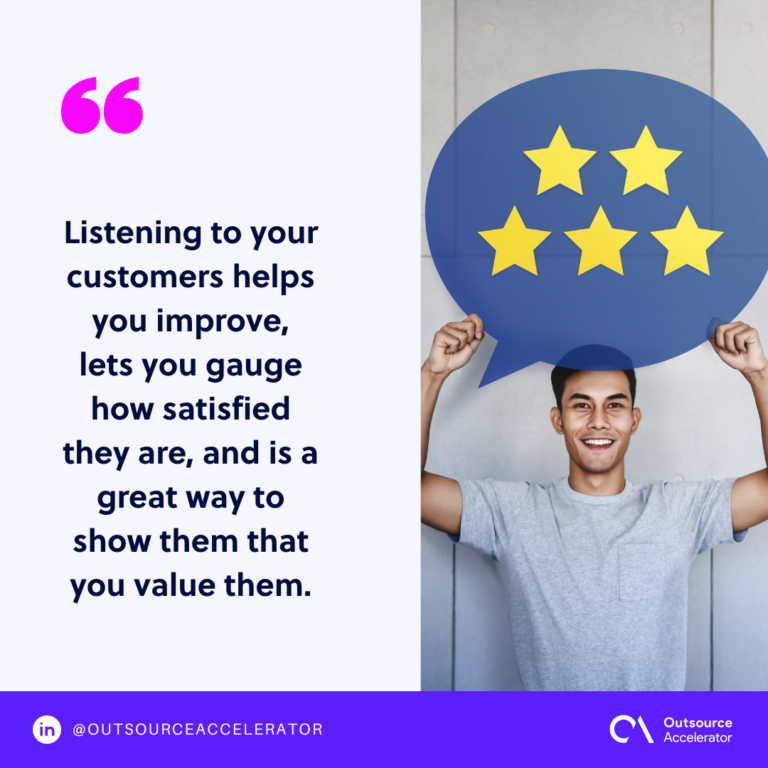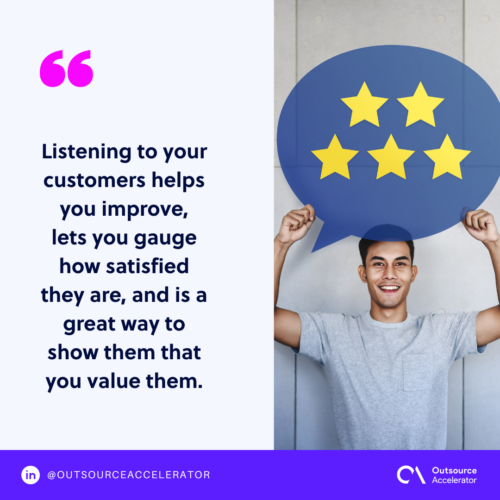 Reward loyal clients
Always give back to loyal customers through a form of discount, rebate or discounts, promos, or contests. In recent years, loyalty programs have become extremely popular, and for a good reason. 
It is a smart business decision to develop a loyalty program given that 65% of a company's business comes from existing customers. Nurture them! It will pay off!
If you don't know anything about loyalty programs, they're not one-size-fits-all. There are many types, including point-based (the most common one), tiered, paid, value-based, coalition, and game-based. 
Some types may interest you more than others. You can choose to simply focus on one or do a bunch and really get into it!
Be trustworthy and transparent
I mentioned earlier that customers don't trust businesses anymore, and it's a real problem. Keep this in mind when you are developing your crisis response plan and any other communications.
In crisis communications, you should always admit when you're wrong and fix the problem instead of denying it. In social media and email communications, you should try to be more personable. People like doing business with other people, not faceless entities. 
Additionally, in today's day and age, many people are loyal to companies with excellent corporate social responsibility (CSR). Gone are the days when companies are just companies. Customers may very well be loyal to you because you support a cause they deeply care about.