How much does it cost to rent or lease office space in Manila?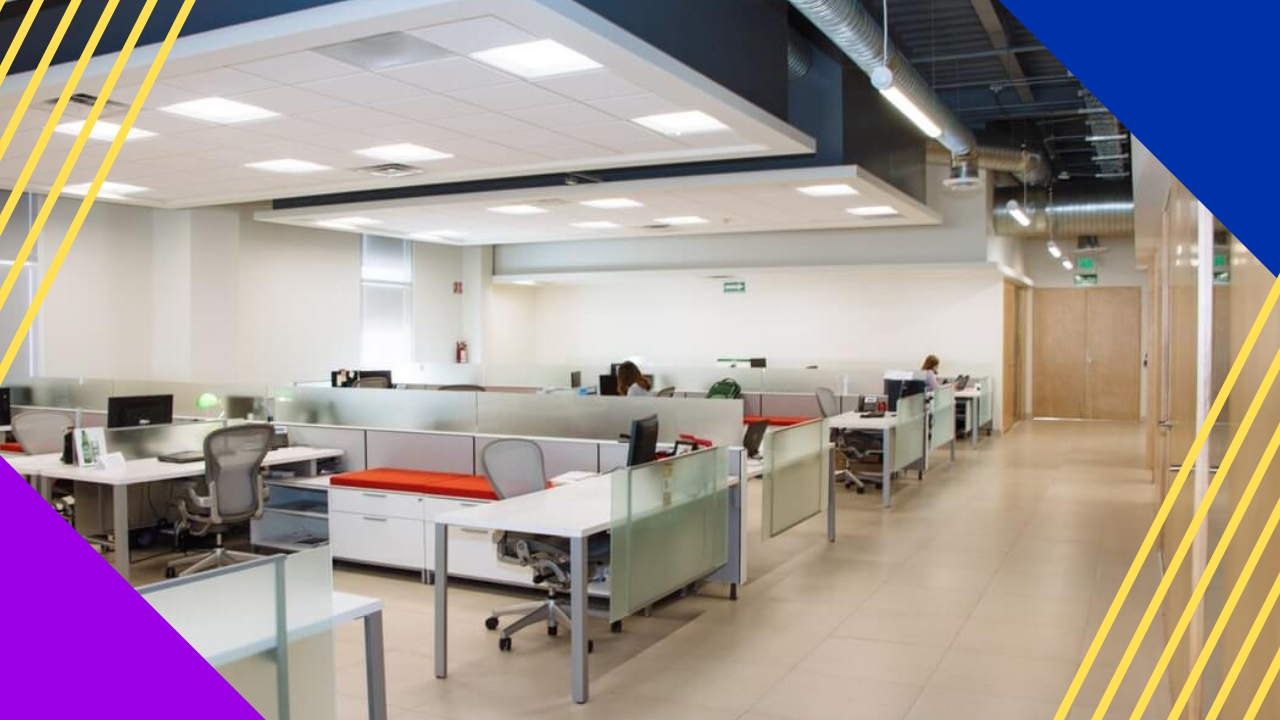 There are a lot of considerations when establishing the full costs to rent or lease office space in Metro Manila. Below is a quick summary of some of the main considerations.
There are many more considerations that are not included in this list.  Leasing an office can be a very complex, time-consuming, expensive and long term commitment.  
Office lease costs – all in
It is easy for someone unacquainted with commercial leasing and just look at the base price of a lease, and see that they can 'save so much money if they lease their own office'. But it is so easy to overlook all of the hidden costs, and multiple indirect costs – such as time, hassle, contracts and commitment.
Once you are locked into an office, you generally have very few options if you want to change office, expand, or contract in size. If you are a fast-growing company, then leasing and preparing an office can be a very expensive and time-consuming mistake.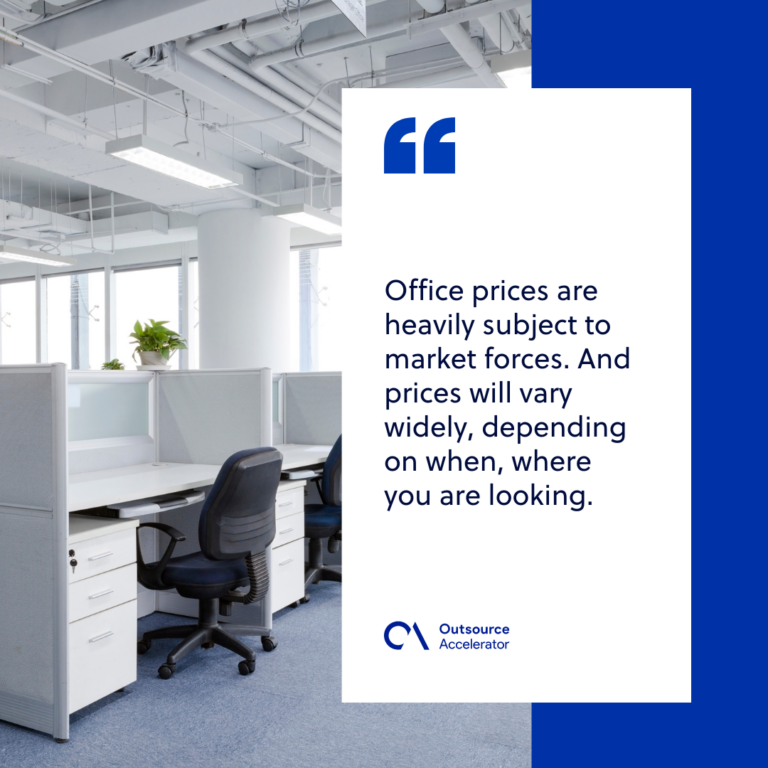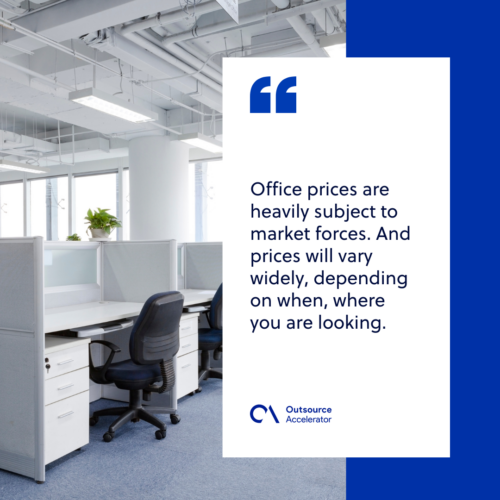 Office rental rates in the Philippines
Office prices are heavily subject to market forces. And prices will vary widely, depending on when, where you are looking.  This article was written in March/April 2021, and so COVID-19 was playing a big role in the price and availability of office space in Metro Manila.
Below is an overview of office leasing considerations and costs for Manila.
Office rental rates Manila
Prior to COVID, very basic guide to office lease costs were:

Ortigas: Php 700-1,100 /sqm/mo ($14-$22)

Makati: Php 1000-1500 /sqm/mo ($20-$30)

BGC: Php 1200-1700 /sqm/mo ($24-$34)
Now, after COVID, there is much more room to negotiate.

The electricity (A/C), utilities, CUSA and internet (with backup) can cost 30%-50% on top.

VAT (tax) 12% on top.  PEZA provides VAT exemptions.

Worth noting that typically BPOs, captives and shared services generally don't generate many VAT receipts, to balance out VAT payments, so it can become expensive

There are possibly some amazing deals out there now though with COVID, though it's hard to put price or likelihood on these.

Ortigas has a huge amount of new supply coming on (800,000sqm) – of A-Grade office – and would be able to negotiate great deals, although they would be bare shells.
Office density restrictions
Typically desk density is 1 desk per 5-7.5 sqm.

You are not allowed to go below 1:5sqm and some buildings have a max ratio of 1:7.5.

PEZA buildings typically have a ratio of 1:10 (but this can vary).

–> So 1000 sqm can accommodate approximately 150-200 desks.
Getting a good deal on an office
Since COVID, there is a massive drop in demand, but landlords are trying to maintain prices.  Many tenants have just walked out.

There is a better chance than ever to find an office.

Payment required: Minimum of 3 months deposit and 3 months rent in advance (typically).

You would be very lucky to find 2 high-quality units in a building at the point in time in which you would want to expand.  In my experience, it is rare that BPOs can group their offices together (times are different in COVID).
Approximate office setup or build-out costs
Even if you get a 90% ready office, you will still need to do some work, plus buy the furniture, desks, chairs and computers etc. This would be $1,000-$1,500 per desk.

Renovating an office from a cold shell can cost $400-$600/sqm.

Plus enormous time and stress – everything takes much longer in the Philippines.

When you include hardware and networking you can easily spend $3,000-$5,000 per 'desk'.

If you have upfront capital costs for fitting out an office, it is generally best practice to depreciate these costs over a 5 years term.  

So for example, if you have a 1,000 sqm office, and spend $500,000 on its fit-out.  The fit-out would then be amortized over the following 60 months at $8,333 per month.  You can see that this adds considerable 'monthly cost' on top of the basic lease cost.
COVID restrictions (March 2021)
Currently, there is a 50% maximum occupancy rate in offices.

If people catch COVID, there is a risk that you would need to quarantine those around them (or the whole floor).

Also, if the IATF get involved (COVID police), they can shut your facilities, etc.
PEZA (Philippine Economic Zone Authority)
PEZA is a tax incentive scheme.

allows you to save VAT (and other costs), but you can only lease from PEZA-authorised buildings, and those buildings command higher rents and demand than non-PEZA. 

Prior to COVID, they were not issuing any more new PEZA buildings, so they are in shorter supply – especially around Ortigas.
IT, network and compliance
Basic IT, servers, security and 2x internet lines are required.

There is a raft of compliance items to work through when you have an office.  Even more, if you are PEZA.  You need someone into office compliance.
Manila office facilities
You need to make sure that the building has no night shift supplements for elevators and A/C.  Not uncommon.  This is super important to know as the costs can be punitive.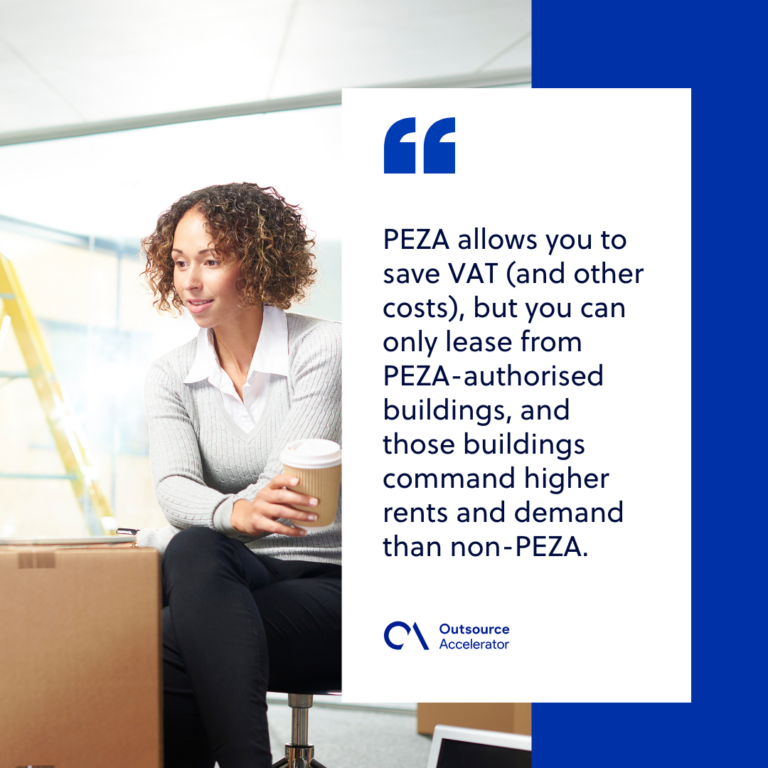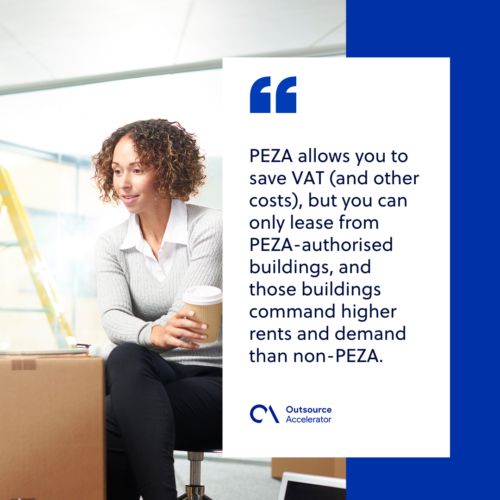 Quick summary of office cost calculations
A nice office would likely cost at p1,000/sqm ($20) with everything on top being another 50%.

200 seats @ 6.5sqm would be 1300sqm – or P1,950,000/month ($39k).

Thus $200/desk/month if the facility is operating at full capacity.

However, if it is operating at 50%, then it's $400 per seat.
You can do double shifts though, which can then reduce overall costs.

There is the common conundrum of leasing a small office that you fully occupy, and get the best costs, but you quickly grow out of that office and need another (which adds more costs).

The total 'cost per desk' price variation can be huge depending on the average occupancy rate through the full term of your lease. 

For example, if you only have 30% occupancy, then the typical cost per seat is $606, whereas if you manage to run two shifts at full occupancy, then the total cost per seat is just $100.
How much does the average office cost?
In short, the answer is very complicated.  Prices can vary dramatically, and there are a lot of hidden and indirect costs.
The final full accurate price of an office lease can only really be known retrospectively.  For example, once you have been in an office for five years, you can look back on all costs, and then properly assess the total cost. When you are projecting forward with costs, there are a lot of uncertainties and assumptions being factored in.
Office leasing and seat leasing
If you want flexibility and price stability and certainty, then seat leasing, BPO or office leasing is your best bet.  Office leasing can not only be infinitely more flexible and convenient, it can also – surprisingly – work out significantly cheaper.
The outsourcing industry in the Philippines is now a mature sophisticated and highly competitive industry that can work to very low margins – so it is very possible to find great deals within the turnkey 'pay to play' market.