Here are 4 Reasons Why You Should Consider Staff Leasing for Your Business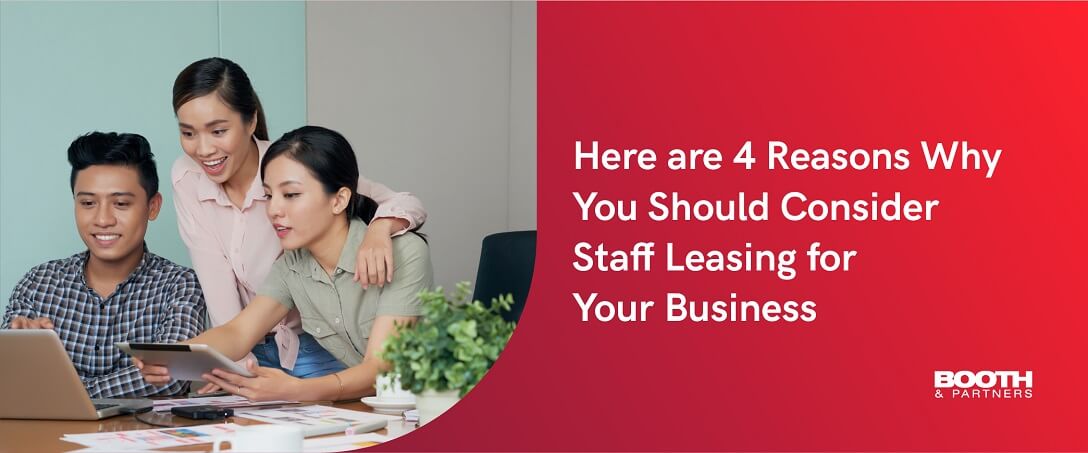 With the long-term impacts of the COVID-19 pandemic, businesses are now faced with various operational and financial challenges.
Having a dedicated remote staff ensures business continuity, even when unforeseen circumstances play in. These skilled remote professionals possess solid know-how across various fields allowing us to provide you with a whole suite of professional services ranging from customer support, IT support, data entry and management, and other administrative functions.
Staff leasing offers an easy and cost-effective alternative to managing your day-to-day tasks while gaining distinct advantages for your business even as your team works from home. What if you could just concentrate on your core business operations and use a remote staff as an extension of your team? Staff leasing makes your life easier and helps you to find the right people to do the job quickly. Whether you are looking for temporary staff for the peak season or leased employees for longer employment periods, you'll find that our customized staff leasing services are best suited for your business needs.
Here are 4 reasons why you should consider our Staff Leasing Services for your business. 
1. The Right People For The Right Job
You can ensure that you're hiring the best person for the job with location not being an issue in remote teams. Partnering with a staff leasing company can help you gain access to a larger pool of top-notch talents that have the right skills, culture and mindset fit for your organization. When you are open to employing remote workers, you open your company up to the opportunity to have the most talented and the brightest join your team more cost-effectively than you would spend to hire an in-house team.
2. It Is More Cost-Efficient In The Long Run
Opting for staff leasing can be more cost-efficient in the long run in terms of operational costs. Depending on your needs, offshore companies offer competitive rates for their staff leasing solutions that include benefits, insurance, salaries, incentives and training.
At Booth & Partners, we provide IT support to make sure your virtual team is equipped with the right equipment, programs, and tools needed for the job. Depending on the setup you find suitable, we can help establish your remote team from their homes or provide dedicated office spaces for your offshore team, giving them access to various facilities and amenities such as high-speed internet, meeting rooms, workstations, and access to common areas like the pantry and training areas.
3. We Take Care Of The Nitty-Gritty For You — All In One Stop
Another benefit of staff leasing is the support we provide in terms of operations and HR. For many businesses, operational tasks like accounting, facilities management, managing payroll, taxes, and other paperwork can be time-consuming. With the help of an outsource staff leasing company, you get support in all aspects of business operations and team management while retaining direct control and management on your offshore team. This lets you focus more on other important aspects of your business like working on growth initiatives.
4. Potential For Bigger Market Reach
Difference in time zones and geographical locations can make it difficult to tap and explore new business market opportunities elsewhere in the world. By having an offshore team in other countries like the Philippines, you can potentially grow your business by catering to a wider range of global clients, vendors, suppliers, or even internal stakeholders on a 24/7 basis with your team working on a rotating or shifting schedule.
How Booth & Partners can find the best talents for you.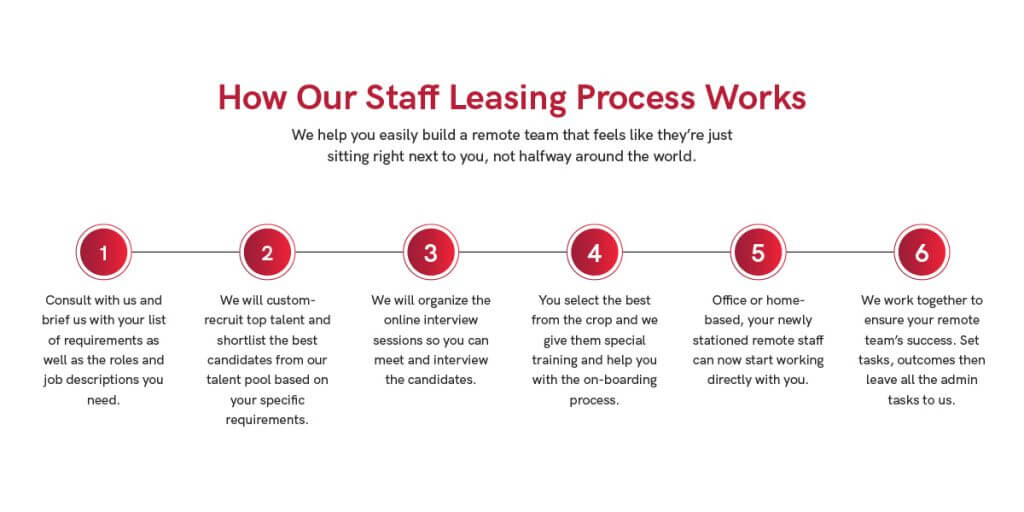 Searching through online platforms like Indeed, Glassdoor, and LinkedIn, as well as posting job advertisements on your social media accounts are good ways to look for talents. However, these platforms can only help you attract a smaller part of available talents in the market. Administrative tasks like recruitment, maintaining, and training offshore team members also requires a lot of time and energy, leaving you with little time for other tasks.
Alternatively, partnering with a reliable staff leasing company or offshore firm will enable you to tap into a larger pool of top talents that is a culture fit for your organization. Aside from reduced security and liability risks, having a staff leasing company to handle the hiring of highly skilled talents and other administrative tasks allow you to save time and focus on your core activities as a business. It also allows you to save on costs without having to compromise on the quality of work.
Booth & Partners offers a number of staff leasing options that can help you address your business needs. If you own a business that requires physical control of the work product or have strict data security processes, we provide Dedicated Office Space as an option that can support your IT and security requirements from within our facilities.
We also offer a FlexiPlace option for those who don't necessarily have to be in an office facility every day. FlexiPlace provides your team with the opportunity to work from home or a more convenient location such as satellite offices or neighborhood working centers, communicating with managers and other team members through email or videoconferencing. They may be required to be at the office on a specified day every week for team meetings or other important activities, during which they have full access to our office facilities and amenities.
Business owners can also opt for the Staff Leasing Work-From-Home for those who wish to save time and cost for their remote team. While your remote team may be home-based, they still receive the same benefits—both company-initiated and government-mandated—as office-based employees do.
Ready to have your own remote team for your business? Learn more about our Talent Specializations or our Staff Leasing Service or we can schedule a free consultation to help us learn more about your business requirements. Get in touch with one of our sales representatives.